A round-up of the second full weekend of league action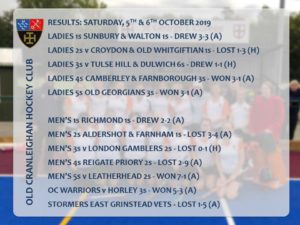 Men's 1st XI 2-2 Richmond
Old Cranleighans 1st XI faced Richmond in their first and nearest away game of the National League campaign. After a solid three points against Exeter University at home last week, we were attempting to start the season with back to back wins. We started the game slowly turning the ball over in midfield and were thankful to Josh Doble who ensured we didn't fall behind early with a good save from the top of the circle. However, we  worked our way into the game and started to control the tempo with Richmond limited to a few chances on the break. We created some decent chances of our own but it wasn't until the second quarter that the deadlock was broken from our first short corner. A Matthew Murphy drag flick was saved by the postman's body, resulting in a penalty stroke which Murphy slotted into the bottom right corner. The lead only lasted eight minutes and it was Richmond who equalised in the 34th minute despite protests at the umpiring decisions leading up to the goal. 1-1 at the break
 We were perhaps a tad unlucky to go into half time level with a positive message conveyed from the coaching side who felt we were the better side in the first half. We started the second half strongly and after some good link up play down the right between Dan Rhodes and Matt Cornwell the ball was squared to Ben Wilson who somehow shifted the ball further on to Murphy who was on hand at the back post to restore our lead in the 42nd minute. We continued to threaten and gain entry to the Richmond circle but were unable to gain any quality outcomes, frustrated by some strong defending. Richmond soon won their second corner of the game after some good play down the right which they had been threatening in the second half. A well-executed routine and deflection under Doble saw the scores drawn level again with 20 minutes left. The final quarter saw the game open up with both sides enjoyed good counter attacking ball but neither unable to grab a late winner and the points were shared.  We face our first double header of the season next weekend with home games against top of the league Ashmoor on Saturday followed by Isca on Sunday. 
Mens 2nd XI 3-4 Aldershot & Farnham
OCHC Mens 2s kicked off their 2019/20 league campaign away against Aldershot & Farnham 1XI, buoyed up by impressive results in their pre-season friendlies.
The boys arrived almost an hour early to the match eager to make their mark. S.Wilson on inspecting the pitch rightly concluded that his suede high-tops were in fact the wrong choice of sneakers for the occasion, and swiftly totted off to pick up his spare pair which he had clumsily left in the 4th aisle of Decathlon!
This week's line-up consisted of 13 fine athletes and one Tom Gallyer; bolstered by the return of the talented Jay Harman; yet tempered by the less talented Matthew Cook ;). With a touch of experience (Andy Howell) & the rest of us being under 40, we looked in good shape to take on our well drilled oppo.
The first half saw OC's dominate with 9+ D-entries claiming a 3-0 lead, with goals coming from Jay Harman (20 mins) (Cookiey assist), Mathew Cook (28 mins) & Tom Cooper (37 mins). Our boys kept up the good work at half time, managing to keep all 11 players on the pitch; proof that we've built on the lessons of last season……
The second half was going well until the 46th minute where Owen Farrell look-a-like for the oppo capitalised on an unjustly awarded short corner, slotting it top left. Realising that in fact the top corner is a good place to aim, the same gentleman repeated the act on 8 minutes later.Looking a little deflated and perhaps a bit less fit than our counterparts the OC's failed to put up enough of a resistance to stop Aldershot breaking our defences twice more before the final whistle. FINAL SCORE 4-3 LOSS.
Although the OC's played some good hockey for over half the match, we were dealt a tough lesson on what it means to not give up. Mathew Cook's tenacity upfront was rightly rewarded with the lion's share of the MoM votes, whilst S.Wilson claimed all bar two of this week's DoD votes.
Men's 3rd XI 0-1 EUG
How weekends in sport differ. A week is a long time in politics but even longer in sport. I blame shirts and Martin. Why on earth did Martin mention my old shirt and Billy's boots in the same breath ? https://upload.wikimedia.org/wikipedia/en/0/0a/BillysBoots.jpg.  Billy Dane always felt the power of his magic old tatty boots just as the faded 13 shirt knew where the goal was positioned. Somehow I have to find that shirt. To cap it all after the game I wore my boyhood hero's replica shirt and we lost 1-2 to Crystal sodding Palace.
Were we too complacent with the approach to the game or just stuffed by a tonsillitis outbreak and a no show ? The latter, poor form and poor show. Nevertheless our front three could not hit a cow with a banjo on Saturday and yours truly couldn't even hit the ball when in front of an open goal that would have won us 3 points. Instead they snuck a deserved goal in the 69th minute to take the 3 points back to Crystal sodding Palace. In between the no show and the 69th minute Rosko defied the oppo with a string of superlative saves, one with his left hand when a half volley from 6 feet that was screaming into the corner that defied belief as did the series of seven saves in 30 seconds as we all said "have another go chaps".  Rosko was our M o M and their keeper was theirs who also made a number of top saves when others, not the front three, hit the target. Arguably they deserved the win as they did test Rosko more than we tested their keeper due to half of our front 6 considering that the goal was infected and too dangerous to approach. D o D has to be Wils for either forgetting the location of TD or deciding that England v Argentina was better fare.
A long way to go but we have to remember that there are no 3rd XIs higher in Surrey and Hampshire than us and therefore each week we are bound to face teams who are training as a unit either with their own 1s or as their club's 1st XI s.
Men's 5th XI 7-1 Leatherhead
Leatherhead started strongly & aggressively; OCs weathered the early storm, came up with a viable game plan of moving the ball swiftly, but failed to execute it. After much faffing in the D, John Turner finally slotted one. Rob ("I only had 7 pints last night") J's solo mazy run ended with a clinical finish, and Neil poached a far post goal, after sweet midfield play. The oppo nicked one back on the break, and still sensed a sniff if they could get the next goal.
OCs neatly put together their game plan after half time though, and the energetic pressing led to many penalty corners and chances. They slotted two quick goals (Ollie's fine effort, and Benjy's deft reverse flick), causing the oppo to fall apart, and turn on themselves. Redders and Si Duncan's strength kept one of their playmakers subdued, as OCs grew as a team. Polite enquiries as to "who's taking the flick" were met with a steely Scottish glare, and Neil duly buried it. Benjy added his fortuitous 2nd, whilst dependable Chris James decided he'd done enough for the day, and left the battlefield early, under a Green cloud.
A superb team display, against a side who matched us last season. Onward and Upward.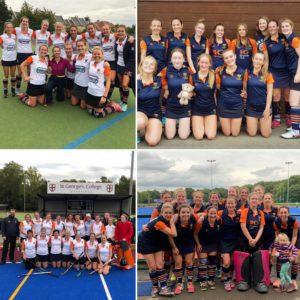 Ladies 1st XI  2-2 Sunbury & Walton
It was a really close game for OCs Ladies 1s against Sunbury Ladies 1s resulting in a 2-2 draw. OCs Ladies kept a level head throughout the game and didn't let themselves get flustered by the umpiring.
When then first whistle blew OCs we're straight away attacking the opposition and were driving the ball up the right hand side of the pitch. Ellie did a fantastic job of running up the right as a forward and getting the ball across the D. The first goal of the game was scored by Syms and was representative of OCs brilliant efforts in attacking.
OCs kept their heads high when the opposition scored a goal off a dubiously called short corner and kept on fighting. We pushed hard on attacking and even nearly scored a goal but this was blocked by the opposition's foot which resulted in us winning a penalty flick. Unfortunately, we didn't win the flick and the game turned around with the opposition breaking away and scoring their own goal. Not letting this defeat us we kept pushing throughout the entire match and Ellie scored our own fantastic goal 5 minutes from the end of the match.
It was a close game and the ladies all fought well!
Ladies 2nd XI 1-3 Croydon & Old Whitgiftian
Ladies 2s were keen to build on our opening win of the season with our first home game this week. With a strong warm up and great tunes (thanks Ellen!) we were ready and raring to go. Facing a very physical Croydon and Old Whitgiftian opposition, the first half was hard fought and we went into the break 2-0 down.
After a focused team talk from Sophie and Kieran, we turned it around for the second half and played our own game. With an excellent press and improved structure, we had the majority of the possession and won multiple short corners. After a shot was stopped on the line by a foot, Georgie calmly stepped up to take the penalty stroke. Goal! 2-1 and we were back fighting!
We kept up the pressure, but struggled converting that to goals. Unfortunately Croydon scored from a short corner shortly before the whistle leaving the final score 3-1. A lot to build on going into next week. A special thank you to Neil for his epic umpiring; so good even the oppo were complimenting decisions that went against them as he explained the rules!
Ladies 4th XI 3-1 Camberley
There are a few things we never have much of when we play matches:
A desire to warm up properly
Even the foggiest idea of what to do on set pieces
The ability to take free hits without looking like Bryan deChambeau (for any non golfers out there this very irritating American golfer was criticised recently for slow play).
This time, however, we didn't have much of something much more important…..forwards. Thus, with some serious improvisation our line up saw about six players starting out of position.  This may explain why the first half was poor, although Camberley did come out with all guns blazing.  Even so, we struggled to 1-1 by the end of the first half, after Anna managed to follow up a loose ball from one of our many shoddy corners. The second half was better, and Camberley lost their fire once Fiona and then Sara scored.  1-3 took us to second in the table (goal difference separating us from the leaders). Our colts, Lily, Ruby and Anna all played well and are a welcome addition to the team.
Footnote:
Our normally very reliable Kate nearly scored a spectacular own goal in the second half. Although this would obviously been bad for the team, my feelings were compromised.  It would have given a lot of mileage for a very large amount of abuse for sometime to come. Oh well.
Ladies 5th XI 3-1 Old Georgians
Our second league game saw us away at Old Georgian's this Saturday.  A very strong start from Old Georgian's 3s led them to score in the first 15 minutes with a neat short corner play.   Conversely, this made us settle down and a strong mid-field pairing of Jacqs and Nicola ended in a drawn out battle in the opposing D, with neither of them prepared to let that ball out until Jacqs eventually slotted it home tie-ing the score 1-1 just before half time.
The second half was much more under our control with our generating more than our fair share of attacks.  With one goal being disallowed, Sue Y decided we needed to leave the next one in no doubt, driving from deep in the defensive half into the D and hitting the strike of the day deep into the corner of the net.   Old Georgian's don't give up easily and have a lot of speed and skill but Ella in goal and our able back line held them at bay; Tess in particular clearing another very well-placed short corner from them as we came to the final phase of the game.  Finally, sticking to our well-drummed into us patterns of play paid off with Zoe striking cleanly to give us some breathing room and a final score of 3-1.
Player of the match goes to Sue for that shot – and for being fierce and fabulous throughout at the back.