A round-up of the weekend which included six points for the men after a double header and a first win for the Ladies 1st XI
Men's 1st XI 4-1 Ashmoor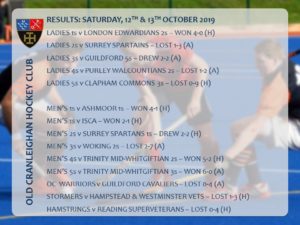 Following a confident start to the season, the 1's made their way to Thames Ditton on a cold and blustery October's afternoon with a spring in their step. A big weekend ahead with six points on offer it was time to hold the Fortress. The game started in cagey fashion with neither team taking a firm foothold but we were the first to strike. A penalty stroke awarded as an Ashmoor player decided to use their body to stop the ball crossing the line. Step up Matt Murphy who calmly proceeded to send the keeper in the wrong direction and slot the ball into the bottom right corner. The goal swung momentum towards us and we started to dominate possession and put the Ashmoor defence under extreme pressure. With Ashmoor on the back foot it wasn't long before we managed to bag another goal with Will Marshall pouncing onto a loose ball in the circle and sending it flying into the rigging.
After the break, sloppy individual defending from both sides saw players toing and froing from the sin bin. The game was in the balance and we knew that they had to strike again to keep Ashmoor at bay. The opportunity arose after Will Marshall was taken out by an Ashmoor player in the D. Having won the stroke, Marshall strode up to the spot and calmly slot the ball into the right hand side netting. The OC's weren't done there, a fluent piece of tika-taka counter attacking hockey saw Will Marshall complete his hat trick in style. Evidently still reminiscing from his International days, Marshall knee slid his way to the hundreds of OC's supporters on the side-line. At 4-0 the game was all but over and began to open up as both teams tired. Ashmoor managed to grab a consolation goal in the final few minutes but this would prove to be in vain as the final whistle blew and the OC's ran out 4-1 victors.
Men's 1st XI 2-1 Isca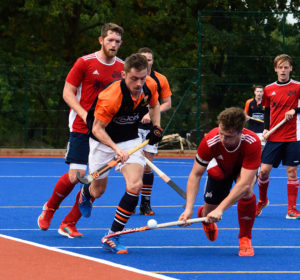 Fresh off the back of a well-earned three points on Saturday, the lads looked to complete what would be a successful weekend with a victory on 'Super Sunday'. Undeterred by the uncertainty as to whether Isca is an acronym or a noun the message from the top was clear, keep product high in the circle and the win would take care of itself. We started positively and completely dictated play in the first 10 minutes and were extremely unfortunate not to be in front with a string of attacking penalty corners yielding some good saves from Isca's goalkeeper and postmen. The opposition grew into the game in the second quarter and caused the OCs a few issues on the counter attack, forcing a save from Doble and a good goal line clearance off a drag flick from Matt Richardson. We then picked up where they began and dominated the rest of the half however again could not convert on a number of penalty corners before half time.
At the half the 1st XI were frustrated to have not been ahead despite countless opportunities. The second half saw much of the same with us entering the opposition's territory with ease only to be axed down by their west country foe. After a couple more short corners Hugh Robinson decided that he had set up the goalkeeper with enough out-swingers at the far post and would bring one into the keeper and test his near post, this tactic proved fruitful and rightfully put us one up. Continued pressure eventually saw us go 2-0 with a well-taken, first time strike from ex Oxford Brookes captain Dan Rhodes. This set up a cagey final quarter after we were reduced to 10 men after a 10 minute yellow for Will Marshall. Isca earned themselves a consolation goal on the final touch of the game, robbing the back five of what would have been a well-earned clean sheet.  So we finished a successful weekend which sees them top the league once again, with Harborne at home next week it is essential the team keep pressing their home advantage on sides with long travel.
Men's 2nd XI 2-2 Surrey Spartans 1s
We awoke to Poseidon holding fortress TD hostage. After last week's shock defeat, it was important for the team to bounce back against Surrey Spartans and as the rain cleared, battle commenced. A cagey affair saw the opposition pushing us back into our half but the new backline of Ripley, Stratford, West and Kennedy kept them at bay with some firm but fair defending, including seeing the ball clearing the fence from a fine back-foot stroke by Ripley. MoM Jay Harman was lively from the start and was rewarded with two goals. His first came from flowing hockey with Cooper supplying the assist for Harman to slap the ball past the helpless keeper. Harman's second, and champagne moment of the match, followed just before half time with his sheer desire to keep driving along the baseline through countless challenges to squeeze the ball past the Spartan goalie. With seconds remaining until the half time hooter Spartans split the OC's defence with a 50 yard pass and following a fortunate deflection the ball ended up in the goal. Half time OC's lead 2-1.
Cards are usually a joy to receive especially from a secret admirer on Valentine's Day, but sadly from a Surrey umpire it only ends in tears. Greens for Marchant and Stratford plus a yellow for Ripley gave the Spartans hope. Father of two, charity man and all round nice guy David Roberts was harshly given a yellow card which cemented his DoD award. After the game the umpires confirmed that the yellow card had been for Roberts not being five yards away and not in any way linked to his reminder to them of the laws of hockey. Similar to the siege of Sparta in 272 BC the OC's defence could only hold on for so long and three points turned to one as Spartans snatched a late equaliser. Lessons to be learnt and another 'what could have been' game but luckily the lads have a great chance to right the wrongs against Portsmouth 1's next week.
Woking 3s 7-2 Men's 3rd XI
On a miserably wet Saturday afternoon in Woking, Old Cranleighans 3rd XI, hurting from a last-gasp defeat the previous Saturday, came up against a well drilled Woking 2nd XI who were armed with a coach, a manager and five subs. After five consecutive promotions, this is now to be expected from most of the sides in Surrey Div 1 and it came as no surprise to be up against it from the whistle. OCs coped well with a wave of fast-paced attacks from Woking and despite going 1-down to an early drag flick, OCs created plenty of chances of their own in the opening 15 minutes but failed to convert. The best of these chances fell to Callum Kent, who grew up down the road from the Woking clubhouse. Picking the ball up with half the open goal at his mercy, Kent went full Ballotelli and attempted to outfox the defender who was already lying prostrate on the goal line. He only succeeded in seeing the ball slip past the post and off the back of the pitch.
At 0-1, that might have proved to be a crucial point in the game. Despite creating many more decent chances, OCs found themselves 0-2 at HT with nothing to show for the efforts of a youthful front 3 of Kent, Charlie Fletcher and debutant Josh Lee. After some stern words at HT and a few Jelly Babies, the OCs came out hard and fast, hoping to get the first goal and get back into a game against a Woking side who were flattered by a 2-0 scoreline at that point. Frustratingly, the OCs continued to be let down by first touches, misplaced passes and some unfortunate decision making (both my themselves and the officials). Somehow they found themselves at 0-5 midway through the second half as Woking put the few chances they created away in clinical fashion. The OCs, still creating more than their fair share of chances, refused to go down without a fight and clawed back 2 goals from a marauding Dan Maunder and the wasteful Kent. However, this was all "too little too late" and in the incessant hurricane, Woking had the cheek to put away two more goals to take the game 7-2 and condemn OC 3s to a second successive defeat in the league, something which hasn't happened in over 5 years.
As OCs find their feet in Surrey Div 1, this was a hard result to take for the squad containing plenty of new faces. As they grow into their new league and find some rhythm as a new squad, they showed the talent and tenacity at times on Saturday that will stand them in good stead for the remainder of the season. As always with this group of players, their morale is hard to knock, as is their sportsmanship, which was unwavering in the clubhouse with beers and conversation exchanged with Woking players and the umpires, which is great to see from a team who from the scoreline, would have been forgiven for heading straight back up the A3 after the game. Man of the match in a game like this is a tough vote to ask for, but Charlie Richardson never stopped running up and down the wing, stopping Woking attacks and starting OC ones in the same swift movement all day long. It's hard to look past Kenty's open goal miss for DoD but skipper Max Arthur was beaten on the post at a short corner by a ball that a few months ago would have been clipped to square leg with ease. Apparently the new face masks offer little visibility…. #justsaying Next up for OC 3s, Trinity Mid-Whitgiftian who are level on points with OCs after their opening three games. Mid-table 6-pointer if ever I saw one.
Men's 4th XI 5-2 Trinity Mid-Whitgiftian 2
On a day where we saw Eliud Kipchoge setting the Worlds fastest marathon record, we saw the OC 4's (Old 3a's) trying to make their own sporting history. We arrived on a wet and miserable day to find we could not park within 5 kilometres of the pitch due to an overflowing car park. However, we finally all met on the astro and in typical 4's (Old 3a's) fashion we needed five minutes to learn all the new faces and names in the squad. We then swiftly set off on an intense warm-up (Kieran tactically kitted up early so he didn't need to join in) with Kanppy taking the lead. He clearly wanted to try and beat Kipchoge's new record as we sprinted around the tennis courts and launched into an extensive warm-up routine. It was here that Knappy rudely changed the name of the famous 'Jonny Wilkinson' warm-up to a 'Dan Biggar' (plays rugby for Wales apparently) which is clearly a poor choice as he is certainly a second rate kicker and it did not offer the same warm-up benefits as the 'Jonny'. Anyway, we finished the warm-up feeling good and ready to beat our opponents who were clearly still struggling to park as only their keeper had arrived.
The game started well with us  claiming possession and getting an important early goal. This gave us the confidence to play some nice hockey and we claimed a lovely second goal due to some great support play from Toby at the back which helped us close out the first half without too much to worry about. I missed the half-time team talk due to a few minor shoe related issues and Knappy's car with the spare pair located closer to Putney than the astro. However, I am sure Kieran's speech was inspiring and motivating which is why we started the 2nd half with confidence. I believe it was also here that Toby literally pissed away £30 through the fence, narrowly missing our one spectator and somehow managing to also avoid a yellow card. The second half continued well and we scored a couple more goals all but winning us the game. We got into some great positions after few fantastic runs down the wings from Ajay and Tristan who were clearly not tiring as much as some of the 'senior' players in their old fading shirts. Due to our comfortable lead we got a little sloppy and after a few horrible rugby tackles from your DoD which would have been better suited in Tokyo we gave away a few soft goals. However, it was nothing to be worried about and after a fifth goal with a great finish from Eds at the far post we closed it out for a comfortable 5-2 victory for the OC 4's (Old 3a's). Clearly some great improvements from the week before and I hope this form can continue for the rest of the season. Hugo.
Stormers 1-3 Hamstead & Westminster
On a day when marathon records were broken, Stormers hosted H&W at fortress TD in the pouring rain. After five mins it was clear that there wasn't just a tornado ripping through Japan, it (Number 9) was also ripping through the middle of fortress TD. The fortress was now The Alamo. After a hesitant first 10 mins the Stormers got into their rhythm and moved the ball well through a well drilled and organised H&W. Moz had a great first half saving a number of direct shots, deflections, and penalty corners. The Stormers confidence grew and at one stage they decided to play with just 9 men. H&W couldn't score. 0-0 at half time.
After a positive team talk the Stormers stepped up a gear and were not only winning 50/50s, they actually looked fitter than H&W.  The game opened up.  However, two penalty corner conversions later Stormers were two goals down. Fifteen mins to go and Grimer converted a penalty corner to apply some late pressure.  The game was in the balance … for three minutes. Twelve mins to go and the Tornado struck again with a solo run through three players for only the last man standing to do what a defender must always do in a time of crisis … hack the man down. Penalty flick converted 3-1. All in all a positive team performance. £60 in card fines and no car park action. Two games in and the team is adjusting to the demands of a very competitive league.
Ladies 1st XI 4-0 London Edwardians 1st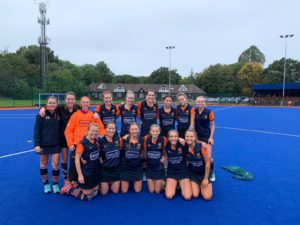 After two draws, we were looking for their first win of the season, against London Edwardians at Fortress TD. The name of the game was intensity, and that's how we started. Pressing hard and fighting for the ball. After lots of continuous attack and some solid defending by Eds, the first goal came from a great run into the top of the D by Meg Perry, who twisted and turned around several defenders and shot on target. The keeper made a quick save however Laura Sealey was there to mop up and picked up the rebound. We continued with high intensity, with our forwards and mid field working hard. The second goal came from a great run by Katie Richards who drove the ball down the right side of the pitch into the D and passed across from the baseline to Laura Sealey who shot on target. A third goal came quickly however this was disallowed due to a lifted ball after the OC's all headed back to the halfway line.
After a great half time talk, we started out strong and the third goal came 26 seconds after the re-start. After stealing the ball off the oppo, Katie Richards crossed the ball into the D to Laura Sealey, who reversed the ball into the goal. A hat trick for Laura. Our goalkeeper Michele Rankin had little to do however there was a scary moment when the Oppo swept a ball up the pitch to a loan player outside our D. Michele came out quickly putting the player off and sweeping the ball clean away. Eds had another break up the right of the pitch however Jackie Waite took one for the team after making a strong tackle and earning herself two minutes on the naughty step. Still holding strong, we got our fourth when the ball was driven up the right, swept into the D and Holly Hume shot on target, getting her first OC goal. A great, intense game from the OC Ladies and we will take this positivity into our next league game after the half term break.
PWC 2nd XI 2-1 Ladies 4th XI
We started (on the pitch with the best views in Surrey) with 15 players and swiftly lost one to a nose bleed. PWHC were strong and quite aggressive from the start, whilst we took a little while to warm up and were not as organised as we should have been. Most of the play was in our half and we (Kate, Ruby, Pam, Fee) were defending hard. Despite some very positive goalkeeping from Jo, PWHC scored from a short corner and left us on the back foot at half time. We started much more strongly in the second half and made several attacks via some penetrating balls from Katharine, Fee, and Jenny with Lily, Pam and Anna well-placed to get into the D. Unfortunately PWHC took the opportunity from a loose ball to counter-attack and scored their second. Bah.
We finally kicked into gear and started playing properly, earning two short corners in quick succession. The second was stopped on the line by a defender's foot, giving us a P flick. As everyone shook their heads no thank you, Debbie stepped up and said "well I have done a bit of practice recently…" and with her usual calm, dispatched the ball into the net. 2-1. In a frenetic final 4 minutes we gained 2 more short corners, but failed to score and the final result remained 2-1. Great team effort, particularly in the second half. Maybe we should put a bit more into our warm up?!
OC Ladies 5s 0-9 Clapham Common HC 3s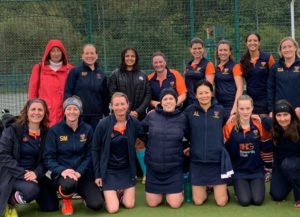 From the outset this was going to be a tough game against a strong side, a number of whom have come together post university and gelled into a team to be reckoned with! The pressure was on from the first with Clapham immediately intercepting from the push back. We held up well for the first quarter, with a strong defence and great play from our goalie Molly as we ceded a number of short corners that were successfully deflected. It was only a matter of time before one of these stuck however and we went nil-one down after about 10 minutes of play. The pressure stayed in the defensive half from then on; we worked really hard and managed to create some good passages of play carrying the ball down into the attacking half but we could not quite get the goals to stick this week. All credit to our determined back line and particularly goalie Molly, named our player of the match and without whom the end result of 0-9 would have been a lot worse. A well-earned win by a quality opposition.