The men's 5th XI continued their 100% record, the Ladies 1st XI came from behind to win 3-1, and the Men's 1st XI picked themselves up on Sunday to win following Saturday's defeat on their West Country weekend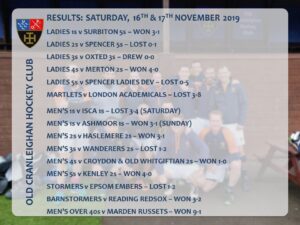 ISCA 4-3 Men's 1st XI
Ashmoor 1-3 Men's 1st XI
Coming off the back of a disappointing draw with the University of Bristol on the previous weekend, we made our way down to Exeter for a double header weekend. ISCA were up first, an outfit that had been dispatched with relative ease in the earlier fixture at TD. Having left London at 6.00am, we knew that a fast start was required and a quick start was what preceded. Matt Murphy pressing high and stealing the ball off an ISCA centre back. When the ball found its way through to Charlie Lamb in the D and we were one up. We didn't take our foot of the gas and a second goal quickly followed. Good work in the D from Ben Wilson saw a short corner being won. Matt Murphy lined up his flick and beat the keeper low down to his right hand side. The game was firmly in our hands and the team was confidently controlling the tempo of the game. Against the run of play, ISCA managed to grab one back. Not fazed by the goal, we kept controlling the game and we soon restored our two-goal lead. Good hands from Dan Rhodes saw some space open up in the D and his reverse shot thudded home. Going into half time we were in a commanding position. This however proved to be ourdownfall. Perhaps arrogance or perhaps a slip of concentration. The next quarter saw us concede three sloppy goals. Three goals that ultimately led to ISCA running out 4-3 victors. Disappointed? This was an understatement. We knew that we only had themselves to blame.
Not ones to dwell on the past, we put the result out of our minds and focused in on the Ashmoor match 24 hours later. Having fallen off top spot in the table for the first time in the season, our reaction was ever important. Fresh from morning walks down the Paignton coastline and some intensely competed mini golf, we entered the game with renewed confidence. This showed in the first few minutes as we took control of the game. A clever team play saw us win a short corner and Murphy coolly slotted his flick away, down to the keepers right. We continued to press hard and chances were coming. It was only going to be a matter of time. Hugh Robinson picked the ball up high inside the Ashmoor half and picked out Will Phillips on the near post. A pitch perfect pass and deft deflection saw the Ashmoor keeper being beaten from a tight angle. With a two-goal cushion at half time, we were not going to let this slip as we had done the day before. The team were out of the blocks quickly in the second half and this paid dividends once again. Having won the ball in midfield, we countered at blistering pace, Murphy finding Jack Smart in the final third who delivered a ball to the back post for Ben Wilson to deflect home. Ashmoor did manage to get one goal back however this would prove to be the only real threat to the our lead.
It was a weekend of mixed emotions. A disappointing loss on Saturday and a great response on Sunday. Three points wanted but only 3 points gained. Top spot lost but the title race still well and truly on. Bring on Cardiff!
Haslemere 1-3 Men's 2nd XI
It was a morning that befitted the afternoon, filled with the familiar – Kenty napping in the back with a Lucozade; a Wilson running late; a grumpy Goalie; Magic FM delivering wall-to-wall classics – and the unfamiliar – a flat car battery; Meersy in Streatham on a Saturday morning; no 8am leave for a pre-game Rugby World Cup roller-coaster; the sneaky feeling that a DoD day was on the cards; and the promise of a record away supporters club (five by full-time). Magic FM's final banger of 'Karma Chameleon' as Rolf (the Golf) emerged from the Hindhead tunnel, felt a nod to nostalgia – with Cooper, Kent, Marchant and Russell-Jones having 'come and gone' from Haslemere HC – but was in fact an omen disguised.
A rare 20mins on-pitch warm-up meant we were able to quickly settle into their familiar tempo and verve, but were met by unfamiliar opposition tactics. Playing half-court with a packed centre and energetic full-backs eager to front-mark, Haslemere started as they were to go on and made life difficult for us as they came at them Time After Time. Vision and a little Patience from JFK, Gallyer, Laidman and Simpson at the back coupled with height, width, skill and nuance from the forwards led to a flurry of spluttering short corners. With the pressure of the familiar story of early dominance not being reflected on the scoreboard mounting, the break-through came in text-book fashion – FBRJ 9000 swooping onto a deflected drag-flick and blasting between the keepers legs.  While we continued to dominate, Haslemere's discipline allowed their young and sharp side space to counter-attack. One breakaway led to a short-corner and another return to the familiar – Haslemere finding Goalie's Achilles Heel only metaphorically as they found the gap in his long-barrier with a push down the middle. Despite more pressure and another breakaway scare from Haslemere, 1-1 it stayed until half time.
The second half saw us try ever more inventive ways to change our colours and shape to break down Haslemere. At 46mins Dan Ladd, joint-MoM and Legs MacGee, was the first to react to an Imperfect short corner with sensual control and an unstoppable rocket into the side-board. 2-1. Haslemere's young, quick and talented front five continued to orchestrate dangerous counter-attacks when they managed to break free of their own half, often aided by long corners won from tiny OC deflections on Haslemere defence's hoofs up the pitch, but found that Goalie had packed his fur-lined Dancing Shoes. A tense finale ensued, with our skipper and richly deserved DoD needlessly adding to the pressure with a card for a Careless Whisper.
Our defence continued to probe tirelessly; the disciplined FBRJ 9000, Sam Wilson and joint-MoM Evan Morris scrapped and snapped to nullify and restrict Haslemere's youth; forwards Cookie – no matter what strange place he found himself in and despite nursing that delicate hamstring – Cooper, Kenty, Rocket Man Dan Ladd and the Diving DR all flung themselves around our press, yet still found the gas to create chances until the dying moments. Indeed, another short corner was how this story was to end. With the final whistle blown and the pressure off, Champagne Laidman got his platform and fired in a beauty off the cross-bar. 3-1. In the end, Karma Chameleon it was – three precious points the deserved reward for our dominance, earned through familiar colours of determination and grit, and finding unfamiliar ways to win.
Men's 3rd XI 1-0 Croydon 2s
I emphatically deny that I tried to throw an aerial in the first few minutes of the second half at TD at approximately 1.48. I was not at TD but at Pizza Express in Woking for Brutus' 13th birthday party. I remember it very well as it is not normal for me to be in Woking Pizza Express on a Saturday afternoon in November. In order to be honourable I am putting my head above the parapet and writing this match report.
CB deserves to right the report with his post match comment of "I did miss a few things in the game as I was watching the hockey being played". Having umpired the game before I could totally sympathise with that comment. For the first time in weeks we had a proper start time and without rain. Clearly our three colts were still on their X Boxes as none of the three were playing. Our age differential was reduced by 15 % as a result. The game itself was an advert for footballing louts but there was a positive. The volumes of the non stop hot air escaping the mouths of the team in white increased the temperature at TD by a good four degrees. In fact Oxford University have just published an thesis that gives a clear indication that the seat of global warming is indeed Croydon, their first claim to fame. A blue plaque is on its way to the town hall.
We made heavy work of rolling them over but roll them over we did with another clean sheet to boot. A 1-0 win courtesy of a Patrick effort in the second half was enough but with a shot or two taken off the line and much pressure it should have been easier. Thank you CB and your co umpire to keep control of what could have become a testy affair. Back into the top four and Merton Saffers up next with a paltry looking seven available at the time of writing. Surely we want to sneak promotion so why not better availability? Their ground is just behind Tooting and Mitcham's stadium so more of footballers intelligent comments to contend with.
Men's England Hockey O40s Match
Tights, tight hamstrings, and the smell of deep heat greeted a keen Marden Russets to fortress TD for the start of the over 40s cup campaign.
After a one minute silence at the start of the warm up for an absent Wizzer, (He really did play his last game for OCs) Captain Gerry threatened the team with fines and gave a rousing team talk 'Don't get complacent and expect to score in the first 5 minutes. Stiffer than a prince at a Jeffery Epstein party, after all playing on the Saturday, (Except Rippers who was still nursing a drunken ankle injury), the mid life crisis vets were raring to go. As usual the team didn't listen to Gerrys wise words and went 2 goals up in the first 5 minutes. At times it was champagne hockey, until the Cava moment and a lack of concentration let the Marden Russets in for a scrappy goal. 2-1
With cool heads OCs managed to get another 2 goals in before half time with some excellent well worked passes. The forwards were linking up beautifully and if JJ had decided to play with his hockey stick instead of his pitching wedge it might have been all over at half time.
After Captains half time team talk which lasted an inspirational 2m 43s and Gav's shorter version which lasted 3m43s there was no time to listen to Heardy's even shorter version. Second half OCs stepped up another gear and started to get into their rhythm. Packers completed his hat -trick early in the second half which meant his work for the day was almost done. Drama unfolded when the 'Sniper in the woods' struck! CB mysteriously taken out on the top of the D caused him to retire early. Aledegly it was friendly fire! Heslop, having an impromptu 2min breather (for the team), scored two in quick succession which meant that everyone was trying their luck. Closey even had two shots at goal, one came very close ……..20 seconds after the whistle and JJ came close to hitting Portsmouth Road with his pitching wedge. In the Last five minutes, with some brilliance from JJ, OCs won a penalty stroke. Gav took the ball (nobody could take it off him) to complete his hat-trick. Dancing on the spot, the power deceived the GK. The GK kicked at the ball four times before the ball crossed the line. (It didn't even hit the back board) If hockey had VAR the slow motion replay would have taken 5 mins.
The game ended 9-1, all in all a fantastic start to this years cup journey with an excellent team performance.
Funding for #bringwizzerbackforthefinal has started after a punchy first fines session.
Goals – Gav 3 (just) Packers 3, Heslop 2, Gerry 1
Next game 8th December!
Surbiton 5ths 1-3 Ladies 1st XI
Old Cranleighan Ladies 1s got back to winning ways on Saturday, following a disappointing loss in their top of the table clash last weekend against London Academicals 1s in the Surrey Hockey Ladies League Division 1.
On Saturday they played Surbiton Ladies 5s away who were equally up for the challenge and in need of some points. Surbiton took an early lead against the run of play but a slow start from Old Cranleigan's, coupled with being easily pushed off the ball and deciding football was a better game holding onto possession proved difficult. Even before the break Old Cranleighan's had four penalty corners but didn't manage to get the equaliser needed and at half time it was 1-0 to the home team.
The second half proved to be a very different game as Old Cranleighan's sort to dominate possession through controlled passing and a greater team focus. Ten minutes from full time an interception by Laura Searly from a Surbiton 16 yard free hit, combined with a run to the back line and a cross into the D made for the equaliser as the ball deflected off a Surbiton stick into the goal. Within five minutes a strong drive down the right from Georgia Watson claimed a short corner which Molly Hanson deflected in after diving to meet Katie Richards straight strike on goal. A third goal followed for Old Cranleighan two minutes later from another penalty corner, following some robust tackling from Surbiton, which Katie Richards placed perfectly into the bottom corner of the goal. It could have been four before the final whistle but unfortunately the umpires saw an infringement just on the line by Old Cranleighan's just as the ball entered the goal. The game ended with a 1-3 win to Old Cranleighan Ladies 1s which leaves them in touch with the top teams and promotion.
Ladies 2nd XI 0-1 Spencer 5s
It felt like a day where glory would come our way, alas it was not to be. After a well fought battle, we ended with a frustrating result. Spencer's had tight passing and strong forwards. While we were determined to secure a win and to implement Lauren's newest gem of wisdom… 'Don't be puppies! Except forwards, who need to be a little bit like puppies!'.
Looking back on the game we were a bit jumpy to start with – working hard for the ball and then giving it away again, getting it back and then panicking – we had some good chances but didn't quite get there.  We took a while to start capitalising on our 16's. We pressed well though (putting Tuesday's efforts to good use!) but perhaps, we did not pin the ball in quick enough. We did a great job on defensive short corners, with a beautiful save from Emma, who got her stick to a very hard straight strike on goal before half time. All up Spencer's had 3 shorts and got nothing from us.
At half-time we were 0-0 so gobbled a lot of jelly babies and hit the pitch, ready to take charge in the second half. There was a lovely chance for a goal when Ellen passed into D and Bernie send a shot across the goal, just wide of going on the right post – if there had been someone on right post to nudge it in it would have been marvellous.
Our second "almost goal" was almost scored from open field play – a ball in from the right, a couple of rebounds, then things very scrappy, their keeper stepped out, and Ellen slipped the ball into goal just after the whistle blew for a short. Another "almost goal" came from a short where there was a scuffle and then Chitty pushed the ball into goal, again just after the whistle blew for another short.
Everything came together for Spencer when they secured an open field goal smashed in from the left side – Evie saved it on the line, but the ball went left and Spencer's slipped it in at the post. We fought back hard but ran out of time to equalise.
POM this week to Amy, who just kept the tempo up for the whole game and kept fighting through a rough patch for our defence (second 3rd of 2nd half) when we lost our form. Unofficial DOD to Emma for getting too lively on the bench and getting told off by Martin – doh!!
Ladies 4th XI 4-0 Merton 2s
Having lost the previous week whilst being unbeaten at home, we knew this is a game we must win. The game started well for us and we scored quickly. This gave us confidence and we then went on to play one of our best matches so far, with some lovely passing and linking between the sides. I think it was clear to us very quickly that we would win the game. With a 3-0 lead at half time, we took it in our stride that the opposition came out stronger in the second half, and we continued playing our game, scoring once more. It was a thoroughly deserved 4-0 win in the end and a lovely team performance. Standout players were Katherine and Sara with some dazzling skills and two goals each!
Spencer Development 5-0 Ladies 5th XI
A bright and early sunny morning in Earlsfield was the venue for the Ladies 5s away game to Spencer U18 development team! Trying to ignore the 25 year age gap, we started strong, playing our hockey, with lots of possession in the oppo's half and looking for triangles, lots of action in their D. The first half closed after a well fought start, managing to only concede two goals which Spencer scored from two short corners. Not phased by the goal difference, and after a debrief on tactics by coach Meersy, we took the game head on. Youth, energy and strength of play, all contributed to a number of Spencer goals catching the 5's on the back foot. A green card was given half way through the second half for repeated heavy, stick tackles by Spencer's strongest player in Centre Midfield. The defence and GK Ailsa did an amazing job trying to hold off Spencer who were on a roll, with very physical play that got the better of us and ended up with us conceding a further 5 goals. Final score 7-0 to Spencer, the score line sadly doesn't fully represent how hard the team worked! We still walked off the pitch with a smile on our faces, having had a great game of hockey with friends, onwards and upwards.
A great contribution throughout by Captain Rae who was nominated coaches POM, and an amazing game by the team's POM Rachel Coburn in centre mid, great skill and energy throughout, both very well deserved.
Ladies Martlets 3-7 London Academicals 2As
This Saturday it was the Martlets turn to battle it out against Accies – London Academicals 2A. A few of us had played them last week in the L5's match and had a strong feeling it would be another very defensive game. For some of our players it was their first match experience and what an impressive performance they gave. Confidence lifted within the first 10 minutes with a cracking first goal from Paula. Throughout the game both sides had plenty of short corner practice, one successful goal for us! Accies scored a few more goals in between ours, with a very evenly distributed possession of the ball between both teams. There were some tremendous runs up the wings with some great passing from our mid field, allowing us to use the full width of the pitch. Tension mounted with a foul in our attacking D – a superb penalty conversion from Mischa. The final score was 3 – 7 but the game was closer than the score suggests. With only one sub, our stamina was maintained at an impressive level from defence, right up to our forwards. Everyone played so hard and had a very enjoyable game.