The men's section led the way with four solid wins, including another win on the road for the 1st XIs in Cardiff, 󠁧󠁢󠁷󠁬󠁳󠁿 and a fabulous result for our Ladies 3rd XI in the dark and rain.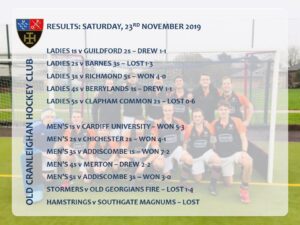 Cardiff University 3-5 Men's 1st XI
The 1st XI made our first visit to another country as they ventured across the Severn bridge to visit Cardiff University on a wet Welsh Saturday. We got off to the worst possible start, conceding without touching the ball as a Cardiff forward tapped in unmarked at the back post. It took a while for us to get going but we slowly got into the game beginning to maintain possession and control the tempo. The scores were soon level as Louis Wright fired a reverse stick home. However, Cardiff soon regained the lead after a turnover in our midfield saw Cardiff counter quickly and convert a reverse stick shot from a tight angle. Their lead lasted eight minutes and it was again Louis Wright who neatly deflected the ball into the back of the net after a quick counter down the right hand side. The remaining 15 minutes of the first half saw us dominate possession and territory but it was not until the first corner of the game in the 33rd minute that the deadlock was broken as Matt Murphy converted past the keeper.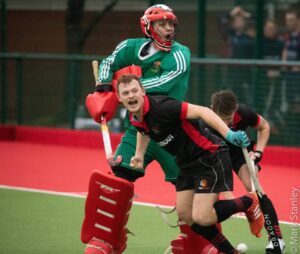 The second half started in similar fashion with Murphy bagging his second penalty corner of the game in the 43rd minute. We remained comfortable for the next 10 minutes but conceded a soft corner in the 51st minute that was dispatched bringing Cardiff back into the game. The last quarter was a scrappy affair with Cardiff University putting OCs under some serious pressure. We continued to look dangerous on the counter and regained a two-goal cushion with 10 minutes left as Murphy completed his hat trick, slotting another corner past the keeper. Cardiff continued to pile pressure on and were rewarded with a penalty stroke which was thankfully missed to the left hand side of the goal. They also had a disallowed goal in the closing minutes as a forward left his feet to convert a penalty corner which was deemed dangerous by the umpires. The game finished 5-3 so we took three points back up the M4.
We now sit one point behind league leaders Richmond who drew away at Exeter University. We return home this Sunday hoping to finish off this half of the season with three points against Cheltenham.
Merton 2-2 Men's 4th XI
There are nightmares and nightmares. Dreams of running without moving forward, driving a car without brakes and being trampled by a horse when walking across a field. Then there is seeing the post code for the away game starting CR.  A wet, grey November Saturday is made all the worse with a CR away game. As a Surrey toff who lives in the leafy Surrey Hills why on earth do we have Croydon in Surrey. Ikea and an impossible road system are the highlights but the twinning with Chernobyl is apt. Corbyn has said he will give back The Chagos Islands to Mauritius. Hardly a vote winner in Surrey. Come on Corbyn do something popular, promise to annexe Croydon to Essex.
Once again I find myself taking one for the team. As we assembled at The Harris Academy Mitcham in the CR post code courtesy of the skipper's directions the game before us was running about 35 minutes late. Positively we were all assembled before any of the oppo put in an appearance. Perhaps they had wind of the late start to the game on the pitch. We came back to reality when Kieran received an email from the opposition skipper at 12.20 for a 12.30 start "are you turning up?" We were at the wrong Harris Academy. We needed to be at Merton version which was 16 minutes away with an SM post code. Could have saved us much mental anguish and banished the safety concerns had the letters CR not been thrust into our sat navs. The Harris Academy hop went without any incident bar John S being flashed by a speed camera doing 70 in a 20 mph zone. He would appreciate lifts to games for the next 12 months. Yours truly also left his Astros at the CR Academy but fortunately Kieran had eagle eyes and asked Max A to bring them along. My spare pair were being worn by Hugo who is having Jimmy Choo making him hand made astros that take 6 weeks to be made. They should be here next week.
We welcomed back Eds as well as Max and Lewi and with 14 had as strong a squad as we have had all season. Regrettably we played like a team that had not had a warm up and decided that giving the oppo the ball with 40 or 50 unforced errors would be fun. Well, it was not fun. After a turgid first 20 minutes on a 1980's beach like astro where the ball picked up lumps of glue like grains we found ourselves 1 – 0 down. This was a product of leaving their left wing in a shed load of space one yard out. This did spur us into action and we had the best spell of the game, forced two short corners, the first of which Eds converted with a dipping strike and the second thrashed home by Lewi on the follow up. The second was a produce of excellent work down the right by our youngsters.
A half time score of 2 – 1, a product of simple sharp hockey, should have been the catalyst for more of the same. Although we forced four or five short corners nothing came of them and we went back to our profligate best and handed Merton a way back in. They equalised with about 7 to go and that is how it stayed. We were pants. I suppose the solace we can extract is that 10 years ago our 1s were playing against Merton 1s so times have changed. Any promotion hopes are probably now dashed unless we put together a stonking run and drop no more than a few more points in the next 13 games. Next week another 4pm home game against OKs 1s, another oppo of our 1s but a few years ago. Thank you to our four umpires for their sharing of the 70 minutes which was appreciated by us all.
Ladies 1st XI 1-1 Guildford 1s
Click here for match photos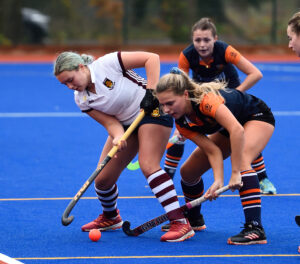 The Ladies 1s went into the weekend filled with excitement and hunger after a win the previous weekend… and a tweet from a 'well-meaning' parent rubbed some people up the wrong way. Guildford sat one point above OCs in the league and both teams were rearing to go. We started hard and fast, putting plenty of pressure on their defence. In the first 15 minutes the ball barely crossed the half way line. However they had one issue – scoring. The action round the edge of the D was constant, the penetration was impressive but each time they tired to score, they were thwarted by Guildford's defence. Finally a breakthrough! Some inspired play from Watson, Richie and Simms resulted in a short corner. An injection from Hanson, a stick stop from Springett and a bullet like shot from Simms put OCs 1-0 up at the stroke of half time.
After some inspirational words from Moors, the team entered the second half full of life and ready to go – applying the same consistent pressure to Guildford and continuing to drive up the left and right hand side hard. They faced only one issue – Guildford's twelfth man. Despite what we felt were very obvious fouls in the D, the abundance of short corners they so longed for never came. One, so obvious, many of the team stopped playing in outrage. Unfortunately, the Oppo's centre mid, who managed to stay on her feet, played the balls deftly down to the other end of the pitch. Our solid back line were caught unawares and frustratingly conceded a short corner. Somehow, they hit the crossbar; the ball dropping just in front of the goal and after some scrappy play, they managed to force the ball between the goal posts. 1-1. We continued to work hard but we felt the pressure, and the game took on a similar feel to that two weeks previous.  Despite constant action in the scoring area (and plenty an opportunity) OCs just couldn't put the ball in the hole… I mean goal. The game ended in a draw, but the raucous cheer from the opposition clearly demonstrated who should have won….Roll on next week!
Ladies 2nd XI 1-3 Barnes 3s
Rocking up to daylight robbery with 3 hockey players cars (from the team playing before us thank goodness)been broken into! Our players on edge and checking cars- not a good start! To add to that bleakness, it was another rainy game, shock!
The first half was positive with far more intensity and demand for the ball than the previous week. We had lots of attack with lovely short angle passes on the right between Inner (Rachel), CH (Alina) and RH (Josie), then feeding it down the line to RF (Kitty) who was battling hard to get it into the D and convert. From the hassle in the D we got a fare few short corners but had trouble scoring.  Unfortunately the oppo broke through and had some very good high players out running our defence and getting an easy goal in. We then had more play and got it down to the goal by LH (Ele) feeding ball up to CF (Soph) who ran round a few players and pushed it towards the goal, straight under the keepers stick into goal! Boom!!! Unfortunately the oppo had another breakthrough and scored again. At half time the score was 2-1 to them.
Second half we lost our oomph due to tired legs. However the press remained very strong and lots of pressure on their LB . The oppo gained their first short corner of which they annoying managed to smash the ball in, which was very hard to save! That resulted in the final score being 3-1 to them. Their play throughout the pitch was no better than ours, they just had more aggression in the attacking D and more luck scoring. Something to work on going forward ! POM- Alina
Ladies 3rd XI 4-0 Richmond 5s
Click here for match photos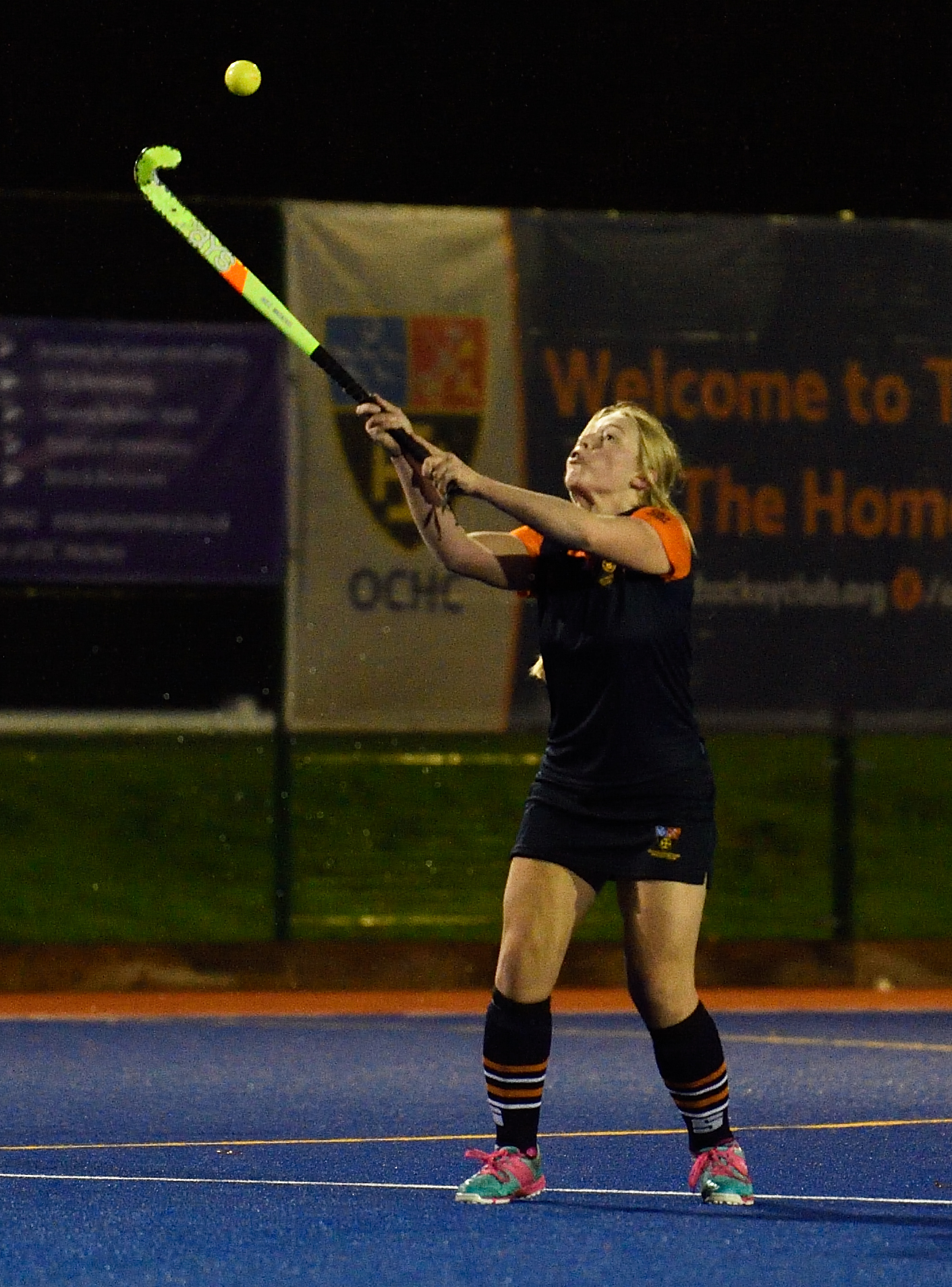 Tired of what seemed like an impossible number of draws so far this season, we arrived eagerly at our home pitch ready to break the cycle. The game started positively and we looked and felt strong, finding ourselves in their half pretty easily. We managed to get a shortie early on and given our track record, this wasn't likely to be our best chance of a goal. Hey ho, maybe this time. We opted for the straight strike and Paula had enough time to do so. In what looked like slow mo, the ball bobbled over a defender's stick and passed the goalie. To our surprise and the oppo's, it eventually went over the backline and unsure how to celebrate it, we graciously slinked back to the halfway line. Buoyed by an early goal, we continued pressing, making sure even if the oppo had a counterattack we had it under control – definitely part of our game we have improved upon since starting a new formation this season. Everyone forward, everyone back – the new team mantra! Then our efforts paid off and we managed to score another two goals before the half time whistle – one slotted in by Bernie and a beautifully timed assist by Ciera to set up Eilidh. As is tradition with us now, we also had several near misses with the post acting like a magnet. In the second half, Richmond came back very strongly and we looked tired. But determined not to let this scoreline slip from our hands, we pressed on and then in what seemed to come out of nowhere, another goal, this time from Issy. Despite a very good oppo, we finally got a score that reflected how well we have been playing lately. Great team effort and hopefully this is the momentum we need to take us through the next couple of games. Thanks to Kieran for shouting instructions and running the subs bench; would not have been as smooth without you. Big thanks to our umpires, Chris and Grant and our supporters – hopefully not as much tension watching us this week!
Berrylands 1-1 Ladies 4th XI
It's hard to say what went wrong in this match which on paper should have been an easy win. We could blame the state of the pitch (maybe – it was shocking), the umpires (no they were very good), the weather (no the rain held off until the end) the captain on the day ( me – ok maybe!) but really I think it was down to a concerted effort by most of the team to play one of their worst games of hockey ever. Berrylands deserved the point they got. In the first half we had a few chances which for one reason or another didn't quite make it into the goal. Berrylands seemed to want the ball more than we did and they got a goal towards the end of the first half through sheer determination. Our pep talk at half time had limited success and the second half continued much the same until the last 15 minutes or so when we realised we were actually playing a game of hockey and maybe the sticks and balls weren't just decorative. The equaliser came from a short corner when after a bit of scrapping over the ball Jenny put it in the net. Whew! Ruby and Lily our young players together with Jenny ran their socks off but even that didn't make much difference. I took myself off for the last 10 minutes to save myself any further embarrassment at the way I was playing but this made only a marginal difference. Thank goodness it was an away game as we would have had to do the walk of shame had it been at home maybe witnessed by some OC members. Thanks Nici for excellent umpiring. We are playing the top of the league next Saturday and as next week's captain pleaded after the match "next Saturday can we please not play like we did today" – reasonable request and to be fair we usually don't.
Ladies 5th XI 0-6 Clapham Common Ladies 2nds
Click here for match photos

Only a 20 year age gap between us and the unbeaten league leaders this week so that felt like progress from last week already. We felt confident and started pretty strongly, managing to push through but not create sufficient chances on goal compared to the Clapham 2s who were quick to intercept and release the ball to their forwards. Over the course of the half the pressure on our goal increased with a number of short corners all beautifully saved by our fierce goalie Ailsa (who is indeed over 18, umpire!), the minutes counted down and just when we thought we were to escape a hard-fought half unscathed, a goal snuck in for CCHC with mere seconds to spare before the whistle. We came out fighting for the second half but our feisty opposition were much buoyed up by their pressure finally paying off in the first half and wore us down with their physical playing style… Goal then seemed to follow goal despite huge efforts from the defence again, in particular Tess Goddard who stayed quick on the ball, intercepting and clearing beautifully down the left earning her a very well deserved joint POM alongside goalie Ailsa.