With the 1st XI on a weekend off, the 2nd XI took centre stage with a rousing 13-0 win (so we'll forgive them the rambling report) as the club won nine of the ten matches played
Camberley & Farnborough 1s 0-13 2nd XI
Dear diary, I gaze out the window counting the cars swish by. 'When we collide' rings through the car whilst Meersy sings along with surprising control and tonality. I can't help but feel moved by Matt Cardle's lyrics as they eerily reflect my emotional state towards English rugby. 'I take a bruise I know you're worth it. When you hit me, hit me hard' – it's interesting to see how egg chasing can stimulate such sadness and anger throughout a country. The all too familiar grey sight of splashing rain on the windshield doesn't help either. Myles is sleeping next to me as I wonder what's running through his head. Dejected imagery of English rugby or positive visualisation of v-drags and roll outs? Goalie's not said a word and I'm still single.
Alas, we must claw ourselves out of this hole and charge up in a changing room which was surely intended for two umpires and a dog. The lowest lows bring the highest highs I told myself and what better way to initiate positive energy than rolling around in the mud that is male dysfunction through locker room chat. Paddy astutely made the team aware of our conformity to cliché and posed an interesting question. Do all other social groups that congregate every Saturday to play stick and ball games partake in such primitive behaviour? He answered himself with a resounding yes. Skipper Marchant took centre stage to gee up the fellas and talk tactics. The sounds of calmness bounced around the walls following last week's dominant performance though complacency was not an option. The objective and mission statement was to send a message to the league. The ringing of calmness and simplicity was followed with 'work our tits off'. A message which can be fully understood when observing the surrounding sloppy rigs.
Ten minutes deck time on foreign soil before the starting whistle was no issue for us as we started ferociously. First short-corner of the game led to the ball rebounding to myself at top D. The spirit of Odin found his way into my optic stems as I clipped one into the bottom corner. The fellas told me it mirrored the treatment Virat Kohli gives to anything full and straight on a flat one. This was the catalyst to what can only be described as a goal fest.
Champagne moment: One of the many team moves found Ladd at p-spot, back to goal, with a two-touch seductive flick round the corner to set up Roberts. The journo's would go on to describe the assist as the perfect combination of beauty and danger and is sure to be on the highlights reel at the end of the season. The goal immediately preceding half time was a personal favourite of mine. A fat roll-out from inside left, transferred through the heart of the pitch, distributed and advanced down the right side-line before being squared top D, where Lawson dispatched the shell into the bottom left bin. Text-book hockey which was exemplary for the juniors watching.
Foot on throat were the echo's during the half-time chat as goal difference could be a factor come end of season. Mixtures of other sound bites were thrown around, Stu Ripley addressing the team as Jordan Belfort would his hungry salesmen with some eye watering inspiration. Onto the second half. Laidman, who must have been determined to dispel any rumours of a 'rig-based selection', continued to render their keeper insipid with his incessant flicking into the bottom corner. Roberts responded to a two-footed challenge from the keeper with a yelp comparable to what one would hear from an exorcism. Nevertheless, demons fully evicted from his soul, he swiftly deposited the p-flick to add to his hoard. In fact, Roberts flew straight to social media after the game to let the naysayers know where hard work and self-belief can get you.
13-0 was the final score and another dominant performance from the scoobs. Man of the Match went to Lawson for his masterful swordplay throughout the game and green cards went to Myles and myself for over-enthusiastic jousting, which helped me secure my first DOD of the season. Goals for Laidman (4), Roberts (3), Lawson, J Harman, P Harman, Kenty, Cookie and Ladd. Onto the Badge and Coat were the cries and that sweet nectar of victory went down all too well. As I reflect on the emotions that this day bestowed upon me I have a sense of enlightenment. The lowest lows do bring the highest highs and this truly is the beauty of the code we live in.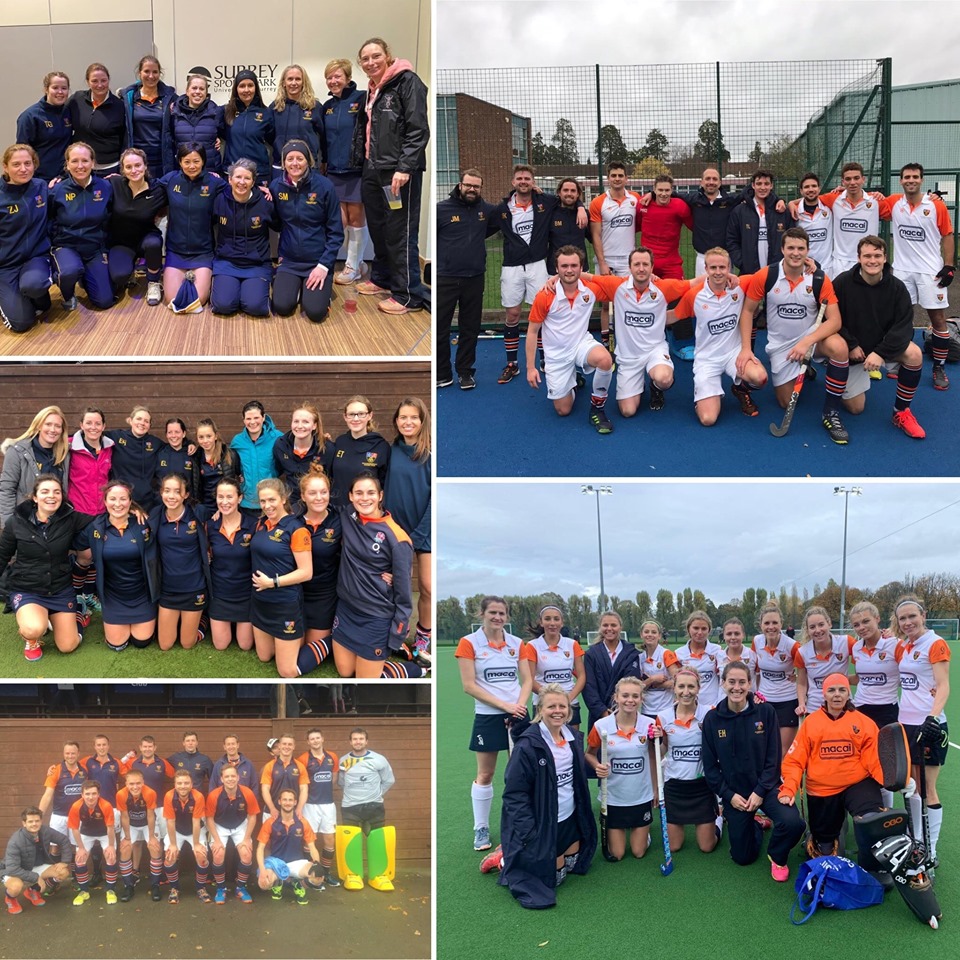 Surrey Spartans 2s 0-1 Ladies 5th XI
This Saturday saw our Ladies 5s take on Surrey Spartans, eager to pick up those magical three points. Having found in previous games that our performance was improving significantly in the second half, we were determined to start the game as we meant to go on and we came out fighting from the first whistle. Through bursts of torrential rain and driving wind we battled hard, with lots of triangles and attacking wide seeing us put the Surrey Spartans under pressure. With some great solid defence and despite some close shots on goal from our attackers, we ended the first half 0-0. Determined to dominate the second half (and stay warm) we came out ready to go and it wasn't long before a fantastic ball fed in from the top of the D by Jaqs was picked by Annie on the post and we scored taking us to 1-0. The closest Surrey Spartans got to equalising was saved by a fantastic dive from our goalie Ailsa and a slightly frantic but effective clearance from our defenders. The Surrey Spartans didn't come close again and the game finished with a hugely satisfying win for OCs 1-0.
Ladies 4th XI 1-0 Wayfarers Wolves
This was a competitive game, but played in a friendly spirit, which was enjoyed by both teams and the one man and two dogs spectators. The 1-0 victory was fully justified, especially considering we hit both posts, and also had two "goals" disallowed. However, without some valiant efforts from GK Jo Young the outcome might have been different. The team played with links & no sweeper on this occasion, so many were outside their comfort zones, but all tried to adapt and adjust throughout the game, and in all phases : whether pushing forward or under pressure in defence. Everybody made great efforts to maximise their contributions, and special mention should go to Anna Squire, Jenny Ripley & Lily Cullen for their tireless running.
Stormers 3-0 Southgate
With three points from our first four games, England's Rugby World Cup loss still fresh in our minds, heavy rain forecast for the second half and some of the team turning up with the mobility of the walking dead, it's fair to say the odds felt stacked against us. After the 11 players who managed to make the warm up just about made it through unscathed, and the weekly last-minute short corner practice showed the oppo all our various routines, we actually got off to a really good start. Passes were being sprayed around the back with the control and finesse. The midfield looked energetic and youthful. And upfront there was some great movement on and off the ball. Midway through the first half, our hard work and effort paid off when a shot was saved on the line by the left peg of a Southgate player. Up rocked Packers and before we could get in a huddle and discuss what we'd all got up to last night, the ball was in the back of the net and we took a well-deserved goal lead.
Then either side of half time we seemed to lose our patience opting for the classic mighty miracle hopeful long pass, our basics vanished into the rain-soaked air and our forwards squandered a number of three on twos, sometimes even one, opportunities. But like any team that has the heart of a lion, with a pacemaker, we rode the storm and came out the other side relatively unscathed. At times Southgate did put us under pressure, helped by a couple of passes straight to the centre-forward from the usually imperious Jonathon Heard II, but fortunately they couldn't take advantage because Moz was at his feline best.
A couple of green cards later, and a good kick up the nether regions, and we finally eased ourselves into third gear and scored a couple of late goals. One, a well worked goal, which involved a swift move from our own D. Richie then took the ball just in front of the delighted crowds who had gather in the Grandstand to shelter from the rain and were waiting to make a mad dash for their cars. The Southgate defence stood no chance against his nifty run and accompanying stickwork. After a delightful pass to CB, he stuck it away like a penguin shooting down a trap door. Then, almost with the last hit of the game… when I say hit, I mean push… when I say push, I mean fumble… when I say fumble, I mean… do I need to continue… Poen scored a blinder from 1.653333 inches. The only thing left thereafter was the final whistle, and with it came the loudest cheer you've ever heard from Closey, who must have thought we'd won the World Cup. Crikey. Special shout out goes to the middle of the park triad of Jody, Cato and Grimer who controlled the game superbly. Now we're up to the dizzy heights of 7th and Reading is next on the hit list. Bring. It. On.
Ladies 2nd XI 2-1 Wimbledon 5s
After the huge disappointment of the rugby, Captain Cook (aka Sophie) made it clear we needed to win, not just for us but for the entire nation. Well maybe not the nation, but whatever way you look at it, we needed a win. Sitting 9th in the table and facing the team in 2nd meant we needed to start strong and maintain it for the full 70 minutes. With a full subs bench, we were in a great shape to do just that.
Fortunately, the rain held off and we got off to a cracking start. We opened the scoring with a great goal from Gemma who had made a run forcing their keeper to come off her line. All the GK could do was deflect the shot up and into the top left corner. 1-0 OCs. Wimbledon were playing with a couple of attackers sitting high and every so often had a break. One strike hit the post but the rest were dealt with calmly by our solid defensive line, plus a couple of great saves by Evie. Shortly before half-time, a pass from Ems down the right wing to Ellen saw her make a storming run to the baseline (just as instructed in our pre-match WhatsApp doc) before a perfectly placed cross found Bernie with her stick angled ready. Goal number 2 took us into half-time 2-0 up.
Slight confusion at the start of the second half saw us almost re-start with 10 but fortunately someone more observant than the person running the bench (sorry!) spotted it before any harm could be done. This was shortly followed by Ems subbing on and both Lizzie & Livvy coming off (their names sound very similar when its windy, right?!) again taking us down to 10. Safe to say, my skills don't lie in running subs benches. About 15 mins into the 2nd half, Wimbledon got a PC which they converted – 2-1. The remaining 20mins saw chances for both teams. But thanks to solid defending with some fantastic clearances from Ele and more great saves from Evie (earning her PoM for the 2nd time this season) we kept the score line to 2-1, a much-needed win moving us up to 5th in the league, only 1 point off 2nd. Thanks to Will for his (brutally) honest post-match team-talk. We're all limbering up to show you just how flexible we can be next week.