Only eight of the scheduled 11 matches managed to go ahead as pitches froze. The men's 5ths still maintain their unbeaten record and stay top of the league
Men's 4th XI 2-1 Reigate Priory 2s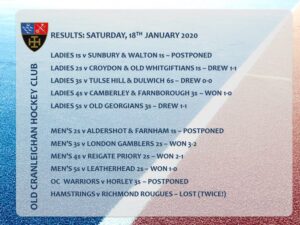 A very good weekend if you were an OC playing sport on the fields of South Africa or the plastic of TD.
This all kicked off with Ollie Pope's remarkable performance in the 3rd test and the very frank and honest comments of young Pope in Jonathan Agnew's pod cast on Saturday morning in which Ollie said:- "I count myself very lucky. Although Martin Williamson's article about how hockey shaped my cricketing ability seemed to achieve some traction it really is a load of bo**ocks as if so Josh Vickers would have racked up 90 test centuries rather than the 44 that he has told us all he scored against Australia. No, the real slice of luck I had was being at school and batting with Callum Kent on a regular basis and learning everything that he knew. Only 15 months ago, as Callum's dad was trying to find St Bede's school in Reigate because Callum had missed his train for a pick up at Guildford station, Mr Kent senior was overheard muttering "that should have been Callum playing against India in the summer of 2018". I count my blessings. On such luck are careers forged.
The positive sporting action continued on Saturday with 3 wins from 3 of the main men's club only having a 4 out of 4 record dented by the 2's opposition's coach over ruling both the umpires and his captain's wish and desire to play. Very curious but showing outward evidence of the fear of fortress TD.
Sunday enabled one to reflect and when having lunch in the restaurant of my retirement home buddies I decided that it was time to spice up our Sunday afternoon board game meeting and came up with the avidly welcomed idea of "Hockey Bingo". The idea is for me to put together a completely revised set of number calls instead of the traditional calls such as "A cup of tea, number 3". Each week I intend to add another call to the list. The first of the new version is "a slow, obnoxious and loud w**ker, number 17". Being my first visit to TD since we resumed after the break I noticed there were a few Christmas gifts on show with the highlights being new astros for Hugo Snell, a make up bag for Packers being brought out towards the end of the match in place of his handbag that he lost at Woking and Tongy who brought along his delightful family who, being so delightful, must have been rented for the day.
This match saw a truly rollicking performance. Some may have felt aggrieved at having less pitch time than others but this was a 16 man squad effort that saw a 9-2 loss in October turned into a 2-1 win against the league leaders. The way we coped with a talented squad of youngsters would have impressed those who visit Pizza Express in Woking. This was comfortably the best performance from the fledgling 4ths. Some of our play out of defence was top draw. We went one up with Cookie doing what Cookie does best, picking the ball up wide left midway between the half way line and the 25, burning past the one defender and whizzing the ball home from the top of the D past their impressive keeper. The first 20 minutes were ours but we let them back in to the game and it was time for our defence to come to the fore, mopping up their pacey forwards, taking a ball off the line and the skipper making saves he had no right to make.
A good one on one chance went begging early in the second half for us before a top short corner from the oppo at last found its way past our hitherto impenetrable defence with 10 minutes to go. Were we facing another draw against a team above us? Were we hell. A shuffle in the formation saw us sneak a winner with 2 seconds left on the clock when the dominant Snell threaded the ball through an eye of a needle to allow Simon Marshall, sorry, Eds, to tap the ball home from an inch.
The margins of winning and losing are often minute with the associated emotions either end of the scale. A vociferous and ecstatic OC side was countered by a glum and crestfallen Reigate Priory 11. Let's be fair they deserved a draw and we rode our luck on occasions. Both keepers were each team's man of the match which tells all whilst CB and our old mucker Nathan Ramsden handled a feisty game played out by chatty sides very well. Nine more similar performances required between now and the end of March.
Leatherhead 0-1 Men's 5th XI
Another week, another win, but boy did Leatherhead make us work hard for this one. It was more wrestling/boxing match than game of hockey. 0-0 in the first half with few clear chances at either end. We got our noses in front early in the second half and then spent most of the rest defending successive short corners. Seb was again huge in goal and made some important saves to keep us in the game. Leatherhead pressed hard, hit the post but couldn't find a way through. This week we face bottom of the league Trinity who last week drew 3-3 against Surbiton so expect a closer game than the 6-0 last time we played.
Ladies 2nd XI 1-1 Croydon & Old Whitgiftian
Heading into deepest darkest Croydon wasn't  the easiest of starts for some of us (who ended up going to Gatwick and back) but once all safely arrived, we were raring and ready to win this one. However, as we prepared to start our pitch warm up, it wasn't the best news when Evie opened her kit bag…a pair of shorts and elbow protector were missing, and we know someone in her school is guilty!!! Thankfully, Evie is a brave and resilient character who wouldn't let that put her off, and she went on to have an awesome game regardless and won our player of the match. Thank you to George for umpiring, who was clearly more than happy to put on a fluorescent goalie shirt on at the request from the teams, even earning himself a wolf whistle from the oppo 🙂
So now for hockey. We had a great start with confident passing around transferring around the back, as practised in training this week. We showed great improvement on pre scanning and passing onto space and we were rewarded with a short corner. A strong shot on goal was saved but following a number of deflections Laura managed to slide it in under the goals feet.
Second half became more frantic and Croydon were certainly hungry for it. Evie made some fantastic saves. With some high players, Croydon caught us on the break a few times and smashed a goal passed us. We were unable to convert our shorts but in the last ten minutes we threatened to score again. Sadly it wasn't to be, so we walked away with 1 point. Many great points to take away. Thanks to George for umpiring and Sophie for leading us with positivity, and congratulations to Evie
Old Georgians 1-1 Ladies 5th XI
Right from the first whistle the pace the opposition tried to set was brutal so we pulled up our socks and put in some hard graft… There were triangles, tight marking, great pressure on their free hits and it paid off – we were getting into their goal territory. Finally, Jacqs crossed a great ball in front of the goal and magically it went in! Yay OC! Second half and more of the same. OC ladies 5s were looking strong, even picking up three short corners though we didn't convert these unfortunately (team note: must practice these at training). The game was increasingly tough, with quite a bit of physical argy bargie. All's fair in love and hockey. Counting down to the close and Izzy our amazing goalie put in some great stops. How did the St G's sideline hecklers convince the ref a short corner was needed? And how did they score the equaliser?! We ended with a final score of 1:1 … should of, could of, would of, discussed at great length over a cheeky post-match beer and buckets of team spirit.