Just the three wins at the weekend for the Ladies 1st XI and our Men's 2nd XI and 5th XI. The Men's 5th XI keep their top spot and their 100% unbeaten record and our Men's 2nd XI jump to 3rd place with a game in hand. The Ladies 3rd XI got a solid draw against a strong oppo and retain their eight game unbeaten run.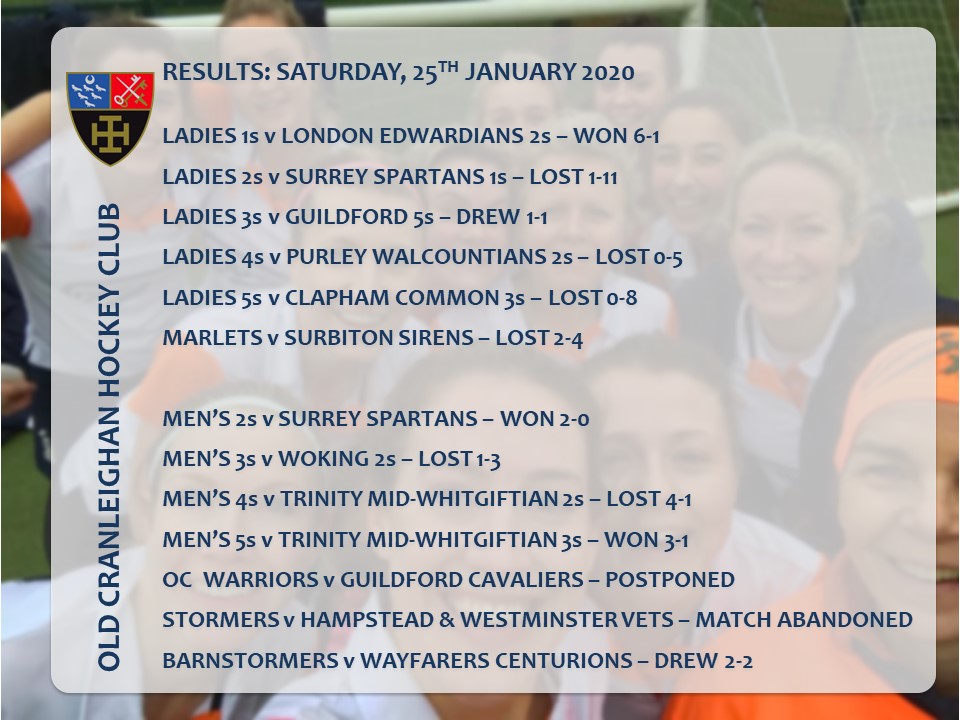 Mens 5th XI 3-1 Trinity & Mid-Whitgiftians
Another debut for the writer, another decade to have played hockey for the OCs (now six) and a skipper's weighted  request/order to write the match report. In the meantime whilst all this was happening the winning band wagon for the only undefeated team in the club kept rolling on.
Saturday was undoubtedly the best warm up of the season from a game planning point of view. We had the chance to not only watch Martin umpire and remind ourselves of the difficulty in umpiring under lights but also to refresh our memories of Ravo's attachment to the 3 square metre part of the pitch known as "Ravo's hovel". Quite why Martin consulted him on the Barnies cast iron penalty stroke at his end of their game when Neil was in the other 25 firmly planted on his square is anyone's guess but the evidence of Martin having a turn were witnessed a little earlier as we all saw Martin run, yes, run. This may have been partly due to his finding the centre half bearing down on him whilst in the middle of the pitch on the half way line for no perceptible reason.
This time of the year sees many odd results in the leagues as clubs look to protect their teams' positions and so it proved today with Surbiton slipping up in third place. The considered approach by our thoughtful skipper made us aware of the boxes of banana skins that litter the way between now and the end of the season. The first box was just about negotiated against a spirited and improved Trinity team who had been thumped 6 – 0 by us in October. Some old hands from the late 90's supported by two top midfielders gave us something to think about. I would prefer Seb's mum not to tell us all just before the start "I hope Seb touches the ball in this game and is busier than he was in his school match earlier". Well, sorry Seb's mum, we do not give a hoot about his having to touch the ball as we would prefer him not having to do so. On this occasion mum's wishes were granted as there was a smattering of action in our goal that in the main produced a positive outcome.
The match itself was a very good game of hockey with a good mix turning out for us including our South African contingent, not so chirpy now that we are playing cricket as opposed to rugby. We took the game to Trinity only to have them take the game back to us in an end to end game that was extremely well marshalled by Cookiey and the aforementioned Martin. Perhaps we were fortunate not to collect a few cards for some of our latish tackles but cards were kept in the pocket leading to a very quiet game. Whilst Trinity threatened we held firm and took the lead when a slightly incorrectly worked corner was squeezed home 20 minutes in. Our lead did not last too long as a post Christmas present of a pass to their centre forward was eagerly gathered and popped home on the reverse. Seb at this point had still not touched the ball.
Both sides had their chances before half time. Midway in the second our potent short corner routine saw Howie put the ball through the eye of a needle into the bottom left hand corner. I cannot quite bring myself to say it was a drag flick but more of a CB special "Loosh". For the uneducated this takes the form of a looping push. Pressing forward as they had too Trinity left gaps at the back and, being very generous visitors, returned the gift favour and we went 3-1 up with about 10 to go. We avoided a squeaky last few minutes by keeping the oppo at bay and snuffing out their counter attacks with a good defensive display. All in all a very good squad performance keeping us as the ones to beat and yes, Seb made some timely saves and did what his mum asked.
No room for complacency as eight similar tough challenges lie ahead between now and the end of the season. Thank you Cookiey and Martin for covering our 16.00 match which is appreciated by us all.
Ladies 2nd XI 1-11 Surrey Spartans
In life there two types of outcomes. Those that go the way you planned and those you learn from. Today's match against Top of the league Surrey Spartans was that latter. And this was the match that almost didn't happen…..30 minutes before push back the oppo hadn't evened arrived and there was an eerie 'Mary Celeste' feeling about the misty blue and orange pitch. But they did show – and when they did, we were subjected to some pretty good stick skills and well drilled short corners. I lost count of the end score (yes there were so many) – so a bit of a battering – but that is sport and reminds you to appreciate the wins.
However, there were some positives, not least the way the team kept going till the end. The Ladies 2s really does have a good team vibe. Rachael was still tacking like a demon in the final quarter. In fact, if you had turned up 15 minutes before the end, you wouldn't have guessed the slaughtering score board. Kitty did a couple of awesome runs up the pitch – finding herself one on one with the goalie – so close. We had some other chances – but just couldn't make it happen.
A shout out must go to Ellie and her P flick. Smashed it – to give as all a moment of celebration. In fact, her triumphant run and slit jump (80's style) back to the half way line was an example of how you make the most of moment. So, I will sign off this this thought: "If you learn from defeat, you haven't really lost." —Zig Ziglar. Ladies – let's regroup, reflect and come out stronger in the end because of this.
Ladies 3rd XI 3-3 Guildford 5s
This week we were up against a tough oppo who we knew would be determined to get a win. However, so were we! The first 5 mins were high intensity, fast-paced, end to end action, which set the precedent for the entire game. Receiving a perfect pass outside the circle, Georgina had plenty of space devoid of oppo defenders with only the goalie to beat. She expertly managed to send the keeper in the wrong direction and slotted it in for a great goal. Unfortunately for us, Guildford made the most of all of their chances so we found ourselves 2-1 down at half time. Not deterred by this we kept fighting for that next goal. And then finally, Fay circling around a defender was able to get a well-deserved and perfectly placed goal. This was then shortly followed by a short corner effort that found Ciera slapping the ball into an oppo defenders stick, which deflected to hit the backboard. 3-2 up. Could we hold onto this?? Despite several more near misses (including from our resident defender Hannah T who unusually found herself playing up in mid), sadly Guildford were an equal match for us this time and managed to slot in a final goal to make the scoreline 3-3. It really was a team effort though with many of us playing out of position to try to capitalize on our much needed subbing. And the good news is we remain 8 games unbeaten!
Ladies 4th XI 0-5 Purley
Six days before the game……not enough players. Tuesday thankfully Georgie and Jo have arranged for more players, welcome Roz and Maddy. Friday lunchtime… Helen has to find a new pitch  for us and Jane whatsaps around checking all can do the new venue but not all on this or teamo so quite time consuming. Saturday morning…. Helen is concerned about teas as oppo decide they dont want to stay after all. 1030  … which pitch is the sand, chapel or crosbie? 1130….accident on A3 or was it a sunken drain that prevents the legs and youth of the team making it on time. This all before the game even started!
First half… despite Maddie stepping up to midfield and Roz fitting in well with defence we went 3-0 down. Jenny ran her socks off but we couldn't trouble their keeper even though Anna made some great penetrations and Lily chased everything even though she wasn't feeling very well.
Second half slightly better as only conceded 2 (yes Debbie we did concede, and our new midfielder herself got close as retirement definitely agrees with her fitness regime) Purley were strong, fast,  played well as a team and deserved the win. Thanks to Georgie, Jo, Helen and especially Jane who were involved in making it possible with all these difficulties for us to play the game we love.
Clapham Common 3s 8-0 Ladies 5th XI
There's a danger in knowing what you are facing, having had a 9-0 drubbing from this team last round. We were feeling strong – or reckless depends on where on the pitch you stand – and we went all out in the first half. The intercepts were good, we carried the ball at least two-thirds of the pitch (so twice as far as we got through their defence last time around), we were on the pace (they're half our age), we were two goals down but we didn't care we were playing well. Then disaster and a ridiculously hard hit struck… Fi in the head. Blood, much blood and a long pause while we cleared it up. Could have been worse, we could have left bloodstains on the home pitch.
On to the second half and feeling a bit rattled, we lost our shape for a while and the goals for the oppo started to mount. We rallied and got some of our first half spirit back – sure we were going to lose badly but we were going to do it playing proper hockey. Briefly, we thought we were going to get at least one goal on the board as first Lucy W then Zoe and Annie threw themselves in the path of the solid back line but it just went wide. There were some more opposition goals and then the final whistle (or maybe the two-minute whistle, no one was sure) went. Phew. We'd done our bit towards helping them go up to the next division. And, we hadn't conceded as many goals as last time – progress!