The 1st XI returned from hibernation with a 3-2 win, while the Ladies 1st XI got revenge on former tenants and league leaders London Accies.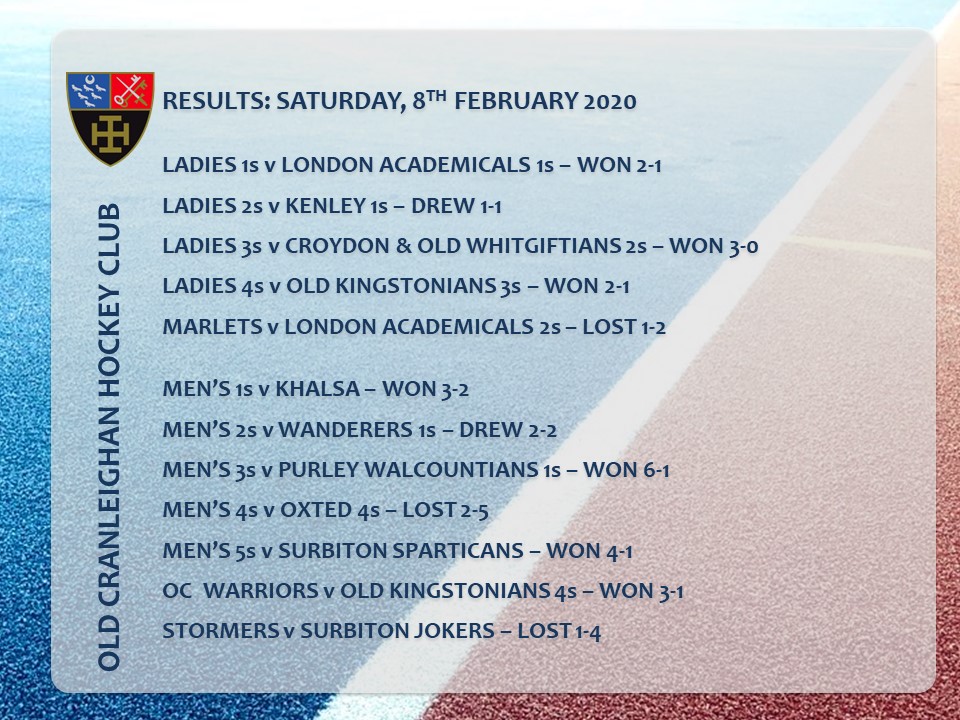 Khalsa Leamington 2-3 Men's 1st XI
We finally commenced the second half of the season with an away visit to mid table side Khalsa Leamington. Having not played in the West Conference since the 1st December, we knew a tough game was ahead against a good Khalsa side who had beaten third-placed Bristol University the previous weekend. We began the game strongly making good inroads around the back of Khalsa's ageing defence. The ball whistled past the post a few times with us gaining our first short corner in the 10th minute. Whilst the rebounded probably should have been converted the resulting long corner saw the deadlock broken as the Durham Alumni combined with Ollie Davies firing a 30-yard rocket to an unmarked Hugh Robinson who neatly deflected the ball into the netting.
We took a large amount of confidence from the opener and continued to press for more goals and were rewarded as Louis Wright added a second in the 24th minute. It wasn't long before the lead became three as Will Phillips tapped in from a broken down short corner in the 28th minute. We looked comfortable against the Khalsa long ball game but a lapse in concentration in the 31st minute saw an aerial find the home side's centre forward it the circle. Josh Doble made a fantastic initial save but the rebound was converted into an empty net to see the scoreboard read 3-1 at half time.
The game opened up in the second half, becoming a slightly scrappy end to end affair. We had a number of good chances to close the game out during the third quarter but were also indebted to Josh who made a couple of crucial saves. Two yellows for Khalsa and an aggressive press saw the game open up even further with the away side stealing a goal in the 68th minute despite protests that the shot was taken outside the circle. Despite this, we hung on to all three points taking a 3-2 victory back down South while witnessing a straight red card for the Khalsa forward in the final minute.
Overall, a well-earned three points to open the 2020 calendar. With no other team playing on the weekend due to Storm Ciara, we sit two points clear of Richmond who have a game in hand. The team return to Thames Ditton on Sunday against Cardiff University.

Men's 3rd XI 5-1 Purley Walcountians
A convincing win against a side now struggling but who beat us 3-1 earlier in the season. The only wobble game when we conceded a soft goal when cruising at 2-0 but with a slick short-corner routine and some speedy breaks, the outcome was never in doubt.
Men's 5th XI 4-1 Surbiton Spartans
Proverbs were in my head this week. In particular – Karma. The annual battle of Thames Ditton with OCs and Surbiton is always a hard fought but in mind was that Karma comes after everyone eventually. You can't get away with screwing people over your whole life, It doesn't care who you are. What goes around comes around. That's how it works. Sooner or later the universe will serve you the revenge that you deserve …
But moving on from such deep thinking – hockey was the winner this weekend and was a demonstration what the true spirit of hockey is – something which was sadly forgotten by some in the 7 days prior. Now to the matter at hand – with the second in a string of three graveyard slots we had the joy of a 4pm start against Surbiton and boy oh boy were we up for it. Some games were just meant to be and this game saw a rare thing indeed – a perfect hat-trick… Si Q and Howie were simply unstoppable in this game and it started with a sublime straight strike from a PC after they discovered a way, after consultation, around the normally tight Surbiton PC defence with a bobble pass over the spot and then a shot on the turn. 1-0 at half time .
The second goal was something of beauty with a drill of a pass from just inside our own half by Howie and out of nowhere our resident giant deflecting the ball past the keeper in a scene which left most people aghast. Surbiton got one back from their usual accuracy in the D with a bullet which rocketed last Seb… there were some jitters. The hat-trick completion sealed the deal though. A few entries and clearances into the D eventually led to Si Q to Tomahawk his 3rd into the top shelf – stunning. Something he has been practicing at home he tells us through an Ear to ear smile. Rob J avoided kicking the ball in the last 10 to rocket one bottom right for 4-1. A great and needed result.
Smiles and laughter came as the results of the weekend came in and the evening was beer and apparently "all you can eat Pizza" with most of the Surbiton team staying until the lights went up – hockey always wins and thanks to them for showing what the hockey family can be. The 5s continue their unbeaten run – up next – Epsom.
Ladies 1st XI 2-1 London Academicals 1s
Game day… Half the Ladies 1s met under the clock at Waterloo to make their way to Bermondsey for our game vs top of the table and former home turf rivals London Academicals 1s in the Surrey Hockey Ladies League Division 1…! With wins the last two weekends we have been working hard to keep up momentum secure another 3 points. The other half of the team were travelling with Coach Lauren and arrived in time for a quick warm up and motivational chat from Lauren who told us whilst we were missing a few key players this week the squad was back together after a few weeks apart and she had a 'Chelsea bench this week'… Amy and I assumed that meant a good bench… the mission was to work hard, to work together and to get the win! And it was her birthday after all so a win was necessary….!
Fired up on a warm Saturday we had a strong starting line up and hit them hard from their push back, a well drilled team they were quick to take control using the width of the pitch to get it out and up the line to press our defence. London Accies were equally up for the challenge and in need of some points after some recent draws they were playing quickly and some solid defensive work was needed from Holly Hume, Molly Hanson, Helen Hawes and Jackie Waite but they were up to the challenge and kept them out our D. Molly Hanson was firing the balls out from the 16s and quickly released the ball with precision back up the field to our inners Meg Perry and Katie Richards who working well together paced up the field and we were in their D quickly winning a short corner. A save from the goalie and a solid clearance we were back still on  the attack and back in their 23. Their defence equalled ours and they kept us out, a few good breaks and a quick one two between Georgie Sangster and Katie Richards saw Richards in the D with a great opportunity, a quick slip with LF Rosanna Hall on the post she narrowly missed the goal. Momentum was building and we were on the attack.
With not much time left of the first half fresh legs were back on the pitch and OCs were still attacking hard, the game was still 0-0 and both teams controlling the play. Another attack up the left from a Jackie Waite awesome reverse finding Liz Norrington the ball was back up with Poppy McCutheon on at LF, she put it on a foot and won us a deserved short corner. A Georgie Syms strike was again saved by the keeper but picked up by Katie Richards another strike on goal, again saved by the keeper who this time found the stick of our CF Laura Sealy who was quick to deflected it in GOAL! 1-0 OCs.. Counter attacking hard London Accies came back stronger and they were in our D, with some strikes on goal Michele Rankin keeping the ball out the back of the net an OC defensive foot was found. Short corner time for London Accies. With the half time whistle then blown the full London Accies squad took on our defence in the D. A save from Michele and a clearance from Holly Hume we went into half time 1-0 up.
It was hot! Refuelled with water and our favourite squashies sweets the second half started as the first half did hard and fast. Accies were making some good plays but they couldn't get through our defence.. Marking our players hard their second half tactic was clearly to take our inners out the game forcing the long ball from us some tired mistakes crept into our game and Accies were intercepting balls and attacking. Tiredness and frustration crept into their game too however they were keeping us out their D. A break into out D late in the second half saw Accies win a short corner. A fast ball out, it was slipped back and left to the ejector who had blocked out post man and she got it past Michele. 1-1. We were going to need to dig deep for the final fifteen.. With the OCs being forced up the left Jackie, Liz and Fletch were getting it out and through whether by aerial or by Jackie Waite winding her way through a least five Accies players. Down to 10 players for 2 minutes for a green card we kept possession and control of the ball to not let the oppo back into the game. Still being forced down our left we switched up play putting it around the back via Molly and Helen who were transferring the ball beautifully back to the right and after some skilled 1-2s between Meg Perry and Amy Hume we were back in their D and Amy Hume had found a foot, another short corner won for the OCs. A solid strike from Meg was saved by their keeper but the ball was retrieved by Georgie Sangster who had another strike at goal which caught a deflection from infront of the keepers pads by Laura Sealesy stick and it was in the back of the net! GOAL! 2-1 OCs..and with five minutes to go another swap of fresh legs the OCs held Accies off as both teams battled it out to the bitter end, there was two minutes to go and then another two minutes to go both teams giving it their all but it was OCs day for the three points! Today we didn't switch off and it was deserved win. MOM was awarded to Molly Hanson for her solid defending and DOD was awarded to Liz Norrington who received her first ever card…! A green I will add – welcome to the club! Some well-deserved beers were had after the game!
We missed our Watto  who has now safely landed in Singapore with 500 face masks and we missed Macy and Ellie H on the day but it was a great performance and great to get the squad back together… no more skiing with five games to go please ladies!! We regroup and look forward to our next game this weekend..
Ladies 2nd XI 1-1 Kenley
Following an eventful men's game the 2nd XI took to the pitch at home on the 8th of February against Kenley. Our previous meeting proved fruitful as we took all three points in a 4-2 victory away. With Kenley bottom of the league and the 2nd XI in high spirits following a rousing Tuesday training session, it was a game which the team had their hopes on winning.
The sun was unusually strong for this time of year which proved tricky to see, however our training session on Tuesday inspired the team to be ruthless and aggressive in the D particularly within the 'dirty zone'. The team utilized the players around us well – particularly working the ball from the back where Lizzie in the left half position successfully tackled and moved the ball on well. The 2's were by far the better team throughout which made it all the more frustrating that we were unable to transfer the ball into the back of the net. The odd green card for our Rach due to a miss-timed back of the stick stop was not enough to diminish our determination. At the end of the first half the score remained 0-0.
During half time we managed to regroup and encourage each other particularly as we were playing good hockey, we were sure the goals would come.  We rejoined the pitch and displayed aggression and relentlessness in the D again, where finally vice-captain Ellen was able to find the back of the net putting OC's 1 up. All the while Kenley were aggressive and looked dangerous on the attack yet goalie Molly Warner continuously kept them at bay with magnificent saves. Unfortunately with only 10 minutes to go Kenley sneaked a goal passed OC's, we continued to attack however failed to score another goal in time, and the match ended 1-1. During the match the 2nd XI had 12 attacking short corners and unfortunately were unable to convert any of them into a goal, this is something the 2's will look to work on in training moving forward.
This is a frustrating score line for the 2's as we were evidently the much better team which leaves us equally with things to work on in training and a confidence that we played nice hockey. We played hockey as a collective and displayed good determination in the attacking 25. In retrospect we failed to take a breath and work around an impressive goal keeper, hopefully continuing on our short corner practice and goal scoring drills will allow the 2's to win in our next meet up.
Croydon & Whitgiftians 2s 0-3 Ladies 3rd XI
Saturday's game against Croydon & Whitgiftians was an epic road trip for most of us, for what felt like a match taking place in the middle of the night. Thanks to Hannah's defender (the car not the player! And now affectionately known as the party bus!) half the team arrived with time to spare and mostly raring to go! Our oppo were just below us in the table and had some great results under their belt recently so we knew it was likely to be a close game. But we really were bored of draws!
The first half saw a lot of great build-up towards goal but as always we couldn't finish it. As expected the oppo were very good on the break and we nearly conceded in several hair-raising moments. 0-0 at half-time and we needed to keep the pressure on in the second half. What shorty followed was a lovely goal courtesy of Gemma, which helped us build the momentum of play in our favour. This was then closely followed by a second beautiful goal from Fay. We knew we had to hold our lead and preferably not concede to keep our goal difference healthy. With this in mind we decided to try to hang back as much as possible. But feeling in control we scored an awesome goal straight off the training ground – the oppo's 16 was perfectly intercepted by Ciera who sent the goalie the wrong way and then slotted the ball in. If you've been counting, you'll know we ended the game with a 3-0 win. Well done ladies, a really enjoyable, hard fought game!
Ladies 4th XI 2-1 Old Kingstonians
Sometimes you just know everything is going to be alright. This happened to us on Saturday. Here are a list of things that just made for a beautiful afternoon:
1. It was sunny
2. Everyone turned up
3. We all had the right kit
4. We had a pitch and ball
5. We had two umpires
6. Pam brought cake
7. No one got injured (well, on our team anyway)
8. We all did a proper warm up without any complaining
9. We didn't start the game like we had just got out of bed. With a hangover.
10. Lesley brought biscuits.
11. We beat the top of the league 2-1
12. We all promised each other we would now train every day to get even better (ok that one is a lie)
13. I actually put my hand in my pocket and bought some post match drinks
14. We all left the club loving each other
The work rate was excellent, the team work was top drawer. it is difficult to mention individuals as everyone worked really hard, but a special mention must go to Jacqs, who worked tirelessly. It has to be one of the most memorable results we've had for OC.
Ladies Martlets 1-2 London Accies 2As
A bright sunny morning last Saturday as we kicked off our friendly against the Accies 2a. It was a great game from the first whistle, both sides well matched and playing good quality hockey at a decent pace. It stayed pretty even throughout the first half, with the Accies increasing the pressure on our goal as time went on but Katinka was on top of it and executed some great saves, kicking the ball clean out for us to recycle and get clear of their press. As we counted down towards half time though we started to flag and conceded a few short corners as well, until the Accies put in a text book pass at 90 to shoot home. 1-0 at half time.
Back we came (after a quick reminder on stepping to the ball) and pretty soon into the second half, a lovely clearance out the back was picked up by Lucy W who absolutely flew down the pitch solo, no one on either team having a chance to get near her, and with lovely composure slotted the ball home. Goal! And 1-1, great stuff. We kept up the pace but Accies were just the better team on the day – there were some lovely shots from their attack, a number of which with luck and Katinka's skill were narrowly avoided but they kept their cool and kept pressing until they executed yet another text book move to secure a second goal and the lead to end 2-1. Re-match this coming Saturday at their home pitch in Bermondsey… bring it on!