The last hurrah. Our final reports for the season it seems as the Coronavirus means all matches and training have been cancelled. Our Men's 1st XI have had an excellent season, finishing top and earning themselves a double promotion, and our Men's 5th XI have also earned themselves promotion. Our Ladies 1st XI finished a sterling 4th but will have to wait another season to push for promotion, our Ladies' 3rd XI will have to wait and see what is decided as they finish a strong third in their league and our Ladies 2nd XI finished on a high, winning their last two games against strong sides and finishing a respectable 6th.
Men's 1st XI 2-1 Harborne
Old Cranleighans started the journey to Harborne knowing that if they took three points they would wrap up the West Conference title with one game to go. However, Harborne were fresh off the back of three points away at Richmond so the OCs knew a tough game was ahead. A nervous first quarter saw Matt Murphy settle the league leaders nerves with a drag flick through the GK to put OCs 1-0 up. Matt Murphy hit the post off another corner and the second quarter then saw a better performance from Old Cranleighans, creating good chances for Matt Cornwell and Louis Wright. However, the away side were unable to convert and were thankful for Josh Doble in goal who kept the home side a bay with some good short corner saves.
The second half couldn't have started in better fashion, as some neat interplay down the right hand side, saw Hugh Robinson, Matt Murphy and Charlie Lamb combine as Hugh Robinson finished the move to make it 2-0. With the league title in reach, OCs performance dipped and Harborne dominated the remainder off the game. In the 46th minute, Harborne were awarded a questionable penalty stroke after Josh Doble tackled a forward in front of goal. They capitalised on this to make the score 2-1 with 24 minutes to play. Harborne created a number of chances which flew past the post and perhaps Louis Wright should have sealed the title with five minutes left but neither side could change the score line.  A real scrap of a game but a strong defensive display from OC's meant full time 2-1 and the league was won. The win secures back to back league titles for the squad which owe a great amount of thanks to the coaches.
Men's 3rd XI 5-0 Wanderers
As is fast becoming tradition with the Men's 3rd XI, the week preceding the match is far more eventful than the game itself. This past week was the true epitome of this, and it all started with an email from the Club Captain at 7am on Monday morning informing the 3s that due to an administrative error, a pitch had been reserved for us at the wrong time. With the league website and never-failing Teamo app both stating the same time for weeks in advance, it was highly unlikely that the oppo and the appointed umpires would be flexible to play at the later time, when the pitch was booked for. This unfortunate incident also coincided with the dreaded weekend where the 2s have to travel further than SW11 to play in Southampton, and were desperate for the reliable chaps of the 3s who were more likely to be keen for the day trip than the regular 2s squad.
Waking up on Saturday morning to a new case of COVID in the Hunter household and a district line carriage in quarantine between Hammersmith and Richmond suddenly left us with a squad of 13. After some inspired administrative work from the club captain, the pitch issue was resolved and the team selection email went out on Thursday morning with 13 names in the squad and the 2s and 4s both happy. Result. As of 5 minutes before the start of the match, only 11 of those 13 were present, with D Wilson busy closing deals from his remote office in the OC Clubhouse and one of the new lads lost doing laps of the Scilly Isles. One final issue to resolve was the matter of playing shirts. With multiple committee members watching on in disgust as we took to the field with a mixture of PSG 17/18 home shirt, Sri Lanka WC19 ODI shirt, Queen's club polo shirts to name a few, Club Captain did one final shift for the lads and dashed home to get the Colts A kit bag, much to A Don's delight as he finally had a shirt that was tight on him. We may have looked like a complete rabble, especially after our Warm-up Sec spent the entirety of the warm-up talking to his solicitor about his SW6 flat purchase (on a weekend, off the books, will be billed to client) and left us to amble round the pitch in 1s and 2s gently stretching hamstrings.
Perhaps all the above lured the opposition into a false sense of security as we coasted through the match 5-0 thanks to a hat-trick of top-bin drag flicks from D Wilson, taking him well clear of C Fletcher in the top scorer charts. Man of the Match went to Paul Ireland for a faultless display in the middle of the park whilst the DoD was shared between the inseparable A Don and C Fletcher, who continue to take their bickering from midweek onto the pitch with them and it hasn't gone unnoticed. If we play no more games this season, 5th will be lower than where we'd have liked to end up, having been 3rd at Xmas. However, for a first foray into the dizzy heights of Surrey Div. 1, it will nonetheless be regarded as a success with such a new squad.
One final note of congratulations to keeper Ross Kingsnorth who marries our most loyal matchday supporter Natalie today, March 16th. Go well Rossko!
Ladies 1st XI 4-0 Richmond 2s
The Last Hurrah: On Saturday, OC's needed to bounce back after a defeat against Guildford. Little did we know it would be the last match of the season. As coach Moors was about to start the team talk, we were suddenly interrupted by an opposition player who decided then was the opportune moment to get ready. After a couple of minutes delay and plenty of chat about Covid-19, Moors was able to give us a brief but inspiring chat. We were not going to drop the ball again.  We headed out onto the pitch and began our warm up… well most of us began our warm up. One player was feeling a little unsteady – and no, there is no need for sympathy, it was wine-inflicted.
 A decent warm up led us into the start of the match and although we pushed hard, we were working at a slower rate than usual. Was it because the weather was drastically changing? Was it because we feared that this might be our last match together? Either way, we were a little sluggish. Despite this, we still utilised our width excellently, deftly passing the ball across the pitch, opening up channels of play time and time again. We won many short corners, but just couldn't put the ball into the goal. Finally, our luck changed, as we set up for a Syms straight strike corner. She hammered it away, only for it to take a deflection right in front of the goal by Laura (although Syms didn't realise until the end of the game!) A relief was felt across the pitch and we used the opportunity to go again. There was much greater composure around the D, and we held onto the ball well. Holly Hume then took it upon herself to carry the ball up the left hand side, and smashed the ball in on her reverse. Fortunately Ellie Hauck was ready and waiting; jumping in front of her defending she deflected the ball high into the netting. As half time arrived, the OC's were very focussed on the task in hand, 2-0 was not a great enough cushion for them and they needed to finish the match. They agreed that they needed to step up. Then, just as the second half began, the heavens opened.
 Early into the second half, Laura and Georgie made some sort of double tackle, resulting in Georgie Sangster hurtling into their player and getting a rather fearsome green card. She wandered off vaguely in the direction of the sideline.  As the game continued, we were unaware of the chat she may or may not have been giving, but her green card nearly escalated to a yellow when she seemingly couldn't find the middle dug out… A rather long two minutes it was. Being down to 10 players, the defence suddenly faced quite a few short corners, but time and again Jackie, Molly, Helen, Liz and Michelle fearlessly kept the ball out of the goal. A long ball was played from the back after a break down of play, which Holly Hume made a run for and chased the ball down, keeping it in play, which was greeted by an eruption of cheers from the bench. We kept pressing hard and soon managed to break their defence, as Laura intercepted the ball at the top of the D, the forward line sprung into action, as she tried to cross the ball to Syms, their keeper managed to get a touch on it, thwarting the goal scoring opportunity. However, Fletch was ready and waiting, and flicked the ball effortlessly into the goal.
Our final goal game shortly after. Richie dribbled round their players, travelling from left to right, to Laura who was waiting top D. She took the shot but it was saved by the keeper. Fortunately our resident post player, who was back on the pitch by this point, partially redeemed herself by popping the ball into the goal. The game ended with a solid 4-0 win to round off the season. With no hand shaking to be done; sticks were tapped and cheers were given. An incredible performance from the ladies ones this season. Thank you all so much for making me feel so welcome in my first season! 
MOM – Liz George, for some incredible stepping up and excellent passing.
DOD – Georgie Sangster… 1. Being a wino on arrival. 2. Missing the warm up 3. Eating all the half time snacks when travelling to the game. 4. Getting carded. 5. Nearly getting the card upgraded. 6. Not knowing where the middle dug out was. 7.Terrible goal celebration. 8. Chundering on the way home.
Ladies 3rd XI 6-0 Leatherheads 2s
Buoyed by 3 successive league wins on the trot, we arrived eager to gain another one on home turf. As we had only narrowly secured a win against this team in the first half of the season with a last 30 sec goal, we knew 100% focus was the key this time around. The first 5 minutes didn't necessarily feel like it was going our way and we had to dig deep to gain control of the game. But our confidence to do that has grown tremendously this season so it was just a matter of time. Probably about 7 minutes to be precise as the first goal then came. I confess here in all the excitement of the game, how each goal was scored and in what order has escaped me but we managed to end the first half 3-0 up. With our confidence at an all time high we decided to set ourselves a target scoreline, which I will keep a secret but we were not far off by the time the final whistle went. 6-0 courtesy of excellent goals from our strikers Eilidh, Lana, Ciera and Fay. We truly gave it 100% and came away with a scoreline to reflect it. A real positive that we need to take away from our last three games and especially this one is that we have yet to concede making our goal difference the 2nd best in the division. It's a true testament to how well we have come together as a team this season and something as a Captain I could not be more proud to be part of. A special thanks this week has to go to our supporters including our regular mums and dads as well as the L2s. Your calls and chants definitely boosted our game and kept us scoring!
Ladies 4th XI 0-4 London Academical 2s
Not looking forward to this game is putting it mildly.  Our oppo are top of the league and 129 goals to boot and having to get over to Bermondsey!  Not only that but at the start of the week had 8 on the team sheet.  Injuries" skiing, op on the hand, sciatica and holidaying in Goa were just a few of the excuses!  However Maddie Tanner along with sister Evie came to the rescue and with Superwoman Jo Mir spending a lot of time finding players managed to recruit 2 fabulous 14 year olds Amy and Kirsten.
Well the game went as expected and we managed one long corner.  However with a magnificent defence we held them to a 4-0 result if that is a positive?
Ladies 5th XI 1-3 London Edwardians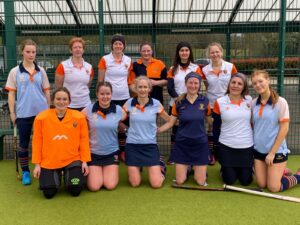 Our penultimate match saw us playing London Edwardians at Oaken Lane.  With only 2 more games until the end of the season we were keen to secure a win.   We were feeling confident after playing well last week and also clocking that the opposition hadn't arrived with their rowdy supporters in tow who were slightly off-putting in our previous fixture against them!
We got off to a strong start – passing the ball well and having most of the possession.  Even after a 5 minute break in the game to sort out 'shirtgate' we continued to dominate and were in our half for most of the first half.  Annoyingly they scored their first goal just before the half time whistle blew. The second half started much the same as the first with the play being down our end.  We had many shots on goal but it just wasn't to be!  The opposition managed to get 2 more break away goals in quick succession to make it 0-3. Towards the end we managed to claw one back with one of our shots finally finding the backboard and making the final score 1-3.
The result felt unfair as we dominated the match but ultimately they were able to capitalise on their few chances.  But onwards and upwards ladies as some great hockey was played. POM went to Rachel with her silky skills controlling the game at centre mid. An important point to note is that having turned up with freshly washed and individually labelled face masks we didn't concede any short corners in the match – first time ever! Well prepared for next week then….