Our Men's 1st XI and Men's 5th XI kept their league top spots this weekend with two matches to go. The Men's 2nd XI and Ladies 3rd XI also secured 3 points, putting themselves back in promotion contention. Our Ladies 2nd XI secured a much needed win to hopefully keep them out of the relegation zone and there was a glorious win for our Men's Over 50s!
Exeter University 2s 2-6 Men's 1st XI
A potentially tough trip to the West Country saw us take another step towards the title after a four-goal blitz in the opening 18 minutes left the students with a mountain to climb. A Matt Murphy hat-trick, with a goal from Charlie Lamb in between all but settled the tie even thought Exeter pulled one back on 20 minutes. We restored a four-goal lead on the hour and added another four minutes later before a late consolation for the home side. With second-place Richmond surprisingly losing at home to Harborne – who we play next week – we now lead by five points with two rounds of matches remaining.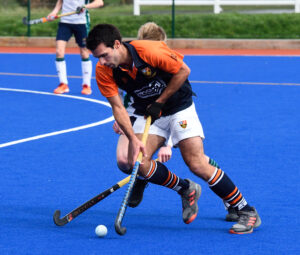 Men's 2nd XI 2-1 Chichester
A week after a disappointing draw it was important to bounce back with a win … any kind of win. In a match which would have struggled to command 30 seconds at the fag end of Match Of The Day, we went one down before digging deep to secure all three points against a side who have managed only one win all season. The result keeps us in second but with matches against the sides immediately below and above us still to come, we will need to be a lot sharper from hereon in.
Ladies 3rd XI 5 – 0 Richmond
It started out as a bright and hopeful day for the 3s with hopes of promotion lingering in the air. The game started with a strong 11 showing up due to a heroic deed of the day and traffic. Five minutes into the game and the first goal was already scored, setting the tone for the rest of the game. The second goal wasn't long too follow through a short corner to Eilidh deflected into the bottom left corner by Ciera. Now 2-0 up it was hard to dampen our spirits although Richmond forgetting to turn their sprinkler system off soaking us and all our belongings wasn't fun. With a third goal Eilidh had us in high hopes even though there should of been many more no thanks to some painful umpiring enough to make Chris want to step in at half time. Although 3-0 up at half time, the 0-0 mentality was adopted as a repeat of 2 weekends ago against top of the table would of been unacceptable.
Eager to start the second half off right was Sophie DH, stepping up to get her name on the score sheet and first goal of the season and she did not disappoint with a sexy slap into the bottom left corner followed by easily one of the top 3 goal celebrations we've seen this season so far (see video of eilidh on the fb page for one of our other top celebrations). The ecstatic celebration were received badly however and this was the turning point in the game where tensions started to boil over somewhat. This was not the end for the 3s though as we weren't finished there and we're determined to have a goal difference to boast about at the end of the season. The game was sweetly finished off from a goal by Fay and the ladies 3s jump to third in the table and undefeated for the past 13 games.
Guildford 5-0 Ladies 1st XI
Going into this Saturday's game the Ladies 1s had high hopes that promotion could still be achieved with just three matches to go. Coronavirus and a spot of Scarlet Fever had done its thing cancelling matches that allowed some of our players to be available and ensuring we had a full squad. What followed over the course of the next 70 minutes is not a reflective of how far the team has come over the past season and the fab team spirit that has been built. From the off we pushed hard but whether the nerves just got to us, who knows, the silly errors started. This allowed numerous counter attacks which we dealt with amicability but then Guildford won a short corner and they executed decisively leaving us trailing 1-0 into half time.
The problem is when you're trailing but need a win, you push forward and in such a high tempo game that's how it all went a bit wrong. What encapsulated the day was with the final hit of the ball we had a short corner. Never going to name who pushed it out but let's just say it never reached the top of the D … more sky rocketed over the goal and across the back line 😊. DOD has never been easier. The score line isn't important … we played hard right through to the end … we'll learn from it … we'll re-group … we'll go again! Dreams may have been crushed but new ones are there to be made!
Ladies 4th XI 1 -1 Berrylands
OCs Ladies 4s wandered up to Hinchley Wood to play Berrylands on Saturday. After an extensive warm-up (long walk for some as parking was a bit of an issue), we settled into the first half. Goalie Jo came out strongly to make a few essential saves and Katharine, Jenny and Lily made some penetrating runs in attack. Berrylands have bolstered their side significantly since we played them in the first half of the season and were quick to intercept and fast in counter-attack. We were happy with 0-0 at half time!
We put our (even more) positive heads on in the second half, with Anna and Jenny putting pressure on at every opportunity and a short corner soon followed. Jenny struck home and we were 1-0 up. Berrylands started to make more use of their late-arriving but very skilled centre half and made a couple of dangerous breaks. Inge, Pam and Kate fended them off and Janet and Margaret covered valiantly, but they capitalised on a loose ball and equalised.
We kept our heads up and continued to attack all the way out of defence with Jane, Lily, Kim and Ruby being in position to make runs and keep up the pressure. It was a really good team effort. Special thanks to Ruby and Anna for being flexible with positions and for excellent, continuous running! PS Jo, please stay off the strawberries next Saturday breakfast! Final score 1_1
Ladies 5th XI 2-3 Clapham 2s
Loads of positives to take from this match.  Having lost 9-0 at home to this team earlier in the season this 4-2 loss actually felt like a win. We were really quite euphoric afterwards.  That's against top of the league by the way.  We've clearly improved massively as a team and it was an outstanding performance from everyone with plenty of attacking play.
There were many other positives from the day too. Here's just a few of them:
None of us went to Harris Academy in Morden, like ahem…some of us maybe did for our match against Clapham 3s a few weeks ago. All arrived at Harris Academy in Merton in plenty time.
We all turned up in the right colour socks.
We've discovered that we're actually quite innovative as a team. So when three of us turned up in blue tops instead of white – there was no blaming or shaming or tut tut tutting (honest). Instead we found solutions. Our blue tops, for example, can be worn inside out as they are fairly close to white on the other side.  Especially when you've got a number that looks the same when it's reversed.  A taped number onto a white base layer also works pretty well. (Quite sure we're not the first – sure we won't be the last.  Can we just get reversible tops please??).
We've come to realise that our super amazing captain is really well prepared and obviously knows us quite well.  She had spare white tops in the boot of her car!! There was no need for the sheepish three in the blue tops to be quite so worried about owning up to said amazing captain. (Note – one of them was actually very brave and owned up straight away – she didn't even hesitate!).
We've found out that one of our centre backs can also play CF, LF, RF, CM, LM, RM, LB and RB all in the space of a single game. I wouldn't have known if I was coming or going but she was great. She's really versatile which is actually quite useful. We didn't try her in goal – it would have been a bit of a faff with the goalie kit and all that – but I'm sure she'd be amazing.  Maybe not as amazing as our regular goalie though – because she's really amazing.
We scored some goals. Yey – big well done to Nicola and Kirsty. Feel free to keep that up…..anyone.
Finally – there were moments when our defence were literally just stood around, twiddling their hockey sticks, watching the play all at the other end of the pitch. According to our subs on the sideline – it was a pretty awesome sight.
So a great team effort but POM goes to Lucy Wise for some brilliant attacking play, for all those runs down to the right corner and for some extremely thoughtful passing. Well done Lucy! Sharing the honours is Kirsty for a beauty of a goal in the closing minute of the game, keeping on fighting to the end.
Ladies 3rd XI 2-1 Barnes
The Ladies 2s had the graveyard shift on Saturday so all efforts were made to ensure we were pumped up to fight hard against second in the league Barnes. Playlist complete with the classics (Eye of the Tiger, Don't Stop Believin') the changing room was buzzing and every member of the team seemed ready for the challenge, lead by Ellie W who had clearly had her shreddies that morning.
After an energising warmup we finally got onto the pitch and after a quick sprint we were ready to go. Barnes had first push back and won an early short corner. A well worked routine and an unlucky deflection from Molly's pads left us 0-1 down. This was not going to dampen our determined spirits so we started to show Barnes that we meant business. However, not long after this, Bernie took a deflection from a shot on goal on to her eye. She dutifully meandered to the sideline despite her desire to see out our short corner. In her honour, we executed the short perfectly with a slip to Kitty and back into Molly followed by a tap in at the right post by Rachel. 1-1 and we were fighting. This was our game for the winning. Both teams continued to put pressure on each other, until we were both relieved by the half time whistle.
As the second half began, Barnes came out hard but we came out harder. Despite their quick counters, we were able to play the ball high and wide for our forwards to collect and attack the goal. The Barnes keeper was strong, and made great save after save. Then, a breakthrough, the ball was played up the pitch and Ellen, who was freshly off the plane from Cuba, collected the ball and drove into the D where she slotted it past the keeper. 2-1 up. The rest of the game was hard, but not as hard as the final ten minutes, where we relentlessly faced wave after wave of attack, yet still managed to keep the ball out of the goal. When the final whistle went, the relieve was immediate…. unless you were Jo Mir, who thought we drew.