Ladies 1s vs Spencer 3s
The ladies 1s were at home this week, first league match of the season. We started off strong, however Spencer's 3s came into our D and scored a goal in the first 15 minutes. This didn't stop our determination and we succeeded with 1-1 having Laura Sealey do a spin in the D which was then passed to Rosanna Hall-Fletch having a shot at goal.
By half time, we spoke about passing the ball into space more and coming up with tactics to help us improve in our game. This was shown very clearly by team play and an excellent pass from Georgie Syms, who passed the ball into the D which Amy Mighalls ran onto and had a one touch finish in the first 40 seconds of the second half. Being 2-1 up, we had most of the possession and this allowed us to score another impressive goal from Ellie H – a reverse hit from the baseline. Finally, even though being 3-1 up we wanted to keep fighting and have every opportunity to score another goal. In the last 10 minutes of the match, Poppy M had the ball and dribbled into the D with a reverse hit into the goal. The final result was 4-1
Overall this was pleasing result and strong start to the season.
Play of the Match – Ellie H
Written by Poppy M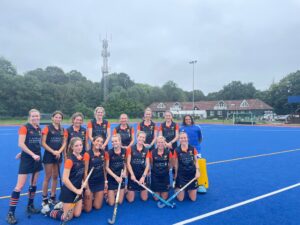 Ladies 2s vs Tulse Hill & Dulwich 3
An away match to kick-off the season for the L2s, miles away in Dulwich. Add to that, petrol mayhem, a husband incapable of listening to simple instructions 'don't take the big car, I need to take 4 players to the match' (1st world problems, I know) and an injured co-Captain meant a fairly stressful first league game. Pretty sure my carload of teenagers would back me up that I styled it out and didn't let on that I was stressed at all.
Amazingly, the entire squad was there on time and following a pre-match selfie (THE only way to take a team photo) we started strong. After sustained pressure, we won a short corner which was calmly converted by Tabby who flicked it in – 1-0 OC's. Our press was proving effective with the forwards applying great pressure and making it very difficult for TH&D to transfer the ball out from their defensive quarter.
Continued attacking play, winning every 50/50 saw OCs score 2 more well-deserved goals. The first was from Georgie (straight through the keepers legs) after great runs by both Jacqs and Kitty and then a 2nd goal for Tabby. Half-time – 3-0 OCs.
Second half and Evie was tested in goal for the first time in the match making multiple saves following some very decisive steps off her line. Unfortunately, TH&D managed to eventually find the back of the net to make it 3-1 OCs. I'll be honest, I can't remember any details about their goal, and I've only got this far in the match report because of the L2s WhatsApp group feeding me info. I'm still not sure how people manage to play a match, remember the score and details of what's happened all at the same time.
After a brief interruption to play for the umpire to point out to OCs that 'this isn't a rugby match', OCs closed out the match by scoring a 4th. Liz making a great run down the left and chucking an awesome cross for a perfectly positioned Sangster to calmly slot home. 4-1 away win was a perfect start to the season and after a closely-fought MOM vote, Ele Lunn took the crown. A great team performance and a well-deserved win.
Player of the Match – Ele Lunn
Written by Jo Mir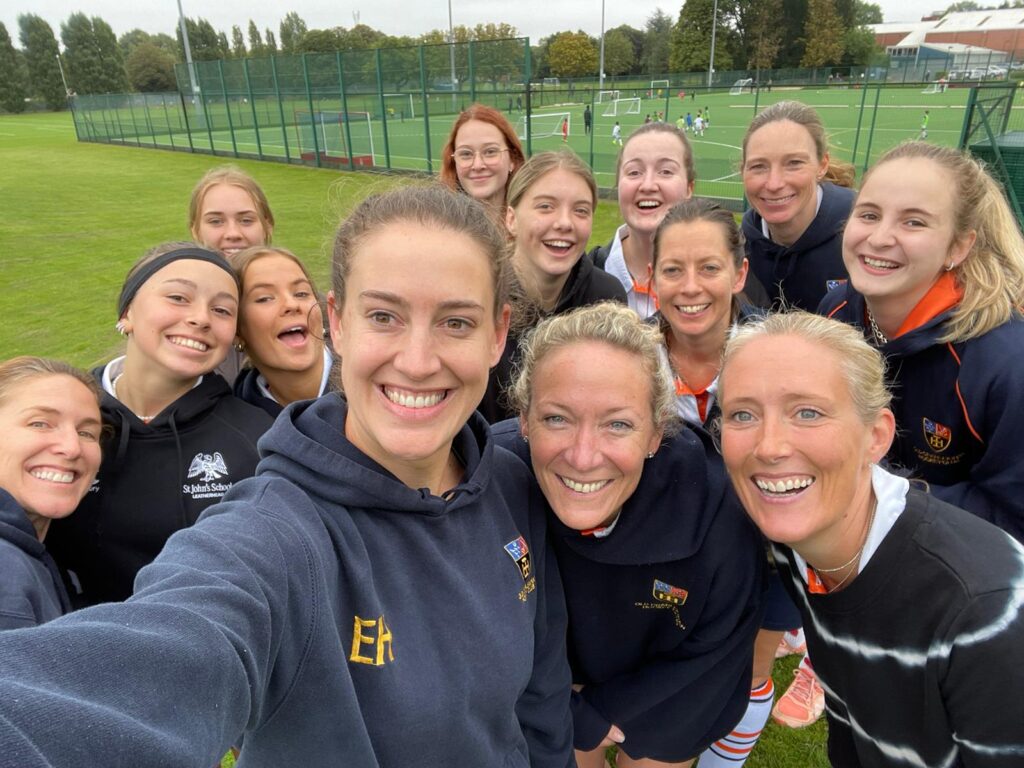 Ladies 4s vs Old Kingstonian 3s 
L4s played well and had several opportunities to score but it wasn't to be.  Although the score line was 0-2, play didn't reflect this and an experienced OK3s defence proved to be tough to penetrate.  Debut games for Josie and Megan (goalie) who played well and some excellent defending from new girl Serena, prevented further damage.  Also Ailsa had a stonking game up front.  A good start despite the loss.
Player of the Match – Ailsa Pack tied with Serena Jacobs
Teddington 7 vs OC Ladies 6
It was a historic day for the Ladies 6. As OC Hockey Club continues to grow and meet the demands from our Colts and adults, who want to play in league games, a new league ladies team was added this season.
We were keen and eager to play our first L6s game against Teddington 7. We arrived nice and early at Teddington School sports ground and were ready for our warm up.
The opposition had first pushback. We started off strong and dominated the pitch but were unlucky not to score in the first 15 minutes. As we headed towards the end of the first half, Teddington was lucky to score after a scramble in the D. We lost our shape a little as we wound down and tiredness kicked in. In the second half we rallied on. We had brilliant direction and coaching especially for our Colts from Michele, resulting in the defence pushing up when we were in our half of the pitch. We held most of the possession but couldn't quite secure the goal.
It was unfortunate for our captain to be injured in the team's very first league match. Annie had to sit out in the second half after the ball hit her forehead. Luckily we had our manager/emergency sub, Rae who came to the rescue.
We had some good pace and good shifting of the ball out to the sides and staying wide. We had much better team spirit than the opposition, who spent a lot of the time shouting at each other (not in a good way). We definitely dominated the game but just couldn't quite secure the win.
The sixes stepped out for a game
Lost – which was a bit of a shame
Learnt to play high
And to pass wide
So next time, our win will be famed
It was a valiant effort from everyone for our first away league game.
Final score 0-1.
Rating for Match teas = 8/10
Player of the Match = Klara
Written by Annie Lee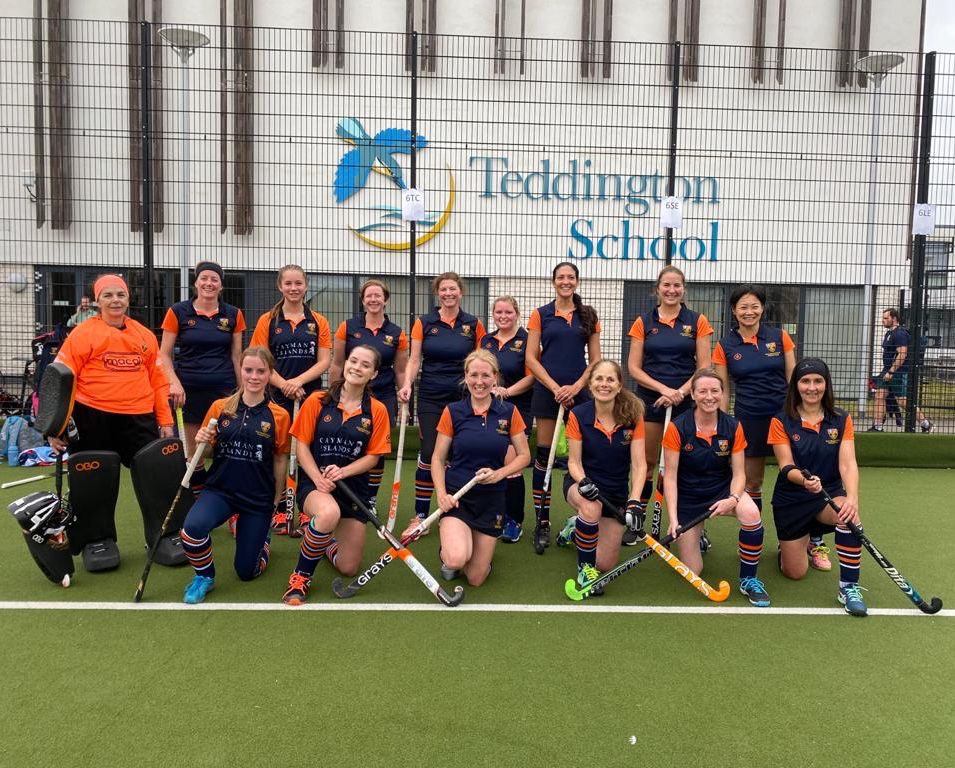 Men's 1s vs Bath Buccaneers 
330 days later the Men's 1st XI found themselves back competing in Division 1 South, against a well-drilled Team Bath Buccaneers side. Under the blistering September sun, injuries meant that the OC's side started with a 14 player squad for the game. A tight first half saw limited chances for both sides, with a number of impressive saves from Josh Doble in the OC's goal keeping the scores level until a well worked chance from Bath, with some help from a goalpost rebound, saw them take the lead before half time through George Carson's close quarters finish.
The second quarter also saw midfielder Charlie Lamb pull up with a hamstring injury, and coupled with a blow to Ben Roe's head in the third quarter (get well soon lads!), meant that the team was reduced to 12 for the remainder of the game. Early in the final quarter, a Doble save onto the post from a short corner saw a quick counter attack down the opposite end result in an OC's penalty corner. Willie Marshall fired his dragflick onto the postman, winning a penalty flick which he dispatched to the goalkeeper's right for a birthday goal. The equalizer initiated a frantic final spell in which the OC's were spurred on by the home crowd to put in a massive collective effort, and despite growing fatigue managed to generate a number of chances in an end to end battle. Ultimately, good defence at both ends kept the game at 1-1 and the spoils were shared. A competitive game and attractive brand of hockey on show sets the precedent for an exciting season ahead for the 1st XI.
Player of the Match – Alex Batstone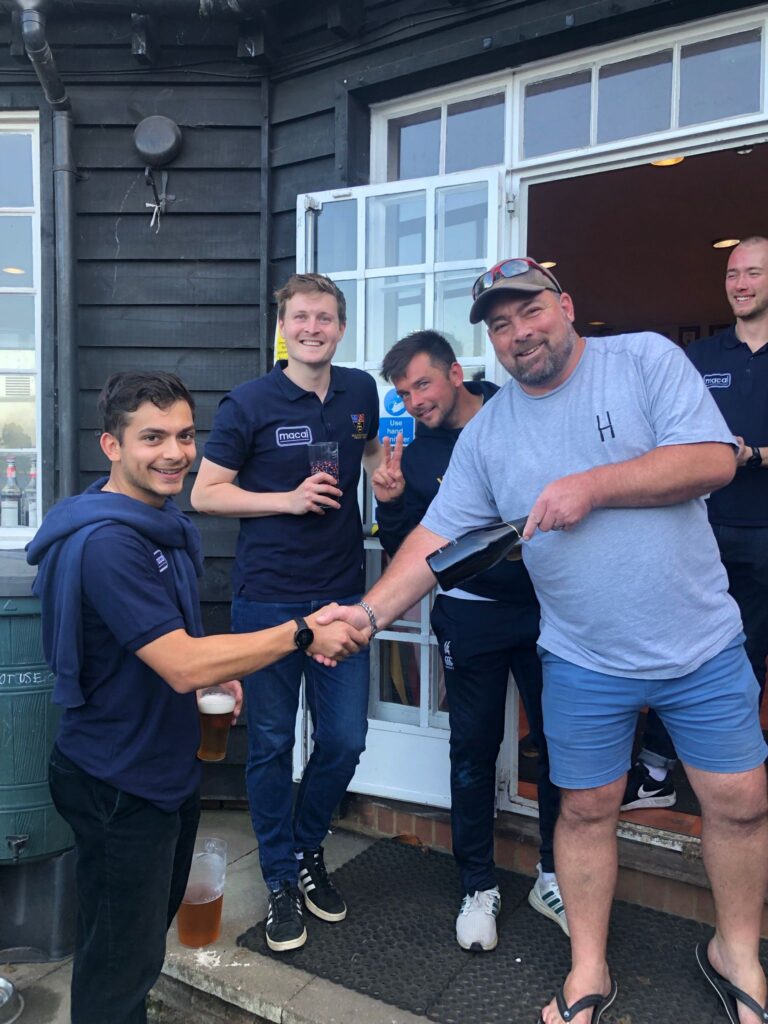 Alex Batstone winning the Gryphon Hospitality Men's 1s Player of the Match Award