Men's 1s vs Oxford Hawks 
Following a difficult result last weekend, the OCs travelled west to Oxfordshire to do battle with Oxford Hawks. They came fresh off a 1-1 draw with Bath Buccaneers on the opening weekend, looking to convert to the 1 point to 3 this weekend.
Despite being littered with various injuries and unavailabilities, the men's 1s were confident they could grind down a well organised Hawks side and generate a result. The game begin with a cagey 15-minutes, with both sides having limited chances in front of goal. The first quarter concluded with a Hawks counter attack that wrong footed the OCs defence, putting the home side 1-0 as the quarter came to a close.
The second half saw more of the same, with the end to end hockey being a great spectacle for the neutral. The Old Cranleighan Men were awarded a penalty flick deep into the third quarter, which was adjudged to be going wide of the right post and subsequently overturned. Feeling somewhat hard done by, the men's 1s rallied again and mounted significant pressure on the home side. Frustration built up for the OCs and sadly they subdued to ill-discipline; Will Marshall was carded for his loose tongue (£20 please sir) and Mohammed Irfan was the victim of a wayward stick condemning him to the bench.
Deep into the fourth quarter a well converted Hawks routine saw OCs slip 2 behind and any prospect of a result seemed a difficult ask. The Men's 1s persisted to ask questions of the opposition, but subsequently came second best as the final whistle rung around the BRN. Despite the result, the OCs showed signs of promise and ultimately annihilated the opposition in the post-game boat race: the real victory.
The boys now look ahead Southgate Away where they hope to yield a result and get their campaign up and running.
POM – Ollie Davies
Men's 2s vs Wanderers 2s
Time :2:30
Weather: Wet
It was the OC's first game on home turf for the 2021 season. Preparations had been mixed, a Laws house party, a Marchant Yoga session and an RJ date… what could possibly go wrong.
The floodgates opened and poured all day making conditions challenging. Five new players entered the frame with four others absent. A new back line….
OC's started slow and went a goal down. However, fired up we gained an equaliser through a DR finish.
Man of the match Ajay got his goal to equalise for the second time after a wanderers short corner gave then the lead for a grand total of 6 minutes.
Coops marked his return to hockey with the third after having a broken finger… (cause of the break still unknown at this present time…. Let's just say Infernos may have something to do with it!)
Sam and Laws got their goals respectively after a gutsy performance in the second half with DR finishing off his consecutive hatrick in two games with OCs finishing with a 7-3 win.
The defence led by OC Vetean and ex skipper Benjamin Marchant remained strong throughout the game. A special mention to Henry Emery for his left back Cameo… shadows of Richie and Sheps shining through! (Striker, bencher… I think not!)
Onto next game, where OCs travel to HAC Gunners and rumours of a post match pub crawl… not to be missed.
POM – Ajay Welsh
Ladies 1s vs Spencer 3s
I am writing this as DOD having fallen victim to the maze that is the streets surrounding Teddington Hockey Cub and have found that my memory of the game is limited to goals, a myriad of missed chances, and the weather.
As the Ladies 1s descended into Teddington to battle against torrential rain, wind, lack of petrol and said maze, we arrived ready to take on their 3s. With no subs, we knew we had to achieve nothing short of greatness to win this game on a pitch that had more leaves on it than the trees surrounding it.
The game kicked off with a slightly relaxed style but nevertheless we absolutely dominated. A huge team effort resulted in chance after chance at their goal, we knew a goal was coming…. Just not from the opposition – after two breaks they had scored two goals before half time.
After some inspirational half time direction from David Mathews and Katie Richards, we rallied and went out for round two. Our chances kept on coming. From some great passes round the back and down the wings – resulting in Helen Hawes MOM – we continued to dominate. Another chance, a quick ball into their quarter, a sprint and a pass across the D, a rebound and a nifty lift over the keeper into the goal by Amy Mighalls. Finally, 2-1. It was then a race against time to equalise and the pressure was on. Stick tackles happening left right and centre, a final short, but sadly we it wasn't to be and that's how we ended the game 2-1 down. This battle is not over. Next time, Teddington….
Player of the match – Club Captain Helen Hawes
Written by Rosanna Hall
Ladies 4s vs Sunbury and Walton Hawks 3s
A good start to the game despite absence of youngsters, apart from Ailsa. Very pleased too to play before it chucked it down!  We started well but it was very end to end play. Some great defending, especially a super save from Nici saved our blushes.  We then went on the attack,  but despite a siege on the opposition's goal, no goals were forthcoming.  Sunbury had several short corners but couldn't convert resulting in a 0-0 scoreboard.   Steady and strong performances from the defence, especially Paula and Inge, but Kate just pipped them to take player of the match.  Going into this new league, we were dubious as to whether it might be too strong, however if we can continue to keep up this momentum we may surprise ourselves! 
Après
hockey was rounded off by celebrating Kim's 60th!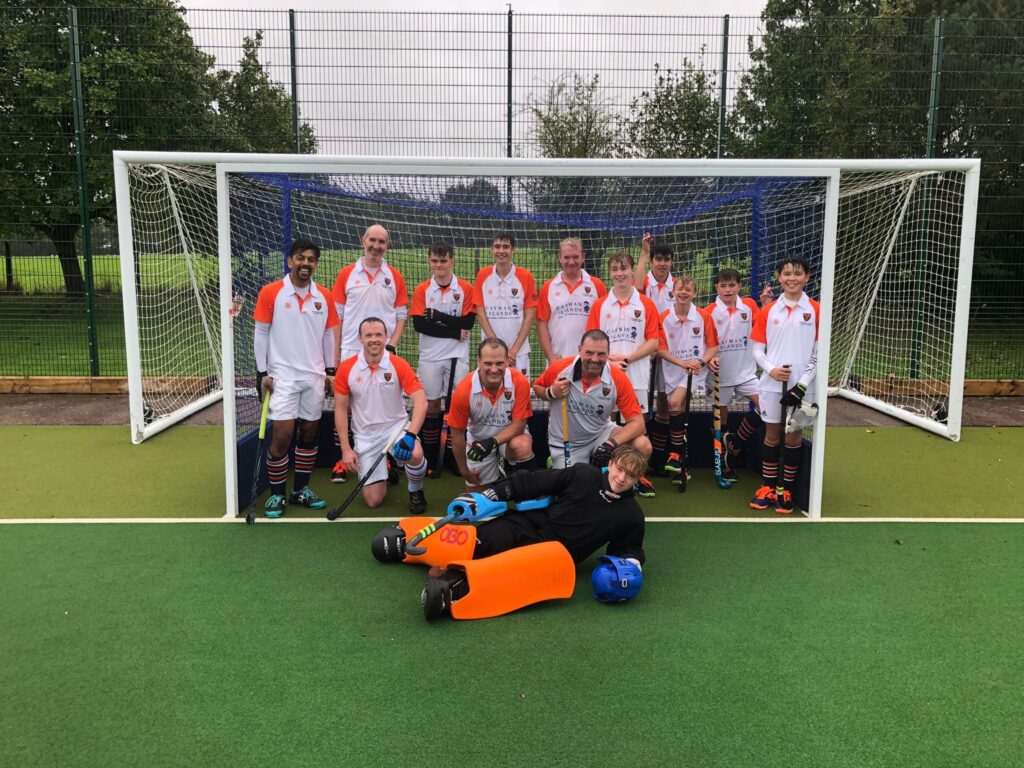 Men's Warriors post game after a 1-0 win over Cheam 3s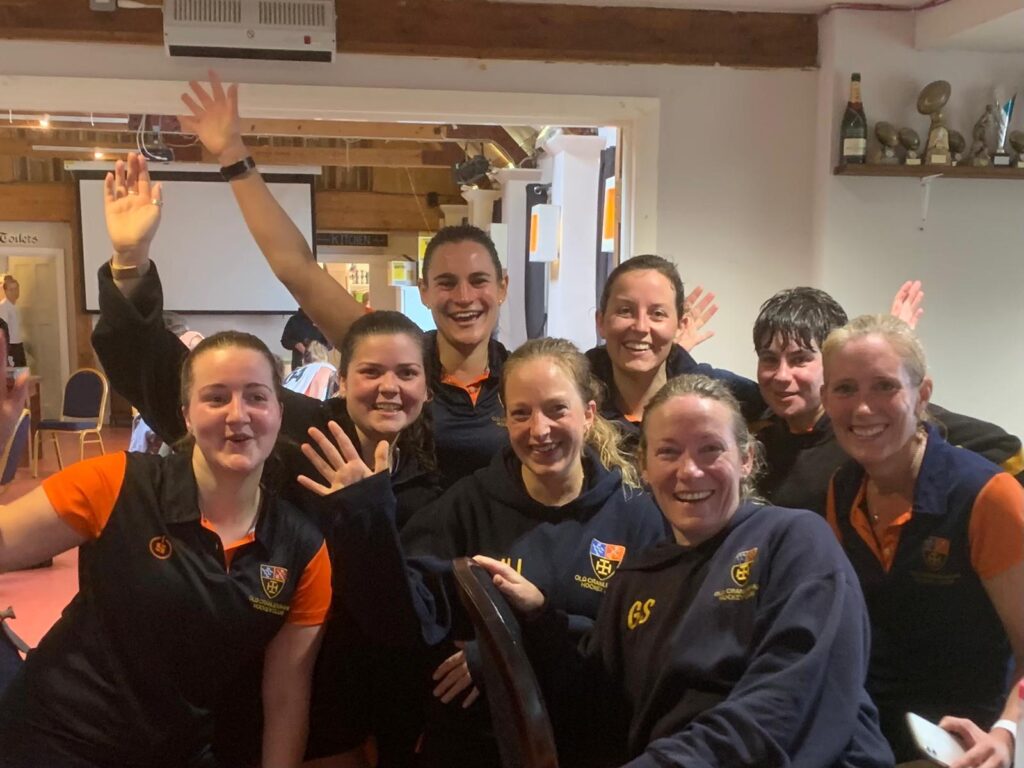 A damp Ladies 2s still smiling despite a 4-1 defeat. Featuring goal scorer Heather, POM Jo and DOD Georgie.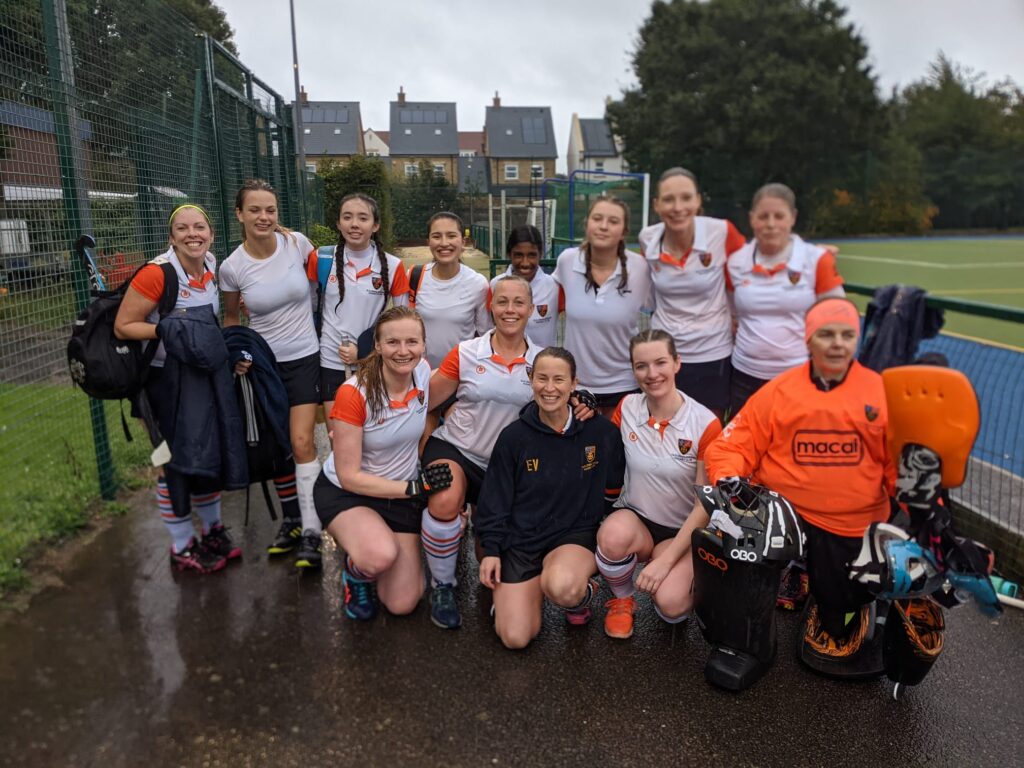 Ladies 3s looking soggy after their tightly fought win over Sunbury and Walton Hawks.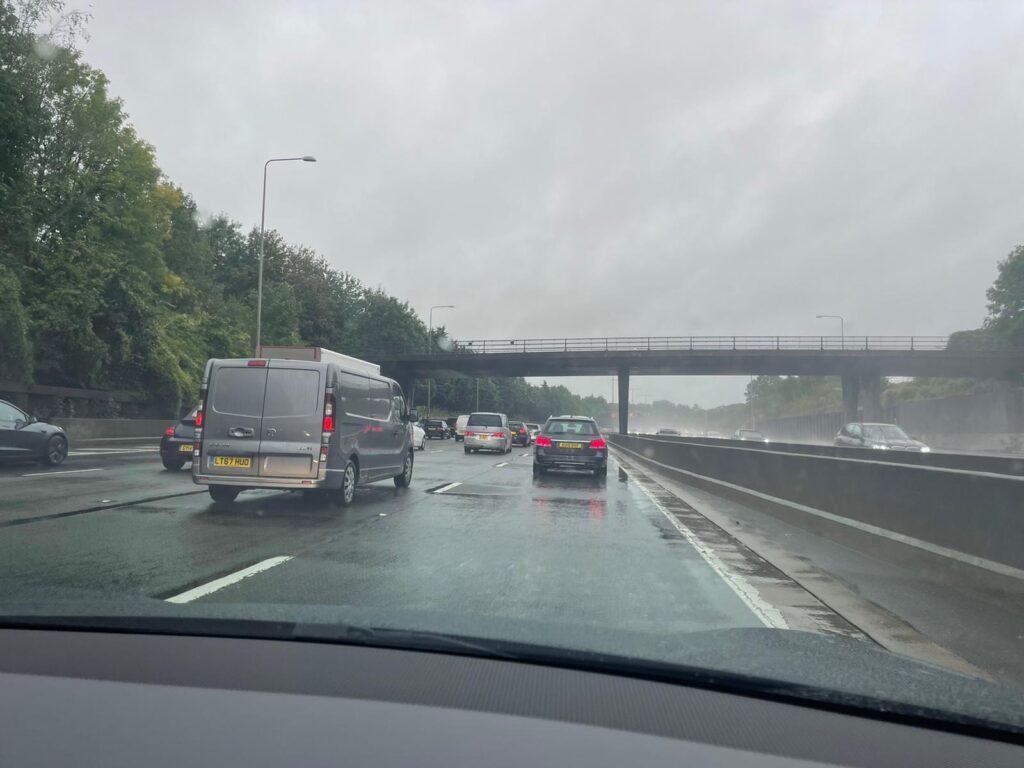 A summary of the stormers day – wet weather and 4 hours on the M25.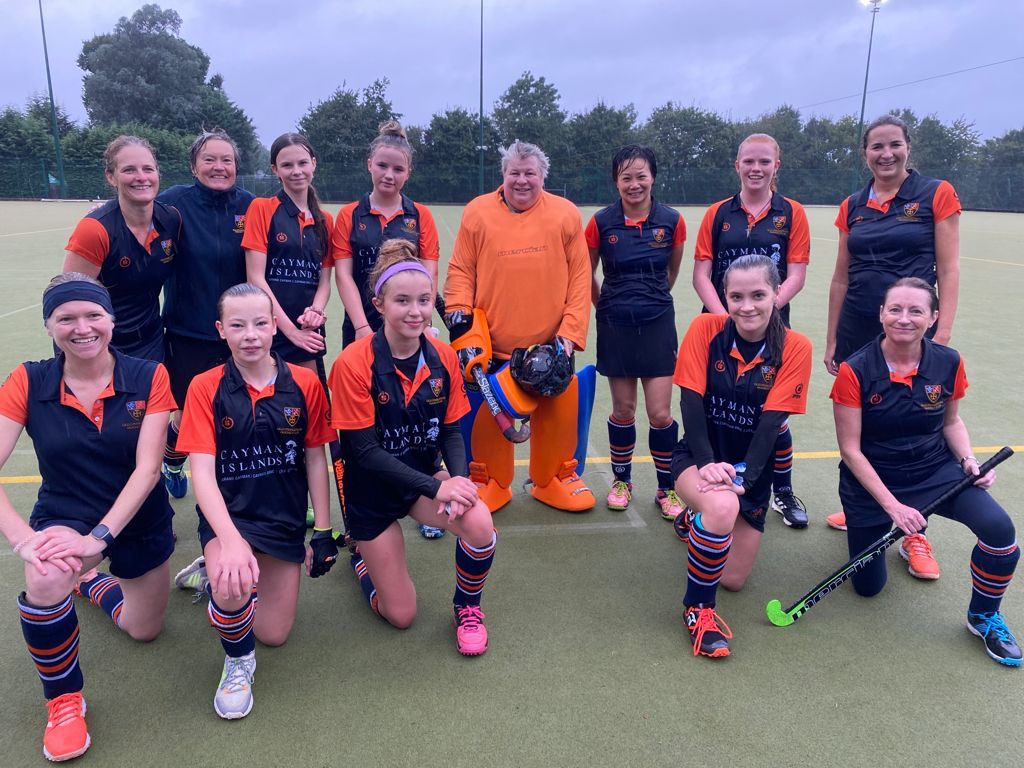 Narrow loss for the Ladies 6s and plenty of wet weather!