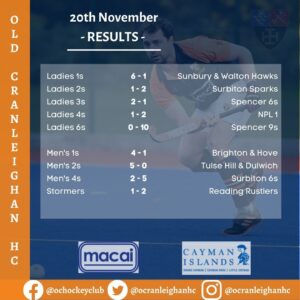 Men's 1st XI 4-1 Brighton & Hove
The lads started their Saturday watching England thump a bunch of Springboks huddled in the bar. After this with pride in our hearts and stomachs filled with Maurten ®️ we headed out to the pitch. A chilly breeze swept across the picturesque OC blue pitch for a 6pm pushback, it was a great day for hockey and a great opportunity for the lads to bag some goals and 3 points.
The team line-up was almost back to full strength although a hobbling Ollie Davies was still recovering from the previous day's operation, and Matt Cornwell had decided a night out was more important. But we did have Callum Holloway with his first home game of the season giving our backline a regular feel again. After a positive team chat from head coach, William Marshall, followed by a solid warm up on the pitch with a mix of nerf ball and stick-n-ball. With the crowd gathering and drums playing we were ready to start.
We started confidently but after three minutes our central defender was found sat down in the middle of the pitch with a pulled hamstring, not ideal. OC's down to 14 men…. This didn't seem to affect the lad's too much as we battled on and scored our first goal with Charlie Lamb slotting the ball in a three inch gap between the post and the goalkeeper; while his feet were on the baseline. Swiftly followed by the classic ecstatic punch to the air from Lamb and spread eagle from Birdstone.
After some very interesting challenges from Brighton with Alex Batstone receiving an elbow to the head (red card pending) and Tom Roberts being flattened (yellow card given). Brighton were seeming like a nice bunch of lads…. After a few good saves from our very own goalkeeper, club man and generally average bloke, Joshua Doble. It was shaping up to be a very interesting game of hockey as we entered half time. The lads sprinted into the changing room while the OCs supporters enjoyed some half time entertainment involving with some of the biggest blue balls anyone has ever seen and a man-size Turtle.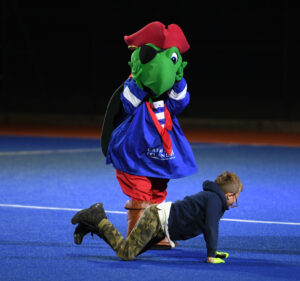 The second half started with Brighton fighting back strong and annoyingly OCs concede a penalty flick due to an apparent shove in the back. Yellow card for Matt Simpson. Brighton score, taking the game to an edgy 1-1. With end-to-end play in the 3rd quarter with a few chances we moved into the 4th quarter which saw a strong start for OCs (or shall I say for Rico) as he won the ball, then went 'through' a player. This was followed by a quick counterattack and the ball was nudged in at the back post by Muhammed Irfan, does this man ever not score! Taking it to 2-1.
OCs fought back and quickly won the ball again. Will Phillips sending a crash ball into Irfan for a first-time pass to Worcester Bawden who had visions of Teddington at home as he wound up to hit the ball. The dreams were shattered as a Brighton defender came from behind taking out his stick, mid shot. Penalty stroke given. Irfan stepped up and went to give the keeper a chance by putting it stick side and at a perfect height to save but the pace was too much. OC's 3-1 up.
The OCs went into fifth gear here and eventually built up the play in and around the Brighton D. Charlie Lamb sold even himself with a fake pass followed by nearly slipping over and eventually an actual pass to Alex Batstone who found the ever so good-looking Worcester Bawden in the D as he hit a backhand rocket into the back of the net. OC crowd go wild, head in hands for Brighton. 4-1 OCs. So we away with another 3 points leaving them joint 4th in the league going into the Christmas break.
A special mention to Willy Marshall who took it upon himself to water the plants outside the OC Clubhouse at 1am on Sunday morning, top bloke.
Man of the match: Matt Simpson. Dick of the day: Worcester Bawden. Christmas jumper was apparently too good.
Men's 2nd XI 5-0 Tulse Hill & Dulwich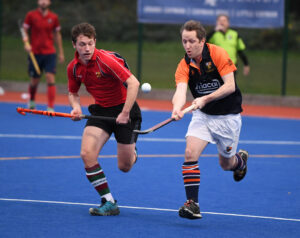 "What a lovely vibe" were the words which Will Copley wished he had said as it summed up the perfect afternoon at Thames Ditton.
Worryingly for the elder statesman in the team debutant Smyth was closer in age to our 1 month – 4 year old children than the players he was sitting alongside. Changes were made across the team with Russell-Jones stepping up to warm up duties only to blindsided by Shephard's attempts to introduce Rock, Paper, Scissor to an almost perfect warm up.
Tulse Hill & Dulwich (THD) controlled the initial passage of play but quick thinking Biccarino released Roberts with a pin point aerial who made it 1-0. Welsh and Tickner were impressing on the wings but it was Cook who showed great skill to play a 1-2 and then a 3-4 with Roberts who made it 2-0. Morris and Copley worked well in midfield to keep the press high which resulted in Roberts pouncing on a loose ball to finish the half 3-0.
The second half saw THD start to threaten however Marchant and Stratford, self-named the Bruce and Pallister of OC's kept the forwards at bay with Harrower performing heroics to keep his sheet clean. The C's continued to dominate the game with Cooper working well with Welsh resulting in two further goals for Roberts. There was still time for Roberts to hit Martin Wilkinson, the club photographer with a wayward deflection, a lager was given in compensation to avoid further litigation. FT 5-0.
The day was not done there with Biccarino and Roberts winning the first Cayman Island Big Purple Balls challenge (we await our bottle of rum) and then Bicarrino winning himself a new stick.
MOM – David Roberts
DOD – David Roberts
Champagne Moment – Matt Cook
Ladies 1st XI 6-1 Sunbury & Walton Hawks
Goal 1 – within first ten mins – Ellie made a brilliant intercept on the transfer. She then accelerated and dribbled passed 3 of the opponents and into to d. She then made a great pass to the back post where Molly H had made a great lead, to score a tap in.
Goal 2- came about ten mins later with Ella making a superb tackle out on the left. She then passed the ball to Richie who fired the ball into the d for Bella to get on the end of. Bella then took it round the keeper with some great skill to score a very good goal.
Goal 3 – we continued to dominate with an excellent press forcing the opposition to make many mistakes. Our 3rd goal came from our opponents 16. We set up the press quickly and very well. This put pressure on the opposition, allowing for Molly to make a great tackle in the attacking 23. Molly then dribbled down the baseline with speed and intent. Once she had drawn all the defenders in she passed the ball to Sims who had Darted into the d. Sims then kept composed and slotted the ball past the keeper to make it 3-0.
However it was not yet half time, and the opposition had shown promise. They managed to pull a goal back in a very comical way (Molly W face planted leaving an open goal) making the score 3-1. (If anyone wants to have a laugh ask Helen for the clip). We went into half time 3-1 up.
Goal 4 – Ellie made a great sweeping tackle after tracking back, to turn the ball over. She then slipped the ball to Richie who eliminated one of their defenders with a great v drag. She then made an unreal pass to flo, who took a quick hit, scoring bottom left.
Goal 5 – Ellie made another great tackle turning the ball over in our half. Ellie then made a great pass to Richie who beat 2 more of there defenders. Richie then passed the ball back to Ellie completing a great 1-2. Ellie then passed the ball to Laura who amazingly flicked the ball over the keeper who had gone to ground, scoring our 5th goal.
Goal 6 – Some superb work from Richie alongside a great tackle led to a turnover. Richie regained possession of the ball and made an incredible run performing so great skills to beat 4 of there defenders to reach the top of the d. Richie then played the ball through to Bella who made a great first time shot to score bottom right.
6-1 was a great win and ensure that we remained 3rd in the league with 3 games left until the Christmas break.
Surbiton Sparks 2-1 Ladies 2nd XI
The ladies 2s turned up bright and early to play Surbiton Sparks, a team of very young players, all under 16! We started strong and fulfilled the challenge we were set to get an early goal. The midfield were strong and managed to get the ball up into our attacking 23. Amy Mighalls picked the ball up on the left outside the D. Took it into the D and took a strike. The ball was saved, Hattie Coughlan picked the rebound up and scored. 1-0 OCs. We continued strong, securing short corners but unable to convert, and started taking on pressure. Surbiton had a flurry of shorts that we managed to keep out with great saves by Evie. The defence were working tirelessly. Unfortunately they managed to score from a short down Evie's left side with a cheeky touch at the post.
1-1 at half time. We felt we could take the game to them, despite being tired, we went out with tenacity and fight. The game was end to end with the youngsters strong on the break but not able to capitalise due to our solid back line, Ele Lunn, Ruth Mason, Amy Smith and Daisy Deuchar. Again we managed to get multiple short corners but couldn't convert. Another open play attack with strong play starting from the back through the midfield of Jo Mir, Slyvie Adam's, Kitty Savan, Ali F-R and Ellie Wilson resulting with Amy Mighalls having a shot coming off the post. This was the story of our game- so close but not close enough. The game progressed and with just over 10 minutes to go, the young Surbiton team secured another short. They scored from a strong drag flick to the left of Evie. OCs fought to the end with more D penetrations by Tabby O'Neill and Hattie Coughlan but were unable to answer back.
It's always a strong team game when six players are nominated for POM- Ali Fox-Robinson, Sylvie Adam's, Ellie Wilson, Amy Mighalls, Jo Mir and Daisy Deuchar. Player of the match going to Sylvie.
Ladies 3rd XI 2-1 Spencer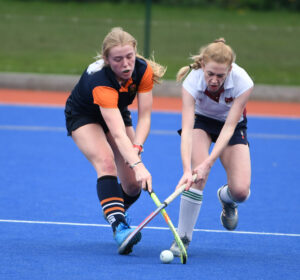 So what a match! This weekend we played at home against the top of the table Spencer. We knew it would be tough but being at home meant we had the support of a great crowd. The game did not get off to a great start with Spencer scoring within the first minute or so. I thought we were in for a hammering but the ladies 3's came back fighting. Spencer gave us a rough ride but did not really have many chances on goal.
In the first half, Fay scored our first goal from great field play and Manny, the second from a short corner in the second half. Our hearts were in our mouths when Spencer got a short corner in the final minute but our defence were amazing, the ball was cleared and the whistle blew. 2 -1 win to the Ladies 3's Everyone played brilliantly with all of us being named persons of the match. Thank you ladies, I am so very proud of you all.
Stormers 1-2 Reading
It's fair to say, we didn't have the best preparation this week. Sitting pretty at the top of the league and with another big match on the cards, people were dropping like flies due to either niggling injuries or the dreaded COVID. But with our strength and depth, we still believed we had a good chance against a strong Reading outfit.
After an old skool warmup in the church car park which Knappy would have been proud of, and a good team talk from stand-in skipper Goalie, we took to the field and looked ready for action. And then… the first 15 minutes were an absolute disaster. At times it felt like they had two extra players on the pitch. They knocked the ball around with ease while we looked like rabbits in the headlights, so unsurprisingly we were soon two goals down. Then we kicked into gear and started to play some decent hockey creating a number of chances. One absolute world class save from their keeper and their goal post were the only two things which stopped us going into the break all level.
The second half was a bit mixed. We seemed to really struggle to find our usual fluid hockey and all too often opted for a long 'one-in-a-million' pass rather than playing short and sharp passes, in triangles. Midway through the second half, and with his wife and kids adoringly watching on from the sidelines, Tongy (the writer of this report) did a lumberjack tackle and picked up a yellow card (sorry about that one lads). But maybe he knew something no one else did as mid way through his stint on the naughty step, JJ cropped up in the D and put the ball away with style. Suddenly there was a glimmer of hope. We couldn't… could we? The answer is, we couldn't. The game ended 1-2 and, with the way we played in the first 15 minutes, it's difficult to feel hard done by.
GS John Jauncey, mom Chris Brewer DOTD Tongy (again)