Sevenoaks 2-1 Men's 1st XI 
This week the good lads made a shorter commute down to Sevenoaks for a hotly contested battle. Expecting a feisty affair minus rogue fireworks this year the C's were up for the challenge.
The first quarter ebbed and flowed with the OC's taking time to get into the flow of the game. Sevenoaks started strongly and put the back line under some serious pressure in the opening minutes which OC's did well to defend. Some excellent work from Josh Doble between the sticks, a save off the line from Ollie Davies and a penalty stroke save, once again, from Josh Doble kept the scores level. As the quarter drew to a close OC began firing more consistently and the quarter ended with Charlie Lamb free top D as the whistle was blown. Unlucky not to get a chance away the team came out with even more fire in the second quarter. Stringing some nice phases together throughout the quarter Sevenoaks were caught off guard a number of times as OC's threatened going forward. Unable to capitalise on a short corner the good lads pressed on until a successful attack down the left resulted in a ball into the D. The following scrap bounced off a Sevenoaks foot and advantage was played on with OC's netting the first goal through a swift strike off the rebound by Ben Roe.
Going 1-0 up into the second half OC's were well placed to take the 3 points. Things continued to heat up as the umpires came under fire for a number of decisions by both sides. OC's came off worse during this period picking up some cards over the quarter. Sevenoaks pressure mounted and they successfully converted a well placed short corner to the top right hand side of the goal.
Looking back this quarter seemed to go on forever, partly due to the umpires running 6 mins over time.
During the 4th quarter more Sevenoaks pressure ended in a second penalty stroke that they converted this time around.
Following this OC's surged forward looking for the equaliser and hopefully a winner! Multiple attacks threatened the Sevenoaks goal but the final passes didn't seem to click into place. Several short corner opportunities were missed by the umpires and OC's failed to capitalise on those they were awarded. Ultimately a hotly contested final half saw Sevenoaks come out on top.
Onto Brighton next week with the good lads in need of a big win at home under the fabled floodlights of TD.
Men's 3rd XI 3-2 Bank of England 1s
By many, this was described as the biggest game for the club thus far in 2021, as we entertained table topping Bank of England. Our usual match report author, David Knapp, after 30 years of denying his wife an autumn sun break, found himself on a hammock in the Maldives. We did welcome some players back, as Rosco returned from his caribean rum hut and Coops had recovered from a viscious STD contracted on cricket tour in Spain.
We started well and controlled the game with good ball speed, switching at pace against Banks bare 11 men. Eventually we converted good pressure through a Kenty strike, but this was cancelled out by a sublime Bank deflection. To this point we had looked solid at the back with Carne making some timely interventions. A very nasty ball in the face for a bank player then led to a stoppage 5 minutes before the break – with the players wife being called to take him to A£E. We did manage to take the lead through a fortuitous fluffed Ishaan flick, taking us 2-1 up into half time. A stucks team talk at half time outlined the fact that we just needed to keep the ball moving.
The second half started frenetically as we pushed for a 3rd goal. Space appeared as bank, down to 10 men, began to tire- especially on the flanks with the two Hugo's – the recently engaged Snelll, and one of the most experienced dater's on the Tinder circuit, Shep- who would be well advised to invite one of his dates along to watch his classy distribution. We did convert as Eds finished off another good run from Will Copley down the left, leaving us 3-1 up going into the last quarter.
It is strange how we can doninate games, take a lead and then sit back and defend it. At some stage we will carry on playing the way we did to get 3-1 up, but that didnt happen this week. After another string of short corners we failed to score a 4th. We sat back and let bank back into it, and with 5 minutes left Neil spotted an infringement from 40 metres away and awarded a short which bank converted to leave a nervy final 5 minutes. We did hang on thanks to some sharp saves by Rosco, and we had claimed an important 3 points.
As this disjointed season continues, we take another "international break" next weekend. Our best wishes go to the bank of england midfielder who may well still be in A&E as I write. Thanks to Virge and Neil for some excellent umpiring – often tested by verbals. Four wins from five games, early days but we are gaining momentum.
O40s 1-4 OC Stormers
13.15 meet at Battersea Park was a struggle for at least 3 of the Stormers and after a particularly hard fitness session on Thursday night the team didn't look in peak physical condition.
Pre match preparations were not ideal with Goalie serving drinks at a Waitrose tasting event late on Friday and One player 'allegedly' doing a few laps of the park with his Long coat, the start of the match wasn't ideal.
The match started at 13.45. Stormers started playing hockey at 14.25 after a half time team talk and already 1-0 down. If it was at times champagne hockey against Guildford the week before it was more like flat babycham.
With a spring in our step OCs dug deep and played an almost faultless second half. The team switched the ball well and attacked down the right with Dazzler putting in a shift to be proud of.
With quick goals from Dave Matthews and Cookie in open play put OCs in a commanding position. However with a few injuries and players being rolled on and off a loss in concentration allowed Spencer to score with 5 mins to go.
No fear. With a penalty corner awarded and the whistle blown for full time Rippers injected the corner to perfection, Gav's soft hands controlled the ball and delicately set up a peach of a straight strike for Capt Heslop. The roar from the whole team when the ball ricocheted off the back board was deafening.
Smash and grab, get out of jail free card, lucky get out ………… call it what you will. Good teams dig deep when they need to, grind out a result from nothing and pull together. The Stormers is a great team!
MOTM – Dazzler.
DOTD – Dave M
Champagne moment – Capt Heslop PC
OC Stormers (3) v Spencer Masters (2)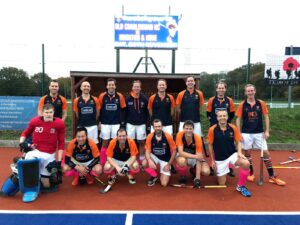 Barnstormers vs Crawley Masters
This week saw the mighty Barnstormers travel to deepest, darkest Crawley as they looked to hang onto top spot in the league. Unfortunately, the lure of a dodgy burger, warm Guinness and the sound of Sweet Caroline was proving too irresistible for some, so Richie, Stu and Si Q had an afternoon in Twickenham. Others we AWOL or injured.
We arrived just in time for a warmup – not that it did any good for Closey who left the field after 20mins never to return. Still, every cloud because as soon as he went off we scored!
The game ebbed and flowed, but the Barnstormers found themselves two nil down following a couple of short corners in the first half. Thankfully, Grant T managed to slot a short corner as everyone took cover, owing to the ball being chest height from a rebound and Grant T with steam rising and red eyes glaring wound up to slightly miscue the ball into the back of the net.
Half-time came and went and the Barnstormers, with a spring in their step and fire in their bellies, turned on the magic. The second goal came from a delightful pass which hugged the sideline, not because it was an excellent pass – not because the ball refused to go over the side line for reasons only the Astro manufacturer will know – and we passed it to Tim who slotted it into the back of the net.
Final score was two all and the Barnies headed off to find the nearest pub. Crawley we're not happy but the questions is: "what would the score have been if we had had eight of the staring eleven available?" We certainly won't find out as Crawley always refuse to travel, so we look forward to a five-nil victory back at the fortress after Christmas
Crawley Masters (2) v OC Barnstormers (2)
Wanderers 4th XI 1-1 Ladies 2nd XI
We should have won.
After we had stood in solitary for a minutes silence to commemorate of Remembrance Sunday, we set our-selves up on the pitch, facing a team of 12 players (the opposition's goalie had failed to turn up on time). We promptly managed to get MANY short corners – but failed to make this count. The goalie arrived after 10 minutes and we discovered that she was very good. In sport you need to capitalise on opportunities. This time we didn't. Wanderers then got a break and managed to score from a short corner. However, heads did not go down and we got one goal back. Score at half time 1-1. The second half saw OCs dominate and some lovely skillful hockey. Kitty and Elisa did some awesome play and both had many votes for POM at the end of the match. No goals in the second half despite valiant efforts – that goalie just got a touch on everything!
In summery; great team vibe and some good hockey. On Tuesday this week we will be practicing short corners.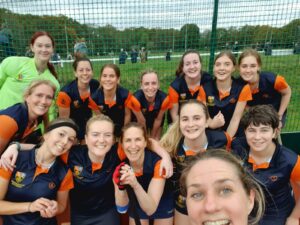 Ladies 5s vs Wimbledon 8s
The good stuff …
• Goalie Izzie's many strong saves especially her vertical leap to bring down an aerial the opposition were already celebrating.  Great skills especially given she switched from footie to hockey about 6 weeks ago
• Pam withering an overly confident teen with a delicate intercept, to leave her running forward but no longer with the ball attached to the stick
• Sally's big heart and quick thinking, and even quicker runs
• Coach Warner sorting out our tendency to collapse in the middle in 2 weeks
• The bestest, funniest, most hard-working team a captain could wish for.
Player of Match:  Tess G for never giving up.
Match tea rating: 8/10
This week is a rest week so we will be perfecting our hakka and working on perfecting our outcomes (a.k.a scoring goals).
Teddington 3-23 Ladies O35s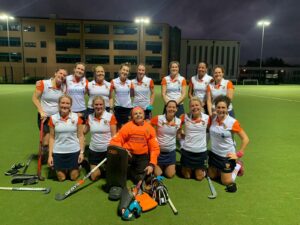 Sunday was the first ever Ladies Over 35s game in the Club's history and what a great game it turned out to be as we pushed back at 3.15pm under the lights.
We knew of Teddington's form in this tournament but from the start we took the game to them. Not only did it surprise Teddington but also shocked ourselves as we controlled the play. Strong drives through the midfield and onto the forwards paid off as Laura slipped the ball to Bernie on the left, from the top the D. Whilst the shot was saved the rebound was not as Laura popped the ball past the keeper and that sound of the ball hitting the backboard signalled it was 1-0.With this Teddington woke up and started leaving players up high. Eventually the ball got through and whilst the initial shot was saved the rebound strike made it 1-1. Undeterred OC continued at pace and Migs made it 2-1 when her rocket of a shot deflected off the Teddington defenders stick and lopped over the goalie's head into the back of the net. We ever so nearly scored a 3rd before the break but the amazing skills of Teddington's keeper stopped the ball edging across the line and the entire OC bench had to quickly adjust themselves to stop celebrating!
The second half was just as manic as the first. Bearing in mind everyone had played the previous day there was absolutely no let up in the pace. Teddington pressed over loading the OC defence with forwards and midfielders. Shots were saved but in the mayhem a rouge Teddington forward was free on the post and snuck the 2nd goal in. With it being 2-2 both teams had their chances; OCs again had a great effort saved off the line and Teddington pounded the defence with numerous short corners. It was a short corner close to full time that saw Teddington clinch the winner. It was text book. Out to the top, bang into the runner on the right and deflected in!
The game ended 3-2 and despite the loss there were smiles all round. Our new 'masters' team comprised of players from our Ladies 1s through to L5s but the most impressive part was that you would never have realised we hadn't all played together previously. Everyone worked together, a great show of team work. Next round Tier 2 on the 5th December.
Thanks to Jax for being our amazing Captain, Lauren for manging our bench and stiff words of encouragement throughout the game plus Malcolm for coming to our aid to umpire. Also thanks to our dedicated cheerleaders of Alina and Molly.
MOM: Everyone
DOD: No one