Men's 1st XI 1-1 Oxford Hawks
A proper report may follow.  This was a bitterly cold night for the faithful who turned up and there was little to warm their collective cockles. For now safe to say that a short-corner strike from Irfan Muhammad – via the crossbar and from there into the goal off the keeper – six minutes from time earned us a point in a game which had it been football would certainly have been the last one squeezed in at the end of Match of the Day as the editors struggled to find highlights.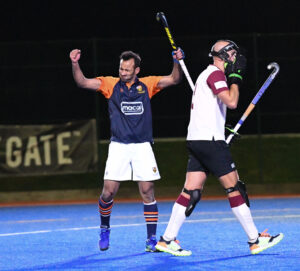 Both defences efficiently snuffed out attacks, and for a while the real entertainment was to try to guess how the umpires would deal with a battery of aerials from both sides, with interpretations varying by the minute.  Shots were rare, shots on target even more so.  There was a certain inevitability that the Hawks goal would come from their one Old Cranleighan, Ed Tristem, who scored in the third quarter but Irfan's goal secured the draw which was a fair result.
MoM: Matt Richardson
DoD: Alex Batstone
Scorer Muhammad Irfan
London Edwardians 2s 4-1 Men's 2nd XI
Nothing has been heard from the 2nd XI since they left the club on Saturday. We are not sure if they ever made it back from the delights that are a visit to Battersea.
Men's 3rd XI 9-1 Old Kingstonians 1s
As February marches on and with 60% of our league season now behind us the temporary results service on the EH web site is, well, still temporary as is seemingly the feeding in of results to the EH or perhaps the job of the record keepers at EH themselves. Three results out of five are showing from the 12th although from a selfish point of view they are those of the top three sides all of whom won. Therefore pretty well as you were other than we jump above the Bank on goal difference due to a thumping 9-1 beating of OKs.
A gap of a week due to a bye saw us raring to go albeit with another blank Saturday looming on the 19th. Having only 2 league games in the month of February is just daft and very frustrating. Who made the call to have a blank weekend for the winter and spring half term weekend which had not caused any problems for the previous 60 years of league hockey? At least the two blank Saturday's meant we we would only lose Shep for one more weekend following his assurance that he would be back for the 26th. Perfect timing with Scarney away for the 26th and all of March. Something to do with his going to a wedding with CG although I am unsure if they are marrying each other. Following the match and the intercontinental banter Shep is now saying he won't be back until mid March.
The clever money is on Shep having picked up that Scarney is going away and has had a sudden mounting of fear in his loins that there will be a direct comparison on defensive qualities backed up by the stats. At least something is stirring in his loins. There is however positive news from the weekend. Kamila Valieva is being allowed to compete at The Winter Olympics despite a positive drug test. The decision is based on her age and the untimely notification of the results of the failed test mid way through the games which would do her irreparable harm if she were not allowed to compete. On asking Lewi for his view on the decision he said "no comment as I am bound by client confidentiality rules". On this basis we can now immediately pump all our colts with fists full of steroids to bulk them up and make them super athletes as it is mid season and would harm them if they were excluded from playing. In Toby's case the effect is to enable us to use his mother's credit card post game for a few jugs and a curry.
OKs arrived on a perfect early spring day in the unaccustomed position of propping up the league which we felt, having played all the sides in the league, harsh. The game showed that they had some very good players on show. Boosted by the recent results of those around us in the previous two weeks were confident of performing well and perform we did, racing in to a 6-0 half time lead which became 8-0 after 43 minutes. The first half was an especially good performance. The goals were shared around the three lines of our line up, Emmers scoring a hat-trick from right back with left back Lewi finishing off a very intricate short corner being on hand to push hope the 7th pass in the move. There was an attempt to conspire to award D o D to Knappy for being the architect of the corner but only those who needed to be in the know were in the know and as our own defence was caught out by the move it was evident why the oppo were too. Jake chipped in with his weekly visit to the scoresheet and Eds tucked one away too. Three from the old boy completed the scoring although his first only just showed up on snicko with another conspiracy from the defence to try and have the third chalked off post match for an obscure contravention of the rules. Annoyingly we conceded a soft goal late on giving away a needless short corner tarnishing the result. Scarney just received the D o D, not sure why, and Emmers comfortably took home the M o M. Wins followed throughout the afternoon from various sporting worldwide events to make it a happy Saturday for most of us.
Spencer away on the 26th February with our hopefully seeing Ish and Crofty back and a special spa day for Katie to enable Scarney to give one more authoritative display at the back before he disappears across the pond.
Epsom 3s 8-2 Men's 4th XI
Match reports from Tissy's XI are as rare as their clean sheets (none since the first week of the season). Suffice to say the post-Christmas euphoria of three staight wins has given way to back-to-back defeats. The absurd (dis)organisation of England Hockey's brave new world means that we now have one match in the next four weekends. Hardly helpful to those who regard the game as a commitment rather than an occasional afternoon out.
Ladies 1st XI 2-1 London Edwardians 1s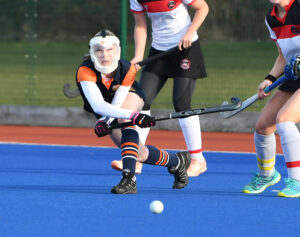 So the OCs Ladies 1s went out again knowing that this was the day where a job needed to be done at the TD Fortress. A top-of-the-table home clash, where points gained off the top placed team, London Edwardians, would close the gap between us and them to just 1 little point. Inspired by Coach Lauren's team talk about why we play hockey for our great club, plus a competitive midweek game against St Johns (mostly against our own team mates!) we were well prepared.
The game started solidly, with lots of two touch passing, high tenacity and intense OCs pressure which at first, London Eds soaked up well. Until Flo, calmly slotted the ball home for us after some fantastic team passing to go 1-0 up after 20 minutes. 
A few tense moments towards the end of the first half found us on the back foot, which resulted in a London Eds penalty corner, which they scored from a particularly slick routine at the right post. 1-1 was probably fair scoreat the break. 
The second half saw both teams sustain their high tempo pace, as well as ensuring that the ball was kept in possession. However, with such a threatening press, OCs managed to turn the ball over many times, and won a number of corners to take a possible lead but the London Eds keeper was not allowing anything to pass. Knowing that patience is always key from Captain Richie, OCs battled on, with special mentions to Alina for her superb aerials, Ellie's excellent ball retention and GK Molly's incredible kick saves. Rewarded for all our hard work, the game was finally put to bed 10 minutes before time, yet again by Flo, from a second assist from Bella! Three points very ably and ecstatically bagged by OCs.
POM went to Flo for her two very cool and calmly slotted goals. Her Gryphon Hospitality sponsored Prosecco bottle is currently very (unsafely) stored in Hazel's car boot. DOD went to said Hazel, for contracting Covid in the week prior to the most important match of the season so far…luckily she was out of iso just in time to get back on the pitch. 
Finally, a big thank you must go to all of our supporters; we really appreciated your encouragement pitch-side and to Martin for taking some great action photos yet again!
Cheam 1s 2-0 Ladies 2nd XI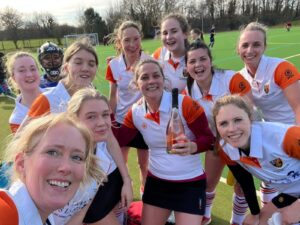 The Ladies 2s arrived for an early push back. With a single sub we knew we were going to have to work hard. We started with good momentum and were creating chances but unable to capitalise. By half time we had had two short corners to their 1, but, the main difference was they converted their short to a flick and scored off this. With a half time team talk and continued push to score we entered the second half. With efforts by Madi, Miggs, fletch and jacqs we were taking the game to them despite their physicality and forceful efforts. Unfortunately, we were still unable to score. A flurry of shorts for them and OCs defended five successfully with the fab Molly W and defenders in goal! Again, luck was not in our favour, a foot on the line meant they had won and scored another flick. OCs continued to push to score until the end but it was not our day. We left gutted but will continue working to play as team and get the results!
Ladies 3rd XI 1-1 Barnes 4s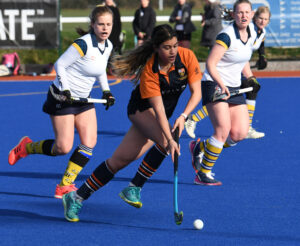 If ever there was a game to show the value of sticking to the task in hand even when under the cosh, this was it. Barnes came into this match at the top of the table and brimming with confidence. Unsurprisingly, they dominated the first half but only managed to score once thanks to a solid defence. But as often happens, their frustration at not adding to their score allowed us back into the match and the second half was an even contest. Our deserved equaliser came from a deflected short-corner strike from the evergreen Sarah Mann but it was a really impressive all-round display. MOM Mischa
Bank of England 3-7 Ladies 4th XI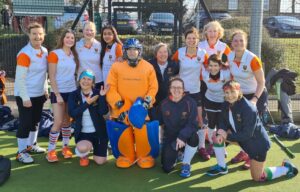 A solid win by the Ladies 4's with 6, maybe 7 goals, according to the umpire. The full squad was on time! It took three people to help Jane into the goalie kit, a sight in itself. I was concerned she couldn't see much but she managed to walk in a straight line to the goal. RESULT! At about 10:40, ready to start with goalie in position, the oppo was looking quite light AND short of an umpire, we were looking good without passing a single ball. The game started with one of the oppo umpiring which meant they had 10 on the pitch. OCs took the game to them and scored early. A time-out was called while the player umpiring was swapped with another "person" who was given a whistle. How rude I hear you say ……I think its fair, I was asked "what is the signal for a foot fault" ;"how long is a half".
Back to the game and the oppo was at full strength with the player/ umpire making a difference on the field but great passing by OCs and at half time the score was 4-0 with one of those being a penalty stroke. Jane was wondering why she bothered padding up as she didn't get a close look at the ball but towards the end of the first half came out of the goal to make a save off the pads. Certainly first half was a massive win to OCs. The oppo came out stronger in the 2nd half and were the 1st to score, but within a couple of minutes we put another one in the net. A couple of break aways from the oppo and the team held their breath while Jane scared them and the ball went wide. Another goal for each team and then WE were faced with a penalty stroke. Umpire penalised Debbie for a foul in the D which he said would have been a shot at goal, a really dubious decision. Jane got a hand to it but the momentum took it over the line.
A brilliant team effort. POM goes to Kirsten for scoring a hattrick, Well done Kirsten, fantastic positioning. Jenny and Fitz each put one in the net and Debbie showed us how to score from a penalty stroke. If the umpire says we got 7 goals then I'm happy to take "one" for the team. Well done ladies, we played with aggression and encouragement and fine work from our ever improving youngsters. Report by Colleen Bohm and edited by Jane
Ladies 5th XI 2-0 Richmond 5s
After nine winless games to start the campaign, the Ladies 5th XI have found their feet with two wins from the last three matches.  A goal in each half against mid table Richmond was enought to give us a deserved win and there was some really skillful hockey on display from both sides. The confidence a couple of wins gives to a well-balanced side was there for all to see.
Barnes 7s 0-2 Ladies 6th XI
The away game with Barnes on the first Saturday at the start of the half term was proving to be a challenge in terms of availability. At the beginning of the week only six players were available with 99% in defence. When one challenge wasn't enough, we had no goalie. After much searching and persuasion, a team was eventually assembled of 10 U-16 Colts and five ladies. After our experience with Teddington with no goalie ( a game we should have at least drawn ), Isa decided to give this a go and stepped up to be our goalie for her first time. Barnes Ladies 7s was another team with experienced strong players. In terms of strength, Barnes were old school big hitters. Hopefully we have the youth, speed and agility on our side.
We had first pushback and went off with a strong start. There were several attempts at goal from Annie, Charlotte, Freya, Poppy, Josie and Georgie. Barnes were also giving some big hits through our defence. With our sticks down at the ready, we managed to win the ball back which then set up up opportunities for our forwards in the D. The shots were just a bit wide or near misses. Unfortunately Eva took two shots from the opposition on her injured foot. Her determination and commitment saw her through to the end of the game. Brave girl!
In the second half, the mids and forwards continued to work well together setting up opportunities. Poppy gave us our first goal and then followed by another from Freya. Barnes pushed hard and were determined to level up but our defence was super strong with Ella's speedy run to the ball carrier during the short corners; Connie's interception of the ball and pushing out wide to our mids and forwards; Ami, Bella and Phoebe attacking the opposition and sending the ball up the pitch; Strong man marking from Hels and Leigh and loud vocal directions from Isa. Isa's debut performance was astounding. She saved at least 5 goals and a few short corners, which pushed the adrenaline up a notch but she remained composed. Not bad at all for her first time!
Final score 2-0 to OC, which reflected the solid performance by the whole team throughout the game. It was great to see the Colts playing with the ladies and showed great team spirit. Special thanks to Andy for managing the bench; the parents for rallying and keeping up our high energy levels and the Colts, who had a cracking game!
POM – Isabelle Wear.
Report – Annie Lee