A great weekend for the Ladies with all four sides winning, a draw for the 1st XI as they returned after a long break, and a win for the 2nd XI
Bath Buccaneers 1-1 Men's 1st XI
After a long Christmas break the OCs boys led by Will Phillips had a long trip to third place Bath to ease them back into the second half of the National League season. Facing a strong side featuring two former internationals a good performance was required if we were to go one better than our opening day 1-1 draw in the reverse fixture. Despite a disjointed pre-season, OCs came out of the blocks well. Creating a great chance for Thorne in the opening minute but sadly he couldn't convert. A well balanced first quarter followed but not without the reminder of the dangers Bath Buccs posed, particularly from double Olympian and new signing Adam Dixon who fired a warning shot after a good bit of skill early on. Neither side however could quite break the deadlock and the quarter finished 0-0.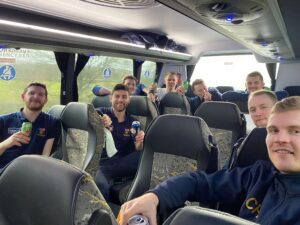 The second quarter remained a cagey affair with neither side willing to give the other an inch. With half chances at each end the game still remained firmly in the balance. At this point the call came from the side to drop our press to a half court in order to aid our back line that had thus far stood resolute. Half time came with the score still 0-0 and the tension building.
The third quarter saw OCs come out and dominate. Playing some lovely attacking hockey coupled with steadfast defence particularly from Batstone, Rico and Simmo. Yet still that clear cut chance was evading us. Callum Holloway was on the receiving end of a very physical challenge after a great bit of skill but the umpire remained adamant it was not a penalty corner. The OCs boys kept going however and were finally rewarded when Matt Cornwell casually won us a short corner allowing Irfan to step up and place the ball into the side netting. Taking us into quarter time 1-0 up.
The fourth quarter proved to be a tense affair with both sides well matched. The bold decision from Bath to take off their keeper tilted the last ten minutes in their favour with OCs failing to make use of the empty net it was just a matter of managing the Bath overload. A frantic last three minutes ensued. A free hit for Bath in our defensive 25 was delivered at waist height for a deflection with the ball ending up nestled in the OCs goal. Having originally given the goal the umpires did well to reverse their decision and disallow the equaliser as the ball had not travelled the required 5. The game was restarted however a lack of communication from the opposition had led them to have 12 players on the field. The mistake quickly rectified and the clock ticking down it looked like the Cs were nearing a big win away from home. However it was not meant to be as a deflection from the Bath forward with thirty seconds remaining saw the final whistle go with the score at 1-1. In the end a disappointing result for the boys but plenty of positives to take moving into what is sure to be an exciting second half to the season.
M.O.M – Alex Batstone
D.O.D – Dave Mathews
Men's 2nd XI 3-2 HAC

You wouldn't want to be anywhere else. Match day at fortress TD. Sun out. Six nations kicking off. Hockey and beers. After the now customary prematch weekly catch up and debate over RBRJ's conversation rate the reins were handed over to a Alex Don OC for the warm up as we welcomed Charlie McCarthy for his deserved and anticipated 2's debut.
Needing to react to the previous weeks off colour performance everything seemed on course for a true Old Cranleighan show. No sooner had the whistle been blown that panic set in, HAC had a player who had been overheard to have played for England U18's many moons ago and worse he could pass the ball with a sneaky disguise. Managing to regain compose OC's started to gain traction and on winning a short corner the brain trust came together to devise a cunning plan. Whatever the plan originally had been Sam Biccarino still determined to win MOM slotted home the 4th rebound off the keeper high into the netting to give OC's the lead.
Some enterprising yet ultimately unsuccessful play carried the game into the 2nd half neither side being able to break the other down as the sun shone on the beautiful blue playing surface.
Hard work and perseverance paid off as another super speedy OC's break lead to Coops squaring the ball for Cookiey to fire home from close range. More free flowing OC's play lead to another short corner, this time the stars aligned and a move straight off the training pitch found Ben West finishing off for the third of the game. Never a side to let down to watching masses or be perceived poor hosts OC's graciously allowed H.A.C a couple of consolation goals in the closing minutes to leave the final score 3-2. Onto London Eds next week for the people team as OCs travel across south London for a late afternoon encounter.
MOM: Ben Marchant
Men's 4th XI 2-5 Surbiton 5s
This was always going to be a tough match even though we came in to it n the back of three straighht wins, and so it proved. We created good early chances which an in-form Surbiton keeper dealt with – had we converted one then it might have been interesting, as it was Surbiton gradually imposed themselves as the half progressed and three fairly quick goals sent them into the break on cruise control. The second half was more competitive, and although we pulled one back early on, it took less than a minute for Surbiton to restore the three-goal cushion. Both sides scored one more but there was no disputing the better team won.
Stormers 2-0 East Grinstead
East Grinstead arrived at fortress TD openly admitting the recent 8-0 humbling had led to a full strength team making the trip. OCs hadn't read the same script, with skipper Heslop faking an injury to match his cup team equivalent, and several of our number deeming a run out for the Barnstormers a bigger priority. Oh, and we reckoned we'd play the first half with 10 men as we didn't need to involve our captain designate / 1st team fitness role model. Despite (perhaps "because of" – Ed?) this, OCs started strongly, with a good press and some sharp interplay putting EG on the back foot. Debutante Garett looked as sweat free as Prince Andrew at Tramp, and with Ports forgetting to get himself carded and Cato proving he's fitter than all of us even when injured, we were in good shape.
It was only a matter of time before we scored. Will looked most likely but it wasn't to be, and after Cato blazed wide after a nose bleed inducing circle entry it fell to Jody to rifle in a shot from a well worked short corner move. 1 became 2 as the spice boys combined to allow CB another short corner goal. Two up at half-time. The break gave us the chance for everyone but Captain Ripley to say something. One of his quieter days all round but given none of the 'insight' seemed to change anything he was arguably right to just let everyone else talk b**locks
The second half was more of the same then. Plenty of chances, a few interesting umpiring decisions and a few more cards for EG. Plus far too may attempted teammate maimings disguised as shots or sometimes as passes. David M particularly pleased still to have his teeth. One real chance for the oppo after a dodgy decision and an advantage saw them shoot wide. Overall goalie Goalie delighted not to have anything to do and pick up a clean sheet as a result. MOM our new boy, DOD your straight talking decoy runner, and Rene Jolly to CB. But the day wasn't even over with a well deserved Scotland victory over England the icing on the cake.
Ladies 1st XI vs Tulse Hill and Dulwich 
Squad: B. Fewings, M. Hanson, H. Hawes, F. Holder, E. Jackson, H. Lovegrove, P. McCutcheon, A. Mir, K. Richards (C), K. Savan, L. Sealey, G. Syms, J. Waite, M. Warner (GK)
TH&D have had an interesting season, although lower mid table, they have had some very close results. As we headed into the match, we knew that we had to get a result, else our top of the table clash next week would mean nothing.
After a high energy warm up, we were ready to take this match by its horns. Our only option was to finish with a win. TH&D decline first push and chose which end they wanted – was this due to a sloping pitch? The traffic? Or were they just playing mind game with Richie…
As the whistle went, we were going to play hard. Immediately, we started an attack up the right hand side, with a continuation along the base line. We pressed hard and continued to turn over the ball. With plenty of opportunities, we couldn't seem to find the goal. Their keeper made some exceptional saves, keep the score level at 0-0.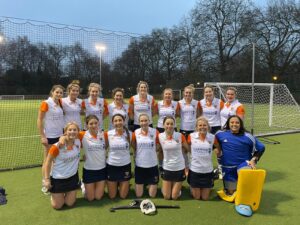 About 15 minutes before half time, luck was on our side, and we managed to slot the ball past the keeper 1-0 OCs.
Tulse Hill & Dulwich, however, did not let this phase them. They came back harder and proceeded to put plenty of pressure on our defence. They finally managed to put the ball into our goal 1-1.
We fought back hard and on the stroke of half time, we scored – 2-1.
A rousing half time team talk from coach Moors sent us back out ready to put this game to bed.
The second half, felt more in our control. We continued to penetrate through their defence and were awarded multiple short corners as well as a flick (which I missed…)
We did however proceed to score two more goals in the second half and did some exceptional passages of play. They too score a secondary goal in the second half, but fortunately it didn't effect the final score line.
Some caveats of this match report.
1/ Details may not be that great, as I am writing this 10 days after the fact.
2/ I can only ever remember what I did on the pitch.
3/ Goal scorers were : Katie Richards, Poppy McCutcheon, Flo Holder (2) *
3a/ * Moors bribed our forwards to score goals in exchange for £5 – it worked.
4/ I was not awarded DOD, despite missing a flick
5/ Richie struggled with her parallel parking, I offered, again neither of us were awarded DOD.
MOM – Katie Richards
DOD – Helen Hawes, for forgetting to go onto the pitch after half time, so we started with 10 players, oh and starting the game with no gum shield and having a massive panic.
Written by Molly Hanson
Ladies' 3rd XI vs Teddington 5s
2-1 Win
We played a reasonable good first half, I'd like to say because we played well rather than Teddington playing not so well. We had a good few runs up the right which put the ball across to Mischa who drilled it at the goal for Jacqs to tip it in. We won a number of short corners which tested their defence but we couldn't make them count.
We did have to defend a number of attacks from Teddington including some shorts but we held firm.
1-0 at half time was never going to be enough and Teddington came out fighting. Apart from one slip with the defence which allowed one player to run through the middle a score a pretty soft goal we held firm and dealt with everything they threw at us. Serena winning POM for her solid performance at the back.
We seemed to struggle linking the mids and forwards once we had cleared the defence so were under a lot of pressure for most of the half but having said that with 2 minutes to go we won a short corner which Manny smashed, got a deflection of a defenders stick which put it over the keepers shoulder. We were delighted, a win is a win.
Ladies' 6th XI 5-2 win vs Surbiton Sirens
It was a good feeling to be back on home ground this Saturday for our home game against Surbiton Sirens. We were familiar with their team captain Tracey and her teammates after playing some friendlies these past few years. We knew it won't be an easy match. After losing to them in the first half of the season, we didn't want a repeat of this again. Defence were well prepared by our goalie Michelle. The rest of the team were set up and ready to play some hockey. Our team was a good mix of youth, experience and hockey "returners" which was much needed against an experienced team like Surbiton.
The game started off well. There were several attempts at goal from Sophie but unfortunately missed the far post. Then Sophie drove the ball down the baseline. The ball crossed the goal for Jeanette to score. Boom! The goal boosted our confidence and encouraged further passes and set ups for more opportunities. Further goals came from Jenny's super goal assisted by Georgina. Another goal came from the top D from a tackle from the opposition with Zoe which sent the ball flying up between their sticks and over the goalie's head and into the goal. Goal! A very satisfying goal from Zoe. Our Colts played an excellent game with Connie C driving the ball into the D and gave Annie a chance to put away another goal. Our final goal came from a short corner in the second half when Nicola received the ball and slipped to Jeanette and scored. Molly would have been very proud of us putting her drill into action.
Our defence was on top form. They received amazing directions from Michelle which meant they tackled our short corners smoothly and with confidence. Again Molly would have been very proud of the them using the width for our hit outs at 16 and our mids got stuck in, to receive the ball. Super defence from Leigh Isa Eva Selma and Annabelle who unfortunately took a massive blow and smashed her finger by a hockey stick and was taken off to A&E.
In the second half Sophie was taken off after a fall near the top of the D. Super effort from Sophie with her relentless drives into the D. Thank you to Surbiton player who was a GP and assisted Sophie.
With two players down and only 15 mins to the end, the team continued to fight on until the final whistle with Surbiton continuing to pile on the pressure with their short corners. Our efforts were not in vain and the final score was 5-2 to Ladies 6.
POM: Connie C