A good week for the Ladies with wins for the top four sides but the Men's 2nd XI and 3rd XI title pushes stall with draws.
Wanderers 2s 1-1 Men's 2nd XI
As I sit in Gatwick Airport at 7:12am this morning I am proud to be British. Everyone around me in the Red Lion has a pint in their hand and a full English crammed onto their table. What I am not proud of is to say I drew a hockey game on Saturday. The twos travelled away to a high school in Streatham that sooner resembled no mans land in South Sudan then it did a hockey pitch. The warm up started well, a stretch around a surprisingly pleasant suburb. It was noted however that Chopley decided he would miss our warm up in order to rigorously test out the U14 girls bathroom. We came out of the blocks at the same pace David Wier without his wheelchair. They were soon 1-0 up. A couple of moments later though we had found second gear and brought it back to 1-1 thanks to a clean stop at the edge of the D from Lawson and tidy finish from cal "the tickler" tinker (Lawson was returning from his ski trip where he let everyone know he dropped 2.5 K … tech sales ladies and gents).
The rest of the game was bad . The OCs struggled with their basics as they failed to get to grips with the sub Saharan playing surface. To our credit there was some nice build up play and someone said we penetrated the D over 30 times but sadly when it mattered we were as successful as the USA's invasion of Vietnam. Not a winning combination on any account. Less is more sometimes and all I need to say is that I was a fan of the umpire, the 14 others in the squad and our coaches disagreed stating that umpires in our league should probably have done it before. We go to VAR to get a verdict and to find out if James Meers is a virgin based on some choice words by the opposition players.
Worry not, we didn't let the shambles of a game get in the way of a Saturday with the Lads. Post game standard procedure resumed and we walked to the pub via Tooting Common, drank boots, deleted eggs and got our rigs out.
Next week we take on another team, on another pitch at another time as we aim to get the 3 point train back on its tracks.
Mom – Cal
DOD – Coops
CM – DR, Coops, Lawson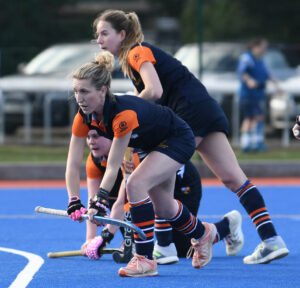 Men's 3rd XI 2-2 Cheam 1s
We welcomed the latest 3rd XI debutant with Harry Lankfer, returning from injury after a lay off for a severed finger tendon, thus increasing the number of our team with historically important first names. We shall delay the fun to be had with Harry's surname until a later date. Paddy Harman was also back from tennis and golf in Cambodia. The match day squad boasted a couple of Patrick's, a Henry, an Edward, David, Nicholas, Christopher, Emperor Rosko and the said Harry. Although an Andrew is missing we do have a Maxwell to fill that gap. Does anyone know of an Andrew with the appropriate skill set who has a spare hour or three to help run the Sunday morning colts coaching sessions at TD ?
The visit of Cheam is the 2022 South West Division 4 version of the Mersyside/Old/Manchester derbies, Joshua v Fury and Ashes rolled into one. This illustrious list of sporting rivalries used to include the Wales v England 6 nations match but latterly this has slipped out of the list due to the number of Grand Slams, 6 Nations title and Triple Crown accumulate by the men in red from across the Severn Bridge in recent years. ElGordo had come to TD. (Editor's Note: David Knapp has been a diehard Welshman ever since he realised he could play international hockey if he pretended to be one courtesy of a great aunt who had once been to Swansea)
Cheam arrived proudly holding the tag of league leaders with the promise of success come the end of the season far more realistic than the 2017 famous pre season hopes of central South West Surrey boldly dominating the league's web site. The banner headline "Return of the Prodigal Son" promised a new dawn at the 100 year old and famous club and was there for all to see. The hopes and dreams of that season was extinguished on day one of the league with a thumping 6-0 loss by Cheam at fortress TD. Somehow we knew that on this occasion things would be different as, 10 matches in Cheam were undefeated and one point ahead of us with the goals scored and conceded columns very similar.
Our preparation was hampered by the late delivery of the car tour of Battersea, Clapham, Putney and other parts of South London with even Kenty, too slow on the WhatsApp finger of response to claim a place in Ghislain's car, taking the replacement bus service and arriving on time. Perhaps this was a product of using private jets on too regular an occasion as to allow 15 minutes to reach TD from Putney is just daft. Nailed on D o D one would have thought but not the case as the latest conspiracy theories was born as the claim of a failing white board pen hit the headlines. A truncated chat in the dressing room was boosted by the regular advice from Shep all week from his lofty perch in the Merton township in The Orange Free State. Even Scarney, after confessing to stalking various adults on his phone, cut the chippy chat as Lewi set us up to be physically prepared. Another totally ignored candidate for D of D but at least this will doubtless be a candidate for the last 9 league games of the season. Cheam too were ready having arrived early and looked very effective in their warm up. A number of new faces intermingled with their club stalwarts were up for the game. Neither side could afford to lose with Bank snapping at the heels and Surbiton and Purley not far behind. In their 102 history promotion has been hard to achieve for the friendly and traditionally welcoming Cheam club but now seems to be the moment.
We dominated the first 20 minutes but could not convert our chances before taking the lead with the ever dangerous Harry being taken out by the excellent Cheam keeper. The ensuing penalty stroke was dispatched. Although looking dangerous on the break Cheam had allowed us to gain the initiative by basing their play on catching us on the break This changed after we scored and suddenly we found it difficult to clear our lines as they pressed us very effectively. Deservedly we were pegged back as a short corner was given away and a short conceded for not retreating 5 yards from a dead ball.
The second half was an other even and tight 35 minutes. Our only short corner of the second half saw Ed the Pred call for a slip right to Harry who expertly flicked the ball home as he advanced towards the keeper to score the goal that he had threatened to do all game. There then followed two worldie saves one from each keeper. Rosko made a remarkable save with his hand that earned him our M o M and, not to be out done, a double save from the Cheam keeper from a blistering shot from the Pred somehow clawing the ball away from low to his right immediately followed by a reflex save to his left with his hand to deny Jake's follow up. The save was a game changer as 3-1 would have been a mountain to climb for Cheam. Not to be denied a superbly worked short corner from the oppo levelled up the game albeit with the corner again being conceded cheaply for not retreating 5 yards quickly. Both sides had enough pressure in the last 10 minutes or so to force a win but both defences were up to the task without either keeper being called into action. A draw was comfortably the right result as it would have been harsh on either side to lose. This was another fiercely contested game with much at stake but without a hint of dissention and played in an excellent spirit. One innocuous green card to us that on another day would have escaped issue.
All that was left was the awarding of the weekly awards. M o M was a close contest between Harry and Rosko with Rosko's save tipping the balance. D of D was however a travesty and as much of a stitch up as the COVID testing in Beijing ahead of the winter olympics that oddly seems to be coming up with a series of positive tests for non Chinese athletes who are medal favourites who are then being asked to leave the games. Odd that… I am not bitter (much!) but I was presented with D of D because the white board pen was too feint for those with severe myopia to be able to see. The award appears to have been decided in my absence when on duty with the Barnstormers. I guess that if the car from south London was caught by any of the A3 speed cameras that I will be responsible for paying the fine. Stalking, arriving later than Kenty or Lewi and admitting not to know the rules of hockey are vastly more deserving candidates. Incidentally the definition of ageism is very illuminating reading as it does:-
Ageism is stereotyping and/or discrimination against individuals or groups on the basis of their age. This may be casual or systemic. The term was coined in 1969 by Robert Neil Butler to describe discrimination against seniors. Butler defined "ageism" as a combination of three connected elements. Originally it was identified chiefly towards older people, old age, and the aging process; discriminatory practices against older people; and institutional practices and policies that perpetuate stereotypes about elderly people. A blank weekend coming up before we resume against OKs on the 12th February but a chance for Max to reflect over his assertion that Medvedev would win the Australian Open tennis . I imagine that he is also as assertive that England will win the 6 Nations…..
Ladies 1st XI 6-0 Teddington 3s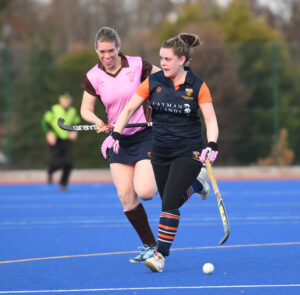 A win against the bottom side was essential if we were to continue our promotion push and we rose to the challenge. Although we dominated we were up against a keeper in superb form and an expereince defence and it took us nine minutes to break through with a short corner slipped left to Ellie and slapped across to right post for a tap in from Kitty. Within 90 seconds we were two up, an amazing deflection from Laura into the corner of the goal from build up play and a great hit into the D from Jackie. A third came on 17 minutes from some great play from Laura to get it back into the D to Kitty who flicked the ball into the goal and then as a result of some excellent pressing Syms was able to win the ball on the left and pass to Laura in the D who struck the ball into the goal making it 4-0 at the break.
A fifth came ten minutes into the second half, a reverse hit from Laura going for a deflection from Flo on the post and five minutes later Richie passing to Alina who ran into the D and scored with a strong hit deflecting from the goalie. We created a stack of further chances – in all we had 34 shots – which their keeper thwarted and but for her it could have been a rout. Overall the pressing from OCs worked really well and through putting into practise the useful drills from training some brilliant play was shown on and off the ball.
Ladies 3rd XI 5-0 Sunbury & Walton Hawks 2s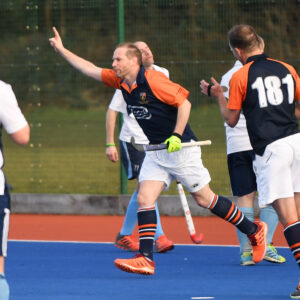 It was first match of the day, the sun was finally shining and the 3s had a strong 15 person squad keen for a home win. Georgina was caught sipping a Monster energy drink during the warm up , but would it 'unleash the beast' on the pitch … The first half got off to a great start with the majority of play in our possession. El Capitan, Manny made some great tackles down the middle and provided a great defensive wall to keep our attacking play in the opponent's half. We made a number of penetrating attacks on the Hawks D but the right wing wasn't getting as much action as usual, which would be later addressed. With some strong play down the middle we were able to get the ball into the D and out of nowhere their keeper saved the first strike but Ciera stole it back and slotted home for our first goal! The 2nd goal came from Emma's pass at the top of the D across to Jacqs and into the left hand post.
In the second half, Georgina was on fire, that energy drink clearly kicking in, not quite giving her wings but she was certainly possessed with the hockey goddess. Some great possession hockey down the right hand side and dribbling past a few players and into the D for a short corner. Unfortunately we didn't score off the resulting short, but we fought to keep the ball in our opponents' 23. A quick side-line ball was taken which caught Sunbury off guard and allowed Georgina to set-up Rachel to get a well-deserved goal.
Sunbury tried in vain to fight back and had a few attacks in our defensive D. However, Serena who had been taking it easy the last few weeks (after a minor calf injury) was back stronger than ever before and did not allow anything past her as she controlled our impressive backline. Jacqs was also on fire with some tremendous ball skills dribbling around players straight down the middle and into the D. Our final goal came from Georgina who took home the Player of the Match as well. Sunbury were starting to tire in the unexpected heat and resorted to whipping our attackers out, which led to a premature final whistle, as there was no way back from 5-0 down with less than 2 minutes on the clock. A big thank you to Serena's Mum who managed our subs and make sure we rotated with fresh legs in the delightful January sun.
Sunbury & Walton Hawks 3s 0-1 Ladies 4th XI
Nobody really wants to go to Sunbury, especially not for 4pm on a January afternoon. It is north of the river, after all. Neither did we, really. Sunbury are a good, fast team on the break that plays to win. And so they started with pressure for the first ten minutes, soaked up by our midfield and defence. I wasn't troubled in goal, so had the luxury of drafting the first part of the match report. After 10 minutes, the tide turned and we started upping the pressure. A good drive upfield led to a 1-2 on the right. The ball went back to Holly and she slid a great cross in from the right corner and Jenny was in the middle to slot it away, putting us one up.
Whilst I expected Sunbury to put a lot of pressure on, that didn't happen, and we kept the pressure up through the rest of the half, with the ball sliding across the goal and the other goalkeeper playing very well. They came out after the second with pressure again for the frist five or ten minutes, once more absorbed by the sterling work of the defence and midfield. The forwards continued to press up with their keeper and defence playing a blinder against Jenny's relentless onslaught in the D. Holly charged up the field on a solo run and beat the keeper, only to be denied by the post.
Then, in the last third of the match, the Hawks finally found started putting continuous pressure on us, and unlike their breakaways in the earlier part of the match, these didn't run off the side or end of the pitch and ended in our D, with shots on goal. When the umpire (both of which were provided by the opposition) said 'you have just denied my daughter a goal' as we stepped back to defend the first short corner of several, I worried a little, but Kate gamely stepped forward on the right post three times to deflect the shorts with her stick. The other time I made a stonking save to a shot that was lifted too high to have scored, but it looked good! They wasted those shorts by trying the same routine every time, but we were up to the task (and thanks for the save, Kim).
Overall, our midfield – Paula, Anna, Suki and Sara – dominated; the defence was tight and reacted quickly and strongly to snuff out attacks and it was great to watch the team push forward, and take the attack to the opposition. Whilst there were no more goals, it was a very well played game. When one of the umpires suggested to me afterwards that a one-all draw would have been a fair result, my reaction was shock. We played strongly and dominated for most of the match, and had many more attacking moves than they did. Anna was strong on movement around the pitch, interrupting their flow and helping control the flow of the ball upfield for us. Holly played really well on the right, and it is for those reasons that I think they should share man of the match. Thanks Ladies – it was a great match and I was very proud to be part of it.
Ladies 5th XI 2-5 Spencer 8s
A very challenging match against Spencer 8s, who are running away with top of the table. We met early at Manor Road and worked through our team and positions and felt very positive and came out fighting from the first whistle. Some great disruption from Sophie Cook at centre half and hard work through the mids put Spencer off their stride a little as they are a well drilled team and used to getting lots of early goals. The pace was brutal but we kept with it and Michele our goalie was on fire, denying lots of chances including a first short corner that was very high and ultimately disallowed. Persistence and fast runs through the middle however saw Spencer get on the score board first but we immediately rallied and fought back to their D to secure a short corner outcome. Practice finally paying off with Sophie slotting it home to make it 1 – 1. The longest half of hockey ever continued but we had the momentum and a strong shot on goal was just deflected by the Spencer keeper to keep us level at half time.
Very exciting, but now had to keep the pressure up and as we restarted the second half, Spencer started to dominate. A few instances of lack of concentration and losing our narrow defending allowed Spencer to come through and they started to push their usual agenda of goal, goal, goal. Michele continued to excel and kept many at bay but 2 well-worked shorts & a strike from the oppo found the net. We dug deep and tried to re-assert our earlier play and it started to pay off and a break through again with the combination of Sarah, always cool under pressure at the back, finding Sophie who produced some great crosses into the D, one which found the end of Lily's stick to pull back the score to 5-2. Time was against us but we kept fighting to the end but couldn't quite close the final chances. A solid performance though to keep the goal difference down. Player of match to Sarah MacKay.