Old Loughtonians 5-1 Men's 1st XI
The OCHC 1st XI travelled to the green pastures of Loughton on Saturday in search of a first goal and accompanying first points of the season. An honourable mention must go out to Dan Ladd, who completed a full iteration of the central line im order to align with the team meet on Bank platform.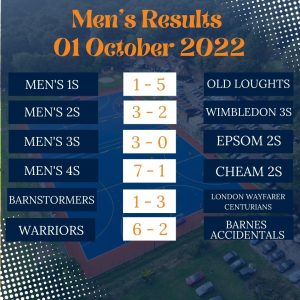 A vintage Willie Marshall team talk followed, with emphasis being made on the team's flowing and aggressive style of hockey which had been found wanting the previous week. After 3 minutes of the opening quarter and amidst an eagerness to play expansively, a turnover in the defensive third resulted in a penalty corner which Old Loughts dispatched with a clean strike from the top of the D. The OC's response resulted in a competitive first quarter with a number of chances, though none clear cut, for both sides.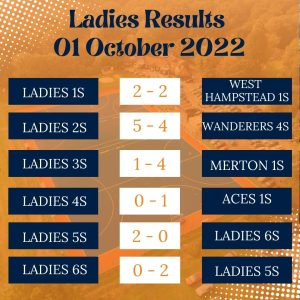 The second quarter was the OC's best of the game. Dominating the ball and finding players in dangerous areas, the stifling press won the ball high up the pitch and allowed James Cutter a chance to hit the target from a cute angle. He took it. Despite the match reaching halftime at one goal apiece, it seemed like an inflection point had been reached in the game.
However, the OC's were unable to convert a number of scrappy chances or win any penalty corners. Old Loughts on the other hand took advantage of any OC mistake on the break, and from their Mourinho-esque low block forced a number of good saves from Josh Doble. The tension in the game had risen as both sides committed to some forceful tackles. Old Lought's broke the deadlock when they won penalty strokes off back to back dragflicks during a six minute spell in the third quarter. Frustration was evident for the OC's as these had been given away cheaply.
Down two goals at 3-1 going into the final quarter, any potential comeback was cut short by a controversial and scrappy goal scored from the baseline for Old Lought's number 11. He doubled his tally three minutes later with a tap-in on the break at the back post, deflating the visiting side. The OC's took a 5-1 loss back to Surrey, despite creating about as many chances as the home side and showing signs of a bolstered squad gelling.
They get another shot next week as they take on local rivals Teddington (2021-2022: 4-3W, 2-2L) at Teddington School on Sunday at 3pm. See you there.
Mom: James Cutter
Dod: Alex Batstone
Ladies 1st XI 2-2 West Hampstead 1s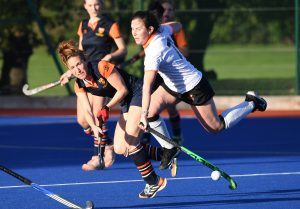 The Ladies 1s came up against West Hampstead 1s in our second match of the season. Having had a goalless draw the week before, we were keen to make our mark on our new league and come away with a win. From the start we took the game to them with the back line of Emma Davis, Alina, Hazel and Nikki Springett transferring the ball beautifully and the team remaining patient. We then got a break when Laura Sealey received the ball on the right wing and drove the back line into the circle before winning a penalty corner. Lauren Burgess delivered a beautiful straight strike that reverberated off the backboard and we were 1-0 up. We followed this with another goal before half time when Poppy McCutcheon had a goal saved before passing the rebound to Laura Sealey who hit it in off her reverse. I'm not entirely sure what happened at half time.
Maybe we didn't eat enough sweets. Maybe we ate too many sweets. Whatever the case, having been 2-0 up the game ended up being a 2-2 draw with us conceding 2 goals from 2 penalty corners in the second half. A disappointing end to an otherwise really good game. Dame of the game went to Hazel Lovegrove for some really solid defending.
POM : Hazel Lovegrove
Men's 2s 3-2 Wimbledon 3s 
Tom Stratford has spent five seasons with the OC's, securing promotion to the national league with the 1st XI, ensuring Ben Marchants 2nd XI also progressed up the leagues prior to C19 and won a Surrey county cup. T. Stratford has been an integral part of the Peoples Team, physical, emotionally and sexually. A man who loved a derby and an opportunity to beat Wimbledon. This is why Saturday's result was dedicated to him.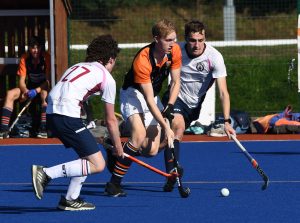 A bright start from the People's Team led to Will Heywood scoring first with a delightful finish, followed up shortly after with Dash Sandhu squeaking the ball at the near post. "Is that Tom Stratford at the back" was a constant question from the TD ultras but the reply was always "that's Zum Akhter". Akhter put on a Stratford-esk performance on and off the pitch with a defensive masterclass and delightfully quick post game boot.
Wimbledon crept back into the game with the peoples team missing Stratford's vision and ability to stop any danger. Meanwhile business continued at the other end as DR gifted youngster Heywood his second of the game. Stratford knew how to see out a game and loved a squeaky bum as Wimbledon slipped back in but the game finished 3-2. The full time whistled signalled the end of the game and the end of Tom Stratford's time with OCs. As DR wiped away the tears his teammates decided to hand him DOD.
And it seems to me Stratford lived his life
Like a candle in the wind
Never knowing who to cling to
When the beers set in
And I was pleased to know you
But I was just a kid
Your boot emptied out long before
Your legend ever did
MOM – Zum Akhter
DOD – David Roberts
Champagne – Jack Barber
Ladies 3rs XI 1-4 Merton 1
With an exciting bunch of youngsters joining our squad and the added benefit of spectators and the bonus of Gavin helping with the subs, thank you Gavin. We started the game a little slow but soon got in to our stride. By half time it was still 0-
0 and although I had a few saves to make we were the more dominant side but just not quite able to score. Merton were mostly an older side and perhaps having played together for a few years was probably the difference that gave them the edge in the second half. Our defence put into practise from training, moving the ball around the back withthe mids making off the ball running. The linking up with the mids and forwards which resulted in Manny scoring our only goal. 1-4 loss was a disappointing result as it didn't really reflect the game or how well we did play. With each game we play we will improve as a team and the results will come.
Ladies 4th XI 0 – 1 Aces 1st XI
A beautiful, mild, sunny morning saw the ladies 4's play the first home match of the day. Spirits were high for the second league game of the season with a number of different players to last weeks match. Having played Aces previously, we knew we would be up against a strong (although not as young as many of our opponents team), a team who have the tendency to be quite physical. A morale boosting talk from skipper Paula and a thorough warmup set us up for a strong start
.
The first half saw OCs playing hard with the defence clearing the ball well and preventing too many shots on goal. Any shots on goal were superbly saved by our fantastic goalie Izzie Sewell. Unfortunately, we fell foul of not playing to the whistle in the latter part of the first half. The ball clearly hit the foot of one of our defenders, at which point both teams stopped ready for a short corner. The umpire had a different idea, didn't blow his whistle and played advantage. Aces unfortunately were quicker than OCs to react to this and were quick to pop the ball in, scoring the first goal of the game. Big lesson learnt – always play to the whistle! A strong halftime talk about lessons learnt and the need to have at least one forward playing high, OC's set out to score. However, sadly it wasn't our day. The OCs defence continued to battle against a strong forward line with Izzie making some fantastic saves. We should not be disappointed with our loss as we all fought hard. Watch out Aces for our rematch – we'll be ready! Player of the match was Izzie Sewell – what a fantastic game she had as keeper!
Ladies 5th XI 2 – 0 Ladies 6th XI
A lovely bright and fairly warm day for the inter-club derby.  We weren't looking forward to playing our own club, in the same league and both very competitive. The 6s started with 15 and we managed eventually to get a couple of spares, especially as half the 5s are over 60.  We popped in our dentures, parked up the Zimmer frames and mobile scooters, ready for the onslaught.  Game was end to end and both teams had shots at goal and a few short corners.  Eventually some classy passing lead to Debbie scoring a belter.   Second half and the 6s increased the pressure, but superb goalkeeping by Nici frustrated 6s' efforts.  5s continued to attack, but resulting short corners proved fruitless.  Then a real team effort with passes all the way to the oppo's D, culminated in Jane scoring from an exacting pass from Rae.  Wonderful performances from the team, with special mention to Phoebe and Poppy and, not forgetting our other youngsters Lily and Charlotte in their 5s debut. Final score 2-0.
And Ladies 6s – Today was the epic Derby game at OC, the sun shone and we had a determined team. However, despite our dedication, the outcome doesn't   reflect the fight and effort that we put in as for a lot of the game it felt quite balanced  and we were really in it!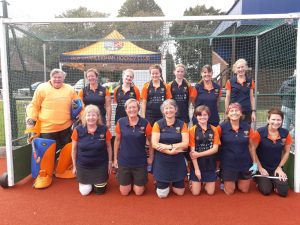 .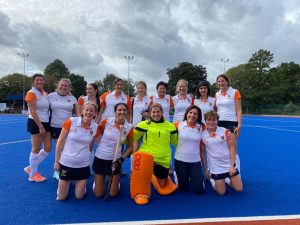 Barnstormers 3-1 West Herts 
After our spectacular runners up spot last season the new Barnstormers campaign kicked off in style with a 3-1 win against London Wayfarers. We got off to a slow start with the opposition arriving late at the newly laid Manor Road pitch, but agreed to a reduced game time of 25min halves – unsurprisingly the Barnies squad were pretty happy with this! This allowed us some valuable short corner training, which resulted in lengthy debates on dozens of routines and more confusion – shows that Closey was right with his inspirational view that no training brings no responsibility which always helps.
We have two newbies to the squad this year, Cookie and Kingy, both of whom slotted seamlessly into the complex tactical formation and game plan! Once underway it was great to see the lengthy pre-season training and warm up games had made absolutely no difference at all with half of us blowing after 5 minutes. Still, we persevered and with guests CB, Howard and Mike Newt we started to make inroads into the opp half with great runs from Cookie, Poon and Cuzza culminating in two quick goals from Poon and Cuzza – one actually from a short corner.
Wayfarers started to come back at us but strong defending from Toby S, Howard,CB and Ed kept them at bay. However further pressure and a short corner led to them slotting the ball in the goal beating Mike at the inside post. Fortunately he had his family and all the Stormers behind the goal to not let him forget it for the rest of the game.
We regained the momentum after great tussles in the middle from Ritchie and Gracey then flowing passing from Kingy, Mike Newt and Poon sent Cookie on the run and after some more mesmeric skill and passing he scored at the far post making us 3-1 up going into half time.
The second half was less thrilling but showed our resilience as we lost shape and control with fitness becoming an issue. We still managed to keep the oppo out despite fine efforts from the two Tobys to play Wayfarers in and give them easy opportunities – we felt we all needed the extra challenge, that is what we agreed afterwards!
Anyway thanks to Malcolm and Closey for umpiring and well done to the boys for working extremely hard finishing up 3-1 winners, making it a fine start to the season.
Match of the match – Poon for creating good chances and actually converting as well