Teddington 2-3 Men's 1st XI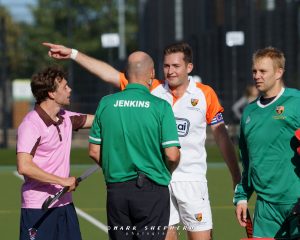 OCs headed to Teddington on Sunday for a local derby that was expected to be an entertaining and fiery encounter. Teddington won the toss of the yes/no coin and chose to attack the sixth form centre in the first half. The game started in relatively cagey fashion as both sides sought to dominate possession. However, it burst into life as Teddington received a yellow card for descent, surprising none of the fans on the sideline. This kicked OCs into life and the away side started to command proceedings. Despite enjoying the majority of possession and entering the Teddington circle numerous times, the away side were unable to open the scoring despite a couple of good chances and the game entered the break at 0-0.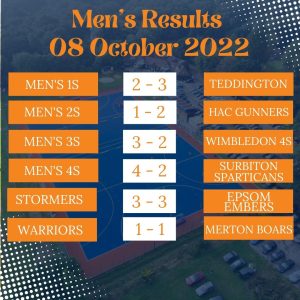 The physical encounter continued in the second half as both side desperately sought an opener. Much to delight of the fans stood on the pitch , it was Teddington who opened the scoring after neat slip flick was slung into the side netting. However, it wasn't long before Old Cranleighan's drew level as Will Heywood, returning from an ACL injury, arrived at the perfect time to dispatch a loose ball into the netting. The away side continued to push and it was not long until they took the lead as Ben Roe looped it over the keeper after some delightful tiki-taka down the left.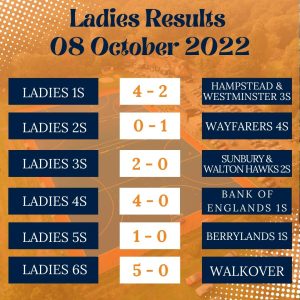 With 12 mins left, OC bizarrely had a long corner overturned for time wasting which resulted in Teddington going the length of the pitch to win a soft penalty stroke which was converted into the roof. With the points up for grabs, both sides pushed for a winner as the game opened up and numerous cards were dished out. A moment of magic from the Teddington centre forward was eventually the difference as he squeezed a back foot shot past Doble to make it 3-2 with 5 minutes left. The game finished that way but OCs can take heart from the performance as shown by their 30 circle entries to Teddington's 14.
After a sub-par shower (1/10) and tea (3/10) , the lads had a quick beer and now look forward to entertaining Brighton under the lights on Saturday.
Ladies 1s 4-2 Hampstead & Westminster 3s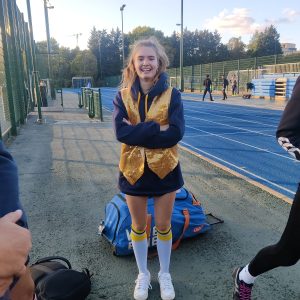 Travelling to Paddington Rec on Saturday, was almost as challenging as the match itself – with train strikes galore, our pre-match prep left much to be desired. At 2.50pm, five players and coach Ben Roe, were patiently waiting in changing room 3, trying their best not to panic… No captain, no team… no goalkeeper. With various ETA's being thrown around, we weren't sure whether we would be able to actually start the match, and spent 10 minutes trying to decide who was going to play kicking back.
A flurry of excitement, as six team mates crossed the threshold, we knew at the very least, we could start the game. We ventured out, and became our warm-up, getting inspiration from the current game – Wimbledon 1s v H&W 1s… As the final whistle went, we were still sans keeper, desperately travelling from a school match, but fortunately, the pitch needed watering. Through the watery mist, a vision appeared dragging a bag on wheels – hurrah, we were saved! The nerves that had existed an hour before began to subside, despite missing five of our starting line up, a camaraderie set in – I must add; the pre-match nerves were not only due to the train strikes nor lack of players, but we were facing top of the league, who had annihilated their opposition 9-1 the previous week. I digress…
The match itself was incredibly hard fought and although they were good, we were better. The first ten minutes was a barrage of attack, with brilliant linking play between Sealey, Hauck, Springett and Waite. We threatened the D and looked very dangerous on the attack.  H&W had a strong counter, putting our defence under pressure, and despite Emma Davis thwarting their attempts time and time again, they managed to win themselves a questionable short corner. As it played out, multiple clearances were made, but nothing that left the D, and back post managed to secure the ball and slot it in. OCs 0 – 1 H&W. We didn't let this get our heads down however, and we continued to pile on the pressure. Eventually our efforts paid off. With some wonderful linking play down the right hand side, Candela managed to play the ball through to Laura, who drove down towards the base line before crossing the ball back post, to a patiently waiting Jackie, who, slotted it down the keepers right foot. OCs 1 – 1 H&W.
Soon it was half time and we had some encouraging words from David and Ben, both of whom insisted that we needed to transfer the ball more (we did) and it would result in more goals (again true). We set out raring to go, knowing that the game was in our hands. Early on, we won a short corner, which after multiple rebounds, Laura slammed into the backboard. OCs 2 – 1 H&W. The play was very end to end and included an unbelievable triple save from Brunton. However, we soon won a short corner and decided to implement what we had spent training doing… as the ball came to me, I slapped the ball across the D, hitting the backboard. OCs 3 – 1 H&W. The game wasn't over, but we began playing with irrefutable confidence, with so much linking, we made each other look good. Hampstead did not give up, and continued to attack at pace, finally thwarting our defence and slipping the ball into the goal OCs 3 – 2 H&W. Once again we won a short corner, and with the same routine – albeit this time taking a deflection from their runner, the ball lobbed the keeper. Despite our celebrations, the umpire seemed unsure of the very obvious goal (the keeper had scooped it out of the net), Migs hit it down across the line, so there was no question.  OCs 4 – 2 HW.  As the final whistle blew, everyone on the pitch was ecstatic by the result. We knew it was going to be a tough game from the off, but we rose to the challenge.
Dame of the Game : Emma Davis – unbelievable in defence
DOD : Molly Hanson – for cycling to the game and then missing the last train back… *cough*  it was actually Dave Mathews *cough*
Champagne Moment : Triple save Brunton
HAC Gunners 2s 2-1 Men's 2nd XI
On a warm Saturday afternoon. 75% of the men's 2nd XI took 90+ minutes to make a three-mile trip to a private school in Dulwich. Following a brief chat and a solid warm up the OCs came out all guns blazing. Pressing with aggression putting the HAC gunners under pressure. This lead to the OCs taking an early lead through a classic Benny Wilson reverse stick finish to the far post at an acute angle.Sadly the Cs failed to keep their foot on the gas. Letting HAC's full back dominate the game.
Jack kept the HAC gunners at bay until a short corner was deflected in 1-1. More pressure from the gunners and another short lead to the OC's conceding another corner. 2-1 HAC. OC's stepped their game up on the second half. But sadly couldn't find the final pass to draw level. Having tasted a draw and victory previously it's confirmed those results are much preferred as the unbeaten reign of new captain Biccarino (36) came to an end. Improvements to be made as the 2s go in to next week looking to get back to winning ways.
POM : Ben Wilson
Ladies 3s 2-0 Sunbury & Walton 1s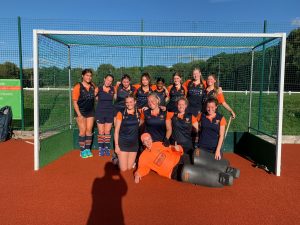 What a lovely afternoon for a game of hockey. This week having regained a couple of our mature players to complement all our youngsters and having 14 players was always going to make an exciting game for us and we didn't disappoint. Having worked at training moving the ball around the back and the mid field making runs we were able to work the ball out of defence instead of just trying to smash the ball through a line of oppo. This eventually worked the ball to Kirsten at left forward who made a brilliant run up the left and fired a super accurate ball across the top of the D for Holly to collect in her stride and smash into the goal.
Sunbury did have some attacks but the defence held firm including a couple short corners so we went into half time 1-0. Not wanting to let Sunbury back into the game we were able to make our subs count and continued to put pressure on Sunbury, we were able to create more space and sometimes moved the ball quickly which allowed the mids to move it onto Holly on the right who has blistering pace and after several super crosses across their D Kirsten got on the end of one for our second goal and gave us some breathing space. Sunbury did break through a few times but we held firm.
Goals : Holly & Kirsten
POM: Kirsten
Thank you to Catriona & Phil for umpiring.
Bank of England 1s 0-4 Ladies 4th XI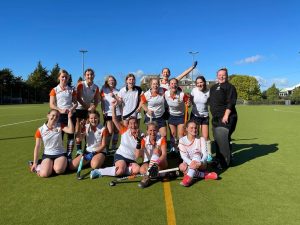 Saturday's Match was a quick drive down the A3, to the highly secure Bank of England Sports Ground, to play against Bank of England funnily enough. After Captain Dormer had recently announced a new 'be on time to start on' game day ruling. Amazingly, nearly the entire squad was there on time, well apart from Bernie. Saturday's warm up was dynamic and mainly consisted of brisk walking and lunging to locate the toilet block.
The team had some great pace and accurate shifting of the ball out to the sides and staying wide. Goal highlights include a strong strike goal by the captain herself from a short corner 2 goals from Sophie and 1 from Little Miss on time -Bernie! The defence as always worked tirelessly, extra special mention to Roz and Paula. A great team performance and a very well-deserved win 4 – 0 which could have easily been double digits!
Player(s) of the match Ailsa and Charlotte – A great forward and midfield duo!
Berrylands 1s 0-1 Ladies 5th XI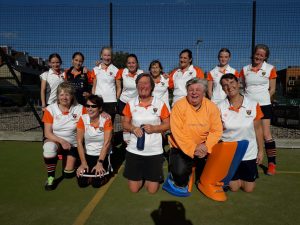 An epic journey to Wimbledon High school due to traffic from hell.  Once again a different line up, hope the situation improves so that we can play a consistent line up.    Game was end to end and oppo had several shots at goal and a couple of short corners. However our blushes were spared by superb goalkeeping.  Despite a couple of short corners in our favour, we were unable to convert.  Second half and more of the same until 5 minutes from the end, following a penalty corner, Lovisa scored on rebound.  Final score 1-0 win to OCs.
Goal scorer –  Lovisa Parker
MoM –  Nici Goldsmith
Stormers 3-3 Epsom Embers
You'll have to excuse any inaccuracies within this match report, but having played a key role in all three of our goals, I was sat on my sofa on Saturday evening, in the knowledge I had zero chance of picking up DOD and my mind had already wandered onto more important things such as predicting who is sleeping with who in this year's Strictly and trying to figure out why 16% of 'managers' on the Premier League Fantasy Football still had not picked Haaland. Then just before 9pm, my blissful ignorance was shattered by a message to the team from our skipper Goalie confirming the unthinkable… like him, I had received four votes and I was now responsible for writing the match report. After chocking on a slice of my vegetarian volcano pizza and uttering some words I can't repeat, my mind began to focus back on the game to try to piece together how we drew 3-3 and what I had personally done, or not done, to get said 'award'. With the reassurance that four votes is hardly a landslide, and knowing that I'm not alone in being effected by dubious voting decisions – the World Cup ending up in Qatar and Donald Trump getting elected the US President being ranking almost as highly- I set about scribing this report…
Now the match day started on a rather unsavoury note with three of the team being spotted leaving a notorious local car park where people go to flash their headlights, amongst other things. The exact reason behind this visit is yet to be ascertained but Christopher Porter and Gerald Davies, both from Claygate, and Charles Packham from Thames Ditton, are due to be questioned by the local constabulary (when I share this match report with them). Maybe they were preparing for the inevitable dog fight a game against Epsom brings?
Like our car parkers (allegedly), the game started at a furious pace, with both sides looking to get on top early and get a score on the board. The deadlock was broken after around 10 minutes when we lost the ball and they counter attacked. The goal came after a nervous scramble in the D and one of their players deflecting the ball into the back of our net. 1-0. Fortunately it wasn't long before we had levelled the score. At the end of a good passage of play, moving the ball from Ports on the left out to our righthand side, Tongy whacked in an early cross which ended up on an opposition foot. The resulting short corner was classic 'one off the training ground' routine with Will slipping it, at pace, at 45 degrees for Paddy to guide it home. 1-1. We soon grabbed the bull by the horns by winning another short corner and, in the absence of our regular short corner takers, up stepped Tongy who smashed a dipping thunderbolt which struck the top of the backboard just before the stroke of halftime.
Midway through the second half, we doubled our lead when Tongy threw a big aerial up to Will, who put on the afterburners and charged into their D to put it on a plate for Gerry. Thank you very much. 1-3. At this point we should have killed off the game by reverting to a more compact structure but we left too many gaps. This unfortunately resulted in them scoring a breakaway goal and a well worked short corner to finish the game 3-3. In all honestly it was probably a fair result. Special mention to Ports for his MOM performance – solid as a rock in defence during the match and then after, turning his talents to football, he hit a sweet free-kick to beat 9 year old William, who had no chance in goal.
Next up Reading away. The big games keep coming.
MOM – Ports
DODs – Goalie and Tongy