Men's  1st XI 1 vs 1 University of Bristol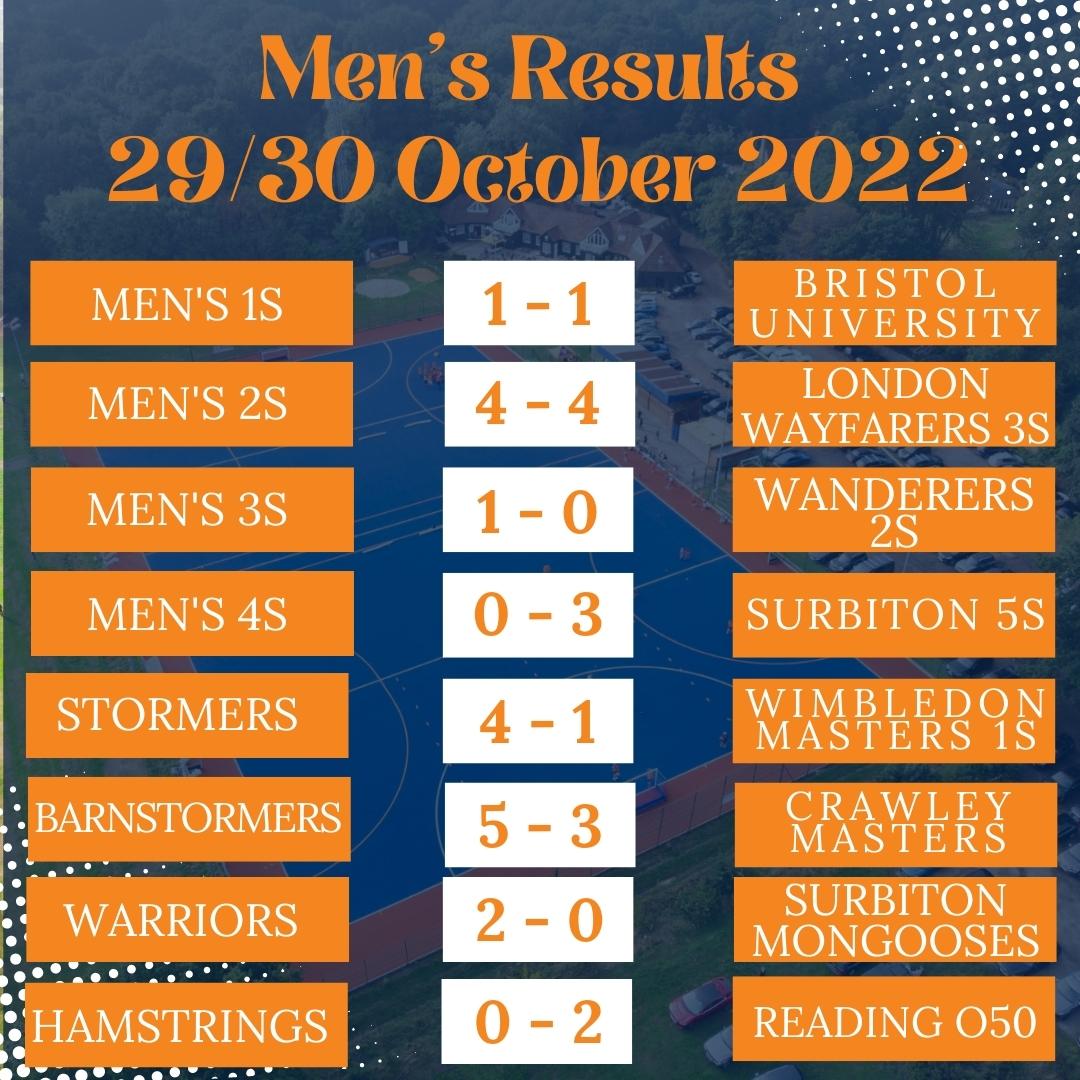 Sunday saw the Men's 1st XI's fifth game of the season following the mid-October break. The OC's side were looking to pick up their first points of the season against the next side in the table, a newly promoted University of Bristol side. Another improved performance followed, as the OCs dominated the ball against a tight, compact and physical Bristol side. The first quarter saw promising passages of play, with the team showing patience to break down a deep defence and win a number of corners. The university side were rewarded for some exceptional penalty corner defence, reaching the second quarter with the scores level. A swift Bristol counterattack resulted in a D entry and a short corner win. Despite a dragflick being saved by Josh Doble, the ball was crashed in on the rebound and Bristol were 1-0 up at half-time.
The OCs emerged from their teamtalk with renewed vigour and confident that it was only a matter of time before their patience paid off. The second half continued in the same vein as the first, with the home side creating chances and Bristol threatening on the counter. The Bristol defence remained strong and as the game wore on, the encounter became a more tense affair with both teams conceding turnovers in dangerous positions. A short corner was saved off the line by a combination of Josh Doble and Ollie Davies – a fitting way for the captain to mark his 100th OC cap (a serious achievement, congratulations OD).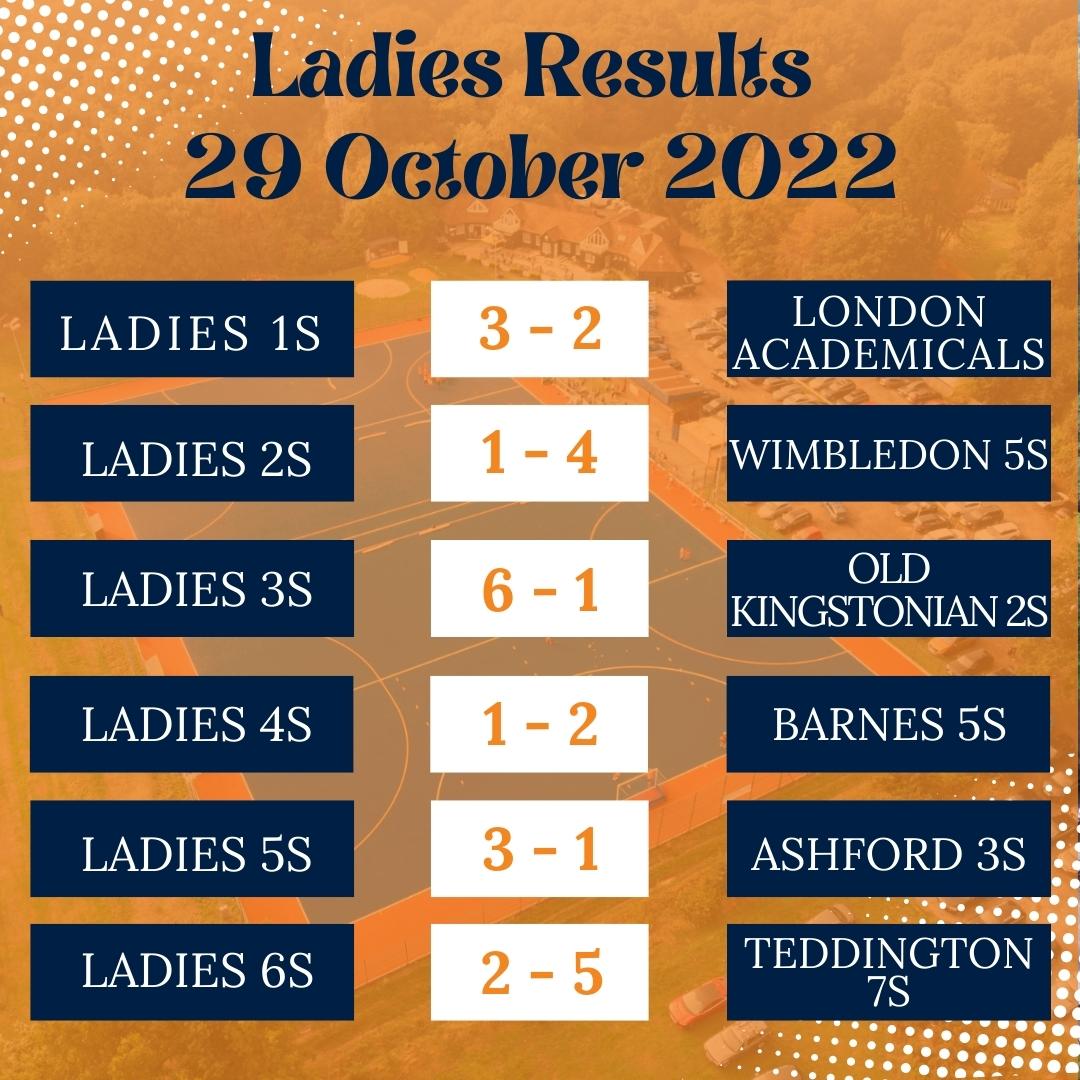 A strong performance from the Bristol goalkeeper and committed defending in the D denied the OC's forwards a number of open play chances. That was before James Cutter, attacking down the right, found Will Heywood at the top of the circle who crashed the ball low and hard to score his fourth goal in three games and set off a frantic final 8 minutes.
In an increasingly disorganised contest, both teams worked circle entries but the combination of committed defending and tired decision making meant that the scores stayed level at 1-1. The OC's travel to Canterbury this weekend with the intention of putting in another improved performance and emulating last year's emphatic win. We march on.
Mom: Ollie Davies
Dod: Alex Batstone
Ladies 1st XI 3-2 London Academicals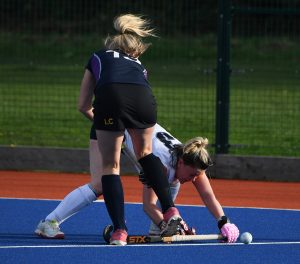 The Ladies 1s continued their winning ways this weekend but in no way made it easy for themselves. Our first home game since the 1st of October, we were keen to show our league opponents, that visiting us at the Fortress was to be feared. That didn't exactly go to plan… Turning up with a strong squad, most of us were raring to go, however, I managed to turn up sans shin-pads and sans stick. Yes, it was safe to say I was awarded DOD from the off. It was warm, too warm for late October, and despite a high energy session earlier in the week, we knew this was going to be a tough match. From the off, we had great tenacity, but were thrown but Accies decision to half court press. We used the transfer well, and although technically the better team, Accies took advantage of the space they created ahead of them.
They made an attempt at attacking our D, down the right hand side, but super-star new signing Emma Davies, sprinted across to mop, putting in her effortless flat stick tackle, looking a little something like this..  The umpires whistle blew and a short-corner was award against us. We protested (very politely Helen) "How? It's a flat stick!" It didn't matter, she had made up her mind, and our defence set up to defend the first corner of the game, much against the grain of play. Despite Amy brilliantly blocking the first short, it rebounded to a player on the right, who kicked it into the goal. Unfortunately, the umpire couldn't see through the wall of players, and awarded it. OCs 0 – 1 Accies.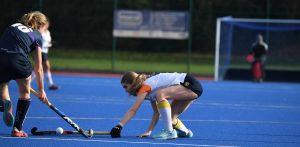 We didn't let our heads dropped and went again, furious at the decision. We attacked and attacked, but despite numerous attempts on goal, their keeper (who had a stormer) kept the ball out. We continued to work hard, we still had twenty minutes or so left in the half, but after a bundled short-corner, our team scarped back to stop a counter attack down the other end. You remember I mentioned the heat? Unfortunately, this sprint down the pitch was a little too much on my asthmatic lungs at this point, and rather than collapsing on the pitch, I took rolled over, at a rather poor moment… OCs 0 – 2 Accies. Fiveminutes before half time and a short corner, newly returned Katie Richards steps forward for the strike, which meets a Laura Sealey deflection high into the net. OCs 1 – 2 Accies. We continued to drive… or the team did at least, whilst i watched from the sideline… relentless on the attack, and some excellent pieces of passing play through Moz, Lauren and Sylvie, a foul allowed Richie to drive the ball along the baseline, and coolie cross the ball, right onto the stick of Sam Kugler, who slots it in. Ocs 2 – 2 Accies.
Half time couldn't come soon enough, a little confused as the team come off the pitch. A reset talk from David and Ben, let us reassess what we need to do; we were not going to lose the game.
Briefly the second half involved a lot of fouls, chat and missed opportunities, but one prevailed. Richie stepping up for a straight strike, takes a deflection (by me) into the back on the net. For the rest of the match the tension stays the same, but we managed to retain the scoreline and get three points, moving us up to third in the league.
MOM – Sylvie Adams
DOD – Molly Hanson (Forgetting shinpads and stick, plus not passing to Emma for the 1st half of the game)
Goals – Laura Sealey, Sam Kugler, Molly Hanson
Men's 2nd XI 4 – 4 London Wayfarer 3rd XI
Liam's mom has got it goin' on
Liam's mom has got it goin' on
Liam, can I come over after infernos?
(After infernos)
We can order a de-deliveroo
(De-deliveroo)
Did Harry get back from his business trip?
(Business trip)
Is he there, or is he trying to score two goals?
(Score two goals)
Franny's not the little boy that he used to be
He's all grown up now
Dash, can't you see?
Liam's mom has got it goin' on
She's all we want
And we've waited for so long
Liam, can't you see?
You're just not the boy for us
I know it might be wrong but
We're in love with Liam's mom
Dan Ladd has got it goin' on
Jamie Bloomfield has got it goin' on
Copley, do you remember when you played that pass?
(Played that pass)
Teo came out with a French book on
(French book on)
Jack could tell she liked him from the way he saved
(The way he saved)
And the way she said
"DR missed a back post goal"
(A back post goal)
Donny I know that you think it's just a fantasy
But since your sofa walked out
Our team needs a left half like you
Evan Morris has got it goin' on
He's all we want
And Lawson has waited for so long
Biccy, can't you see?
You're just not the leader for us
I know it might be wrong but
We're in love with captain Lawson
Liam's mom, oh, oh
(We're in love with)
Liam's mom, oh, oh
(Wait a minute)
Liam, can't you see?
You're just not the boy for us
I know it might be wrong but
I'm in love with Liam's mom
FT 4-4
Scorers – Harry Lankfer x2, Dan Ladd, David Roberts
MOM – Harry Lankfer
Champagne – Copley & DR
DOD – Matt Jonker
Ladies 2nd XI 1 – 4 Wimbledon 5th XI
Ladies 2s travelled away to Wimbledon this week to play their ladies 5s who were sitting mid table. It was a really warm autumn day and felt more like a summer league game than a winter match.
We had a 3 subs and a strong side full of young legs so agreed to sub and rotate a lot so we could run hard and give ourselves a break.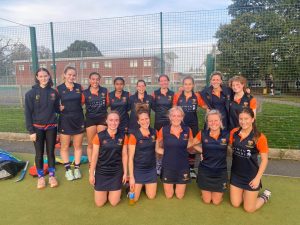 The first half was very fast and competitive. It was really end to end with lots of counter attacking play which meant the defence really had to be on their toes. We started off a little sluggish but quickly had to raise our game. Unfortunately one of their counter attacks and an isolated defence meant they converted one midway through the first half. Our mids and forwards stepped up and strung together some lovely 1-2-1 passes down the wings. We pushed into their D and an assist pass from Grace put Tabby in a great position to slot one home. 1:1 at half time!
It was clear at half time we were tired and knew the second half would be tough. And it was. We lost our structure at the back and they controlled the game for much of the second half. We couldn't get back to the way we played in the first half and the opposition was strong, intercepting and not letting us play our passing game. The score ended 1-4. Some great play though and lots to work on for the next game!
POM went to Ali Fox-Robinson who never stopped running in the mid-field!
Men's 3rd XI 1 – 0 Wanderers 2s
If anyone needed proof that the Old Cranleighan Men's 3rd XI were back playing hockey this season, the game against Wanderers was the perfect opportunity to gather that proof. The game typified everything about the team which has garnered them such a cult following in the South Hockey system in recent years. Those familiar with the Twitter account That's So Village would perhaps appreciate something similar involving the OC 3s, and there certainly is enough content. Perhaps, the only So 3s item this game lacked was a train strike/gridlock on the A3 but, we've had our fair share of those already this season.
The game-week evolved as every 3s game-week has done since records began, with the captain scrambling around midweek to gauge availability whilst squad members continue to shun the "availability" function in the dreaded Teamo app, despite rumours of "No Teamo, no Gameo" swirling around the watering holes of SW11. Team selection went out late on Thursday, only for 2 players to change their minds about their availability as they "need to be at Twickenham by 12 for work"…very 3s…. However, the skipper soon established the facts. "Twickenham" was in fact the Stoop and the 10am game gave more than enough time for the players to make their way over there. Crisis averted. In another very 3s situation, former 2s regular Coops returned from an 'end of cricket season' holiday in Argentina with ambitions on getting his long-overdue promotion into the 3s. One problem, he couldn't find his stick. Cue Friday night WhatsApp exchanges about which 3s players owned more than one hockey stick…no prizes for correct answers here. The final hurdle for the skipper to overcome was match shirts which continue to be as rare in the 3s as a Saturday where southwestern rail isn't striking…. New signing Hardy, fast-becoming the team talisman, started the game in a lovely PSG 16/17 home jersey with "Maxwell 17" on the back. Very 3s.
Despite all the usual midweek shenanigans, the skipper managed to assemble a very strong, albeit heavily packed with defenders (very OC), squad of 14 for the 10am game and with no train strikes, all 14 turned up more or less in good time. 3s veteran Shep arrived first of course, but not before the keen opposition, who promptly set up in the home dugout. Shep, clearly still reeling from a series of knock-backs and ghostings on Bumble, couldn't find the courage to point this out to Wanderers, so opted instead to get changed in the Grandstand and wait for backup. The skipper quickly moved the oppo into the right dugout, where they then set about a very intense warm-up (for London Div 3) whilst the OC squad caught up on mid-week exploits, got to know new players and keeper Rossko worked on his drag-flicks.
Eventually, the 3s got their act together and managed to have a decent warm-up which carried them into the start of the game in good energy. What I mean by this is, they battered the opposition for the first 20 minutes of the game, camped in their 25. There were chances to convert lovely hockey into even lovelier goals, but that wouldn't be very 3s. Short corners came and went without success as per usual until, a fluffed injection led to a mis-trap at the castle, which led to a scuffed shot which fooled everyone and allowed debutant Mark Raines to tap in unmarked at the back post. 1-0.
By now, subs rotation had left the 3s at various points playing with long-standing defenders Arthur and Russel-Jones as inside-forwards, much to their delight but perhaps hindering the 3s ability to create meaningful chances despite continued dominance. Half-time score remained at 1-0 and the obligatory haribo was passed around the dugout whilst every squad member and their dog offered their opinions of where they could improve and the game restarted without anyone really knowing what the plan was for the second half.
Despite the lack of direction, waning fitness levels and a spirited revival from Wanderers, the 3s managed to keep them at bay, with Rossko making his usual 4 or 5 worldie saves having done nothing in the first half. As the game descended into carnage, new Umpire Sam was keen to get his name written into 3s folklore and so started handing out cards faster than Coops gives his number out in the Northcote on a Friday night. Greens for bad tackles for the skipper and Cooper were followed by Yellow cards for Shep and Ishaan for cynical slide tackles which Roy Keane would approve of, given the oppo were clean through on goal without such intervention. Regular umpire Neil, keen not to be left out of the action, whipped out a second green for Cooper for a "clearly deliberate back-stick mate" condemning the 3s to play the remaining 2 minutes of the game with 9 men and desperately cling on to the clean sheet and 3 points.
That they did however. A very 3s second half which, in previous years could well have ended up at 1-2 but the new squad that Arthur is compiling appear to have something extra about them this year. Additions of Bailey, Hardy, Raines have been complemented well by the return of Richie and more regularity from Croft (whenever he can find a dog-sitter) and the blossoming of Toby A, given a fresh lease of life after passing his driving test and finally being picked in attack after years of utility across the 3s and 4s. His finishing still needs a bit of work, as does his parking…..
The win ensured that the 3s stayed atop the league table for another week, with their 100% record intact. The 2 point gap could prove very useful as we enter Autumn internationals, so often the making or breaking of a 3s title challenge. New signings from the Southern Hemisphere immigration centre Bank of England HC have already declared themselves unavailable for the next 3 weeks as they follow the Springboks around Europe. Perhaps Raines had this in the back of his mind when he donated the jug to the changing room debrief, a sure way to fit in in the 3s. Bailey might have to find favour with the skipper once he returns by sourcing the clubhouse some Biltong which can be retailed for less than the currently shocking £5.
Man of the match was awarded to Charles Hardy for a third time in 5 games. Arguably his best game for OCs so far and made even better by how village he looked in the PSG shirt. Notable mention for Raines on debut for not only the goal but an accomplished performance out-of-position in midfield.
DoD this week was Shep, again. At 37 years of age, being too scared to tell the oppo they were in the wrong dugout and getting changed in the grandstand is unacceptable. Also, a 10-minute yellow card really hurt us in the second half. Closely-ran by Coops, with 2 green cards in a 10-minute second half cameo. Welcome back.
Next up for the 3s is London Eds 4s, struggling near the foot of the table. Early issues already arising around discrepancies between Teamo and the League Website around pushback time and match location…so very 3s.
Ladies 3rd XI 6 – 1 Old Kingstonian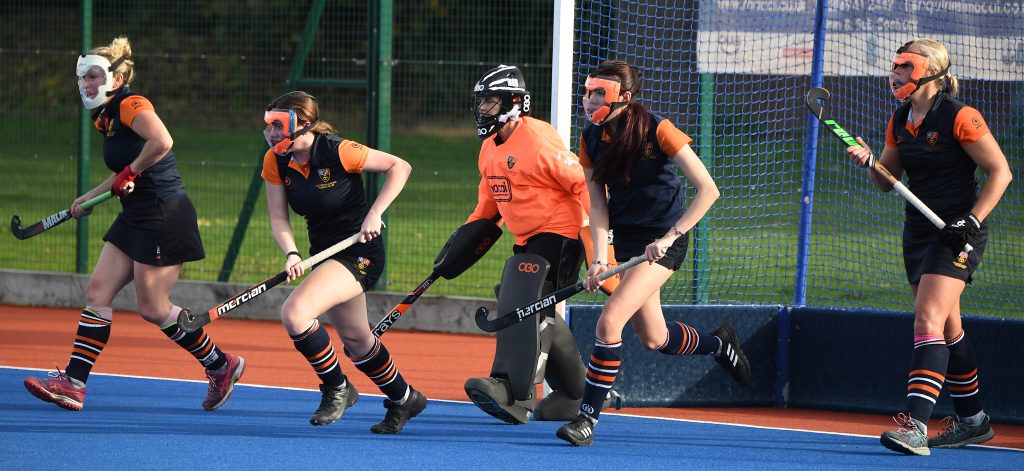 With Mischa arriving two minutes before the meet time I just knew this was going to be a good day, and also helped by having a few 2's players due to their squad being over full. It took a good 5 minutes for us to settle and OK's made the most of this time to attack but we held firm and driving the ball out from our left, a good cross field pass to Holly on the right who drove into the D drewthe keeper and passed to Sophie (who could keep up) and popped it into the goal after 6 minutes.
With renewed confidence in our passing we were able to keep possession once we turned over the ball so denying OK's a look in and with Holly and Sophie's speed they just could not keep up with them. Not entirely sure the order of the goals but Mischa's was a strike from the top of the D, Megan's first was a pass from Manny which she dribbled into the D and round the keeper. Her second was a pass from the left which this time she pushed under the falling keeper. Holly's started from a 16 into space up the left for Jacqs to make a marathon run then pass to Holly and I confess I don't remember the last one but almost all started from the back. Erin picked off
their centre forward took it to the 25 then passed to Mischa who took it further up the pitch for 1 of Megan's goals. Another started from a kick from me in goal and finished in their goal.
So, in summary, we played a team game.
MOM :Megan Hay
Scorers: Megan (2) Holly Q (2) Sophie Y and Mischa
Ladies 4th XI 1 – 2 Barnes 5th XI
A midday push back on what was to be a barmy, and rather unseasonably hot day (climate change????). With the winds pushing up from the south, and along with it the Sahara heat, we bravely set pace for what we knew could be a challenging game. Barnes had four subs, we had two.
The first quarter we showed strength and equal abilities: with our strong defence and our fast pace on the mid/forward lines. Within 16 minutes Gemma scored a blinding goal from the top of the D into the far corner – text book. By the end of the first half, it did feel as though Barnes had stepped up a gear, and were hungry to equalise. They seemed to have short corner after short corner, but our defence and Issy (GK) were amazing and kept denying Barnes any conversation.
This came in the second half, when they were awarded a penalty flick (ball kicked out by one of our players…sorry Roz!!!). Their goal was a simple shot between our goalies legs.
We then felt the sting from their extra two subs and the rising temperatures: Barnes scored another goal and to be honest, despite our fighting, we never managed to regain control of the game.
Shout outs go to Charlie (who noticed we were playing with a juniors ball), and her hard work in the mid field, to Roz for some amazing defending (despite penalty kick) and to Gemma for her goal. But, I do believe, we all agree that POM is to Issy as she had a blinding game and without her the score could have been different.
OC Stormers 4 – 1 Wimbledon Masters 1's
They say the sign of a good team is "bounce-back ability" and how they respond. This was after a number of toys were seen near the M4 in Berkshire, thrown out of the OC pram following the Reading game two weeks ago. The Stormers came back with an unbelievably assured performance, which oozed class in every department from start to finish! It was the battle of the top two (from last season) in the game that never was….!!
The squad gathered with 13 players on paper, some had travelled nearly 200 miles to be there for the 4pm start at TD. The skipper had done a fine job with some players stuck in Paris with Mickey Mouse and others getting their dates mixed up, as the Bye weekend was scheduled for next weekend with Half Term taking it's normal toll on numbers. However a Mr. William Marshall (Willie M) was on the team sheet mid week which was a stroke of genius from "El Capitano". Not sure if it was a typo, we all gathered to see if Willie M was serious about coming out of retirement, having had to ask Meersy for ALL of his kit that he had frivolously given away only a few weeks ago. Luckily Meersy hadn't framed the No14 shirt yet and handed back his stick and shin pads from short term storage.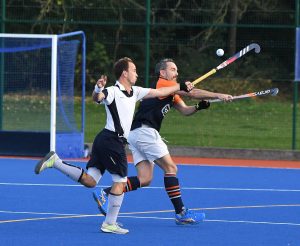 The warm up claimed Jody who was always 50/50 with his knee problem, but fair play to him for sticking around to watch this class display as he got his cushion out on the bench and ordered popcorn from the bar to sit down and watch this blockbuster. The boys were down to 12 players in 22degree heat, as more Wimbledon players arrived from every airport in the country from their half term breaks, as the Wimbledon bench had to be extended to accommodate all of their extra players!
However the Stormers started like a team possessed. The intensity was good, and the Stormers knew surely they couldn't put in another back 2 back performance like the one against Reading. Moving the ball from back to front and pulling the Wimbledon defence all over the place it wasn't long before Will Naylor (Will N) got himself on the scoresheet with a well worked goal which gave the goalkeeper no chance to settle the nerves 1-0 up after 10minutes.
The Stormers continued to press hard and work as a unit with some great defending from the back four of Heardy, Matt H, Ports and Ash in particular mopping up many loose balls with effortless ease in some tricky situations. Slinging his Exocet low flying 70yard missiles (A-Bombs) with the 1st XI coach on the end of them. He was loving every minute of his Masters debut, even breaking a smile on many occasions, and taking note of a number of players details for the M1's, proving age is only a number. The key questions on the edge of everyone's lips, are there a couple of surprise M1's call ups and was this just a scouting mission?? Watch this space??!
The back four linked well with the midfield of Rippers, CB and Cato, playing into an active front line of Packers and Will N the boys were buzzing around with a new lease of life (as if they had new body parts??!) It was 2-0 before anyone could blink with MoM CB slotting at the far post from 1.5 yards to double the scoreline. The smiles were back, toys were well and truly locked away in the cupboard and the Reading pram no where to be seen!! Had the individual team chats to various squad members midweek from the skipper worked…?? It seemed so, as there was not a peep out of any of the team (which is unbelievable as it sounds) as Wimbledon were imploding, blaming everyone but themselves. They were picking up cards as if Christmas had come early, as tackles were flying in as they struggled to get into the game. Reading seemed a million miles from everyone's mind on this warm Saturday afternoon…!
The half time whistle blew. A solid 2-0 lead with some wise words from the Director of Hockey wishing he had his kit with him….!
The second half was more of the same Wimbledon were second best as they got more and more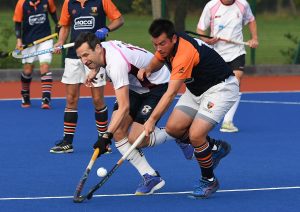 frustrated as OC's dominated. Breaking on the counter the boys could not handle the pace of Will N as Willie M was trying to keep up and get his number as well! However a couple of moments of brilliance from the Will's. Tongy throwing a T-Bomb aerial from right back down to Willie M who beat 3 players to give to Will N cutting down the baseline over a couple of oncoming defenders, drawing the goalkeeper and slipping to Packers to slot home into the onion bag with consummate ease. 3-0 and Wimbledon were dead and buried.
The crowd were singing Olé at every pass, the champagne (well JJ's extra value  Prosecco) was chilling on ice at the bar, the Stormers even had the cushion of squandering a few chances. A one on one from Will N, narrowly missing at the far post as the Wimbledon keeper made a last ditch right foot save. Then halfway through the second half Cato ran 70 yards from the top of his own D picking up a running W-Bomb from Willie M to slot the ball into the top bins….the goalkeeper had no chance wheeling away like a young David Knapp one arm in the air…..!! Boom…! ……Or so he thought as he woke up from his dream – the ball skipped off the turf through the bright light of the floodlights and missing the last Wimbledon defender, with the barracking crowd ringing in his ears to have more swoosh than Nike Town and missed the ball completely…!! The onlooking crowd erupted with heckles and raucous laughter…! (DOD on a plate…!)
He did however make up for it not long after, being set up by Willie M at the top of the D, as he shaped up to slot it top bins (again!!) but thought twice this time and put the ball on a plate for CB at the near post to tap the ball home from 1.5yards 4-0. The crowd were thinking they were #watchingtheir1's in an early Saturday tea time feast and loving every second, not wanting the entertainment to end….!
As the clock ran down with the last few minutes ticking away, could the Stormers finish with a complete performance and first clean sheet of the season….?? The answer is unfortunately Not…! The only blemish on the scorecard came from the final play / short corner of the game as Wimbledon contributed to the scorecard by smashing one down the middle, after the ball had surely gone more than 5 meters outside the D, everyone stopped and watched the Wimbledon player shoot twice at Goalie, the first being saved the second smacking the backboard to finish 4-1 as the last touch of the game.
A quick note to mention how well the umpires did in the game which could have turned into something a little more tastier, as in previous encounters. Unfortunately not a flying shoe in sight on this occasion….!! But massive thanks to Sam and Malcolm on a fine umpiring display (especially in this league) who both handled the game really well…!
The wheels are back on the OC Bus as we roll into another Bye weekend, but the smiles are well and truly back on a complete OC performance as the crowd scramble to find out what time the Stormers games are on the 12th November. It's 2.30pm at TD for your next instalment of total hockey….!!
There's a new hashtag in town #watchyourstormers
MoM – CB
DOD – Cato
Champagne Moment(s)- 69.5mins of Dreamy Total Hockey…!
Ladies 5th XI 4 – 1 Ashford 3s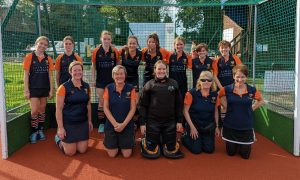 A beautiful day again and we were revved up to try and maintain top spot.  Game started well apart from the fact the adults were dropping like 9 pins, same old excuses, "body is letting me down". However our youngsters stepped up to the oche, sorry wrong game and put pressure on a fairly lack lustre defence.  But despite many attacks on the opposition"s goal, we couldn't score.  Never under estimate your oppo and within a minute of starting the 2nd half, Ashford caught us hopping and put one past our defence and goalie. We immediately fought back and a few minutes later we scored to draw even.  Encouraged by this turn of events, we continue to pile on the pressure and put another 3 away.  Splendid performances from our younger players, but also superb effort from one of our more mature players, Kim. Final result 4-1.
Warriors 2 – 0 Surbiton Mongooses
Winter is coming! – House Cranleigh dispatched its brave team of young and old Warriors northwards to slay the White Walkers of Surbiton…  Commander of the Warriors, Ado, rallied the team with a battle plan (play wide, closing down, scoring goals etc). Ado had also spent the summer in the Cayman Island scouring the best craftsman to make us some hockey sticks made from Valyrian steel as the White Walkers are known to slash and stick tackle their way through the game, which they did.  The Cayman Island craftsman did us proud and sticks just about survived.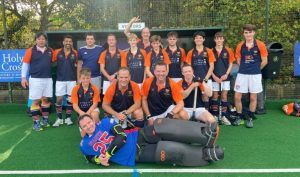 Warriors commanded the 1st half with young Warrior Zack weaving he's way round their mid field serval times and some great link up with Charlie and the rest of the team, the Whites Walkers had one to many physical encounters and the Seven Faced Gods issued a Yellow Card but the Warriors could not manage to convert their chances.  Nil – Nil at half time.
2nd Half the White Walkers look to have consulted the great Witch of Surbiton and taken a potion as they came out strong and scored a goal but it was disallowed by the Seven Faced god (Phew). As the White Walkers tired the Warriors gained in confidence with a positive strike by Max into the D, which their goalie left and the ball rebounded from the post where Jonty slotted it home. Then Warrior Grant picked up the ball just past the half way line and like a Hot Valyrian knife going through butter he guided passed their mid-field and defence to score the second.
2-Nil was the final score to Warriors and great result, everyone played well with MoM going to Zack.  As the Warriors left the car park with their Banner held high they could be heard chanting 2-Nil, 2-Nil as they ventured home to their maidens and games consoles to regale battle stories that George R. R. Martin would be proud of.  Top of the Table Wimbledon next week for us.(& another themed match report…!)
Crawley 3-5 Barnstormers
On a sunny day that would be more fitting in May, the mighty Barnies rolled out to play against a Crawley team, who looked out of steam…Skipper played his part, before the start, getting four legends to make up the missing part. We had a team, and it was a team full of steam.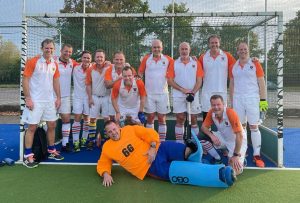 It was sensational right from the start, a swiftly worked (s) corner, cool Kingy screamed with delight. 1-0 (Kingy). Little did we know, there were more to come. Next one, a slip to the left with Cuzza on hand to the roar of the stand. 2-0 (Cuzza). Crawley's turn next, was a bit of a shock, which left us all wondering if the ball hit a rock. It kicked us into gear, with some great runs from our guests and our midfield in quest. A few close calls and a green for the cause, we soon found a repeat with our short corner calls. 3-1 (Cuzza)
A few of our defence crept to the fence, with a hammie and a groin, we were shy in defence. It soon came to show, collecting from the net, a well worked corner, they had watched on the net. The pause was great to re-order our defence, with Cookie and Gracie stepping into defence….😨
We started strong, right from the gong and in dismay a few corners got away. But soon was forgotten, once Cuzza had bottomed their defence for another which he slotted with ease like any other. 4-2 (Cuzza) Crawley crawled back to put more pressure at the back, yet in control we scrambled about looking to give them one final rout. Cookie obliged, recovered from bed, to help set-up a short corner that would put them to bed. 5-3 (Kingy) A short corner masterclass as good as the best, the Barnies frog march onto the next. Those who are injured will need to rest as the team pulls together for more stiffer a test. Thanks to the skip and legends who played, you won't be forgotten for your efforts displayed. A call to the team to remember their steam as the season rolls on, let the Barnies march on.
Teddington 7s 5-2 Ladies 6th XI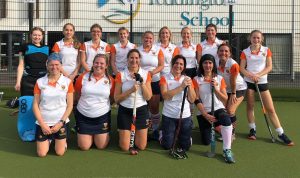 The Ladies 6's went out determinedly on a beautiful sunny day in Teddington and had a really good 1st half.  Lots of great passing and switching with two beautiful goals from Jenny and Lucy M, one of our brilliant colts.  The score at half time was 2-2.
Teddington turned their play up a notch in the second half.  The Ladies 6's fought bravely throughout however felt under pressure after the oppo scored 2 more goals.  This resulted in the accuracy of our passing deteriorating a bit in the 2nd half with Teddington intercepting and winning the ball.   They scored a final goal in the last few minutes resulting in the final score of 2-5.
In and amongst this, our wonderful Goalie, Izzie, kicked an amazing ball that flew almost to the halfway line. Seriously cool kicking, Izzie! The teams were evenly matched and the score, unfortunately, did not reflect this. Despite the score we all love playing together and the Ladies 6's will continue to take the learnings from the game and work hard to continue to improve and climb up the league table. We are delighted that Gerorgina and Rachel C are both back playing after recovering from injuries and a very well deserved POM for Jenny for her brilliant running, passing and of course goal.
Scorers: Jennifer Summers and Lucy Mauleverer
POM: Jennifer Summers
Reading 2-0 Hamstrings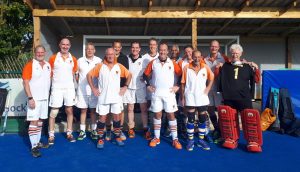 The Over 50s Hamstrings team ventured out to Reading for a crunch League game, and sadly left without a point, despite playing well overall. We are creating plenty of chances, but not finishing them off.
First half was pretty even, but Reading finished clinically, to go in at 1-0 up. Although besieging the oppo's D for 20 minutes in the 2nd half, we spurned many a chance; then Reading broke away & finished clinically – again. An enjoyable contest nevertheless, as was the post-match bonhomie with a friendly & sociable oppo. The good news is that Burles is back, and took the Player of the Match award, after bombing up & down the touchline to great effect.