Club members David Knapp and Derek Wright represented England O60s and Wales O70s respectively. Below, Derek and David have written some musings of their time out in Japan. From the club, huge congratulations on your immense achievements, we our very proud of our OC's representing at an international level!  Derek starts with his recollections.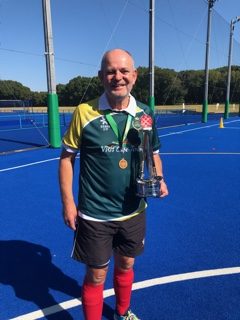 The planned 2020 tournament finally took place two years after it was scheduled, due to Covid. With Japan opening up after an extended lockdown, 27 teams representing 12 countries made the trip to play in the Olympic Park in Tokyo. Some of the European nations were not present but England sent one team of Over 60's and Wales sent their Over 70's team to compete against strong teams from Australia, South Africa and Japan, with Canada, USA, Malaysia, Singapore all being represented.
The hosts were welcoming, helpful and so polite, it was a pleasure to visit such an interesting country. The Japanese were very fit, youthful and play hockey with, relative, speed and perseverance, being very competitive. It was against the Japan team that Wales played their semi-final, recovering from 0-2 down to win 3-2. Australia, who went on to win the Bronze Medal gave up a 3-0 lead to lose to the South Africans on penalty strokes in their semi-final. Wales played its best game in the final and controlled the match, scoring two goals in the first half and winning by the same margin. OC Derek Wright scored the second goal, from which the South Africans did not recover.
It was a great tournament, certainly for Wales who have never won a World Cup previously, with the Over 65's winning the Bronze Medal in Barcelona 2018. Welsh hockey is in need of promotion at all levels and hopefully to know that we still play competitive hockey at Over 70 and Over 75 should be an inspiration to all!
Derek Wright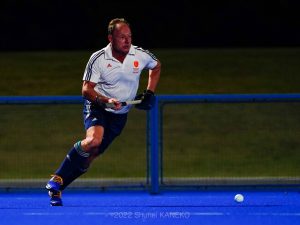 Hockey has taken me to some remarkable places but none can match the two weeks I have just spent in Tokyo when representing, with a flag of convenience, the England O60s in the age group World Cup.
I guess the reason for having such a wonderful two weeks playing hockey is that we could all act as juvenile schoolboys with a high level of puerile humour whilst participating in a serious hockey tournament. To do well in the tournament was paramount but so was enjoying ourselves and enjoy ourselves we most certainly did.
Tokyo is a quite astonishing place with an unparalleled friendly population for whom nothing was too much trouble by way of assisting 20 ignorant tourists who had zero Japanese vocabulary between them. Although you can try and spot rubbish on the street or a dirty motor vehicle you would struggle as the Japanese have an extremely high level of self esteem and standards not to mention considerable politeness.
The tournament itself consisted of 7 games in 10 days with 4 spare days ahead of and during the tournament meaning that there were days to be able to visit iconic Japanese attractions and cultural places. A few games were played in the early evening egiving more time to stroll around the city and take in the atmosphere.
All matches were played at the 2020 Olympic hockey venue which was the most complete stadium in which to play hockey. The changing rooms were pitch side and opened out to the pitch via sliding glass doors with ice machines in all the dressing rooms – OCHC take note…..There were free massage stations in the stadium which, with 24 teams whose players ranged from 60 to 75, had a continual stream of old geezers requiring attention.
In the O60s we had a relatively serene progression to the semi final by winning 4 and drawing one of our group games without conceding a goal on the way to win the group. Malaysia were our semi final opponents and at 2-0 with 20 minutes to go we were on course for a comfortable win until we conceded our first defensive goal with 5 minutes to go. 5 tricky minutes later we had secured our place in the final where we were to play Australia who had sneaked past Japan 1-0 scoring with 2 minutes left on the clock.
The final was always going to be a very tight game with the first goal likely to be key. We did not make pressure count, missed a couple of half chances and then conceded midway through the first half. Try as we did the Aussies proved impenetrable. The last throw of the dice saw us take off our keeper only to concede a short corner that was duly converted. There was time for us to snatch a life line in the 69th minute but insufficient left on the clock to restart the game and therefore came second in losing 2-1 to the nation's arch rivals.
A hockey experience that will be difficult to beat with a squad of 18 players and two support staff who all had the same aim to make the most of a once in a lifetime venue on and off the pitch.
David Knapp