Ladies 1st XI 8-0 London Eds 1s 
The ladies 1s faced London Edwardians 1s in a rearranged league match that was originally frozen off. London Ed's were promoted alongside us last season and, having observed their recent strong results, we were prepared for a tough match. OCs had a super strong squad and despite not playing together for a month we started the game as a seamless unit, linking well and supporting each other throughout the game. We ended up winning the match 8-0 which is our best result so far and helps our goal difference a lot. The first goal came within about 3 minutes of pushback when Laura Sealey took advantage of a defensive mistake during a 16, drove the ball into the circle and put it in off her reverse. Around 5 minutes later, Katie Richards received the ball on the right-hand side of the D. She drove towards the baseline, eliminating many defenders and then crossed the ball to Laura Sealey who slotted it past the keeper. Ellie Hauck, playing on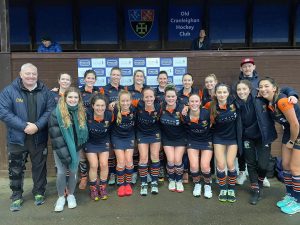 the left, was creating chance after chance and was rewarded with a penalty corner leading to a Molly Hanson goal. Another penalty corner resulted in several rebounds which eventually found Jackie Waite who slotted a shot home (and was exceptionally excited to get on the score sheet!). 4-0 up at half time! David and Ben seemed relatively pleased with us at half time but warned us to keep the intensity up. And we did….a Gabriella McErlain strike found Poppy McCutcheon on the post for the 5th goal. Laura Sealey got a 6th from a rebound at a corner. Lauren Burgess and Sam Kugler had been relentless in their attacking and quick passing and culminated in a selfless pass from Lauren to Sam for Sam to finish off for a 7th goal. The final goal went to Laura Sealey from another rebound to make it 8-0. Despite this being a rather dull list of goals, it was actually a very exciting match and the team really showed our potential. Special mention must be made to our incredible interchanging backline of Amy Brunton, Moz, Hazel, Sylvie, Molly, Jackie and Alina who kept a clean sheet, remained incredibly calm during all attacks and transferred beautifully throughout.
MOM went to Ellie Hauck.
Special Mention to Sammy Kugler
Goals: Laura Sealey (4), Molly Hanson, Sam Kugler, Poppy McCutcheon, Jackie Waite
Written by Laura Sealey
London Eds 2s 2-2 Men's 2nd XI 
An early start to the second half of the season lead to the OCs heading east to Honour Oak park pitch 2. Rallied by a boost in numbers at training the cs came out hot. Dominating the play. Playing out from the back through the midfield to the forwards leading to a textbook goal from DR. The goal will come to much relief as rumours had began circling of being dropped following a dry spell. The OCs continued to press winning a short. Dan ladd (hates trapping) saw the ball slightly off line and saw his moment. Opening up, stopping the ball for himself and striking into the bottom corner. OCs 2-0 we'll deserved.
London Ed's not to be dismissed fought their way back breaking through. 2 short corners later and the score was 2-2. Half time came and the OCs re-assessed. The second half was tense. Neither side making a mistake the OCs creating chances. However the ball fell to the one man nobody wanted it to.Liam Gardner through on goal. Forgot the keepers pads are sadly not a sieve and are intact solid. The OCs saw out the game with the league still in their hands at the half way point
London Gamblers 1s 0 – 3 Men's 3rd XI
Conditions: Wet, Wet, Wet. Wind : 12kn WSW. Outlook : Bleak.
The OC 3XI headed down to Crystal Palace to take on the London Gamblers. An early kick off, much to many peoples liking… others who went to Infernos until close were slightly less amused.
The lads arrived to find a pitch that had more sand than where Max's Arthur is on Honeymoon. As hockey pitches go, this really was a Beach… The Fact that Beach Volleyball took place next door in the UK in January, really does some up the day… yes confusing. Having got lost in the most confusing building known to man and witnessed a "Changing Village" The OCs warmed up well led by Alex Don (OC). Apparently this stadium was for some kind of Olympic/ Commonwealth, Local Stadium. Legs were loose., rust was going and the kilos of Stilton swaying from side to side. Christmas had taken its toll on some….
Let's just say, we didn't start very well courtesy of FRJ passing to their Striker twice in the first 5 minutes. (must have been something about having Rosco back in the team, and him needing a test). After this, the boys clearly worked out it was going to be a tight scrappy game with no more than 5 yard passes. "It feels like being back at school" (Ritchie). The OCs pressed on with the first goal coming from a miscue from rains ensuring all players got a touch on the ball, finished nicely from Charles. OCs pressed on, the second goal coming from a lovely worked short corner. A deflection from Charles of a D Wils flick. 2-0 simple as that. The only other excitement of the first half was Gamblers number 14, having the mental range of a teaspoon.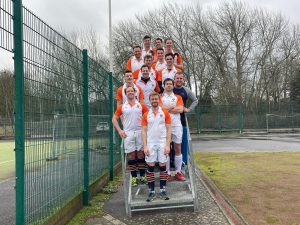 A fitting team talk from Capt skip and the boys were back on. Alex don kept up his top work firing aerials down the right flank whilst Crofty, was doing what Crofty Does. Yup, I'm still baffled. The scrappy game continued and when D Wilson missed from two yards out we really did wonder why we had given up our Saturday morning…. Henry Emery poked in the last goal to make it 3-0 to the good guys. No real other excitements, It maybe Monday but two days on Rainsy is still waiting for his free hit. Ferg enjoyed the onion Barges and Dry Jan isnt going well for the Gentlemen XI.
Mom Alex Don
DOD FRJ
Ladies 3rd XI 2-1 Epsom 4s
A win is always a good start to the new year. It would be far to say both teams were a little slow to start but it didn't take long for us to get going and were definitely more attacking than defending.
Thus being that we were in their D quite a bit with plenty of attacks that either missed or were saved. It was just a matter or time/patiences and finally Jacqs flicked the ball for Sophie Y to tap in. We won a couple of short corners and also a big melee in the goal mouth resulted in a stroke being awarded. So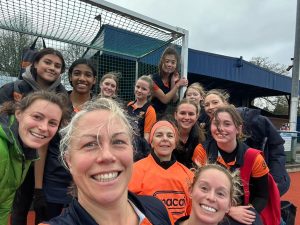 expecting someone to volunteer the rotten bunch got in a huddle and then nominated our newest member of our squad who is only 20mins into not only her first game with the 3's but also her first senior game, Bea you can take it, well all credit to her she stepped up and smiled throughout.
Half time talk "lets try and keep strong on the ball and no reverse flick passing" so Amy's goal was a reverse flick.
Epsom made one good run down our left and managed to cross the ball to an unmarked player so now 2-1 and winning a corner in the last couple minutes which we defended just fine, they were not to much of a threat so roll on league games.
Thank you Chris B and Henry for super umpiring.
Goals: Sophie Y & Amy B
POM Many, Sophie DH, Charlie A
Ladies 4th XI 0-3 NPL 1s
After five weeks without hockey and very unpleasant weather, the ladies 4s arrived on time and with a great attitude for our first match of the year. A good warm up together followed by a chat from our captain Paula, final warmup for our goalie and our classic drill before matches, with background music prepared by our DJ Tash. We have very positive vibes and were ready to start.
Our opposition, NPL a nice strong team of ladies that have both experience and fitness. The level was quite equal.
The first half we had more possession of the ball, we reached their D a couple of times but were unable to score, they have a good goalie so the few times we were able to shoot she saved them. We played really well, so many passes, so much space to play, moving the ball and playing lovely hockey. Their first goal came minutes before ending the first half, it was an imbalance on our side, too many of them and not enough defenders.
After our halftime team talk to get our tactics right and where everyone knew what they had to do, we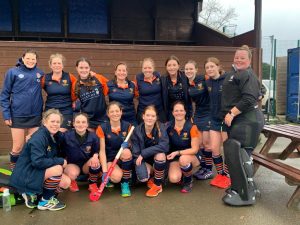 looked a lot stronger shown by how many more chances we had in the second half. They managed to score again and we were still unable to score, a very good defensive effort from everyone, all the team was coming down and the distance in front was huge. That is our next task, pass the ball back so the forwards are able to run without the ball and receive it with out needing to dribble the whole pitch. Even if the result was not great, we all went out of the pitch with a smile as we played really nice hockey, lots of covers, lots of passes, lots of channelling and tackles. The happiness was related not only of how we played but also that some lovely chocolate cake and mince pies prepared by our captain were waiting for us, no matter the result.
Great team effort, special mentions to Zoe, that doesn't stop running, Sam that not only saved lots of goals but is always organising us on the back, Selma and Bella, giving everything until the last minute and Roz that is always strong and efficient and we all played the hockey we like. Sometimes the result doesn't reflect the way the match was played, in this case they were a bit better than us or they were luckier than us.
POM: Berenice Bassett (BeBe)
Report: Carolina La Valle Caruso
O50s 5-1 Worthing  – Masters Over 50 Cup 2nd round
Life is full of watershed moments in one's life although perhaps not so frequent in the hockey careers of most of us club players. However Saturday was one such moment. For the first time in my club hockey playing career, that started in 1975, I and 14 other OCHCs played a game against Worthing 100% sober. Well, I assume everyone else in an OC shirt was sober.
The Marine View, our very dubious place of rest on those dim and distant Easter tours, did not feature this time round which doubtless explains the comfortable victory that we achieved. No dodgy stomachs, no Tim Cook in trap 3 of the clubhouse gents generating a nuclear threat and no IDIOT calls culminating in a down in one consumption.
After the December postponement of this game due to the uber cold snap we fielded a very strong side albeit post Christmas and New Year indulgences against a seemingly disorganised Worthing side who pitched up late – although not as late as John, our keeper. Me thinks that with his having sole use of the whole Oaken Lane facility 10 minutes before the published push back time may have been a clue that something was awry…
The first 15 minutes showed us the way against a disjointed Worthing side who we dominated and deservedly scored the early goal that our previous 3 or 4 performances craved with Poeeeeeeny tapping home following an excellent attack down our right his goal being set up by Gerry who unselfishly slipped the ball rather than shoot. Perhaps we should have made more of the pressure in their 25 in the first period although our defence mopped up everything that came their way.
The second goal was going to be key and early in the second half Gerry won a short corner that he then dispatched home. Gavin came to the party shortly afterwards in trade mark style deflecting home a sharp cross from the left lifting it above their keeper.
At this point Worthing came out at us and snuck a goal from a decently worked short corner giving them 10 minutes left to score 2. Fortunately the final 2 goals were ours with Poeeeeeeny on hand to tuck away loose balls to complete his hatrick.
Somehow we managed to avoid the biblical proportions of rain during the came and whilst we reconvened at TD with the knowledge that another tough test faces us in round 3 (last 16) against Epsom or Fleet away with Epsom our likely next opponents, serial winners of Masters cup competitions in the past.
A friendly looms on Saturday ahead of the return to league action on the 21st v OKs our needing to reverse the result earlier in the season.
Stormers 7-0 Tulse Hill
The new year brought little in the way of change as some of the club's elite veterans comfortably saw off the opposition at Manor Road. Following which the Stormers took to the field. Tulse Hill and Dulwich the oppo, languishing at the wrong end of the league but with a team that belied that fact.
Not one, not two, but three of the Stormers felt one game in the afternoon wasnt enough so played immediately beforehand, with that showboating sadly to come back to bite at least one of the group in the proverbial. More of that later perhaps. In the meantime, warm up(s) complete and inspirational pre-match words of wisdom dispensed the clubs younger veterans set about meeting or beating their illustrious peers achievements.
Skipper Goalie – resplendent in his new kit – pulled a formation rabbit out of the hat which saw Gav and Cato masquerade as left and right midfielders respectively, with the even bigger surprise being that both acquitted themselves reasonably well. OCs were on the front foot early pressing high up the pitch and retaining possession comfortably. If Ripley, S was put out that he had to share central midfield with Will number two it didnt show, as the two of them combined to dictate the tempo and begin to open up the oppo defence.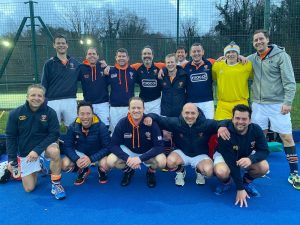 An early short corner gave us the opportunity to test the keeper and put all our mid week practice to good use. Cue the call to allow training absentee Heslop to give it the long stick. A miss meant a switch to CB was on the cards next corner up, and that would have been a great option but for the fact he was still in the bar with the Barnstormers as part of his warm up. Step forward Mr Garrett who rifled a flick past the TH keeper to open the scoring. Barely a minute had passed before the next corner and a clever routine which saw Ash this time provide a tap in opportunity for Gerry. Unfortunately for Gerry, Will Naylor saw that same opportunity and nipped in front of him to score, proving not for nothing is he top scorer.
2 nil quickly became three – I think CB scored that one? – and by half time the lead had increased to 4. Thing of beauty the last one with a break from midfield by Willy M leading to some intricate one-twos (yes plural) with Willy N. Ending with a little high pitched whoop of joy from M just before N walked the ball over the line. By this point Beersy had already emptied our strongest bench in years to good effect. And word of our dominance had reached Closey who turned up to watch / lock up / try and get a game in the second half. FKW
So, 4 nil up at half time against a hard working oppo and the question was whether the boys would sit on their lead or push on. Actually the real question was whether Goalie – did I mention, or more to the point did he mention Santa brought him new kit? – would finally get a clean sheet. Early 2nd half indications suggested neither would come to pass with many chances spurned at one end and THAD creating a few chances of their own. Having had little to do for most of the game the worldie short corner save he pulled out was all the more special.
Mid way through the half OCs got properly back on top again, culminating in Matt H delivered one of his trademark slingshots into the area, ignoring the loud protestations of Ports not to do so. The result: CB on the end, 5 nil scoreline and a certain DOD vote for Ports. Big Gav had other ideas though, with an errant push out from our latest GB player leading to the first of his 3 errors in 3 mins. Hard to explain how bad they were but enough to see him vote for himself in the 'right to write' vote. And subbed by Closey, albeit not for Closey who still couldnt get himself a run out.
In the meantime we'd slotted another couple of goals as our dominance continued, with CB bagging a second and JJ getting on the scoresheet too. More importantly, we got that all important clean sheet. Thanks to Malcolm and Virge for umpiring in what must have been one of their easiest run outs for a while, not a sniff of a card for the blue and gold, and only one in the match. In summary, a great performance and great spirit in miserable weather, and a deserved return to the top of the league. Who's next?
Goal scorers: Ash 2; CB 2; Will Naylor 2; JJ
MOM: Will Marshall (rolling back the years)
DOD: Gav (anything but rolling back the years)