OC's O40s  2 – 1   Canterbury Vets
English Master's Over 40s Cup Quarter Finals
OC Men's Over 40's secured a spot in the semi-finals of the Master Over 40s Cup by defeating Canterbury vets 2-1 in a closely contested match on Sunday. The game started with OC's dominating the proceedings and creating multiple opportunities in front of the goal. The pressure paid off as Skipper Gerry scored two quick goals from close range, putting OC's in a commanding position.
However, Canterbury fought back and managed to pull one back, capitalizing on some defensive lapses from OC's. The first half ended with a score line of 2-1 in favour of OC's. The highlight of the first half was Matt Heslop's impressive kicking of the ball at an attacking PC and then hitting the ball away, which earned him a green card. In the second half, OC's came out strong and regained their confidence, but Canterbury refused to back down and kept the pressure on the OC's defence. Despite creating multiple chances, Canterbury was unable to find the back of the net as the OC's defence and keeper held firm.
With just two minutes left on the clock, OC's managed to see off the game in the far corner and secure their place in the semi-finals. It was a hard-fought victory for OC's and they shouldn't fear whoever they get in the semi-final. The road to Nottingham continues.
Goal scorer – Gerry Davies x 2
MOM – Goalie
Ladies 2nd Xi 2- 0 Sunbury and Walton Hawks 1s
Leaving last week well and truly behind us a 16 strong squad turned up ready to defend the fortress that is OCs! We started strong dominating from the start camped out in their 25. Receiving a ball from midfield, Miggs drove down the right, entering the D at the baseline and found a foot. Short corner! Pricey at the top of the D, made a sensible decision to draw the defender and slip to candela (later I found out it was that the original "plan" was fluffed so Pricey thought well on her feet). With a drag from Candela, the ball bounced through the feet of the defender and hit the back board-yes! 1-0! Shortly after we found ourselves with another short corner…. This time a super strike from Hattie was deflected in by Miggs 2-0 after 10 minutes. We were unable to capitalise further so went into half time 2-0.
The second half felt like harder work and we defended a lot! Sunbury won. Underpins short corners but our defence were letting nothing in. Some amazing saves from Amy which kept us in the game earnt her player of the match. A long second half but we won 2-0!!
Goals: Candela Garcia Urania, Amy Mighalls
POM: Amy Brunton (with mentions to Ele, Candela, Miggs and Nikki)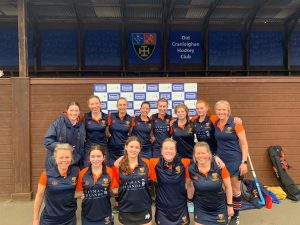 Men's 4s  2 – 0  Ashford 
Relief. Another win and a great game of hockey against a very spirited Ashford side. This was not one of our better performances which is a great credit to Ashford who were one of the better organised sides we have played against and set themselves out to give us problems. As always at Ashford we were well looked after from start to finish, officiated by 2 very good umpires and appreciated our oppo's magnanimous comments in defeat. A week of a club wide high number of unavailable players had the positive result of Oscar and Fraser being elevated from The Warriors making Toby an elderly statesman of the team. All 3 of our colts more than equipped themselves well and showed how rosy the future of the club will be as the number of colts playing in the club's main ladies and men's teams increases year on year.
After a good period of pressure in the first 5 or so minutes a 2 – 0 half time lead did flatter us with Fraser making a number of very good saves throughout the half as we lost the control of the midfield. The lead was taken after 15 minutes when a loose ball as Ashford came out of defence was picked up on the half way line, fed to Buffy whose incisive pass found Jake whose initial shot was saved with the loose ball popped home by Knappy standing in Copleston corner. Less than 5 minutes later Searsy, his best game of the season so far, was on hand to finish off another decisive move. Ashford were undeterred and we had to defend keenly from here on.
The second half saw much of the same as we lacked our usual cohesion and although neither side really had clear chances short corners at either end were squandered without the half chances being converted. For the first time in a long time we were in the unusual territory of not dominating the game and having to defend for the bulk of the half. This was a good test and one that we passed as we stood firm and completed a very important win with Ashford being able to count themselves unlucky not to take something from the match. The next 8 days will go a long way to decide our season's outcome with 3 games including a first 4th XI midweek game on the 16th. This Saturday sees the visit of Epsom Mustangs to TD which will be another tight and competitive must win game.
Goals Knappy and Seearsy
MoM Fraser
Ladies 4th XI  3-0 Surbiton 9th XI 
The banter started on Friday when the "Golden Stick" ladder was shared and with Ailsa and Bernie on the list we were keen to help them score and move up the ladder. Carolina stepped up and bribed them with flapjacks post the game should they score, which beat the alternative of one of them changing their name to Dave. (It appears that if your name is Dave you have got a good chance of winning that stick). An early 9:15am meet with a drizzle to welcome us. Tash brought the tunes out and got us into the Spirit with "All the Single Ladies" which  caused some bootie shaking and a jig by our favourite JJ.
Game on. We put the pressure on from the 1st minute and kept in their half. It didn't take long for Ailsa to cross the ball into the D which was finished off by Bernie. We continued to dominate and had a number of chances but the Teflon was out. 2nd Half,  2 minutes in and we were awarded a short corner. Straight strike from Paula which hit the back board, what a sound!  Surbiton fought hard and we gave a way a number of short corners where Bella, Emma, Carolina and Paula defended for king and country keeping the sheet clean A third goal sealed the deal, we took the opportunity of an advantage being played which left space for Colleen to move into the D who took the pace off and surprised everyone with a goal in the corner.
Shout out to our Umpires, Chris James and Malcolm Blake who were superb In keeping control of the game with a few mouthy players from the oppo and we are extremely grateful for the REGULAR reminder, "Everyone 5!" This week's training will involve a 5 yard stick! This week's POM goes to Poppy with runner-up Zoe and thanks to Carolina for the flapjacks which were demolished. Please continue the bribery! A fantastic team effort today! (Colleen Bohm)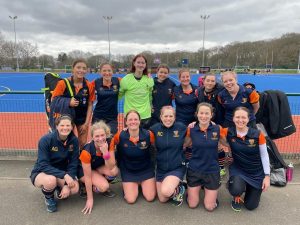 Warriors 7 – 0 OK 3s
We had had a week to Muse over a last week's narrow defeat as Warriors gathered at TD with a Keane full squad to play OK (&) go back to winning ways. Jaimie's now legendary warmup allowed the Talking Heads in the team to discuss improved attacking and defensive short corner routines, use the width and keep the ball. Whilst there were no A-ha moments of enlightenment, there was an aligned One Direction and consensus.
Warriors started strong with Harry putting the ball in the back of the net early in the first half. Soon last weeks game became a Blur as the team were set Free with attacking and flowing hockey. The Drifters in the midfield started to pick OKs apart which resorted to a Clash with them tripping up Max (the finger) Nickless just to stop the Madness of being overrun. The Cure was a Green Day for OKs and Warrior domination with two deft deflections from Grant after sublime passes from Harry and Alan to bring us to the a 3-0 half time Oasis. They Might Be Giants upfront and in the midfield, but the defensive Fab Four were never in Dire Straits, even when OK's, in their Maroon(5) shirts rallied and gained a short, flicked the ball towards the corner of the goal only to be stopped by JC who's cricket Aero-smith skills came in handy to stop the ball in mid air. Second half was probably Warriors best half of hockey this season with 2 more class goals from Jonty White Stripes, Grant getting a third and a superb finish from Rob Jonker to make it 7-0 at full time. This result allowed a Status Quo of staying top of the table and the Nirvana of promotion still possible. Thanks also should go to the Motley Crue of Adam & Malcom who had their hands on the i-pad score board controller providing various suggestions to plays on the pitch though out the game and to Phil & CB for umpiring and to The Waterboys (and girls) who keep us and the oppo refreshed and fed after each home game.
Goals: Grant Dormer 3, Jonty White  2, Hary Walker 1, Rob Jonker 1
MOTM: Grant Dormer (for his first OC hattrick)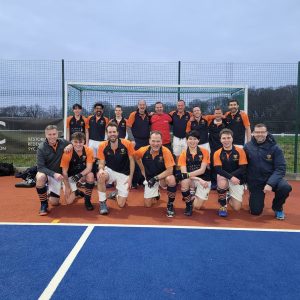 Ladies 5s  0 – 0  Surbiton Sirens
We only needed one point  to secure promotion and we were confident we could beat Surbiton,  who  currently lie at the bottom of the league. Wearing our lucky socks and goal scoring boots, the game started well with lots of chances created early on, but when those early chances weren't converted, we started getting a sense that we weren't meant to win this game or wearing the right footwear!  We had several short corners, but couldn't convert sny of them. Great teamwork and constant pressure on the Surbiton goal, howevet the ball just refused to go in. No matter how many chances we created and shots on target we had, Surbiton's strong goalie managed to save them all.  We even managed to hit the corner goalpost 4 times. Good luck just wasn't on our side. Luckily Surbiton managed to miss three open goals at the other end, so it is fair to say the ball just didn't want to go in the net today. In the end, it didn't matter because the one point from the draw means we should  secure promotion .. hooray!  Fabulous performances from our mix of mature and younger players.  Also great support from the mums and dads.  Only 2 more league games to go.  Final score 0-0.
POM – Lily Gavins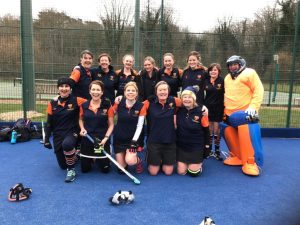 Ladies 6s  1 – 5  Indian Gymkhana W1
This was the return home match against the lively and relatively unknown team from West London. The away leg at the start of the season ended 2-2 after a very dubiously awarded penalty in the dying minutes. We felt as a team we had made great progress across all areas of our game since that match so felt it was a game we could or should be able to win at home. So the expectation was already set for a match full of promise but potential for controversy against a team who push the boundaries of the rules and of sportsmanship, and they did not disappoint on either front.
The first half started quickly and we were under defensive pressure for the 1st ten minutes before conceding in the 11th minute. Two quick goals followed as we were being bullied across all areas of the pitch and conceded too many shorts against a team who played for the corners. Our passing inaccuracy was punished and we were outpaced in the midfield and wings. It started to turn very physical and the oppo chased every ball and used any tactic to slow our play. They were skilful but also pushy, aggressive and relentless. I would describe them as the Millwall of Hockey.
We finished the half 0-4 down, angry and frustrated. We re-grouped and started the second half playing the game we know – we fought for every ball, player higher up the pitch and were gaining good possession and territory. Our only goal scored by Lucy Gilmour soon followed mid way during the second half. The oppo were getting angry and two players were cautioned for pushing and one then received a green card. They pegged one back to end a game 1-5 and one we would rather forget.
Our goalkeeper Izzie was outstanding and brave, often left in a 1:1 situation, but bossed the D well and Isa Wear was very solid in defence, warming POM.