Ladies 1s  1-5  Surbiton 3s
On a sunny Saturday the Ladies 1st XI took on Surbiton 3's at home. Energy levels were high going into the warm up, with some excellent tunes by our head DJ Macy.
The game started off strong with some great pressing from our forwards which put pressure on Surbiton making them consider why they even decided to turn up. However, Surbiton were ready to fight for this game. Both teams went into this match strong, with some great balls into the middle from OC's defence Molly Hanson and Gabby Cheney, which created some nice opportunities for in the D for OC's. However, Surbiton's young, speedy side managed to defend their D well clearing any balls that entered.
Surbiton continued to play the ball well down the right-hand side which resulted in their first goal. As much as OC's stayed strong, marking man to man, and creating good movement on and off the ball, Surbiton were strong on their counterattack which resulted in the score being 2-0 at half time.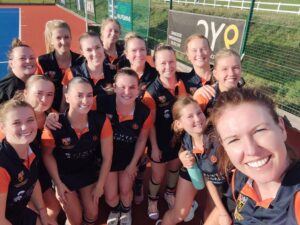 After a positive half time talk from Ben and David, OCs were ready to fight back. Our ladies were prepared that this game was going to be a challenge, but despite that kept spirts high.Surbiton got a quick goal away into the beginning of the second half from a deflection however this wasn't going to affect our ladies. With a quick turn over OC's were going to prove that they were still in the game, and with some outstanding 2v1 play down the pitch OC's scored their first goal! (Goal from Ella Bailey)
Despite putting a superb effort in, Surbiton came back stronger and scored another two goals towards the last 20 minutes of the game. The game ended with a penalty flick from Surbiton with ended the game on a 5-1 loss.
In spite of the result our ladies played some outstanding hockey, and on the whole displayed the best game of hockey all season!
Goal Scorer: Ella Bailey
MOM: Sam Jones
Men's 2nd XI  4 – 2  Wayfarer's 3s
As is custom in the new era of men's 2s preparation for an early fixture starts on a Friday. Charlie lamb making sure he got his needed sleep by being in bed by 8pm. Uncertain if his boss will sign off 8 bottles of wine.
Evan took the old school approach. Lime & sodas until 2:30am.
15 men turned up raring to go. Looking to finally take 3 points off one of London's Nomadic sides.
Sadly Davies, struggling with his ribs had to sit out. Leaving the defence to the safe hands of Blackburn and Lawson.
The hands were not as safe as first thought. A few wayward passes lead to a swift counter attack. 1-0 wayfarers not the start that was required.
OC's grew in to the game. Overcoming errant distribution from the back and lack of trapping a ball elsewhere. Some nice hockey finally broke out le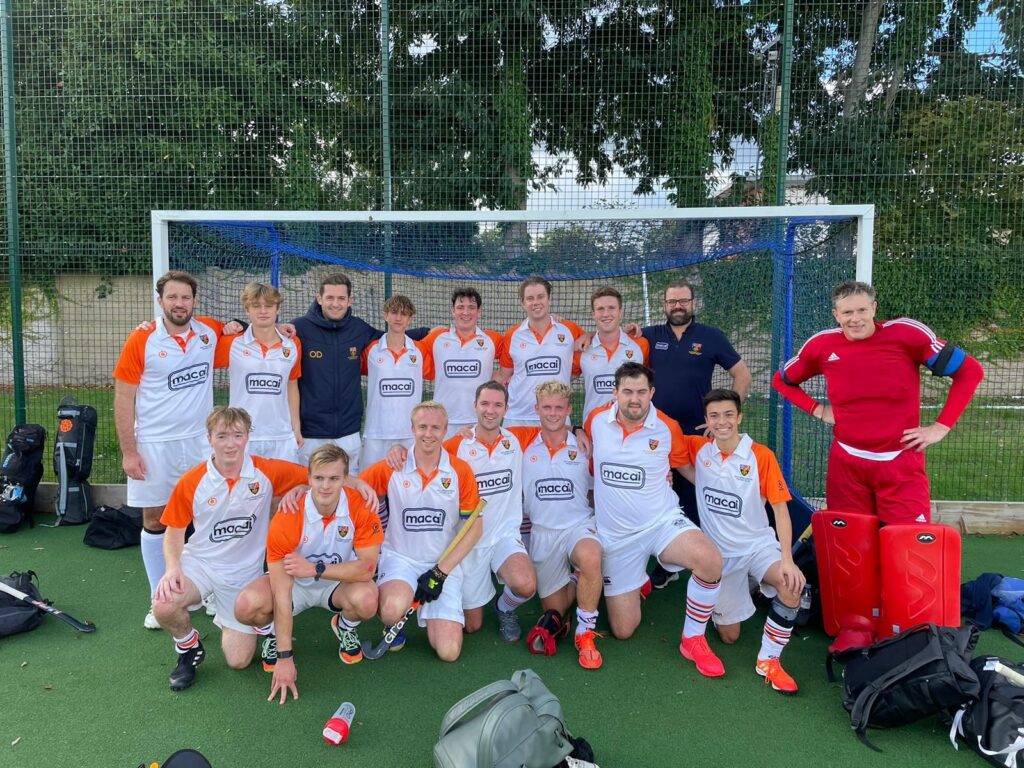 ading to DR. Eager to take back the golden stick found himself through on goal and did what DR does. Hit the pads from 5 yards out. Luckily he scooped the rebound in to the net. 1-1 it went in to half time.
A half time team talk from Mears and Davies the boys stepped on the pitch raring to go. Passing through lines and taking control of the game.
Up stepped Charlie Lamb. Slotting home over the keeper to maintain his lead on the goal scoring statistics.
This rallied the Wayfarers who pushed pressure on to the OCs winning a few short corners. One of which was swiftly dispatched to goalies right. 2-2.
10 to go OCs pushed on. Desperate for a winner to remain unbeaten. Chances and corners has been wasted. But up-stepped the captain – as he had in august when Biccy left. To put the Cs 3-2 up.
5 to go wayfarers pulled their keeper. To put the OCs under more pressure. However aerial bombardment undid the Wayfarers back line allowing Jamie Bloomfield to finally score after 4 weeks of trying harder than anyone else.
OCs win 4-2 and stay top of the league. Back again next week
Score 4 -2
Scorers: Charlie Lamb, Jamie Bloomfield and David Roberts x2
MOM – Tim Blackburn
Ladies 2s  1 – 2  Teddington 3s
On a weekend full of men's international matches the Ladies 2s were preparing for what would (arguably) be the most hotly contested result all weekend – the top spot of the London South Div 3. Off the back of 3 wins of 3, spirits and confidence were high going into what we knew would be a tough game away at Teddington.
After aimlessly wandering around the pitches for a bit, we got our team talk underway. Captain Alice outlined our press in graphic detail and then we ran around in circles for a bit before getting onto the pitch. Turns out maybe going in circles is not the best way to get our hockey heads on as the first 10 minutes were a bit of an onslaught. The opposition were well organised and just well, basically on it. After a few waves of near-miss attacks we (read Captain Hels) figured out we were overloaded in the middle. We adapted our formation and marked our players so they could smell our lunch and everything calmed down a bit. Phew.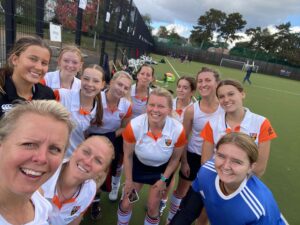 The next 60 minutes were a bit of a blur – a number of the opposition were on the argy-bargy side of non-contact and we all got a little riled up at points, not helped by a disallowed goal (ours) and some questionable decisions. They scored first (gargh) with an open play goal and then the tide turned. We didn't give up and fought harder. Some great runs from the mids and forwards and Jess scored the equaliser. Fast forward to half-time and it was 1-1.
We knew the second half would be tiring with 2 subs and a very high intensity game. It was very even and could have gone either way. Sadly one of their trips up into our D and a deflection landed with their forward who whipped it across (and into) the goal. The team showed great tenacity and we had more than our fair share of chances but couldn't quite convert before the whistle blew. 2-1.
Sad times. But loads of positives to take away. Great determination and intensity. Passing play and squad training is really starting to pay off. Charlotte and Jess voted PoM this week. Bring on our return match and it's all to play for in Div 3 with only 1 point separating the top 5 teams.
Goal scorer: Jess Quinton
MOM: Jess Quinton and Charlotte Heap
Ladies 3s  6 – 0  Sunbury & Walton Hawks 2s
It was a sunny start to our clash against Sunbury & Walton on Saturday and we had our game face on as we warmed up to some great tunes on our match day play list…som questionable choices on that place…Ailsa. We were pumped up, psyched up ready to go and came out the gates firing as their first push back was intercepted by Yas who quickly took advantage of their sleepy start and made her way into the D with the ball but could not convert this into an early goal. This was just the start of a dominating performance by Ladies 3s. We quickly took control maintaining position of the ball for the majority of the game, with several strong runs into the D and shots at goal. Eva Turner had several amazing runs from one end of the pitch to the other but none of us could get a stick onto her crosses to find the back of the net. But Eva got her just desserts for her tenacity. Some solid great defensive play by Manny, Connie and Emma – again when she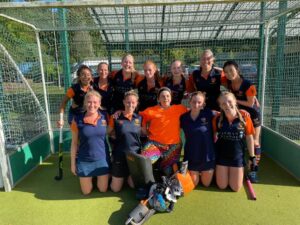 wasn't on the floor – saw Eva run from the half way line down the left side, dodging several defenders and a big strike as soon as she entered the D saw her finding the back of net. 1-0 up and wanting more just 10 mins into the first half. We kept possession of the ball, working it around the pitch. Some great defensive play from Lily Hamper led to some great runs from Grace, Lily M and Ailsa, but 'twas our fiesty red head Eva, who once again scored our 2nd goal from a great cross into the D which was picked by the oppos defender and found the back of the net. Our third goal came from some lovely hockey with the Hamper sisters driving the ball up the pitch, a cross by Eva in to Ailsa on the far post saw the ball sail by the keeper. Our next two goals came from Yas who picked up two loose balls and outpaced the defense, ending up one on one with the keeper. Two flicks past the keeper meant two more goals. Our 6th and final goal came from a short corner, Amy finally decided to score this season and rounded off our match nicely. Special mention to Michelle who sacrificed her body for an amazing sliding save to keep our score card clean!
Final score 6-0 to a very happy unified Ladies 3s who sit pretty at the top of the table currently.
Man of the match: Eva Turner and Connie Lee
Goals: Eva Turner (2), Ailsa Pack, Yasmine Weeks (2), Amy Ballard.
Men's 4s  5 -2  Old Kingstonian 1s
Balletic turns on the banks of the Thames
Never in my experience has a spectator, who is a self confessed non playing hockey novice, uttered such a wonderful phrase that is now part of hockey folklore. A remarkable display of his recently commenced, but far from perfected, gymnastic evening class skills shows that Adam has a great deal to learn.
A back handspring is an important gymnastics skill to master because it is the basic skill used in back tumbling on the floor and beam. A lack of this skill will result in there being difficulties for a fledgling gymnast to connect upper level skills (such as layouts, full-twists, back tucks and double backs) to a roundoff back handspring if there is an inability to do a proper back handspring. The roundoff and the back handspring are both crucial for providing power to whatever follows this move. When bored Adam doesn't do Mexican waves but instead highly flawed gymnastic moves as evidenced by his totally unprovoked failure to stay on his feet in approximately 10 square metres of pitch when the ball was on the other side of the pitch. Our latest debutant, James, must bring his dad, Stu, back for more deep insights following his stating to Adam after the game "I was impressed by your balletic turn ". Stu was not to know that the Geordie world associates the phrase "balletic turn" with certain moves and actions of ladies of the night in the Newcastle. Adam's secrets are now in the public domain.
As the video went viral Bruno Tonioli commented "He just canna not go on the show cos he gotta do better".
Thankfully this was not the highlight of the day on our visit to the leafy KGS ground on the banks of the Thames for our 4th game of the season. There was the usual burning of the midnight oil on Thursday in order to decide who was playing with the smoky plume still working its way out of the chimney as Friday lunchtime beckoned. More players were n/a than available.
As always the Bank of England magic was used and we had a well balanced squad of 13, one goalkeeper. 3 defenders and 9 attack minded players.
The first half started in exactly the way we planned to start and therefore it was no surprise that we were 3 up reasonable quickly with 2 from Jake and one from Knappy. 10 minutes from half time Sam C junior, as opposed to Sam C intermediate and Sam C senior, nudged home our third. At that point we began to regress
and made hard work of the next 45 minutes turning a 4 – 0 half time lead into a 5 – 2 win. A disappointing scoreline and second half performance but due credit to OKs who were whopped 13 – 1 last week and could easily have raised the white flag and capitulated. A go for broke change in tactics to press us high up made the difference. The fifth goal was scored by Jake, to complete his hattrick, who clearly does not want to relinquish his 2022/23 golden stick mantle.
Notwithstanding our hiccup there were some very decent performances from Brandon, James, Millsy, Ben J and Jake but perhaps we made too many positional changes from our initial starting lineup rather than remaining consistent.
Next week we are off to the beach and welcome the impressive Barnes 3s to Oaken Lane at 13.00 who have 4 wins from 4 games and a goal difference of +17,
Goal scorers: Jake Kemp (3), Knappy and Sam Cruthers
Mom: James
Dod: Matt J – wrong coloured shorts.
Report written by Wayning Powers
Ladies 4s  3 – 0  Ashford 2s
After a long drive to Ashford and a quick warmup in the cold the ladies felt ready to take on the strong Ashford Ladies 2 side. Some solid connections between the back and midfield lines across the first half allowed the forwards to get shots off at goal. Given our strong possession, we went into half-time 1-0 up following a run up the left by Niamh resulting in a fabulous goal into the back of the net from Colleen.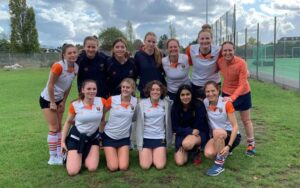 A couple of half-time haribos from Paula fuelled us up ready to take on the next 35 minutes. Shortly after the whistle and some strong connections, Poppy scored following Zoe's skilful play up the wing.
Short corners for both sides started to make the match look close, but we remained confident going into ours with one resulting in a goal from Charlotte on far post.
Some excellent play from everyone today, a clean sheet for Naysa in her debut match for OCs. We should all be proud of our 3-0 win against Ashford W2s
Joint PoM: Zoe Jones, Niamh Hepburn
Report written by: Charlotte Reed
Ladies 5's  0-2  Epsom 5's
Lots of cheery faces in L5's after this match – not too shabby a result for a top of the league vs bottom of the league match. It has to be pointed out the opposition won 12-0 a few weeks ago. L5's are improving all the time – the more we play together the more we are starting to gel, and pretty soon the balance on the scoresheets is going to change.  The number of goals against are going down week by week. The goals for WILL start going up.
So despite the positives and the high spirits, this was always going to be a defensive game – their goalie did look a little bit bored down their end of the pitch, poor thing.  We went out strong and confident, as instructed by our captains, and held off for a good twenty minutes before the first short corner came. Our defenders were doing a storming job, but the opposition carefully and deliberately placed the ball onto a foot – outcome no 1 for them.  They scored off the short – a really good goal – and little we could have done to stop it.
We kept our heads up with some assured play, getting better and better as we moved towards half time.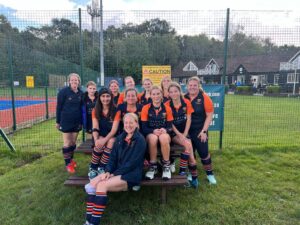 Some fantastic runs from Evie down the right hand side, getting the ball down the pitch.  Frankie picking up some nice passes on the forward line and dribbling past their defence.  Ably assisted by our newcomer Sophie who did a brilliant job, playing out of position on the forward line.  We promise to get a few more balls your way as the season progresses.
The second half was a little more eventful, with both captains taking a couple of knocks for the team. Nicola was first and reluctantly hobbled off – with a growing bulge just above her shin pad, where she'd hurled herself in front the ball – ouch. She was in no shape to carry on.  Soon after another short corner followed, as the ball was brilliantly cleared out of the D, but ever so slightly deliberately off the back line.  Carolina, not to be outdone by her co-Captain, followed the injection to top of D and threw herself into the tackle, landing in a heap on the floor.  For a minute we thought we were going to lose her too, although the two Argentinian refs didn't seem too concerned. She carried on however, as another short was awarded. They managed to convert again – another great goal – and the score was 0-2.
We held out for the rest of the game with some excellent play from Amanda and Anna in midfield, intercepting and ensuring the ball broke through to the attacking half.  The opposition kept up the pressure, but we maintained our defence.  They had another goal disallowed, and the scoreline remained at a fairly respectable 0-2.
The whole of the defence deserve special mention – Kim, Carolina, Frankie, Sarah, Phoebe and goalkeeper Izzy did an amazing job against a strong and skilfull opposition. POM fairly unanimously went to Phoebe though for some brilliant tackles and clearances from the D, dodging past their players with ease, never giving up and being generally suberb.
All agreed it was an enjoyable game. They were a friendly bunch  – our favourites so far – and there was a really nice atmosphere on the pitch, which deserves special mention.
The 5's once again gave it their all, with passion, drive and determination.
For Goals – check back next week.
Stormers  4 – 2  Old Georgians Fire
Vengeance was high on the agenda prior to the start against Old Georgians. After loading their team last season all were interested to see who might turn up this time…Sam Ward perhaps!! Our new warm-up once again almost ended in a pre-match injury with Ports narrowly escaping all 3 balls being thrown to him at once. Sharp reaction skills boded well for the game! After the usual rousing pre-match speech from Goalie, which seemed to actually help this time, we started quite well. It seems keeping possession & passing it around might actually work. We camped in their half before their aura of entitlement awoke with what seemed like "Hang on! These commoners shouldn't be putting so much pressure on us in our own half!"  This resulted in a few skirmishes into our half & Cato being taken out. His reaction & subtle elbow suggestion towards the umpire who was scared to use his whistle, worthy of an accolade or two! Play went to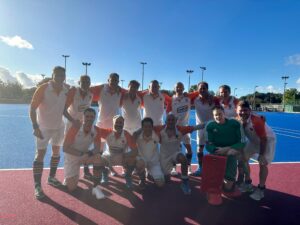 & fro with the home team seeming to get back into the game. We had a few chances that any other day would go in…we seem to be still waiting for that day. Following a few circle entries, a ball popped up right in front of the goal only for Will to expertly push it over the bar. The 0-0 scoreline wasn't to last long & some good interplay down the right with Hawky (spurred on by his son watching & accessing Dads play) finding Will who put it into the back of the net. We put some good passages of play together moving the ball about well. Ash's monster overheads from the back put them under some real pressure with our forwards always ready to pounce. Will netted another goal & we entered half time feeling pretty good being 2-0 up. "lets get out there, score a 3rd & 4th to put the game to bed" said someone. Well, after about 2 minutes of play the score was 2-1!! We managed to compose ourselves and get back into the game. Small errors were starting to pop up which meant the game was getting a little stretched. Nonetheless, we managed to grab a short corner which GB Stu pushed out straight for once & Grant put it on target for once to score! It was a first for all involved! The home team were getting more and more irritated, mainly with themselves. If memory serves correct, we then went 4-1 up with Will producing a "Greg Nicol" turn & shoot off the back foot. The backboard thumped to confirm the quick fire shot! They managed to cut us open and got into the circle only for some "stuff" to happen & a penalty stroke to be awarded. Firstly by the opposite umpire then the umpire who's circle it was! Interesting was perhaps the best way to describe it. Goalie picked the right way but his fast approaching holiday meant his reactions were already on the beach! 4-2 the scoreline with about 8 minutes to go. We managed to keep the ball & made some good right side attacks. One of which resulted in the ball going across the goal face, JJ to slide & somehow miss the scoring opportunity. We held on for a good 4-2 win away from home. Will picked up MOM for his 3 goals. With our overall performance improving, the league standings are looking good although an increase in goal scoring and decrease in conceding would help our cause. Onwards and upwards to our next game at home v Hampstead & Westminster.
Goal Scorers: Naylor (3), Grant Taylor
MOM – Will Naylor
Report by Grant Taylor
Ladies 6s  2-0  Old Kingstonian W3s
L6s took to the field with a strong attacking formation, after a last-minute illness led to a quick reshuffle of our anticipated line-up. (Read, we ended up with only 3 defenders, and just had to run with what we had!) OCs had strong possession, but despite George/ Izzy/ Amelie/ Ros/ Freya continuously driving the ball into our D, we couldn't quite convert any of our many chances. A nervy 5 minutes before the half-time whistle saw an impressive display of rock-solid defence from our backline when OKs found a sudden burst of energy.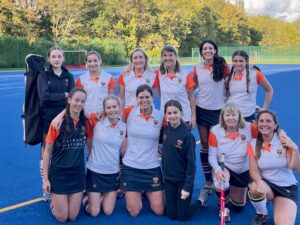 Our midfield was definitely the star of the 2nd half! Going out even stronger than we'd started, a breath-taking cross into the D from Izzy A was converted by Jane, with her usual ruthless execution.
Suddenly, the pressure lifted, and from that moment we felt the match was ours for the taking. A second goal came soon after – a magnificent clearance from our D by Rosie P set up a deft and powerful run down the pitch from Ros, which was crossed in by Jeanette S. Job done, our attack kept the pressure up, and our defenders kept the ball well away from trouble.
Clean Sheet: GK Freya St-Gallay
POM: Rosie Preston in her 2nd ever Ladies fixture
DOD: Lucy for putting the correct top/sock instructions on teamo….and promptly turning up in the wrong combo
Barnstormers  1 – 2  Epsom Old School
Prologue:
Having turned up today at the OC fortress, ill and taking medicine and with a suspected fractured wrist, I made it my business not to let down the other 10 (at this time I was not aware of any extra players) , suck it up and play when really I probably should not have. Also as the only goal scorer and in Yonge's own words "played great" you can imagine my surprise to hear that in a dictatorial leadership move, my friend and captain, made me DOD. This all after Redders first three passes went to nobody and Gracey (as only Gracey can) had a tantrum and threw his stick on the floor.
However, I take it on the chin and learn from it and I am sure when I look back it will have made me a better man, more resilient, more humble, more fucking…you have got to be kidding me 
Match Report:
The sun was shining on a glistening OC's pitch as we arrived bang on time for the 9.30am warm up. Knappy sliding in, dog bowl in hand having already run a mini marathon whilst trying to get his dog back after chasing the deer. The stage was set for a fantastic game where we would push for 3 wins in a row against a team that we last played in a friendly on the hottest day of the year.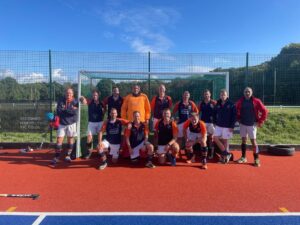 And it looked like we may well get that 3rd win in the first half. Although Epsom got some shots off the never looked like getting past The Wall, our defenders seemingly in control (thank you JC for helping out) and when we broke through midfield Yonge, Packers, Gracey, Cuzza and Mark all had time on the ball to execute good short passes that moved Epsom around and allowing us up front to get a bunch of short corners and have a good number of shots on goal. Having said that maybe that should have been the writing on the wall (not literally The Wall, more figuratively). With that number of potential chances and being held to 1-0 at half time through well worked team goal finished by Quints (me), maybe too often we see the second half in these close games take a downturn.
Epsom absolutely turned up in the second half and most of the play was inside our ownfinal 3rd. We seemed unable to get out as we had in the first half and instead dug in defending our goal line with The Wall (the actual "The Wall" this time) making numerous saves and keeping us in there. In the end however we would succumb to two relatively soft goals and see us losing 2-1.
This is one of those matches where I feel we lost it, rather than they won it. Room for improvement but we power on to next week where we have a chance to regain our momentum.
Special thanks to JC, Knappy and Manmeet for stepping in to enable us to get a team out. And also to the umpires, who, whilst some of the decision where perhaps not 100% spot on, came as new umpires to make sure the game went ahead. We cannot play without them!
Well done to The Wall on a deserved MOM.
Ladies 7s  1 – 3  Surbiton Sirens
So: on a sunny morning I rocked up early to Manor Road to exercise the dog/team mascot, and get the doughnuts. Knowing we had five Back to Hockey players (although strictly I don't think one is B2H as much as changing clubs), two juniors and the rest of made up from two different teams during the previous year, I wanted to foster some team spirit.
We started amazingly well, pressuring Surbiton from the off, and could have had two goals within the first ten minutes. Annie Lee and Darcie Waite made some penetrating runs and in the midfield, Elle Steedman and Veerle Ridderhof (first game for her in a few years) were instrumental in getting the ball up there.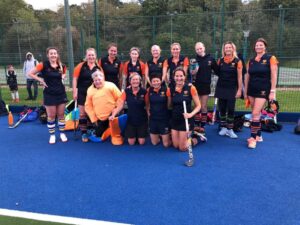 The pressure was kept up admirably and the defence remained staunch as we had very little to do in the first quarter. Sarah Schuere played solidly at left back in her first game for the club, supporting Hels Lovett and Leigh Johnstone across the back. Kate Codd guiding the defence and actively watching.
They did get it our way and then suddenly started to put the pressure on. Despite the solidity of the defence, a shot came in, was scrambled at by both sides and poked in by the opposition.
Despite more pressure, we managed to get the ball up with Elle making some brilliant runs up the right and I thought that Hildegard Davis, again starting for OCs for the first time, would score as some screamers went across the face of the opposition goal.
They came back at us and out together some nice moves, and stuck another one in the back of the net.
Second half, we came out fighting. Laura Williams, another newbie pushed right up as central defender, and Emma Smith (another B2H player) made a cracking run with the ball, passing to Elle who slotted it in around 15 minutes from time. Momentum did swing slowly and we pressurised their goalie with Hildegard being denied a goal by a great save (from the oppo's first time keeper). Fiona McPherson also looked like she was poised to score several times, but was denied.
They pushed back and although I saved a first shot, the rebound went high and it was  a Surbiton stick that knocked the final goal in.
A great performance from a team unused to playing together, and some of whom have not played a match in a long while. Plenty to build on and as we grow into playing together, I can see that the opportunities we missed to score are more likely to arise. And more likely to be taken!
Scorer: Elle Steedman
POM: Elle Steedman and Hildegard Davis
Hamstrings 0  – East Grinstead HC 4
Buoyed from last weeks win, the Hammies travelled to East Grinstead looking to build on that performance. It was another glorious day for hockey, making a solid start, the first 10 min saw us create a couple of chances which without any killer instinct amounted to nothing. The oppos first visit to our D however resulted in a short corner which was dispatched to the top right hand corner of the goal, nearly taking off Justin's head. Five minutes later we found Rosco collapsed in a heap on the pitch with a calf/achilles injury which forced his early retirement. With no bomb squad to call on we had to dig deep. The oppos second visit to our D, another shorty. This time Eastie made a heroic goal post save, needless to say the ensuing goal mouth scramble was swatted in by East Grinstead.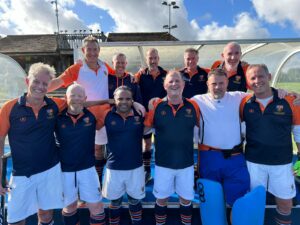 There was a very faint glimmer of an epic 10 man fightback, when we blasted a rocket into the D which Baz deftly guided into the goal, but alas the goal was disallowed.
Second half, and a similar story, we just didn't have any answers to East Grinstead short corner routine. Third shorty, third goal. A spirited last 10 minutes saw us push for a consolation goal with many probing runs by Eastie down the right hand side, but it wasn't to be. We dug in, played some good hockey, but it was never going to be easy, 10 against a clinical East Grinstead side.
MOM – Jon East
DOD – Justin Crabtree
PS. Note for next time: Bring subs.