Men's 1st XI  2 – 6  Teddington 1st XI
The clash between Old Cranleighan Men's 1s and Teddington Men's 1s promised to be an exciting field hockey match, with Teddington striving for promotion to the Premier Division.
Teddington struck first, capitalising on a moment of poor defending by OCs Unfortunately, OC's bad luck continued when they accidentally hit their own foot during a penalty corner, denying them the chance to level the score. The first half was evenly matched, with both teams sharing possession and opportunities. However, Teddington seized the advantage when a pass from the backline found its way to their striker, resulting in a quick sequence of passes culminating in a well-placed shot. At halftime, Teddington led 2-0.
Teddington maintained their momentum into the third quarter, capitalising on loose balls and defensive errors to convert two short corners into goals. OCs struggled to make effective use of their possession, and their defence appeared vulnerable.
Finally OCs managed to get on the scoreboard with a great team goal. Joe intercepted an aerial pass and swiftly moved the ball to Broe out wide, who delivered a well-placed pass into the circle. Heywood showcased his skills by eluding several defenders before rifling the ball into the net.
However, Teddington responded promptly, with a controversial short corner leading to another goal, 5-1.
In the final quarter, OCs showed resilience and determination. JJ fired a powerful drag flick into the net, providing a glimmer of hope. The team displayed a stronger performance, but it wasn't enough to change the course of the game.
The match ended with a final score of 6-2 in favour of Teddington. It was a game that highlighted areas for improvement for OCs before their next game.
Ladies 1st XI  2 – 2  Wimbledon 3s
After our incredible new and improved warm up lead by our amazing Jackie we were pumped and ready to fight. We knew it was going to be a difficult match but we were ready to stay strong and play our game.
So we begin, OCs pushback which they were able to take from us very quickly but we weren't worried. We were quick to react and reset our structure and press keeping them under pressure and away from our goal. Emma cut through our line of the defence intercepting a pass and managing to get a free hit for OCs, but weren't able to hold onto it for long and they hit us with a wave of attackers which out defence was able to block and shut them down and get the ball to our centre mid (Molly Hanson) who was able to make a fantastic hit to the other side of the pitch which helped us calm down and reset in their defending half.
Wimbledon were forced to keep transferring the ball and were struggling to get it out and up, our press was making it very difficult for them but they were an opening and didn't waste any time and we were stuck again in our d. We were struggling to keep hold of the ball for long periods of time and they taking advantage of that. They tried to get something in our d but we were able to back out to our mids. And after a bit of hockey ping pong we were able to make an attack resulting in a sideline ball for them on the left but quite deep in their defending quarter. We put on some great pressure and kept it up there but they still have full possession of the ball.
It's a back and forward game, they get the ball to our d and we defend it very well even though it's tough and try get it up the pitch were we usually lose it and the cycle begins again. 7 minutes in, the first of many short corners for Wimbledon, after their little discussion of tac-tics, they were ready. The send it top d and drag flicked centre and top of the goal but Aimee Barber saved it with ease and our defence was able to get it out of danger for now.
After a lot of hassling we got the ball to our left forward (Hattie C) and she skilfully drilled up into their D and was able to get the first shot at their goalie which was unfortunately saved. We were able to keep possession of the ball and keep in their defending half.
After some wonderful passes and dribble we got the ball to our left forward (Jackie Wait) who took into their D and shot an amazing hit at goal which was saved but out centre forward (Danni Judge) was their to pop it in and goal!!
0-1 to OCs
The overall play stays the same, Wimbledon dominating the ball and we sometimes manage to gain some counter attacks. As the play goes on we are gaining more possession of the ball and we are able to play more in their half then we were before.
15 minutes in/to go and Gabi get hit in the head with the ball but manages to continue playing and defending amazingly as if nothing happened.
Wimbledon managed to get another short corner by dribbling down our right and into the d placing it onto a foot, they hit the ball above the backboard gaining us a 16. We send it right were it was intercepted and they do a fast attack down the right and sent it across our d were someone was ready to send it in but Aimee wasn't going to let that happen.
Another ball to Gabby's head but this time she gets hit in the mouth and has to be subbed off. For some reason this ends in a Wimbledon free hit but Emma is quick to take it back after they and attack and begins to dribble and after numerous stick tackles she manages to place it on their foot but the umpire continues as if nothing happened and we track back as quick as we can.
Gaining the ball we we transfer it round and keep doing simple passes and just keeping possession, we send it right were we are able to gain a free hit which we quickly take and begin attacking toward their d, we send the ball out left mid (Sam) were she (unfairly) loses the ball but we keep our heads up and reset out press. Wimbledon continue to put us under pressure but our defence keep calm and Aimee continues to save every shot they send at her as if it's the easiest thing in the world.
Come on OCs!!
After much back and forward with 14 minutes to go, we get a sideline ball in our defending quarter which we fail to get up and the intercept and send a rocket hard hit forward miles from anyone on their team giving us possession again. They gain yet another short corner thanks to a stick tackle outside the d and the umpires stop the time to warn both teams that green cards mat begin appear if the tackles don't calm down. They miss-trap the ball at the top of the d and our left mid (Emma Davis) collects it and begins to counter attack. She sends it to our left forward (Mollie Kelly) who dribbles up the pitch but is tackled by an unexpected defender.
After some more hustle and 9 minutes to go, our centre forward (Hattie) earns herself a green card due to a stick tackle leaving us with 10. We move to a 1-4-3-2 structure and try to just keep them away from our goal and gain possession. We gain Hattie back and as she gets on the pitch they immediately gain a green card giving us the upper hand. And we gain a free hit 1 metre from their d. We get it to Sam and with one touch in slams it towards the goal missing it by a metre.
After an excellent attack from then we gain back ball thanks to our left forward (Jackie) who gains us a free hit near halfway. Our defence send it round doing simple passes we slowly but surely are getting the ball up, we get it into their d were it gets taken off us but we weren't going to give up that easily Sam nicks it back and takes another shot at goal. Save but Dani was their and begin the fight were she managed to pop it into the goal where it belongs with 6 minutes to go!
0-2 to OCs!!
Half time
After our team talk filled with tac tics, energy sweets and motivational words we were ready to continue our battle. We return to the same things as the first half with their dominance and our defence sending wide and up as best as we can. After being a few minutes in our half and having to bring our whole team into our defending quarter apart from our left forward (Mollie K) who was a few metres outside ready for any loose balls for the counter attack they manage to gain another short corner 4 minutes in. Yet another misstrap which we use to our advantage and start the counter attack. But we rush it and lose the ball.
2 minutes go by and after a lot of back and forward and a great save from Aimee the gain a short which
Aimee saves 2 shots in a row and our centre back (Hazel) manages to save the next one right on the line and clears it wide.
They take the sideline ball quickly and gain another short. They send it top iffy stop but our left back (Mia Carter) is their to take it off them before they get a chance to do anything and sends it to our mids. We manage to transfer the ball round the back to the right and get it to our right mid (Sylvie) who goes forward with it and plays a quick ping pong match with the opposition then continues to drive forward into space. She's faced with a 2 on 1 and loses the ball and we are back to defending in our last quarter.
9 minutes in they skill around a couple of our players and send a hard hit across the d were our right back (Candela) gets the ball dribbles out the d and sends it left to our left forward (Hattie) who manages to get it past halfway and slips it to our centre forward (Dani) who has to fight for it as an unexpected defender tries to take it from her who wins it and sends it to the left forward (Mollie K) who tries to send it to the left mid (Emma) who dribbles and sends it right were we unluckely lose the ball. We get back and reset our press.
We intercept their pass but get tackled immediately and they begin to use their quick legs and sprint towards our goal and we track back and slow them down as best as we can but they get a short. They send it top slip it and send it far post were our right back (Candela) manages to stop it from entering the goal…. by using using her shin pad resulting in a penalty stroke. Which they manage to score, with 24 minutes to go.
1-2 to OCs.
We reset and mentally calm down and prepare ourselves. Our centre forward (Danni) sends it back to centre mid (Sam) who quickly slips it right to right back (Candela) who dribbles up the pitch creating some triangles with Sam and our right mid (Sylvie) and we reach their d we they gain a 16 and we track back to set up the press.
They send it right and begin to attack but Jackie does an amazing tackle and wins us possession again and sends it to our centre mid (Sam) who attacks down the right and then sends it back were it unfortunately lost and they counter attack without hesitation were they reach our d were our centre back (Hazel) cuts them off hitting it wide but hits our other centre back (Gabby) in the foot creating another short. Miss-trap again but they manage to gain possession again and take it into the d and shoot and luckily hit the post reflecting it wide to them resulting in other short corner. They hit it and hits post again! But was above backboard so ended up as our 16.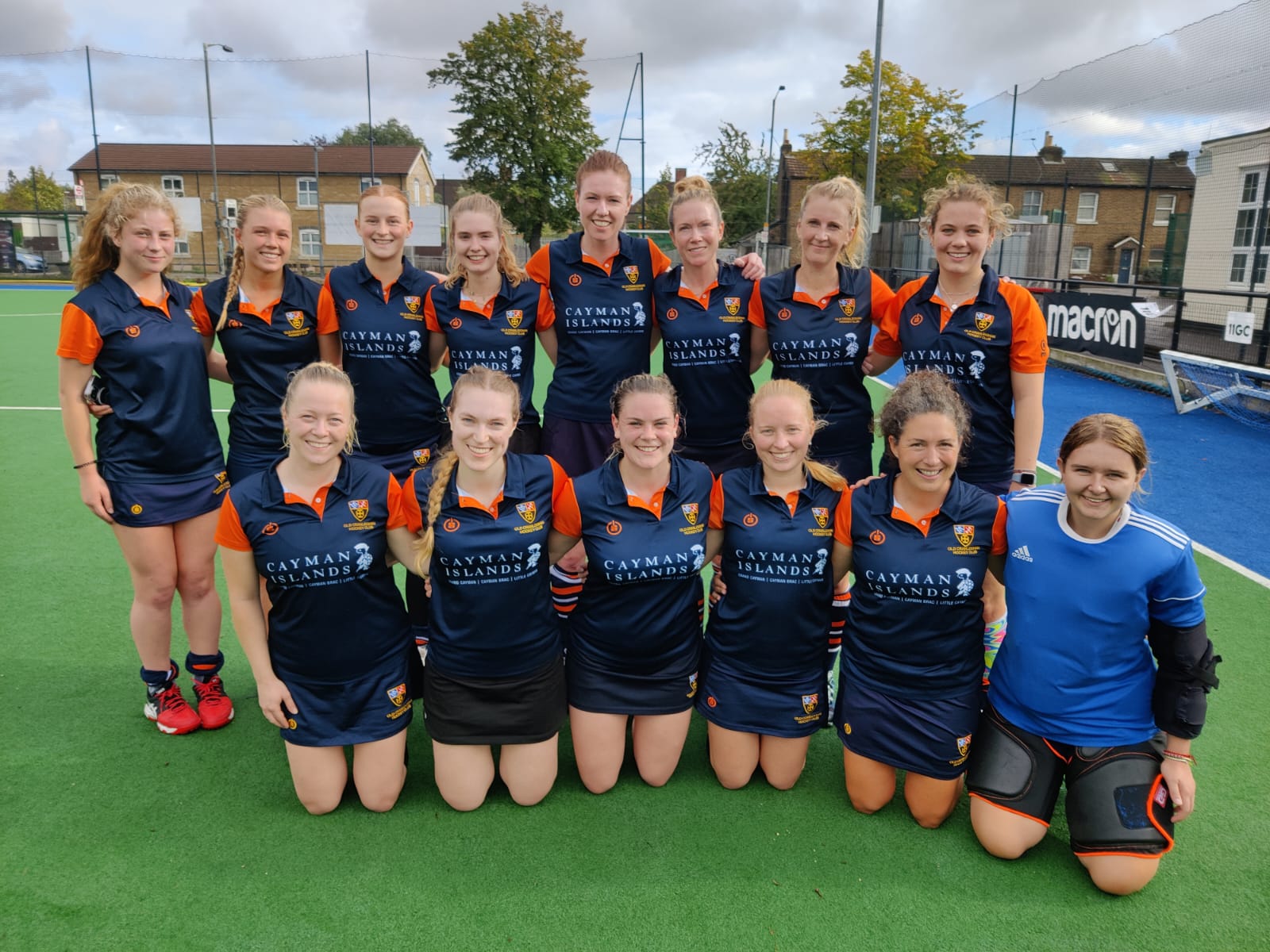 Our centre back (Gabby) sends it to Jackie who dribbles up the pitch and results in a Wimbledon ball which everyone is left confused but then the umpire realises he made a mistake and gives it to OCs but we end up losing it again with 18 minutes to go.
After a counter attack and roughly 5 stunning saves from our goalie (Aimee) they win another short. They shoot Aimee saves we try and dribble it out but lose it and they dribble round us and pop it into the goal.
2-2…
After a lot of counter attacks we managed to win a free hit in their defending half, centre mid (Sam) takes it quickly and gets it to the border of their d, sends it wide to our left mid (Madi) she pops it back to our left back (Emma) who dribbles with ease up the pitch with about 3 people trying to tackle her and wins a free hit metres from their d, which after a lot of hustling results in a long corner. We take it quickly and send it to our centre back (Mia) who sends it to the centre of the pitch where out left mid (Madi) was ready to pick it up and take it up to the edge of the d who wins a free hit. She sends it to right mid (Sylvie) who transfers it round to left back (Emma) who dribbles but loses it and they counter hard.
Another double save from Aimee who our right back (Candela) picks up and sends down the line to Jackie who manages to win a free hit in their defending quarter. Centre mid (Sam) tries to take it quickly but the umpire stops her and sends the ball furter back. Right back (Candela) takes it and gains another free hit closer to their d and sends it wide but gets intercepted and they begin to attack while everyone tries to get back. 11 minutes to go.
Our left mid gains (Madi) the ball and does a 1-2 with left back (Emma) and takes a shot at goal which was lifted so umpire blew his whistle even though it was at goal, but we play on and get back.
We gain the ball again Emma and Madi working together again, they try and send it up to the left forward (Hattie) but can't. They gain the ball back and send it to centre mid (Sam) who wins us our first  short corner. Sam injects the ball to Molly K, she shoots but the ball gets blocked by runner 1 she's goes again and goes far post to Jackie but get saved by the goalie and they gain possession again.
7 minutes to go and they counter attack quick and reaching our 16 the girl with the ball mysteriously falls over and wins a free hit outside the d. Quick self take and she wins a short corner. They receive it top and send it right and hit towards goal Aimee saves and sends it wide. We play a bit more ping pong trying to get it out and eventually send it to Jackie who passes it to Madi who wins us a free hit near halfway.
Counter attack from them, Hazel blocks them and sends it wide to Madi she dribbles until she finds an opening and sends it to Molly K who is now attacking towards their goal slightly by herself Dani pushes up and finds a space where Molly K sends it to, she pops it back to Emma who tries to win something in the d but doesn't win anything.
5 minutes to go they counter attack and Sam gets hit in the head by the ball, she says strong and continues to play. Hazel wins the ball and sends it up sadly gets intercepted, Sam is there to tackle and win it back though and she sends it up to Dani where she dribbles then sends it left to Emma she passes it back to Sam who passes it on to Molly K who runs baseline and sends it p spot where no one was there to receive the ball.
Sam fights for the ball in one of their counter attacks and sends it to Sylvie she slips to Dani who dribbles into the d she goes left then right and BOOM sends it far post and reflects off the post Jackie there to pick it up and wins a short corner!
2 minutes to go!! Molly H sends it top Mia stops and Dani sends it miles per hour toward goal missing it by centimeter's. Mia gains the ball in their defending quarter ready to do the last attack if the game, sends it wide to Emma and the final whistle is blown.
Final Score: 2-2
Goalscorer: Danni Judge
MOM: Jacqui Waite and Aimee Barber
DOD: Gabby Cheney – for head-butting the stick and ball.
Written by Candela
Men's 2nd XI  4 – 2  Wimbledon 3s
Goal Scorers: Matt Cornwell, Tom Lawson, Harry Lankfer and Tom Roberts
MOM: Levi Ward
Match report can be shared via video on request…
Ladies 2s  2 – 1  Wayfarers 5s
The Ladies's 2nd XI have had a flying start to the season, but following last week's blip we were keen to get back to winning ways. Our opposition this week was Wayfarer's 5th XI who are always a challenging opposition from a strong club.
As Storm Babet forced the rain to come thrashing down during our warm-up you would think the team's spirits would be dampened. Au contraire! With fire in our bellies, we headed to our starting positions.
OC's started strong we utilised the line ball and played it well out from the back, however even though we were by far the dominant team, spending the majority of the half on the outside of the attacking D, we struggled to convert any of our chances. A frustrating but promising first half.
After half time it wasn't long before the pressure we built upon in the first half allowed us to convert, and it came from a short corner – a rare occurrence for the Ladies 2nd XI. The ball flies out to the top of the D to Pricey, Pricey then slaps the ball back to Liz as the injector, cutting it back to Laura H who slots past the goalie over the line, 1-0. The goal was accompanied by a strong goal celebration, showing how much it meant to the team and to the goal scorer – pictures available to support!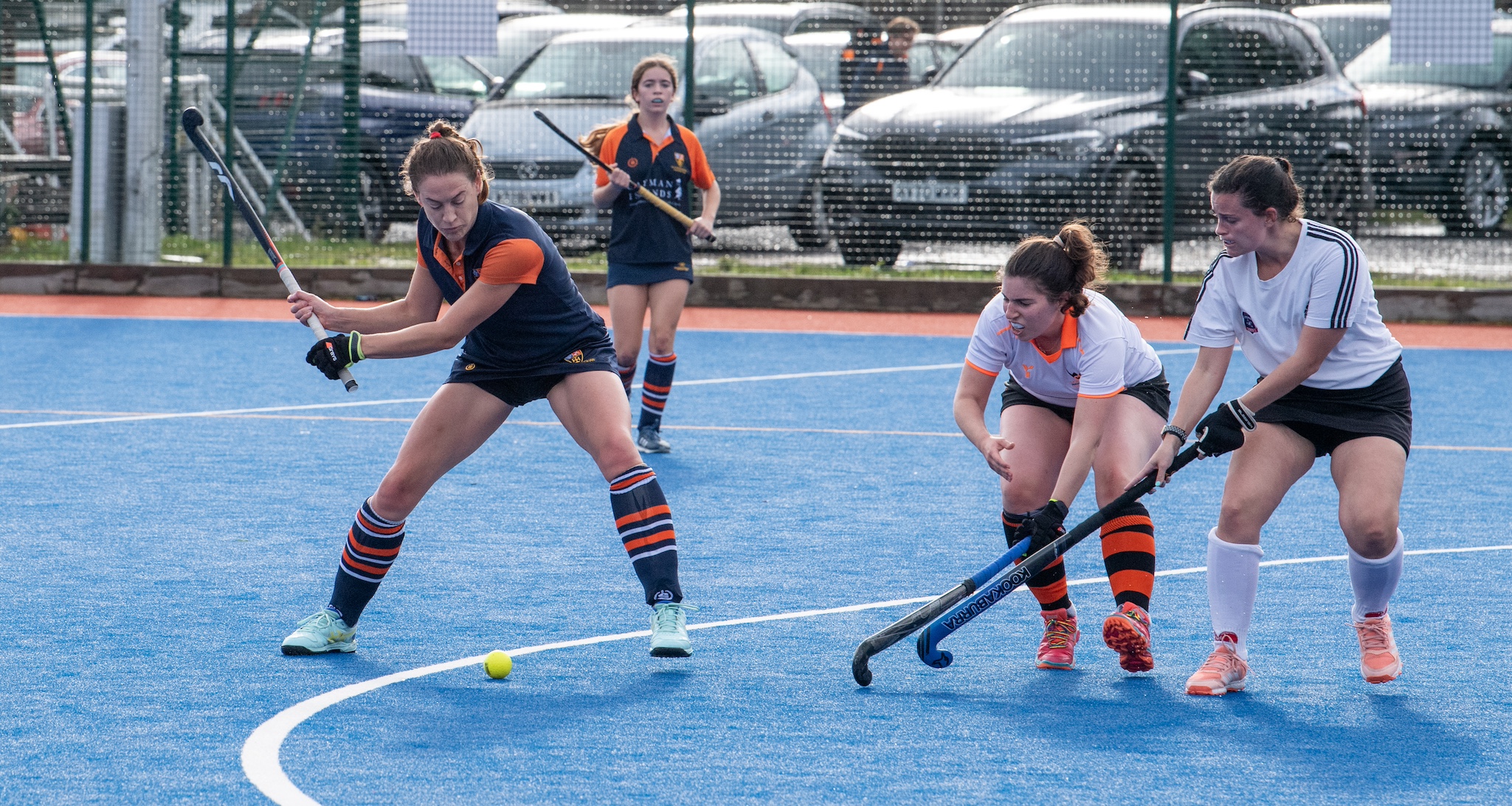 As can be the way sometimes, not long after our goal our defences were down and Wayfarer's, who had been building in confidence in the second half took a really quick ball outside of the D which resulted in a lifted deflection into the back of our net, nothing Jasmine could do, 1-1.
The rain finally paused and the sun broke through and shone a piece of magic on to the pitch as the ball made it's way to Jess inside the D who took aim and sent a rocket into the backboard, OC's are back on top, 2-1.
Then the team just had 10 minutes to hold on, it wasn't pretty and definitely not our best hockey however to do well in the season sometimes you have to come through these ugly games, and that is what we did. Final whistle, 2-1.
Shout out To Ele (MoM) and the rest of the defence who tackled and played the ball out from the back confidently.
A shout out also has to go to two excellent umpires who kept the game moving swiftly and as we look ahead to the rest of the season OC's are still in amongst it near the top of the table. With a week off next weekend the team plan to work on our clinical goal scoring to see us reach our goal of achieving promotion.
MOM: Ele Lunn
GOALS: Laura Hutton & Jess Quinton
Ladies 3rd XI  6 – 0  Richmond 4s
Sitting at the top of the table and feeling confident we headed into our match away against Richmond. We came out with intensity and within a few minutes had several shots at goal. We played some great hockey, working the ball around the defence to open up the pitch. Some great runs into the D led to a few short corners and Lauren scored our first of 6 goals after it ping ponged around a few players and found the backboard. We kept the intensity high and kept possession for the majority ofthe match.
Continuously pushing their defence hard leading to our next goal from Manny with her trademark torpedo hit from the top of the D. Our 3rd goal from Jess Q with an impressive strike from the edge of the D, our 4th goal came from a perfectly weighted ball from Georgie through to Yas who finally got past the keeper. Our 5th goal came from a surprised Josie whose lightning quick reactions picked up a kick from the keeper. We kept the ball in their D and a missed shot at goal from Yas bounced to Lauren who smacked it past the keeper for our final goal. It was a great team game and another comfortable win under our belt.
POM – Lauren A
Goals – 2 x Lauren Anderson, 1 x Sarah Mann, 1 x Yasmine Weeks, 1 X Josie Perrin, 1 x Jess Quinton
 Ladies 4th XI  5 – 1 Barnes 7s
In a thrilling match, L4s secured an impressive victory over Barnes L7s with a final score of 5-1. Despite L4s clearly dominating from the start, Barnes was the first to put a score on the board. The shock goal was exactly what was needed for the ladies to up their game and start scoring.
Jacqs Stacey, at the 20 minute mark, was the first of the team to find the goal and 5 minutes later she popped another one through. Following Jacqs's lead, Poppy Protasiuk brought them to 3-1 at half time.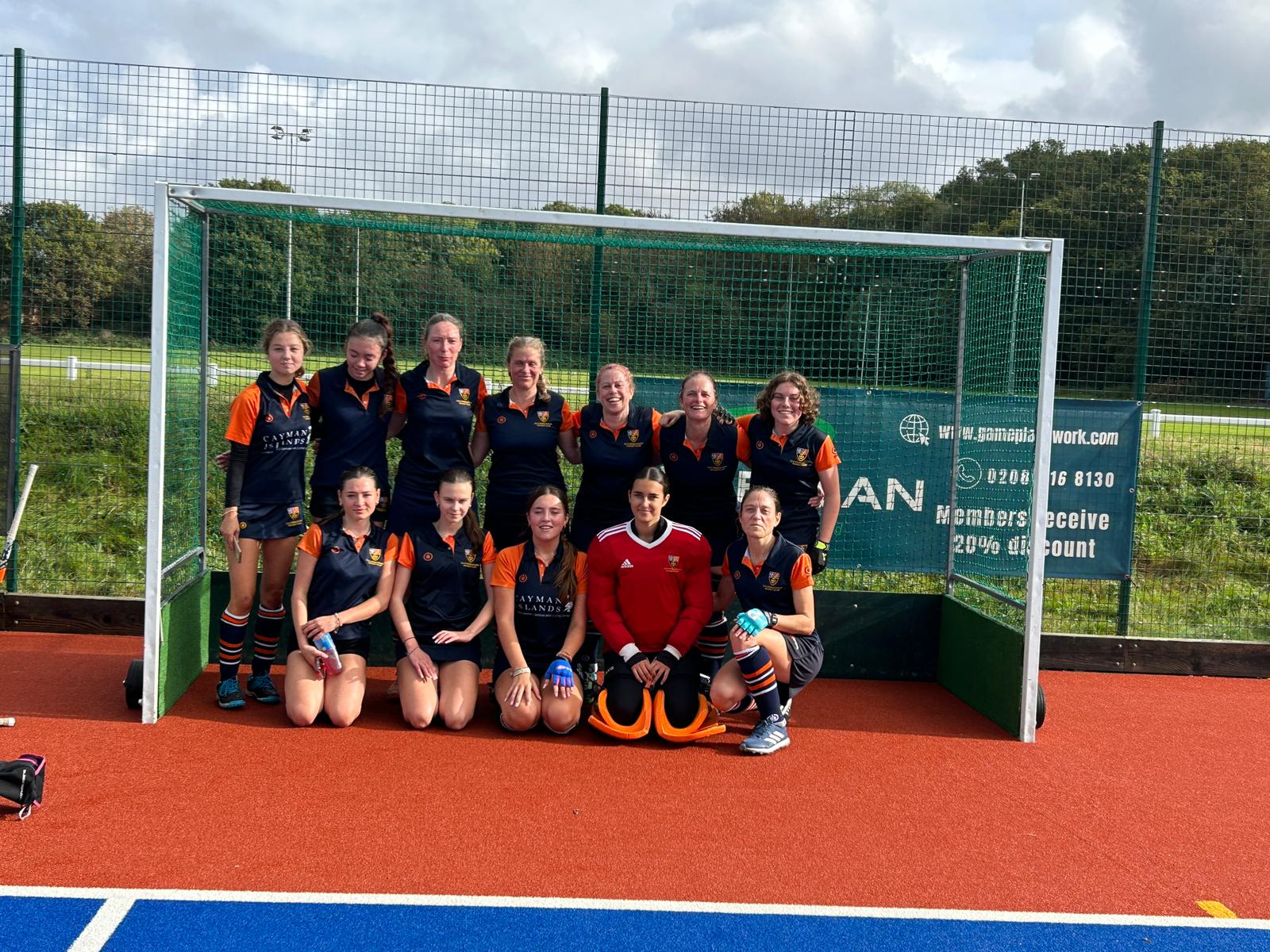 The second half saw L4s dominating with multiple narrow misses. An interestingly worked penalty corner saw Poppy slipping her second one past the keeper.
For the second time this season, L4s were awarded a penalty flick. Bernie bravely stepped forward to take the shot. Despite playing a perfectly placed ball, the keeper managed to save it. Determined to get a goal under her belt, Bernie decided to go 'old school' and get her goal during open play.
A fantastic 5-1 win from a team that played a brilliant game together.
Player of the match goes to Bella Perry.
Written by Paula Dormer
Mens 4s  1 – 6  Barnes 3s
We was thumped.
A top of the table clash saw Barnes 3s cement their place at the top as they gave us a lesson in a destructive performance. Our unbeaten run of 50 weeks and 20 games was over.
The previous Saturday ended with us bemoaning our playing on the sandy wastes of Oaken Lane with a very prophetic wish of a wet Saturday morning to counter the sand on the pitch. Storm Babet did her best and produced a perfect storm to make the pitch excellent. Try as she could with a monsoon 12 minutes from the end Babet could not come to our rescue as at 0 – 5 down CJ and CB decided against abandoning the match even though a few of us pleaded them to do so.
The first 5 to 10 minutes gave no sign of what was to come as we had 2 half decent chances to take the lead. The well organised and hungry Barnes side woke up and once they scored two goals in close proximity the writing was on the wall as we were not second best to the 50/50s but third best.
A good distribution from the back was supported by a fast and aggressive midfield and forwards who worked very well together. A very good short corner routine produced 3 goals either side of half time as we became less and less effective.
Eventually and with a couple of positional changes we started to match the oppo but were 6 – 0 down by that point. At last we created good chances but their hitherto untroubled keeper stepped up and made 3 top saves. Eventually one found its way past the guy with the pads only to be stopped by a foot on the line. The resultant stroke was converted. We should have sneaked a second consolation right at the death but that would have been scant reward for a drubbing.
Even in this heavy defeat there were some top performances with Fraser receiving a unanimous M o M award and Nashy fighting in the midfield although outnumbered 3 to 1 for the bulk of the game.
After successive defeats in November last year we would have poured scorn on a prediction that we would run away with the league and be 4th after 5 games in the league above. Just now need to go on another 20 game unbeaten run.
Thanks CJ and CB for umpiring a combative game played in exactly the right spirit and well done Barnes for retaining their 100% record.
M o M Fraser
Goal – Knappy
D o D Either of Guy or Millsy for leaving their kit at Oaken Lane post match.
Ladies 5th XI  0 – 5  Teddington 5s
The glorious sunny hockey days we have got used to, unfortunately ended on Saturday. The ladies 5's made their way in the rain to Teddington to take on their ladies 5's. 
After cheering on the Ladies 7's on the sidelines the ladies 5's were ready to get their heads down and play some hockey. 
The first half got started and the ladies 5's had a really good start, with some nice passes between the midfield. Unfortunately, Teddington managed to get three early goals despite Naysa's ( who was making her ladies hockey debut!) fantastic saves. Even though we were three goals down early on, the Ladies 5's stayed positive and carried on fighting.  Teddington were held back for the rest of the half and the score line remained 3-0.
After some well deserved haribos and a motivating chat from our captains,  the ladies 5's were ready to give their all in the second half. Teddington scored two early goals in the second half.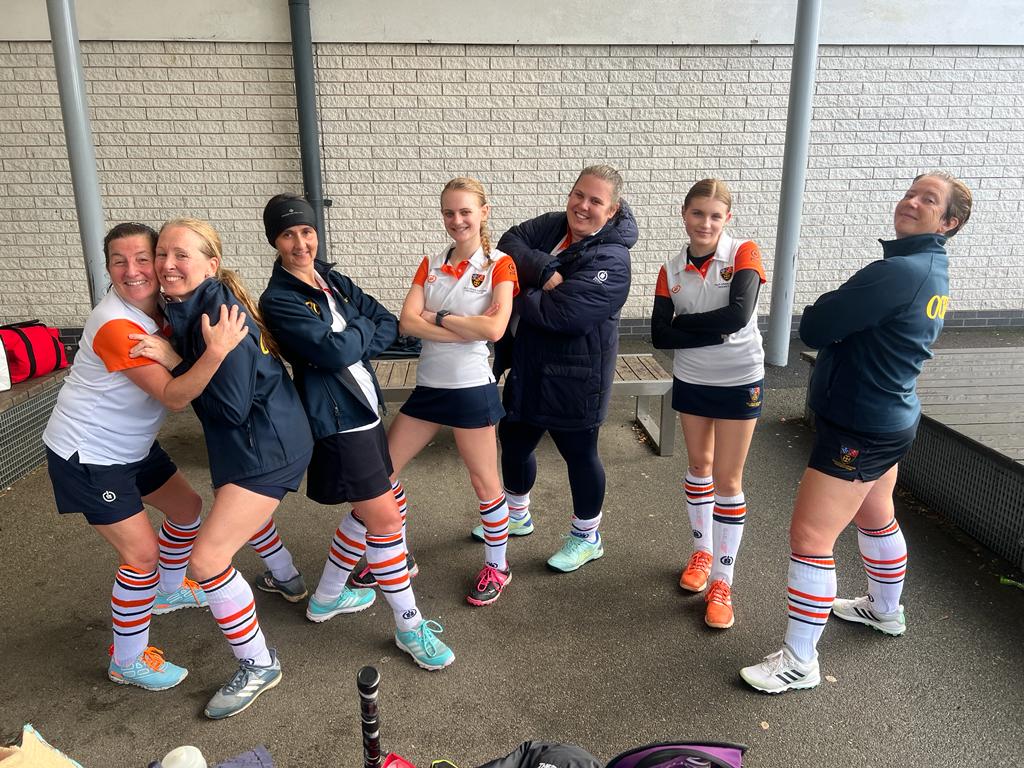 Still despite the score being 5-0 the ladies 5's were still positive and kept fighting. The rest of second half saw some wonderful hockey from the ladies 5's.
Teddington had 5 short corners in the second half and the defence managed to stop 4 of those from going in. Special mention to Lily who managed to last minute stop the ball from going over the line! 
POM – Holly with special mentions for Frankie (Jr.) and Phoebe
Warriors  3 – 1  London Wayfarers
J Factor helps Warriors to first win of the season
Pre match, top of the league Barbarians must have been thinking that the match against winless Warriors would be an easy Saturday afternoon. What the stats didn't tell them is that this performance and ultimately the win had been coming with Warriors, whilst winless, not having been outplayed so far this season.
And then we also had the J factor……
This week we had the J factor to the power of six with Jack, Jonty and Joe P returning to the the lineup and Joe G making his debut in goal joining James and Josh in the team.
Wayfarers lined up without a junior (or vet) in sight, however a last minute boost of Oscar P joining the squad gave the team balance and belief. In the first few minutes that J2O effect was in full force with a move from the left (Jack) finding Oscar in the middle who connected with Jonty only to be be expertly saved by their keeper.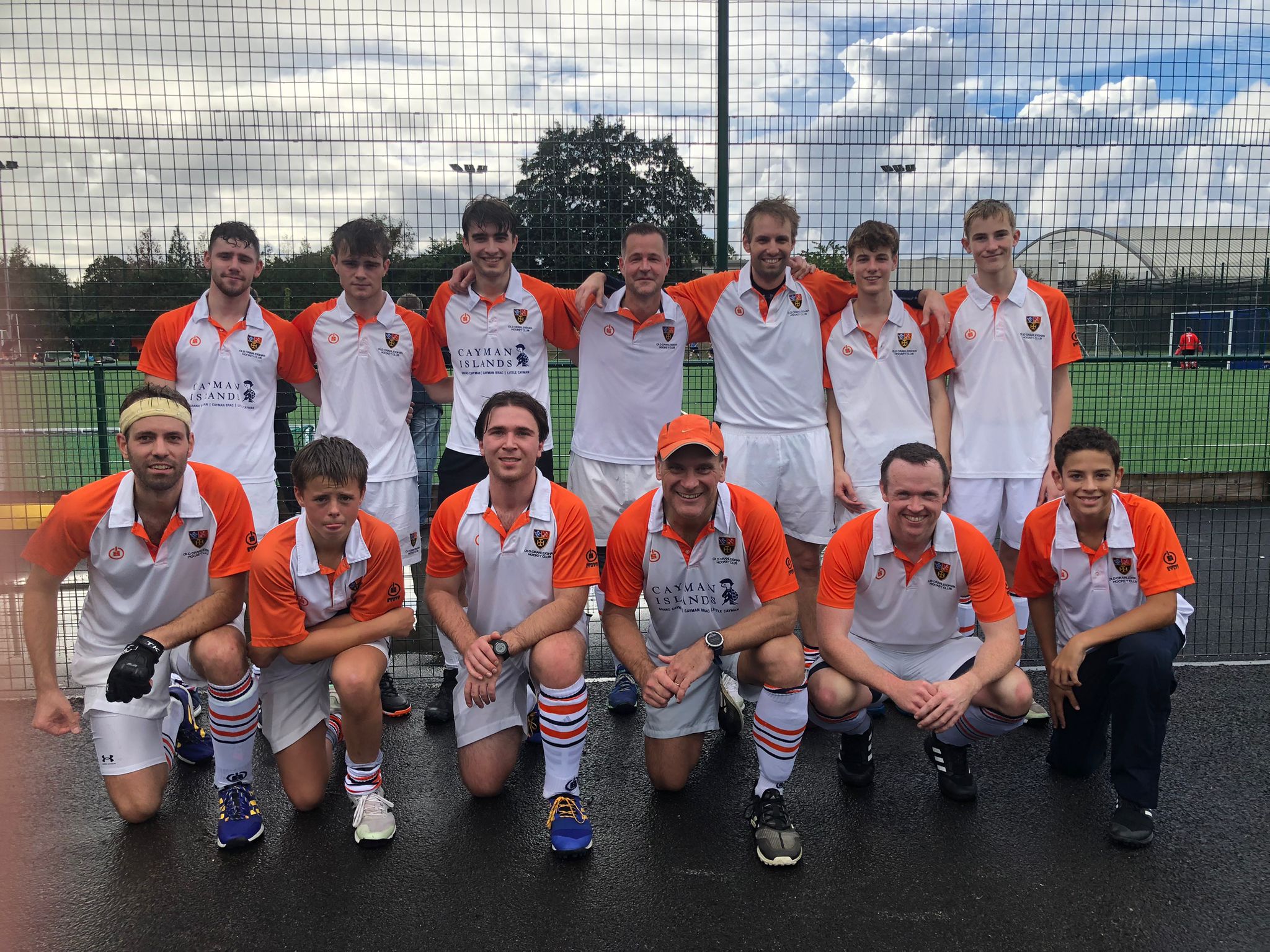 The non J's….OC HAGAR (you know who you are) also played their best game for Warriors to give possibly the best team performance for the team, and certainly this season.
The first half started with wave after wave of Warrior attacks with the team dominating possession. Unlike previous games, we made the possession count with a belter of goal from Jack from the top left of the D after latching onto big bro Harry's cross.Jacks's second for the club was another belter from a short corner. Dominance continued with an unconverted p flick before Jonty buried away our third. Wayfarers did have a few breaks and managed to get a goal back with a clinical strike past Joe, but we reached half time in a commanding lead.
The second half was all about consolidation and a determination not to let Wayfarers back in the game. Whilst we were happy to play out the game, the reality was that we still had more chances and possession and arguably could have scored another.
Great feeling to get the much needed win to restore belief.
Final score: Wayfarers 1-3 Warriors
Goals: Jack Walker (2), Jonty White
MoM: Jack Walker
Hamstrings  1 – 0  Richmond Rogues
"The most one-sided 1-0 match I've ever been involved in" according to the Richmond Skipper and that makes two of us!
On a wet afternoon on the Oaken Lane pitch (which is better with a good soaking) we gathered a few OC friends to make up the squad numbers, perhaps had too many on the bench for this particular match and opposition.
We dominated from start to finish with golden glove nominee, Nige Hawes, only really having one save to make all game. On the whole we played some decent hockey albeit in a formation that was much debated at half time. Thank goodness it was only 5 minutes long, or we could have been there long enough to miss the evening rugby where the result was also surprising only a 1 point game.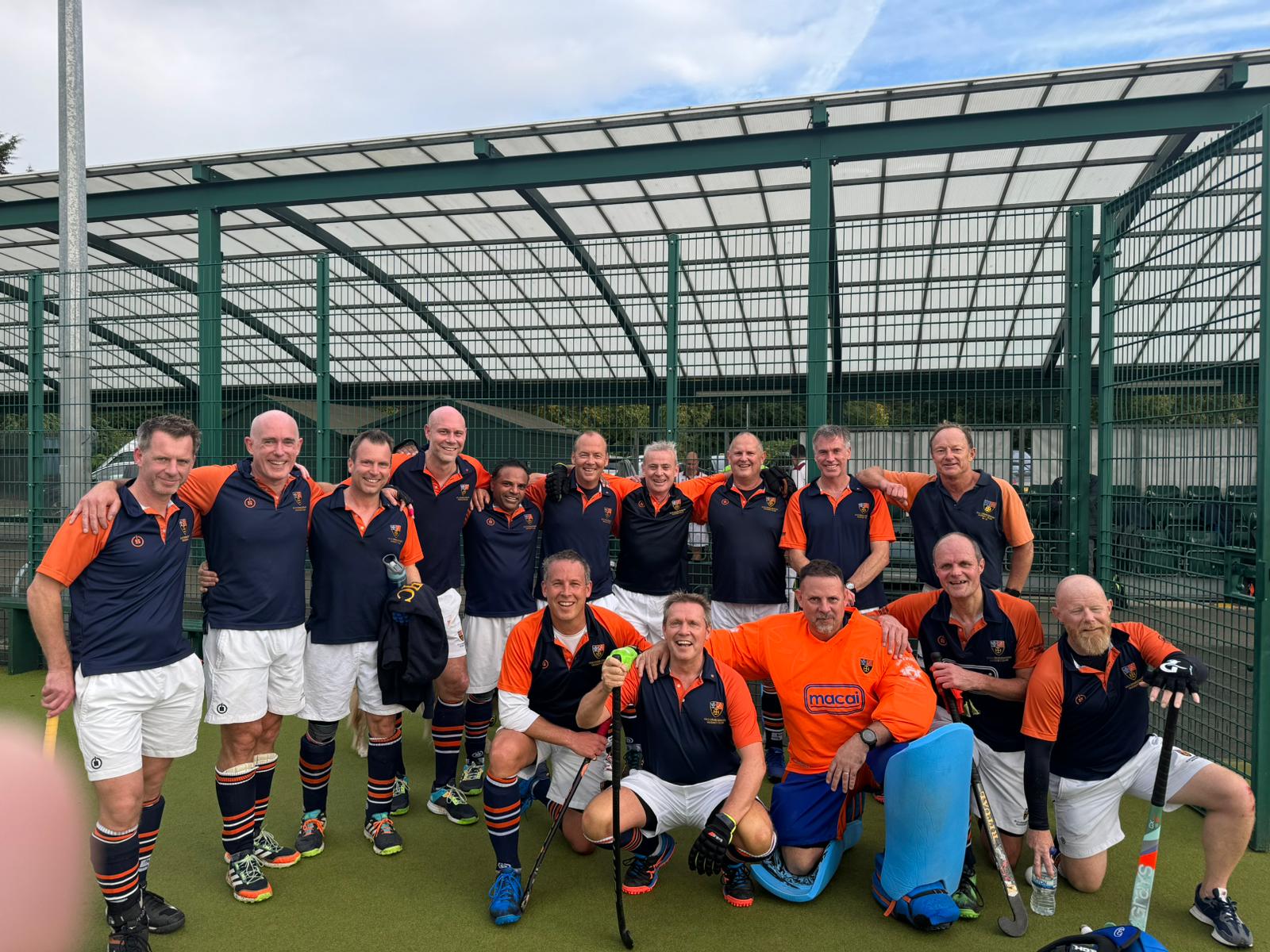 The stats would look ridiculous on every front, plenty shots on target, even more off target, loads of short corners, we simply could not put the ball in the net until around the 60th minute when Simon Quints tucked a well deserved goal away. Irrespective of the formation we played too narrowly but with many of our regulars not available, we were a new (not young) team and overall played well and enjoyed it.
Richmond were  getting frustrated now and made some pretty poor tackles which lit the fuse for Tissy & Quints on a couple of occasions in what was generally a game played in good spirits. We go again in a few weeks.
MoM – Toby Stevenson
GG – Nigel Hawes
Goal – Simon Quinton
Ladies 7th XI  0-10  Teddington 6s
The weather was not auspicious. Rain. Rain and more rain. This did die down a little and I encouraged the team to go out for a warm-up. Whilst staying dry and warm to out the goalie kit on, obviously.
With only 11 players against the team second in the league, we were facing an uphill battle. They had 16 players (half term clearly starts later in Middlesex). We had two over 70, two back to hockey playing their second game in 10 years, and one junior playing their first adult game.  So fluidity and snappy teamwork was an unlikely ask.
Nadia Di Meo had asked to play forward, but with a strange presentment offered to play back – gratefully accepted by Annie who would otherwise have been centre back!
And so it proved. Teddington were on us from the off, pushing forward and scoring twice in quick succession.
With centre-mid Veele having to leave the pitch because of an injury and unable to run, Sarah Schuer at left back also found that she was unable to run, so we were shortly down to 9.5 players.  With heroics from Sarah, Nadia, Pam and Belle, even Georgina, gamely playing down from the 6s couldn't save us from a first half drubbing of 7-0. That said, Teddington had around 10 short corners and only managed to score from one, so I would be quite embarrassed if o were them.
Jeanette, Jane and Annie came back to help out in the second half, which ironically allowed them to push forward at times as we seemed to be better organised. We had a couple of incursions into their D and some good crosses scooted across the goal, alas without troubling their keeper.
Abigail Panditharatna had a storming second half at right mid, learning on the job, and enabling those of us in the D to have a breather. Carol Jacobs put in a star guest appearance, bolstering the defence.
Veele tried to play again, but was eventually forced to retire injured. This left us with 10 wet and weary fighters, all pressuring, running to them and trying to make them play. With at least another 10 shorts against us (each one greeted with a cheer by Nadia), they managed to score from 1 (although I am sure it came off the attackers foot, not her stick). With two more goals from open play, we definitely acquitted ourselves better in the second half.  Belle, playing right back ran second at the short corners and saved at least two shots from scoring with fantastic deflections. Sarah never went off, although she felt unable to run and put herself squarely in the way of several shots and got in some very important tackles. Pam, as always, got stuck in, organised the defence and ran one of every short.
I am not sure what Di Meo means in Italian, although Nadia says it is a mafia name (you play where you like every week now, Nadia!). I am sure it should be Di Leo, as Nadia, like everyone else, played with the heart and soul of a lion!  The team never gave up, regardless of how they felt. It was awesome to see that, and at the end, the scoreline go ten second half was a reflection of how much better we played then.
I saved far more than I let in, but couldn't have done anything without the rest of the team.
POM Nici Goldsmith
Honourable mentions to Belle and Abigail.