Canterbury 2-1 Men's 1st XI
We kick off this week with a match report from Derik (Dutch Erik). Almost certainly the only match report in the country to kick off in Middle English. And then it gets more bizarre.
Bifil that in that seson on a day,
In Southwerk at the Tabard as I lay
Redy to wenden on my pilgrymage
To Cunterbury* with ful devout corage,
As nyght was come into the Old Cranlye
Wel five and ten in a compaignye,
Of sondry folk, by aventure yfalle
In felawshipe, and pilgrimes were they alle,
That toward Cunterbury wolden ryde.
Er that I ferther in this tale pace,
Me thynketh it accordant… **
*Middle English Spelling
**Original manuscript significantly damaged, with large chunks of the prologue missing. Most scholars now believe Coach Matthews' tactical plan was contained in these missing pages. Fortunately, most the good stuff has been kept intact (courtesy of Veo Manuscript Preservation).
.. so the good laddes hath gon forth,
Thoughe alle demaunde a match-report
Alas, the compaignye was of one herte:
Dutchman, as dick of day, his tale be herd.
The Dutchman's Tale: Yes, Middle English gets old pretty soon. This is a Sunday-tale of Surrey conquerors: the Old Cranleighan 1st XI. After having dominated their previous two games, the OCs pilgrimaged east, towards that beacon of former glory: Canterbury. A game to turn the neck and neck league-table on its head; the fearsome OC visitors being 'the team to beat'. The weather forecast for the afternoon featured a moderate 13 degrees temperature, occasional spells of sunshine and a fast-moving storm front coming in from the west.
The pilgrimage was pleasant, due to the convenience of modern automobile infrastructure, and tales were shared along the way. Max soon-to-be-Dr. Bormann told vividly of a German promised land (not the one they used to have in mind), called 'Autobahn', which left speed-devil Benjamin Roe wondering if that's where you go when you die. Cal Holloway was picked up in Bromley, which is just a lovely place, and importantly, certain reputations were upheld as the car-tunes included, among other things, country hit-song 'Born to Fuck' (I wish I was joking), I believe from the album Redneck Shit, which was described as, quote, 'a vibe'.
Upon arrival at Polo Farm spirits were high, and OC-smiles coloured the Sunday morning tapestry. Local Tour Guide Mr Boombastic relished at the thought of scoring goals against his former club, though later he turned somber when he admitted that upon leaving Canterbury he thought he'd "escaped David Matthews for good". The feisty bear-mode Roberts' twins, hot enough to make a bishop kick a hole in a stained-glass window of Canterbury Cathedral inspired fear into the hearts of the young Canterbury side. Meanwhile, Seth Hislop caused generational tensions by listening to music out of one earpod while having a conversation, and dragflicker/accountant James, son of James, dubiously claimed that "the numbers just kind of do themselves". Van de Kerwen, a best bloke, returned after a month-long hiatus caused by a mild migraine, which was especially hard on Manager Meers, as it reminded him of the lonely nights of his marriage. Incidentally, eyebrows were raised when a mysterious individual arrived upon the scene in jeans and what appeared to be a jacket and scarf. Suppose a game broke out then and there? By the time he got into his kit the game would have been over.
Notable absences included Jim Cuts, who was out with his mates stopping the boats in Cornwall, Matt Boote, who stayed home with a sore back after a one-to-one with a Havant player, and aristocrat Lord Lucan, who remained at an undisclosed location 600 miles from wherever they could catch him. In the changing rooms, the weighty questions of the day were discussed, like what in the minecraft is a 'Polo Farm', and whether it is worse to be in a moving car with Ben Roe, or a parked one with Daddy-Irf. On a related note, there was talk of starting a Limbo Fundraiser to make up for any outstanding debts to the Club.
The pregame team-talk was mainly spent discussing first and last names, and Coach Matthews, mindful of his years, drifted off nostalgically every now and then, gazing into the void of a past he could see but not touch. In addition, in what was to be historically unprecedented, Van de Kerwen was instructed to rotate in all four lines, though somehow later on the pitch he was nowhere to be found.
When the starting pistol fired, the OC's flew out of the gates, led by Knight William Phillips, and the home-side could not keep up with their tempo. After a few half-chances, Alex Stone intercepted a ball high up the park, found Son of James on the right shoulder and his cross was beautifully deflected into to the roof of the net by speed-devil Roe himself. Perhaps he was not born to f***, but he was born to run, and certainly born to deflect crosses from the right shoulder into the roof of the net. 0-1 to the visitors.
Afterwards, Cants woke up and started playing hockey, which is kind of what this thing is supposed to be about, putting the OC's under increasing pressure. Knight Phillips drew his sword in what was deemed to be an unchivalrous manner and was sent off the battlefield with a green. The Cants converted their advantage into a PC, which was slotted home by tiktok-famous Tom 'hockeygirls-be-like' Bean: 1-1. In the second quarter, the OC's regained their dominance, creating half-chances through solid play by the Roberts' twins, Rhodes, Mr Boombastic, blue-eyed boy Binney, Bennie Roe and Stone, but to no avail. At half-time, the score read 1-1.
The third quarter was relatively uneventful, with the OCs attempting to penetrate Canterbury's defensive walls, though no crack was to be found. At the end of the quarter, a softly awarded Canterbury short corner forced a saved from Josh the Noble, though he could not stop the rebound, which sank slowly into the OC's net: 2-1 to Cants.  Amidst the clusterf*** that was the fourth quarter, occasionally a game of hockey broke out. Cards were awarded to players and coaches alike, and Matthews spent most of the quarter with his hands thrown up in the air. The OCs won several penalty corners, which gave Heywood and Roe the opportunity to work on their improv. These shall be released soon, exclusively on Veo, under the provisional title 'The Canterbury Fails'. Though the C's did their best to press Canterbury even when they were down on numbers, Cants came away unscathed, and the final score read 2-1 to the home side.
After the game, everybody hung around, disappointed though they were, enjoying each other's tales and compagnie. Dave Matthews, in a moment of reflection on the game, looked away into the distance as he cited the well-known verse from Ecclesiastes: I returned, and saw under the sun, that the race is not to the swift, nor the battle to strong, neither yet bread to the wise, nor yet riches to men of understanding, nor yet favour to men of skill; but it's those h umpires that will do you in.
Mom: Stone
Dod: Dutchman
Ladies 1st XI 0 – 4 Barnes 2s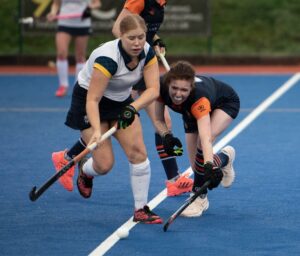 Our clash with league leaders Barnes was always going to be a tense fixture. We went out prepared for them to be physical and tough, and they lived up to that expectation. Barnes pressed high and effectively, and eventually one of their waves of attack resulted in a clean cross into the danger zone and a clinically executed finish put them 1 nil up. We responded well and countered through the left and middle of the field. Hazel and Dani linking well, and some excellent attacking turnovers from Macy and Easy. The next 15 mins was well fought, and we had a couple of decent breaks and short corner, but ultimately Barnes had a formula and they executed it well: switch, attack through the right midfield, baseline drive. We conceded a short towards the end of the half, which they converted and swiftly followed up with a carbon copy piece of attack, this time resulting in a goal from open play.
In the second half we came out fighting, determined not to be pushed off the ball. Unfortunately a little over-exuberant at times, and shortly into the second half we were two players down as a result of yellow cards. Similar story for Barnes in fact who also incurred a yellow for a feisty tackle, at one point it was standing-room only in the sin bin. We did well not to concede whilst down to 9, and once back at full strength we showed great spirit. Barnes took a left side line ball quickly and linked well through the pitch again onto their right hand side, finding the net thanks to an annoyingly good diving finish. Whilst admittedly the goal was delightful, it was a little against the run of play at this point, we'd at times looked dangerous, winning shorts and making the goalie work.
In the end, there's no doubt Barnes were the better team on the day. But we took a lot of positives from the game: our link play was excellent through midfield and we showed great tenacity right from the forward line through to the defence. We missed (and will miss!) our talisman defender Molly as she took a nasty blow to the head in the early stages of the game, but we rallied as a team and rose to the challenge. We will go on building and getting stronger from here.
Men's 2nd XI 7-1 Tulse Hill & Dulwich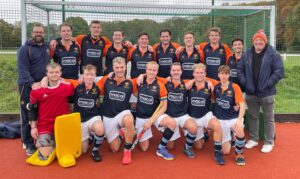 The People's Team were assembled at 12:00 sharp. Vibes were high as the boys managed to successfully evade the torment of TFL inspectors, a skill Cooper is still developing. With Lawson's sentence served the Dream Team was back in full strength, he was itching to play after serving his time but quickly found out it was a 1.25 match ban as he watched the beginnings from the comfort of the sideline.
The Boyz were at home this week meaning Father FRJ could lead his legendary Church warm up. With our prayers said and hamstrings stretched the boys retuned to OCs in high spirits, eager to please our array of fans. On our return Dave Matthews was waiting to lead the troops into battle with the (not-so) Mighty Tulse Hill. Meansy saw his chance at the 1s call up standing right in front of him. Word on the street is that a hatrick in the 2s is an immediate starting position in the 1s and with Meansy's silky hands securing him his first goal within 7 the hatrick was looking hopeful. The 2s were playing as a well oiled machine it was clear we train together multiple times a week(!). By 15 minutes the 2s were 2-0 up courtesy of a Ben Wilson first time reverse. It was starting to resemble the world renowned 12-0 vs Surbiton. Going into half time the score was 4-0 to the People's Team, both Lankfer and DRs goal a result of some crisp passing and teamwork only possible due to the hard yards we put in during the week as a team. Some are calling us the Barcelona of hockey after Saturdays performance.
The combination of Meersy and Dave Mathews on the sideline led to what can only be described as a tactical masterclass. The boys came into the second half just as strong as the first with Meansy roofing a reverse from the left side of the D. The hatrick was surely on, he felt it, we felt it but Charlie Mcarthy did not. Tulse Hill managed to claw one back in the 45th minute but to no avail as our fearless Leader quickly made it 6-1 by putting his body on the line in a diving finish. The game is closing out and Meansy is hunting for that all important 3rd goal, it's the 69th minute and it looks as though it about to come… The short corner gets slipped left, Meansy fires it at the bottom right corner and Charlie expertly judges that it was off target and guides it in at the back post. Meansy is distraught, his 1s call up flashed before his eyes with his hopes and dreams shattered he suddenly has to "shoot off" at 3pm for his party that starts at 6.
Final score 7-1 to the People's Team, securing our position at the top of the table once more. After hearing of the adventures at Spencer HC i decided i couldn't miss out on another post-match drinks, so i tactically drove my car headfirst into a tree prior to the game so that i could no longer use the "I'm driving" excuse which understandably left me at DOD. Lambie was deservingly awarded MOM for his selfless performance, deciding not to get on the scoresheet but being integral in many of the goals. Meansy claimed Champagne moment for his terrific finishes and narrowly avoiding the hatrick so that he could remain in the People's Team.
Wimbledon 5s 1-3 Ladies 2nd XI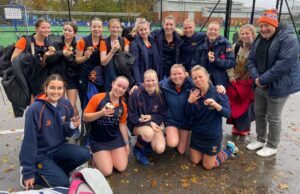 In a spirited encounter at Raynes Park, the Old Cranleighans Ladies 2s clashed with Wimbledon 5s on an early, drizzly Saturday morning. Despite the early meet at 8:50 am, the day began on a sweet note as Helen Hawes managed to squeeze in time to visit the local Krispy Kreme drive-thru en-route to the match.
The Ladies 2s encountered a challenging beginning, struggling to find our rhythm in the early stages. We grappled with a slow start, taking time to gather momentum and truly immerse ourselves in the intensity of the game. As a result, we allowed the opposition to take some early chances. Jasmine Meers, our awesome goalkeeper, faced an early barrage of attacks, demonstrating exceptional agility and resilience to thwart numerous attempts and keep Wimbledon at bay during the initial phases. It wasn't until the game progressed that we truly hit our stride. As the minutes ticked by, our determination soared. We gradually increased our efforts, and joined up our play with some great moments of skill and coordination. The team managed to shake off our initial jitters (or perhaps sleepiness) and played with purpose and precision. Our cohesive gameplay began to unfold, leading to an explosive first goal from Alice Pim, showcasing her prowess with a formidable strike into the net. 1-0 to OCs at half-time.
The team built on momentum from the first half as a beautifully executed team effort from a long corner saw Lea Cato initiating play, passing the ball back to Helen Hawes, who deftly passed wide to enable the ball to enter the D, allowing Laura Price to drive home a precise strike, giving us the lead. Wimbledon countered with a goal of their own, seizing an opportunity from a short corner. A ricochet off the cross-bar and side-bar eventually culminated in a flick that found the mark, narrowing the lead. Undeterred, OCs responded swiftly, as Sophie Nicholas skillfully manoeuvred the ball past the goalkeeper, extending our lead to 3-1. Throughout the match, there were moments of beautiful coordination on the right hand side of the pitch from Olivia Riley and Candela Garcia Uranga with invaluable play and skill from Ella Bailey, which kept the opposition on their toes throughout the game. Holly Quinton and Jess Quinton displayed brilliant determination, creating numerous scoring opportunities and pressure. Charlotte Heap and Charlotte Adair were relentless and their energy and commitment were instrumental in maintaining the team's momentum throughout the game. Laura Price's exceptional performance throughout the match earned her the well-deserved title of Player of the Match.
After the match, smiles all around as the Krispy Kreme stash was shared with the team to celebrate our well-deserved win.
Ladies 3rd XI 6-1 Surbiton 8s
Another late push back for the OC Ladies 3s' and up against another Surbiton side. We played their 7s last season and after our match last week against their 8s, we were ready for another super tough game. With myself, Connie and Josie nursing coughs and cold and a skeleton team at best we weren't quite sure how this one would go, but handily we had David to help on the sideline, once he had worked out which team we were that is (!!) Now, to be honest, the girls know I can never remember the goals, what with being in defence and all (is my excuse anyway, definitely not my age) so I'm just going to give a brief low-down and the goals are in no particular order.
The first half it's fair to say we had great passages of play but Surbiton's back line held firm. There were some cracking runs into the D from Eva, Jess, Josie and Grace feeding into Jacqs, Georgie and Ailsa. Poppy had a great game all round up front and in the mid and Amelie was fantastic and did a sterling job of distributing the ball out wide. Our first goal came from a Jacqs special, popped through a defender at the top of the D and straight strike into the goal. Lovely. The second goal was possibly Jacqs again, let's say it was her and she did something amazing, 2-0. However a quick free hit outside our D shortly before half-time saw a solid drive into the D, past or it was more like, through myself, across our goal only to be nabbed at the far post, 2-1.
I'm not quite sure what was said or who consumed what at half-time but we came out absolutely fighting. Connie, Georgie W and Lily, controlled the back confidently, easily getting out of danger, firing the ball back up the pitch each time. From here-on-in it really was one way traffic. Jess scored a belter strike from the top of the D, Sangster was absolutely back to her best (we've missed you G!), her and Jacqs causing mayhem up front, Georgie scoring a lovely strike via an Amelie pass. After the ball being worked up the pitch, Josie fed into the D across the goal to Aisla who swept the ball home and last but not least, Jacqs again just to top it off and make it 6-1. It was a really lovely, solid game from the 3s. Amazing work Ladies 🙂
Men's 4th XIs 4-3 Spencer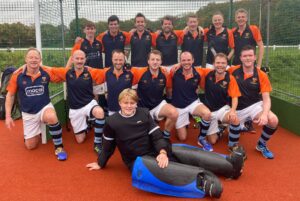 Having spent all week reflecting on last week's pantomime in south London and the associated villains we welcomed Spencer Hurricans to TD knowing that the bragging rights of the other team's results against Spencer were very much in the opposition's favour. Not a single point gleaned to date against a club similar to us, on the up, good club set up, a colts conveyor belt into the club's men's sides and their 1s top of the East Conference.
A hefty number of 15 in the squad was always going to be an advantage and although the final result went our way the early exchanges very much went the way of Spencer and it looked as of we were in for hard time. Some super skills from their young right winger who burned past our defence was concluded with an excellent finish giving Fraser no chance. Faster and more tuned in than us gave Spencer the edge and they would be disappointed not to have put us to bed in the first half. We equalised via Jake who beat the first runner at our first corner and slotted home before their left striker zipped the ball home from an impossible angle into the roof of the net. Guess it was not an impossible angle as he scored.
2 – 1 at half time was the least they deserved. A calmer than last week Adam delivered his team talk to which we pretended to listen. Fraser was on hand to make two or three crucial saves just after half time ahead of our scoring 3 goals in 10 minutes to take a commanding lead. Jake repeated his trick at our next shortie, Emmers added a third and Oscar a 4th. This period of play was probably our best of the season so far. The game became very open as Spencer looked to get back in the game but it was us that had the better chances before a consolation goal 2 minutes from the end gave us a slightly squeaky bum time.
A good win and puts us back on track. Wanderers away on Saturday with a 16.30 pushback. Definitely the graveyard slot in the congestion and Ulez zone and a game that Denton has already steadfastly refused to come and watch.
M o M Brandon Ambrose – Brunskill – for having a longer name that Graham Ankutse – Bruce
Goals Jake Kemp x 2, Henry Emery and Oscar Samuel
NPL 1s 2-0 Ladies 4th XI
A balmy mild November morning, but with rain looming, greeted the ladies 4's, away at NPL. We knew this was going to be a tough game, we knew they are skilled players. Within the first ten minutes they proved their worth as we defended out of our skins. We managed to up our pace and attempted to get into their D, but failed to convert goals. Charlotte R even got a ball to her face (she said it flicked off her stick). There were some beautiful drives down the right side, but their defence was strong. In that first half our defence were amazing, NPL had 3 short corners back to back, but sadly, on the third they scored.
Our half time PEP talk did just that: we were told we were faster, and could out run their players, that we were stronger too and needed to switch the ball around the back. We stepped into that second half with a bit more hunger and aggression. From the onset we used our backs, starting from Niamh, who has a wonderful way of looking at the bigger picture, and used our backs to switch the play. There were beautiful runs and we bossed that second half, with attempts on goal. Despite all that, we could not convert our goals: their defence were tight and on us like glue. They did manage to score again, but we never lost faith and fought to the bitter end.
Our two Charlottes worked hard in the wings, and Bella, as always, strong for us. POM to Zoe who never gave up, a big shout out to Marc (Charlotte's dad) for managing the subs and the supporters who braved the yucky English November weather. Match report written by Bernie Bassett
Ladies 5th XI 4-2 Barnes 7s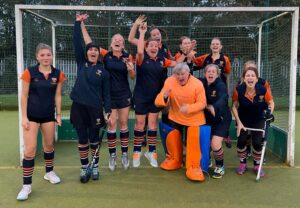 The Ladies 5ths, adorned with Carolina's lucky knickers, doughnuts, oranges, bags of Haribo, and an infectious spirit, gathered at Oaken Lane on a chilly November afternoon. Fuelled with gusto, they faced the formidable Barnes ladies team in a match that would be remembered for its intense battles and triumphant moments.
The 5s took the fight to the opposition with clinical passing and lots of positive movement on both wings especially on the right (as coached by John), providing avenues of injection into the Barnes D for Nicola to take the first strike at goal, making the goalie make a great save for Amanda to follow up with an easy tap in and score the first! 1-0 to the 5s in the 7th minute. Barnes fought back fiercely, with hits from their quarter striking the OC's defence hard, with more amazing saves by the cat-like Nici, who's skills allowed the 5s to retain the clean sheet.
As always, the 5s once again took the fight forwards and launched scathing attacks whilst abating the eagerness and anger of the Barnes team, who were starting to quibble between themselves. This allowed the 5s to gain a foothold and forge a way forward into the Barnes 16 and Klara to strike a great ball into the D for Amanda to nail with a strike on the backboard of the Barnes goal. 2-0 to the 5s on 23rd minute. An excellent finish to the half saw the 5s up 2-0. A half time team talk, guided by John and fuelled by oranges and Haribo sweets provided the headspace and a refuel of energy for the team to focus upon the positives of the previous gains and prepare for the second half.
Soon after half-time the 5's won a short corner from which a great slip right from Roz enabled Amanda to strike the third goal of the game. 3-0 to the 5s. The next onslaught from the 5s saw
Poppy and Evie striking at the Barnes defence, but this was also rebuffed by the Barnes midfield, which saw a game of ping pong being played within the midfield with limited scope to move into the Barnes 16 for a short period. Some substitutions were made, which allowed some weary legs to be rested. The new blood allowed for a striking run to be created and Rachel to feed the ball into Amanda, awaiting receipt within the D to claim the Haul!! 4-0 for the 5s on 50 th minute. The Barnes heads were down at this point and internal discussions started to turn to disappointment into anger. This fuelled the Barnes ladies to strike into the D and earn a short, of which they were able to capitalise upon, despite Nici's acrobatics being on point. 4-1 to the 5s. A renewed sense of urgency further fuelled the fire of the Barnes team allowing Barnes to be fully entrenched within the OC's half, allowing for strikes to be made upon the OC's goal, but the OC's defence stayed strong until a second goal was scored by Barnes. 4-2 to the 5s.
An unfortunate strike to the face saw Evie off with a nose injury leaving the team with no substitutes, albeit defending with weary legs. The team had to regroup and retain the lead they were commanding. The Barnes pressure seemed to be never ending, as the full time loomed, the 5's stood ground getting the ball cleared again and again until thankfully the full-time whistle blew.
As the sun set over Oaken Lane, the OC Ladies emerged victorious with a well-earned 4-2 win against the resilient Barnes team. The match showcased some great 'push' passing plays, as guided by Jon, as well as resilience, with every player contributing to the hard-fought success. The 5s stood their ground, securing a win that echoed the spirit of teamwork, determination, and camaraderie and some luck from Carolina's underwear. The post-match celebrations, filled with smiles, hugs, and treats, were a testament to the team's unity and the pride they took in their achievements. The 5s now eagerly anticipate future wins on the field.
Surbiton Mongooses 1-5 Men's Samurais
Samurai where away Surbiton this weekend on the late shift staring at 5.30. Prior to the game we had a match briefing with a game plan of not conceding an early goal as we did last week – two minutes 45 seconds after the whistle went Surbiton scored. However, heads remained high and within a minute Owen scored the equalizer. The whole team played very well working hard and chasing down Surbiton, great distribution from Skipper of the day Jonathan and midfield dominating the possession allowing Owen to get his hat trick by half time.
Second half as predicted Surbiton came out strong but improved defence man marking ensured Surbiton didn't score a goal. Owen scored his 4th goal before having to go early. After period of sustained pressure Luke worked the ball well into the D and scored a sweet reverse stick into the top of the net. During the final 10 minutes Surbiton piled on the pressure and nearly scored but a last-minute dive from Stephen Lee stopped the ball on the line. Job done three points in the bag next week we are at home to Teddington who are 3rd in the table. Thanks to Cato for running the bench & to Toby Stevenson as guest "King Pin".
Ladies 6th XI 8-3 Indian Gymkhana 1s
This was the result that had been coming for the last couple of weeks: an impressive win! The team made an excellent start to the first half piling the pressure on the opposition's defence. The mid field and forwards were on fire and some fabulous runs by Alethea, Lovisa, Freya and Ffion allowed our forwards to pepper the goal. Moving the ball around quickly bamboozled the goalie and the scoring was deadly and prolific!! Jenny had her shooting boots on and got a hattrick and Freya, Lucy and Jeanette added to the tally. There was also some sterling work done by the defence when the opposition came on the attack, notably by Ami playing the game of her season so far!!This led to a six-goal lead at half time.
The second half saw the opposition come at us hard and perhaps saw a little slackening off on our part. They scored quickly and gained some confidence. We added two more goals from Alethea and Freya but we also conceded two from well executed short corners. The end result though was a convincing win and a sense that all the team had contributed to an impressive victory, certainly a great morale boost after a run of 'oh, so nearly' matches!
Scorers: Jenny Ripley x3 Freya Sutherland x2 , Lucy Gilmour, Jeanette Sunderland, Alethea Jones
MOM: Lovisa Parker
Teddington 7s 1-1 Ladies 7th XI
Another rainy day in Teddington. It always rains in Teddington. I think it has its own micro-climate. While their team seemed to contain several of the 6th team that stuffed us 10-0 a month ago; it was a completely different beast. Not entirely toothless, it was a team disturbed by their goalie not being ready, and not all of their subs ready to start on time.
Playing as an ensemble of 11 due to illness on the day, we were buoyed by Jackie Waite (I've got to leave by 1) guest starring as coach for the day. We got stuck in quickly. Unfortunately every time there was a foil we were unable to take the ball quickly as the umpire insisted on explaining every decision. Nonetheless, we had a strong first half. The play was end to end, with Elle Steedman bombjng backwards and forward between the goals making valuable runs. Annie bravely came back to defence, to allow Elle to run, and was, as always, ably supported by Leigh, Pam and Sarah. Fi, Nadia and Lia gave strong support, pushing forwards and trying to get the ball to Darcie and Emma at the front. The first half resulted in a respectable 0-0 draw. We had had to do some solid defending, but were pushing out and up throughout the half and had several opportunities.
A good team talk and coaching from Jackie at half time sent Elle down the pitch, doing a quick one-two with Emma and scoring within a minute of the restart. There then followed a period of sustained pressure. Gamely withstanding it all, the short corners started. Despite their foot hitting it in the circle, the decisions went their way, and they scored from a short. We lost our heads a little bit. There were some hits in the oppo 25 that went directly into the circle, but also plenty of very positive forward play that bodes well for us going forwards into the next match. First a goal, then a draw. Next week a win?
Richmond Renegades 5-9 Stormers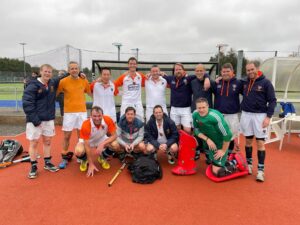 For the first time in many years the Stormers had to set their alarm clocks for a morning game. Away v Richmond was described as a potential banana skin. Various Richmond names were mentioned over breakfast messages. No idea who they are and at least one didn't turn up, so Richmond started the game with 10 men. The first 10 minutes saw Stormers make light work of the Richmond midfield and had multiple entries into the oppo D. A short corner was won and the shot to the far post just needed a touch, but the ball avoided the outstretched Will & Gerry. That sprung Richmond into life. They'd barely been in our half, but suddenly we're in the D and goal! Disbelief from OCs. Fortunately, Will slotted shortly afterwards and then again, 2-1 up!
With our noses back in front and calls for simple hockey, OCs started playing like league leaders. Craig making some midfield splitting passes, and now we were taking our chances. CB scored 2 nice corners and Gav also joined the fun. Not all of us have the same definition of taking our chances. Ports' view is a chance to rest and worked hard to miss a tackle and spend 10 minutes on the side.
5-1 at half time and the skipper called for at least another five in the second half. Whilst OCs were dreaming of how many goals they would score. One of Richmond's players had had enough and went home. So it was 11 v 9. Surely OCs would get another seven, maybe eight goals? Somehow the extra space on the pitch, got into our heads and we all thought we could ditch the simple stuff and make excessively long passes and score some wonder goals. We lost our shape and although the goals flowed they were for the nine-man Richmond. Haucky thought the 9 v 11 was unfair and had a lovely chat with the umpire who agreed and Haucky spent a few happy minutes on the side, until Cato reminded him of the £20 fine!
I didn't see Kevin Keegan pitch side, but OCs ruthlessly carried out his old Newcastle, attack and don't worry about defending, tatics. Every time we scored, Richmond got another!
If we'd had scored all our chances OCs would have got three goals for every Richmond one. However, with GB having the goal at his mercy and passing to the defender on the line, Haucky having a number of easy chances and Gerry flicking past the post from very close range, it was not going to be the seven or eight goals we desired. Keegan would be proud of the 4-4 second half score. OCs were annoyed at themselves.
In hindsight if we'd had passed it round and been patient, we probably wouldn't have conceded and also notched another six. However, when was the last time we scored nine goals in the league?
Goals – Will Naylor x3, CB x2, JJ x2, Gav x1 and Gerry x 1
Spencer Vintage 3-3 Barnstormers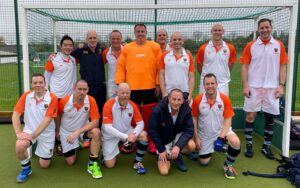 It was an early Saturday morning (writes Toby Yonge) I was getting ready for another Barnstormers fun outing carrying out the usual incredibly detailed tactical preparation I put into all our games! Other than adopting this very professional approach I also let that one question we all think about prior to each match, enter my head: What do I need to do to ensure I don't get Dick of the Day?
Remember socks – tick
Remember white top – tick
Stick -tick
Balls – tick
Don't be late to pick up Tongy, Howie and Jonkers – tick
Get to Spencer on time – tick
Speak to my wife – ??
Me – Hi wife, how are you. Everything ok?
Wife – No the car won't start and I need to take our daughter to a hockey match in Suffolk and we are very late. You need to come home and let me have the other car!
Me – What's wrong with the car, it was working fine yesterday!
Wife – Don't know but it does need a service!
Me – Ok I'll come home but I hope you appreciate I will now be getting DOD for this!
Wife – Silence
I then ran to tell the team and the oppo the bad news, left with no instructions then ran back to the car. As I got there my wife rang:
Wife – False alarm, the car is now working, I think it's because I filled the oil up last night and didn't put the cap back on so the car wouldn't start. It's all re-engaged and working now. I doubt you will get DOD for this.
Me – Silence
Onto the actual match and thanks to a number of guest players we managed to get a squad of 13. Spencer came out the blocks fast as we were still waking up and adjusting with the new line up. They had two good chances but Tim – the Wall – was fortunately up to the task making good early saves. We eventually managed to get hold of the ball and start to pass it around. Good running by our reliable forward line of Quints and Pun (sounds like an 80s American cop show) made it easier for the midfield of Ritchie, Yongey and Jonkers to move the ball. We started getting closer to their D and with the introduction of Naoki and Powelly secured a short corner. As a short corner unit we are starting to realise that passing the ball around the oppo yields more success so when Tongy took the ball, passed to Yongey who swiftly passed it back another goal beckoned as Tongy pushed it past their keeper into the corner putting us 1-0 up. Spencer came back quickly and levelled soon after before another great running attack resulted in our goal scoring machine bag another goal to put us 2-1 up.
We started really well in the second half, not giving the oppo much of a look in. Seearsey who was doing the Seearsey thing very effectively passed the ball into the D for Quints to nudge it at a ridiculously slow rate towards goal. For some reason their keeper believing this touch was out of the D let the ball role into the goal – sweet! 3-1 up. The rest of the game was end to end with both sides up for it. Spencer grabbed a second mid way through the half and gained the momentum making our defense of Si D, Ed, Howie and Tongy have to work really hard. Howie who was involved in lots of great moves going down the right was also on hand to help the defense. Tim feeling he had done enough left Howie to defend the goal single handedly on a couple of occasions stopping well pushed flicks with the air of someone who knows how to play international hockey – we all understood then why Wales fought so hard to get their man!
Alas despite the brave resistance and with 30 seconds to go the oppo scored – and to be fair a great – goal forcing a draw in the dying seconds 3-3.
Whilst the hockey was being played there was another competition brewing in the background – Tongy vs the Umpires! It is fair to say the umpires weren't the best and certainly made some questionable decisions but for whatever reason the usually mild and mannered Tongey seems to react to bad umpiring and turn into something else much like Bruce Banner turning into the Incredible Hulk! And very much like Bruce Banner, when he turns back, has no recollection of what he did. This was wonderfully demonstrated when we went through the DOD votes and alot of us referred to Tongy's run towards the oppo goal in the second half and when a Spencer player got in his way, Tongy shouted expletives and extended his arms to push his opponent out the way but resulted in giving him a bear hug energised with rage. Back at the vote, Tongy had not idea what we were talking about and returned to his meditation.
Fortunately for Tongy I decided to take another call from my wife during the DOD decision making exercise swaying others to reconsider their vote for Tongy and sending them in my direction.
When I told my wife that I got DOD she said it was my fault as filling the car up with oil is a man's job!
Merton 2s 2-2 Warriors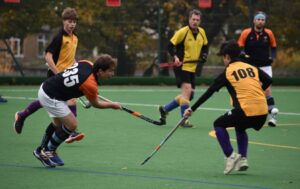 The call of duty game franchise are looking for a blockbuster season this Christmas in a new title 'Modern Warfare 3', and as some wait for console battles this Christmas , Warriors had an early taste in the form of 'Morden Warfare'. (Merton M2s at home). The battle ensued on Saturday at 13.30 where Warriors were quick on the offensive with some impressive quick fire and shots on target. Our boys quickly found ground and set to play out a full offensive. The first sniper bullet compliments of Major H Walker, off a perfectly executed short corner putting OC on the map and raising morale of the troops. The oppo retaliated soon after with a surprise attack resulting in a short corner against, their flanked strike ricocheted off Private Brendon (goalies) boot, drawing first blood. 1-1. The Warriors regathered their forces and played out a solid second quarter testing enemy defences regularly without any casualties until ceasefire.
With some motivated instruction by Generals White and Dormer, the regiment got back on the field for the second half of battle.Warriors moved the ball around the field to place pressure on the Oppo. Some solid efforts by defence to create opportunities down the line. Big artillery in Sergeant Zac Hawes tested enemy defence with some elevated fire. Captain Jack Walker was also denied a strike shot on target (off one of the many short corners). The enemy were indeed concentrating on defence and less on attack. In a surprise interception, a Warrior supply line was breached, which led to a high speed attack on base and a backhanded finish by oppo to raise the stakes further. 2-1 down. Warriors never back down in tough times and battled many counter strikes until finally getting through the stronghold and defences of oppo goalie (another short) to level the field by Sergeant Charlie Sangster. Two fatigued and tired sets of troops fought valiantly for the last 10 with no further casualties. Warriors may not have won the battle but secured good intel for the next battle.
Goals: Harry Walker, Charlie Sangster
MoM: Harry Walker