A round-up of the action which saw good wins for the Men's 1st and 2nd XIs but dropped points for the top two Ladies sides
Men's 1st XI  3 – 0 Havant 1st XI
OCs welcomed Havant HC to the fortress for another Saturday night spectacle under the lights. With it being remembrance weekend, before the game, both teams and supporters paid their respects with a two minutes silence and the last post was performed. OCs started the game on the front foot, dominating possession and threatening the Havant goal with little reply from the away side. Thanks to the Havant keeper, the game was tied 0-0 at the end of Q1.
The lads were needing a bit of inspiration in front of goal in order to break the deadlock. No surprise that this came from Will Heywood who calmly lobbed the Havant goalie to make the score 1-0 to OCs. Still dominating possession and winning many short corners, the boys in blue and orange couldn't extend their lead before half time.
After a positive HT team talk from coach Mathews, OCs came out the blocks too fast for Havant with fantastic link up play from JJ, Heywood and Roe, constantly threatening the Havant back four. Eventually, OCs doubled their lead with a tidy finish from JJ which sucked the life out of the Havant team. The OCs back line led by Will Phil were dominant throughout, limiting Havant to scraps. Scoreline heading into the final quarter was 2-0 to OCs. The crowd at the Fortress were demanding more and as the good lads they are, the boys answered their calls. Some great pressure led to a quick turnover and OCs countered with Matt Boote finishing off a great move to kill the game completely and make it 3-0.
For the first time since the creation of time, OCs went through a game without a single card. Discipline and 'brains' were always going to be crucial in a match vs Havant and this was proven right. After his heroics last week, Doble in goal deserved his clean sheet! OCs now have 12 points and stay in touching distance of the top 3. Havant remain in the bottom 3 with 6 points. Next week, OCs travel to Canterbury for a massive game.
MOM – Will Heywood
Scorers – Will Heywood, Jack Jamieson, Matt Boote
Golden Glove – Josh Doble
Ladies 1st XI  0 – 1  Wanderers 1st XI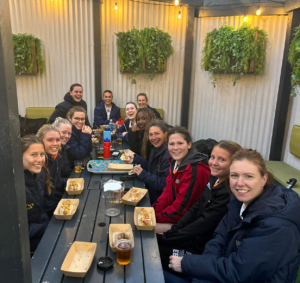 With Macy setting the tone early on Friday night and Ben once again with us on the side line, the Ladies 1s made an optimistic journey to a gloriously sunny Battersea Park. With a 16-strong squad, a debut from Grace and a Macarena-filled warm up, we knew there were three points for the taking with Wanderers just above us in the league.
The first ten minutes were sluggish as we struggled to find our groove. Some great balls were played through from the back but we didn't seem to be linking up. Then a lapse in focus when there should have been a whistle allowed Wanderers to make a quick break through our defence, slotting in an early goal. This gave us a bit of a kick and we finally found our legs. Ever resilient, we shook up our press and pushed forward, finding ourselves with the majority of possession and several chances at goal. A short corner was won but sadly, not our slickest. Another short defended, with the ball kept well away from goal. Macy, Madi and not-so-easy Easy rotated well through midfield, sending the ball forward again and again. Sylvie made a few fantastic passes up the right wing, running ahead to find herself entering the circle, yet still the ball failed to find the net.
Half-time and we were thrilled not to have the sun in our eyes any longer. That, and the draw of a slightly more relaxed umpire who didn't blow the whistle 500 times asking you to take the ball 1m wider. Ben reiterated the need to connect up and make earlier leads, so with fire in our belly, we stepped out for the second half.
We started well, with some brilliant passages of play between our half backs and midfielders driving the ball into the attacking 25. Wanderers were defending solidly but we were making things difficult for them, dominating in possession. The first of four short corners in this half saw a left slip sent to Molly whose lifted shot at goal was saved by the keeper. Still we pressed high and kept the ball in their defensive quarter, winning a second short. This time a straight strike from Danni looked promising, but the rebound was saved and Wanderers were on the counter attack. Nonetheless, our defence remained unflappable and nothing came through for our oppo. Gabby sent the ball up and over the Wanderers press for Madi to bring down and take into the D. Another short corner won! This time an early break meant we had to switch injector and replay the attack, but a mistrap resulted in the opportunity breaking down.
With Wanderers well aware of time and still 1-0 up, they were in no rush to restart play. Umpire Impatient lived well and truly up to his name and turned over their free hit due to time wasting. This gave us one last attacking chance and our final short corner was won! Alex – cool, calm and collected – slipped the ball right to Macy for a brilliant strike at goal. But once again the keeper saved the shot. We restarted from a long corner but with the final whistle blowing as we entered the D one last time, it was just not our day.
Fortunately, mammoth hot dogs with mashed potato in (yes, really) for teas gave not-so-easy Easy all the material needed to brighten our moods. With Hazel struggling to fit it in her mouth, some audience participation from a crowd-pleasing Windsor mens side, and a slightly uncomfortable cameo from Umpire Impatient, DoD rightly went to Easy for her deal-breaking (lack of) antics.
Man of the match was deservingly awarded to Madi for her fabulous first touch taking out the Wanderers press over and over again. Onwards and upwards next week!
POM – Madi Fewings
Men's 2s  3 – 1 Wanderers 1s
Dearest Revenue Protection Officer – I am citing ticket reference FBRJ5000.
I hope this email finds you well because I don't send it from a happy place. I am a high-performance athlete who plays sport for the love of the game and the adoration of the sesh. It's simple, I play for the badge on the front of the shirt.  By 9:10am we were all gathered around the whiteboard in the home changing room listening to our supreme leader provide a team talk for the ages.  It was a visceral, erotic and testosterone filled tactical masterclass, peak Sven-Göran Eriksson esc. We warmed up well on a frosty pitch before a minute of silence and charged into the game. My god we were good, transferring it left then right and sometimes even left again after that. Within moments we had sliced the wandering people in half with a gorgeous move down the left, one touch barca style hockey and a MC finish between the keeps legs. 1-0 and those on the bench were calling for a 12-0 hammering.
However…they say that you should always practice in difficult situations, so we decided not to tackle and let the wondering folk score and make it 1-1. Thankfully though the rules of the game state that if the ball goes into the goal after a flick from a penalty corner you get a point and Erik did that so we got a point and it was 2-1.
We decided that playing with 11 men on the pitch is boring. I flew in with a rash tackle that in my head was at high pace and needed to stop a break from them but having watched the highlights it was in fact just quite bad. RJ, recovering from a hit from earlier in the week and nursing some banged up fingers was then baited into a phat stick tackle for a yellow and @WillMeansFitness decided he didn't want to be man of the match for a second week in a row and also did a tackle that was not great, he was also kindly given 5 minutes in the dug out.
Eventually though (and no thanks to our keeper JBarbz who was truly good at hockey on Saturday) we held on and Lanfker even walked one in when they moved to a kicking back. A really clever move that always seems to work and doesn't show that the oppo panicked. We then did what we do best and had a group shower, drank some beers and played drinking games. We do it right.
Kindest of regards,
Long live the club
Goal Scorers: Matt Cornwell, Erik Van Kesteren, Harry Lankfer
MOM: Jack Barber
Ladies 2s  2 – 2  Barnes 4s
It was a bright, but cold morning as the L2's assembled at Oaken Lane pitch for their home game against 9th in the league Barnes 4's. With the L2s currently sitting in 2nd position in the league, hopes were high for a goal filled game, although the team were also all too aware that in this league anything can happen!
Stalwart of the team Liz Norrington returned from injury, "stronger than ever, without a niggle to be seen!" Long may that last. It was great to also see so many supporters turn out to cheer on the team, parents, children and some fraught babysitters! With it being the 11th of November and armistice, the match started with a fitting 2-minute silence. Respects paid; it was time for the game…
OCs came out with a bang! The first 5 minutes showed control, patience and some excellent linking play for the team so that they found themselves firmly in the oppositions 22. Control in the centre by Laura Price and an early cross from right to left from Charlotte Heap, saw a valiant first time shot on goal by Sophie Nicholas. It was denied by the keeper, but OC's had set the intent! With a 16 strong team, players worked hard when on the pitch so substitutions could be made, the next 10 minutes rang in the changes. Possession and attack continued to sit with the home side, with Lea Cato making an impact in defence when taking to the field. With OCs very much pushing for the goal, an interception by a Barnes forward allowed them to cut to the centre of the pitch and drive quickly into the D. OC's players couldn't get back and left Aimee Barber (GK) exposed. Barnes slotted the ball into the corner. Once in our 22, and one goal; OC's regrouped.
Straight from the next push back OC's were back on the attack. A couple of short corner chances went close, inches from the left post. 9-minutes later though and the third short corner came. A strong push out from Liz found Nikki Springett at the top of the D for the stop and a superb straight strike by Alice Pim to slot the ball down the left-hand side of the keeper. 1-1 at half time and the OC's team felt back in control.
The start of the second half was plagued with chances, as again OC'S camped in the Barmes half of the pitch. Both Charlotte Heap and Jess Quinton went close finding the post with their chances at goal and Helen finding an opposition's foot on the line, but only a short corner was given. Liv Riley impressed from back right, linking with Laura Price in the mid and Holly Quinton up front, to move the ball up the pitch. Many a player was beaten with Liv's impressive L-R drag! With 10 minutes gone into the second half, we loved Mrs Quiton's advise to Holly, that we should aim into the goal and not at the post! I think both the supporters and players were all too aware our chances seemed to be going anywhere but into the goal! However, her advice must have worked, as 22 minutes into the second half Holly received the ball from a cross from the right from Liv and slotted it past the keeper! 2-1 up and the team continued to attack.
As the game started to close out, Barnes pushed hard and took their chances, finding themselves with the ball at the top of the OC's D. The Barnes player swung, missed the ball, then passed it right. Their second player didn't want to make the same mistake and swept the ball hard past the keeper. It was 2-2 with 5 minutes to go. With a final roll of the dice, OC's changed their formation to push four players upfront and again attacked the Barnes D. Alice Pim found a foot, but the umpire rightly played advantage. A shot on goal came but was blocked again by a Barnes defenders foot. The ball went off the backline and the umpire blew the final whistle. The umpires consulted but neither umpire had seen the foot, c'est la vie.
The game finished 2-2 with Alice Pim being awarded POM and goals from Alice Pim and Holly Quinton. As the result came in Saturday the L2s are on 16 points jointly with three other teams also holding top spot!
POM – Alice Pim
Goal Scorers – Alice Pim, Holly Quinton
Men's 3s  4 – 5  Teddington 3s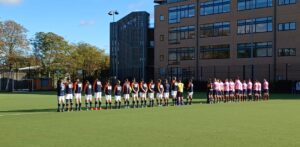 A narrow loss for the Men's 3s, who were drawing 3-3 at half time.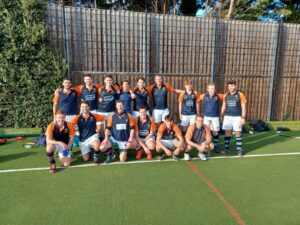 Ladies 3s  2 – 2  Surbiton Jaguars
Saturday saw Ladies 3s facing local rivals Surbiton Jaguars away at Surbiton. The match was scheduled late on a cold night. A short corner was given early on in the first few minutes and Surbiton took the lead by 1. We came back fighting and pushed continuously in the D. Two minutes after Surbiton scored, Jo Mir struck the ball into the air, Yasmine managed to get onto the end of it and the ball struck the top corner flying past the keeper, surprising the oppo, our team and the spectators who hadn't realised the goal had been scored. We  played some excellent hockey, working the ball around the defense and using all the pitch. We fought hard and won a short, Jess T smashed the ball into the goal.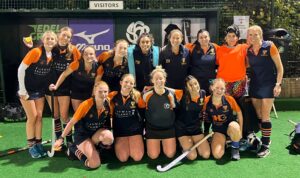 After our celebration, the umpire decided this was not a goal as she deemed it too high when crossing the line – video evidence proved otherwise, but sadly no VAR for us! Down but not out, we fought hard in the second half, determined not to lose. With some heroic defending by Emma – who spent almost all her time on the floor – as usual, and our impenetrable back line of Erin and Connie, this allowed us to work the ball around and dominate possession. In the last 3 mins Sophie M scored our equalising goal to a lot of screaming supporters. The last few mins was tense as we tried to ensure Surbiton did not score a cheeky goal. Final score was 2-2 (should have been 3-2!).
POM – Erin Hickman
Goals – Yasmine Weeks & Sophie Miles
Men's 4s  2 – 4 Merton 1s 
Our annual visit to The Harris Academy in Merton produced the now annual shocking performance from 16 of the 28 taking part in the game and annual defeat. We had a squad of 14 against their 12. The 16 showed an astonishing ability to make a series of bad decisions throughout and we ended up being fully accountable for our second loss of the season.
Fair play to Merton who came with a plan, executed that plan and walked off with 3 points. Shipper Fleming was all for walking off after 60 minutes following an incident in the oppo's D at a crucial time that he would have umpired completely differently.
All looked good after 15 minutes with Sam O'Connell deflecting home a left side cross to put us one up following concerted pressure. Crucially we did not score a second that may well have killed off the game. A sloppy defensive clearance enabled their dangerous centre forward to skillfully score from a first time reverse stick hit that was pure quality. Just before half time and from their first short corner the same guy stepped up and squeezed the ball home to put them 2-1 up.
Having been told by Guyser not to give away short corners because of their very effective routine we promptly gave another away in the first quarter of the second half that was dispatched by the same guy. Jake pulled one back to keep us in the game before two unbelievably contentious decisions in effect decided the game. An air shot by one of the Merton forwards 2 yards from the goal went unpunished even though we had 3 or 4 in close proximity and the ball rolled onto one of our feet. Corner, goal, their striker's 4th goal.
On immediately winning a short corner up the other end our shot went into the keeper, Brandon followed up, was cynically stick tackled but still managed to have an impeded shot that went goalward with the keeper sitting on the ball. The short corner was re awarded only for the non engaged umpire to walk up and start talking to the engaged umpire. Naturally we all thought he had seen the need to intervene to award a stroke but, no, he decided that Brandon had "purposely rolled the ball under the keeper" and awarded a 16. Cue Adam's decision to call us to leave the pitch as the Geordie red mist descended causing him to lose focus. Sense prevailed and we continued to batter Merton but to no effect.
This was a bad day, a bad performance and plenty of and bad things went on unless you were a Merton member when it was a very good day.
PoM – all played too badly to warrant an award
DoD Adam
Goals, Sam O'Connell and Jake Kemp
Ladies 4s  1 – 5  Wimbledon 8s
The L4s had a tough match against top of the table, Wimbledon L8's. The team started strong, making lots of successful tackles and managing to transfer the ball down the right side.
Unfortunately the 4's conceded 4 goals in the first half. However after a motivating team talk there was only 1 goal conceded in the second half. An amazing assist from Bella allowed Bernie to score an impressive goal in the first ten minutes of the second half. Throughout the game the team were able to quickly pick up the break through and regain possession of the ball.
Despite a heavily defensive game and an unfortunate loss the team played extremely well. Some other names nominated for PoM were Niamh & Bella but the award went to Paula Dormer because of her amazing clearing skills in our D and her strong passes to our players on the right.Written by Charlotte Stubbs
POM – Paula Dormer
Goal Scorers – Bernie Bassett
Men's Warriors  0 – 0  Barnes 4s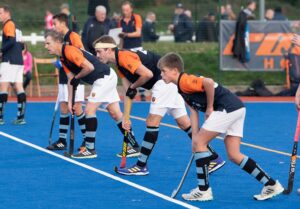 The game between OC Warriors and Barnes 4s resulted in a deadlock with a scoreless draw. Warriors put on an outstanding defensive display, led by Alan, Ado, Josh, and Jack, effectively thwarting Barnes' significant pace and slightly younger average age throughout the game.
Sid's exceptional goalkeeping skills were instrumental in maintaining OCs' solid defensive stance, denying Barnes any opportunities to score. OCs had attempts to win the game notably, in the first half GG had the ball in the goal only to be disallowed for a foot earlier in the move and in second half, Harry unleashed a powerful strike, but a goal line stop kept the scores level.
The trio of musketeers – Charlie, Charlie, and Joe – worked a number of impressive passing moves down the right side, demonstrating their skill and teamwork pulling  Barnes' defense out of position creating chances and a number of shorts. Though the scoreboard remained even, the match was played at a fast pace and in a good spirit (except Josh's green card) with notable moments of strong defense, remarkable saves, Zac's aerials, neat skillful plays, all making it a thrilling showcase of hockey prowess for the Warriors first game at TD this season.
MoM Joe Pullinger
Barnes 6s 4-1 Ladies 5s
Still waiting for our first win, we felt that this could be the day. We had a strong team and Barnes, only one point ahead of us in the league, seemed thoroughly beatable. Unfortunately, it wasn't meant to be. Despite a good start, it seemed we felt the pressure and were a little bit too nervous. Although we were only 1:0 down at half time and everything was still possible, we didn't manage to materialise on our strengths and lost 4: 1 in the end. We were disappointed and rightly so, however, it was also obvious to all that we can beat those teams, and that we need to brush off the past weeks, start believing in ourselves and fight back. Special mention goes to Evie, who scored our only goal, and to our PoM Kim, who amongst other things also saved two shots on the line!