As the season concludes Helen Hawes reflects on what has been achieved this year at the Old Cranleighan Hockey Club and what is planned for the future.
I would like to start by thanking all the volunteers across our club, without whom there wouldn't be a hockey club. This includes our Colts coaches and parents team reps who give up not just their Sunday mornings but also spend time planning training, matches and festivals for our many young players. Our captains of the senior squads who juggle the needs of many each week; our umpires who keep us in check regardless of whether we like it or not; our social media/website team who make sure we're informed on our many platforms; and finally our executive committee comprising of vice club captain, treasurer, fixtures secretary, Colts committee, social secretary who make sure we get the job done.
2018-2019 Season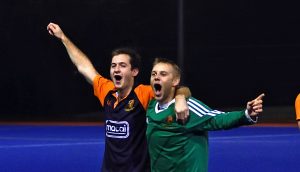 Without doubt the unveiling of the new pitch and the 90th Anniversary Dinner on 8th September 2018 was a brilliant platform from which to start to the new season. Other clubs coming to OCs have been awe of what we have achieved and we are now in excess of 700+ playing members.
Our senior squads have all performed well this season with each of our 10 league teams finishing in the top half of their leagues. We never quite achieved the golden mark of every team winning on a Saturday but something to aspire to. The Men's 1st XI have superbly delivered on our five-year plan to reach the Men's National League, which is the first time in the Club's 90-year history, but they have also done it as league winners. In addition they have won the Surrey Men's Cup for a fourth successive year which has never been achieved before by any club. The success of the 1st XI set the tone for how successful a club is this team have worked as a unit this year, putting in a huge amount of dedication under the captaincy of Ollie Davies (OD), coaching skills of our Director of Hockey George Pettit and management of Nick Ripley. We wish them all the best for next season.
Another notable achievement is that of the Men's 3rd XI who have been promoted for the 5th successive season. Whilst Ed Copleston stood down as captain mid-way through this season it has been his drive that has spearheaded this success. Finally on the men's section it has seen unprecedented growth in its membership which owing to flexibility of the South Open Hockey League has resulted in a new men's team forming and being placed in a league which allows us to retain players at a level which is right for them.
The introduction of Sam Naismith as coach of the Ladies 1s has seen the Ladies 1s and 2s squads change, for the better. With a new style of play and he has brought a different energy to the game. Whilst it has taken time to bed in, the upcoming 2019-2020 season presents an exciting opportunity for the Ladies to capitalise early on the skills they have learnt. Both the Ladies 2s and Vamps finished 3rd in their leagues thus missing the opportunity for promotion. Our Ladies 3s who only really formed last season found their mojo this year and have embedded the younger players into the team. We also formed the Ladies Martlets from our dedicated Back2Hockey players who have played a series of friendlies with masses of improvement from match to match.
Our England Hockey Competitions runs have seen the Ladies, Men's 1s, Mixed and Over 40s all competing. The Men's 1st XI's EH Cup quarter-final brought a huge crowd on a cold Wednesday evening to TD to experience a phenomenal win against Old Georgian's. But it was the Over 40s who went the furthest narrowly missing out on a place in a final, following a late goal away against Chester based team Deeside Ramblers.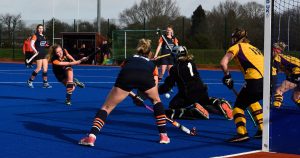 The Colts section has also grown since its inception seven years ago. What is so pleasing to see is that a number of Colts that joined us when we started with just 50 children are now playing in the Senior teams on Saturdays in League hockey and not just making up the numbers, but actually making a difference. To read more about how well our Colts section has done this year please take a look at our Colts President, Gavin Adair's, summary.
Whilst we break for the Summer the Colts Summer Coaching and the Senior Summer Leagues all kick off towards the end of April / early May.
It is also important not to forget that Old Cranleighan Hockey Club has been shortlisted as Team of the Year at the England Hockey Awards on the 11 May 2019. This event is open to all and attended by many top hockey players and clubs. Interested in attending click here for more details.
Finances & Fundraising
The Club is in good financial health owing to the dedication of our Treasurer, Kate Tanner, to keep us in line but also due to our move towards an electronic payments and database system. More detailed accounts will be presented at our AGM on 9th May at the OC Club from 8.15pm. All members and parents welcome to attend.
In respect of fundraising for the new astro pitch OCHC paid £100,000 to the Old Cranleighan Society and will shortly make good on its commitment to pay the remaining £50,000. The majority of the £100,000 came from individual and team efforts, donations and thanks must also go to our sponsor Macai for their support towards supporting the Old Cranleighan Society with general Club improvements.
In addition we recently officially thanked Elmbridge Borough Council for their backing in delivering the improvements to Old Cranleighan Club. We invited the Mayor of Elmbridge, Shweta Kapadia, and Local Elmbridge Councillors to OCs to have a look around and more details of this visit can be read here.
Further Fundraising is planned and will be communicated in due course, as there are always items that need replacing or new equipment needed.
Committee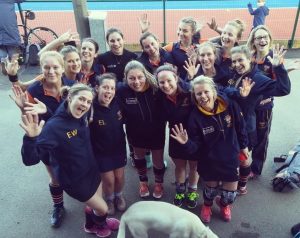 This year I have undertaken to review the Club's structure for as the club grows so does the amount of work required and that means extra voluntary work on top of what day to day already life throws at us. Attached for complete transparency is a copy of our Structure. An immediate change by the Committee is the appointment of Cato Choi to Men's Captain, which I am pleased to say he has accepted but in effect it formalises a role he was already undertaking. The Men's section is now seven teams and growing exponentially which is why it requires someone immediately to have an overview of the future strategy, selection, team numbers, Colts progression etc…
The roles on the structure highlighted in red are vacant volunteer roles and those in green need replacing. The combined role of Club Membership Secretary & Colts Fixture / Tournament Secretary is a paid role within the club given the inordinate amount of time it takes to manage a membership of 700+ and organise numerous league and friendly fixtures for the Colts section. Whilst we intend to formally advertise the roles, if you are interested in any of these roles please contact me direct at helen.hawes@btinternet.com for further information.
Next Season & Beyond
We are already planning for next season, whether that be pitch allocations and hire, coaching resources, training arrangements, kit requirements, league entries, social evenings etc… This also includes how we support our Men's 1s as the travel either to the East of England up as far up as Peterborough or to the West of England (Wales) where Cardiff beckons.
However, what is evident is that we need to plan for a sustainable future as the club grows, Simon Marshall (aka Virge to most) is pulling together a team to work on this. If you want to form part of this strategy team then please contact him direct.
I have also asked Jon Heard to head up our ambition to obtain Club Mark (Sport England's national accreditation scheme) which England Hockey is affiliated to. There is a whole heap of work to be done so if Jon comes knocking please help him.
If you got to the end of this summary then I hope you share my enthusiasm for what are exciting times ahead of us and realise what a tremendous club you are part. 7 years ago we were only 4 men's teams, 1 ladies and just 50 colts now in 2019 we have 700+ members and a team in England's National Hockey League. For all those that made this happen over the years be very proud!