In the weeks after the outbreak of World War Two in September 1939, many sports club stated their intention to try to keep functioning, although in reality few managed. The Old Cranleighan Hockey Club was no exception.
An immediate decision was taken not to re-open the OC Club for the 1939-40 season and the groundsman/manager was laid off. This was in anticipation of a large fall in subscription income. In the event the ground was soon after requisitioned by the authorities for the duration.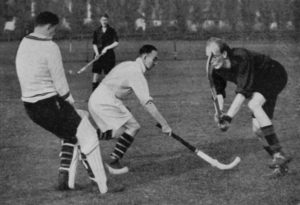 The OCHC also managed one match, away at Cheam on October 21, and this was covered by the Illustrated Sporting & Dramatic News so pictures and a report survive. The OCHC, which included founder Eric Abbott who had retired the previous summer to concentrate on golf, went down 2-1. In the immediate aftermath it was hoped to arrange more games but several of those who played enlisted within days and plans were shelved.
The December 1940 edition of the Cranleighan carried a short note that "Abbott finds himself the only playing member available, and in consequence there are at present no possibilities whatsoever of running a hockey side".
The OCHC did not resume in 1945-46 as there were not enough members out of the forces and the OC Club ground was being re-seeded and unavailable until the autumn of 1946. Players were invited to join Richmond & Kingston Hill HC in Old Deer Park for the season. The first post-war match took place on January 12th 1946 when the OCHC defeated a School XI 10-1, although a second game, against Southgate six weeks later, was lost 1-7. In March three sides were fielded against the School. The club was back and running …