A weekend of mixed results as we finish up before Christmas (yes that's happening soon) Our Men's 5th XI still hold onto the top spot with a 100% unbeaten record and our Ladies 3rd XI bagged the result of the day with their 8-0 win. And a special mention to our Under-16 girls in their England Hockey Cup game against Surbiton which they won 2-0.
Woking 1-1 Men's 3rd XI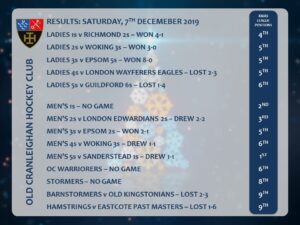 In my mind going to visit a "park" connotes taking a day out to watch deer strolling across grassy meadows, the flash of red from Green Woodpecker as it zips by on its way to snaffling a few ants and a burbling brook carrying Chub and the sighting of the odd Kingfisher. "Gold" brings to mind real quality whilst "worth" is a clear indication of value. Put them all together and you have a classy day with nature where every minute of your visit is relished and remembered for years to come with the pull of going back another time.
Conversely the combination can read "Goldsworth Park". Sadly not a haven for wildlife but formerly a huge garden centre that in the late 70's and 80's saw a transformation into what was, and may still be, the largest housing estate in Europe, some 4,000 properties. Assuming there are on average 2 people per property this makes a total of 8,000 people on the estate. Arguably an average morning ablution is half a kilo. Therefore on a weekend day some 4,000 kilos are shipped off to Thames Water's local sewage treatment plant but unlike the deposits left by some unsociable dog walkers that remain where the dogs left them, sitting on the grass.
Our last game of the year saw another 7 changes from last week's squad as we were helped out by the O40s cup game being conceded by Guernsey. This meant Herdy, Cato, Packers and Grimer turned up at what can be best described as the labyrinth of G. Park and Woking HC. Another draw, our third in a row, sees us 3 points off second and only 2 defeats, second best in the league. Our strongest side consistently playing would see us comfortably secure second place come March.
The game was a two half affair with their having the better of the first and us the better of the second and so a draw was a fair result. There were some very good performances and Ajay showed us all how much he has come on by chasing down everything and causing the oppo a number of problems. Kieran also played another solid game after a very tricky week. Grimer has to dip into his pocket for a verbal yellow as we did let the umpiring get to us with all manner of handbags being thrown around on the side lines between the teams.
The home team scored first with a crisp reverse stick shot from a shortie and our equalizer cam late on with some magic from Packers who beat 3 or 4 before a rasping shot just inside the far post, quality. In the dying 2 minutes we had a golden chance to take the points but equally Woking also had earlier had chances to wrap it up.All our defenders did their bit with big tackles and everyone worked their nuts off. Another top team performance. The real positive at the end was that Woking's young umpire did manage to find his glasses in the club house post match, see below.
Have a good Christmas one and all and let's really push for second place and promotion. All six men's teams are in the top half of their leagues with 4 having a realistic chance of being in with a fight for promotion. A good 2019, in hockey terms, comes to an end.
Men's 5th XI 1-1 Sanderstead 1s
Congratulations to all on an outstanding first half to the season. Unbeaten and top of the table after a titanic 1-1 draw against title rivals Sanderstead who put us under sustained pressure throughout. The penalty corner count tells the story 8-0 to Sanderstead but some great saves from Seb kept us in the game and we only conceded late through a deflection. Big effort to secure the point.
Ladies 1st XI 4-1 Richmond 2s
A slightly erratic start to the warm up, only managing to get on the pitch 5 minutes before start time. Fortunately, Watto's stress levels were saved by the umpires delaying our start time, so we could fully appreciate our warm up music (courtesy of Helen). Donning our white shirts, we lined up ready to go. They had push back, and we watched as they fired the ball down the towards Watto… who was on one knee tying her shoelace and was rather flummoxed by the fact the game had started. Time was stopped, Watto composed herself, and we restarted with energy and pace. The first ten minutes we worked hard putting pressure on, but making some mis-traps, resulted in a couple of their speedy Richmond players making a break for it down the side lines towards our circle.
The following aspects of the story did not necessarily happen in this order or in fact necessarily happened…
First goal was from a set play from Jaxs on the left to Richie on the right who put it through to Syms. We had a two on one with the defender – Syms slipped it to Sangster, who controlled it (a first!) and didn't hit it (a first) slipped it to the corner where Syms was on the post and put it in. 10 points to Gryffindor (or 1-0) OCs.  Another break away for Richmond. Hels was applying plenty of pressure but the excitement got to Watto who totally ignored the ball and sent their player flying! (It was a dive.) The ferocity of the umpires whistle rung out and Watto turned to see an unusual sight – "is that a green card I see before me?!" She cried, "I've never had one of those before" and to prove this, she tried to remain on the pitch. At some point a football got kicked onto the pitch. Stubbs made some form of clearance, then taking a teacher like role, Hanson confiscated it and refused to return it to them.  The pressure was mounting in their half but the mighty OCs were just too nice in the D, letting some interesting defending thwart any opportunity they might have.  Another break for Richmond and this time it was Stubbs to intervene and what a professional foul it was. Alas, another green card was presented!
Half time arrived and with some wise words from Coach Moors…. 'stop being Surrey princesses and making them look good.' – she wasn't wrong to be fair. But we entered the second half with more fight and fire  than before. After some minutes had passed and after many attack down the wing, Syms and Hanson put significant of pressure on the Left Back; Syms driving at them, Hanson holding the baseline in a distinctly nonthreatening manner. Then a shot! As it trickled through the keepers legs, it would not quite make the line. So Hanson launch towards it and banged it in on the reverse. 2-0 OCs. Then once again,  OCs let their guard down – 2,3,4 diving tackles resulted in Richmond entering our D, taking a shot and scoring. Echoes from games of Christmas past rang out, but we were determined not to allow games gone by dictate the result once more. Goal three came from a side line ball in our half, team open play into the D. A cross shot which resulted in a shortie. Injected up to Nikki's open side and then deflected in by Liz! (Obvs the only thing she remembers)  Then finally, as the end of the game drew near, a run up the right side from Watto. She planted her left foot, head down and crashed the ball in! A cross you might think, and you'd be right to assume, as she thought the same thing. But I'm fact a Christmas miracle arrived, as this cross in fact turned into a Goal! Cheers strutted as they knew we'd done our job. 4-1 win for the ladies 1s as they enter the Christmas Period.
MOM : Jax
DOD : Watto
Ladies 2nd XI 3-0 Woking 3s
Twas the last game before Christmas, it started around lunchtime on Saturday when 13 agile and alert, youngish ladies gathered, ready to perform to an elite (practically international) level of hockey. After a very muddy and mildly enthusiastic warm up, they took to the pitch against the good ladies of Woking.
35 minutes of marvellous hockey ensued. There was lunging, diving, sweeping, whistle-blowing and scoring. All it was missing was a bit of lawn -mowing and cardboard-boxing to be a real dance off. As your narrator of this story was playing at the back and only touched it twice in the first half, I'm not really quite sure of the details, but there were three enthusiastic celebrations and hi-fiving, suggesting a 3-0 lead to the OCs in the first half. The first goal came after some lovely play by Georgina passing the ball to Ellen in the D, who made a quick touch past the keeper. The second came from a beautiful run up the right from Sophie, who drove the ball into the D and made a cracking lifted shot into the goal. The third came from a shot corner that was saved initially but Georgina (who boldly announced walking onto the pitch that day that she, 'Never scores!') swept the ball back into the goal.
A bag of jelly babies  at half time and the clear instructions from Captain Sophie that this was a nil-nil game, we went back out fighting, however Woking came back strong and we spent a good 15 minutes defending our D. With Ally and Lizzie holding the left, Ally cleared the ball again and again down the pitch only to be thwarted by Woking driving back at us. Finally we cleared the ball and spent the remainder of the game back in Wokings half. There was some lovely switching of play and some, 'oh so nearly' goals but despite all efforts we couldn't improve on the score however, 3-0 was a great last game to finish on, 3 magnificent points earned. Player of the Match went to Georgina, hurrah! A celebratory sauna and an extravaganza of Christmas jumper party later, a drink or three was taken at the bar. A well earned win before the Xmas break.
Ladies 3rd XI 8-0 Epsom 5s
There is no better feeling than when it all just comes together. Saturday 11.30am at Oaken Lane was one of those times for us. Two successive wins under our belt, we knew we wanted to end the 1st half of the season on a high. The game began and we immediately found ourselves pressing the oppo into their circle. In what must have been no more than 3 or 4 mins, we were 1 nil up. At this point I have to admit, I had a feeling/premondition this game was ours for the taking and now it was just a matter of getting into some sort of rhythm. Which we did.Everyone played their part in this game and it would be impossible to single one player out. We each gave it 100%, determined to make this one ours. 3-0 up by half time and although we felt secure, we stuck to the age-old half time mantra, go out believing it's 0-0 and don't let this slip away.Molly made her debut in goal for us this week and fortunately for us, we didn't get to see her skills too often. But she was fantastic in directing our defence when the oppo did manage to counterattack. Sophie DeH commanded the back to ensure we did not let any goals in. This game was all about making that goal difference count. Hannah used her now trademark 'club it' to send any balls right back up to their circle. And then more goals came, bit like a very regular train service. Expertly worked up the middle and the width by Paula, Ciera, Zoe and Sophie and then finished by Issy, Ele, Lana, Eilidh and Fay. Like I said, a true team effort! Not content with a big win we battled right up until the end with a short corner to finish the game, narrowly missing out on getting another goal. The whistle blew and we ended the game with an 8-0 win!! Finally a result that reflected how well we have been playing and the effort we have put into training this half of the season. And more importantly how well we have gelled as a team! I'm certainly looking forward to the 2nd half of the season and righting some of those draws in the return matches.A huge thanks as always to Kieran for on pitch coaching; I hope we made you proud and put a smile on your face! Big thanks to Lauren for her great training sessions and encouragement – you might need to invest in more than one pack of Rolos! And thanks to our dedicated supporters – definitely a nice one to watch this week. #stillsmilingLondon Wayfarers Eagles 3-2 Ladies 4th XI
No controversy this week but unfortunately the same result: a 3-2 loss in the final few minutes of the game. We made a very positive start putting lots of pressure on what appeared to be a pretty vulnerable defence. There was some excellent interplay between the mid field and the forwards, together with some great runs from the back by Ruby. This enabled us to expose the opposition's defensive weaknesses and goals from Katharine and Pam L put us in the driving seat. Their first goal was an unfortunate deflection from our sweeper but it marked a change in momentum. If the first half was ours, then the second was theirs. Jo kept us in the game with some excellent saves despite her dodgy kickers! A lack of subs meant tired legs and injured backs couldn't be replaced. Inevitably their strong forward players got one and then another goal to grind out a win. Difficult to take for a second week in a row but it didn't rain, the umpires were fab, the oppo were nice and we'll move on the next half of the season older and wiser!