A mixed weekend of results but fortunately only one match succumbed to the weather. The Men's 1st XI remain one point off the top, the Men's 2nd XI are now 2nd and the Men's 5th XI retain their unbeaten record
Men's 1st XI 6-0 Cheltenham
Click here for match photos
A brisk Sunday saw us face Cheltenham at Thames Ditton. A strong crowd gathered in the Baltic conditions and it didn't take long for league top goal scorer Matt Murphy to add another to his collection, batting in a rebound off a defender into the back of the net. This set the tone and the lead was soon doubled by Louis Wright, clinically finishing the rebound of a saved drag flick. We soon added a third after the forward line stole the ball from one of the Cheltenham defenders. Charlie Lamb unselfishly squared the ball for Murphy to tap into an empty net and double his tally. Despite being three up, the defence remained resolute helped by Josh Doble making some good short corner saves. However, we were not done yet, with Matt Cornwell calmly strolling into the top of the circle and against protest, flung the ball into the bottom corner. At half time, confidence was high with the scoreboard reading 4-0 to OCs.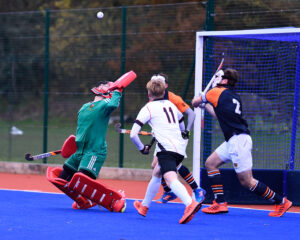 This was evident in the next goal as a slick, sharp short corner routine saw Lamb convert a simple finish to add the fifth. Then, in the early stages of the fourth quarter he doubled his tally, with a poachers finish off Louis Wright's shot, lifting it past the goalkeeper. We continued to generate chances for the remainder of the game but were unable to add to the score and ran out 6-0 winners. We were pleased with our efforts in the last game before Christmas and will sit in second place over the winter break, one point behind league leaders Richmond.
Men's 4th XI 2-2 Old Kingstonians 1s
How the mighty have fallen. Kingston Grammar have produced more male GB Olympian hockey players than any other school in the UK. In 1991 they played in the second tier of National League hockey albeit for only one season. 10 years ago their 1s were thumping our 1s in the regional league as we reversed the many quick promotions of the late 90's with as rapid a descent back to Surrey division 1. Saturday saw our 4s nearly sneaking three points in the Surrey Division 3 match in the TD Saturday grave yard slot. Sadly their rich hockey history has been replaced with a rich vocabulary of swear words, a footballism of "our ball umpire" with a raised hand and some dubious 3d skills involving putting the ball into one our defender's face.
A young, fast and very competent OK side should have walked the three points back up the road to Hampton Court against our hard working determined team. Perhaps the school's coach has an idol in Kevin Pietersen, no "i" in team but two in the aforementioned. As it turned out our skipper had a stormer of a game in goal whilst their keeper did not. Ajay scored from the top of the D with a cracking shot and we were 1-1 at half time. Graham scored our second with a similar goal, our only two shots on target. Fair to say there should have been a third shot on target very early on. The short corner count was zero against seven or eight in the OKs favour and flashy routines came to nowt. There were about five minutes left on the clock when they sneaked an equalizer. Deservedly so, but not before Grizzly took one in the chops from their No.100 who was a far better player to have accidentally put the ball in the air when he had two team mates in goal scoring positions.
This was definitely a point won as opposed to two points lost in last week's 2-2 draw on the Merton beach. This was our best team performance of the season with each of the 14 players contributing to the cause. Ajay and Dan deserve a special mention as they have come along leaps and bounds in the last 10 weeks. Other results went in our favour and a win next week v Woking 3s, whilst Reigate play Oxted, could see 4 teams on 21 points and only a point behind second place if Cheam win their game. All to play for in the remaining 12 games and hopefully our league position will give us all the desire to have a more consistent squad which we need to have if we are to end up second at the end of March. On the flip side their great club's demise is a salutary lesson for one and all.
Sunbury & Weybridge Hawks 1-1 Men's 5th XI
A tough away game at Sunbury saw us come from behind to earn a hard-fought 1-1 draw to continue our unbeaten run. We finished the first half 1-0 down and with 10 men after Neil subjected the Sunbury umpire to a minor rant about the finer points of body positioning (aka blocking), complete with finger-pointing. Cue yellow card and a long sit down. Some fine saves from Seb kept us in the game and in the final third we turned on the style. A great finish from Chris James levelled the score, setting up a frantic last ten that finished with a last-gasp penalty corner for OCs at the final whistle. But four attempts to pinch the win ended with a flick just wide of the post.
Leatherhead 2s 1-2 Ladies 3rd XI
Buoyed by last week's win and a strong training session with Lauren on Monday, we arrived at a half frozen oppo pitch with plenty of optimism. Could we defy the now expected outcome of a draw and get another win? As has become custom, we started strong, attacking hard and always in their circle. But scoring that early goal to give us some breathing room remained elusive. Approaching the end of the first half, consumed with attacking, we found ourselves open at the back, which the oppo, much to their credit, took advantage of and nicely outwitted us to slot in a goal.
Half time talk – we can come back from this, that's most definitely our thing. Determined, we regrouped and built our constant attack again. And it paid off, we scored courtesy of Bernie's finish at the post. Right, it's 1-1, we can live with that, another draw. No, not this time, we are better than that. So we kept pushing until the umpires signalled 2 mins. Ok so maybe a point is better than nothing. No, keep fighting! With a lovely base line run from Fay, exactly as practised, she drove the ball across goal for Lana to slot in. 2-1 with a whole 30s to spare!! Nothing like building the tension for the crowd! We deserved that win and although it was a tough game and not much went our way, I have to say our perseverance paid off ten fold. Big thanks to Kieran and our supporters – it really makes all the difference having you there. Onward and upwards! (quite literally, as we climbed two places in the table this week)
Ladies 4th XI 2-3 London Academicals 2s
I'm sorry if you are expecting a normal match report. All you need to know is we lost when we shouldn't have, and it really hinged on one incident. It made me wonder… how far would you go to win a match? Here's a little quiz to see where you stand on "I'd do anything to win".
Just pick a or b:
1. Lance Armstrong, American cyclist. Doped his way to seven Tour de France victories.
a. Hero
b. Loser
2. Tonya Harding, US ice skating champion. Her dodgy relatives nobbled her closest rival before the US figure skating championships in 1994.
a. Hero
b. Loser
3. Surrey League hockey player. Comprehensively kicked the ball before going on to score against OC 4s. Kept quiet when directly asked if she had fouled.
a. Hero
b. Loser
4. Spain's Paralympic basketball team. Stripped of gold after the realisation that none of the team had learning disabilities
a. Heroes
b. Losers
5. Maurice Garin cyclist. Won the 1904 Tour de France by taking the train
a. Hero
b. Loser
If you have answered a. for ANY of the questions, you are most definitely a win at all costs sort of person. Someone you could admire Diego Maradona, or Thierry Henry. Just don't expect the opposition to like you.
Ladies 5th XI 0-5 London Edwardian 5s
The Ladies 5's headed to Battersea Park this week for what was surely our best chance of winning after a series of successive, quite de-moralising losses. We had high hopes the match would go our way and indeed it looked and felt like we'd remembered how to play. With 80% of the possession we dominated the match, particularly in the second half.  Goalie Izzy did some amazing saves; our defence were formidable (but then they have had a fair bit of practice lately); midfield held their ground, intercepting and spreading the ball wide, and our forwards, who could actually be heard whooping with delight at seeing the ball for a change,  made some brilliant charges towards the goal.  Yet – we failed to get any balls across the goal line ….and they got, well, a few.  How did we not win? Here come the excuses….
To be honest it began before the match.  We did get off to a pretty good start – the early arrivals refused to partake in the free mulled wine tasting in the local cafe – well done ladies, commitment or what? – but then it went rapidly downhill.  One of our forwards got a bit, err lost, en route to the ladies changing rooms.  The repercussions of that misadventure clearly stayed not only with her throughout the game,  but spread to the rest of the team as well.  She mentioned something about badly signposted changing rooms but I have to say I walked past that door earlier and it quite clearly said "MEN" on it.  "Should have gone to Specsavers" did crop up a number of times.
Secondly the opposition (as well as setting up the failed free mulled wine stand) had hired a hoodlum fan club, whose aim was to distract us from the sideline whenever we got anywhere near our goal.  It worked – we're just not used to that kind of vocal alcohol-fuelled support at our OC home games. Thirdly we got so excited at playing in our own half for a change we decided to pack all 10 outfield players into our own D at one point.  I'm surprised our goalie didn't join us as well.  Of course, the inevitable happened – one of the oppo players broke free and charged back down the pitch to score.  We did chase after her but couldn't quite keep up – well ok we were quite a long way behind.  There were other goals too – they all came from breaks away.  One came when one of their players hit the ball wildly and it was obviously, obviously, obviously (did I mention obviously) going off the back line. I shouted to our defender to leave it, I'm sure someone else did too. It definitely wasn't just me.  One of their players came out of nowhere however – honestly she was faster than the speed of light – retrieved the ball just before it went off and somehow got it in the back of the goal. Defenders please don't listen to me or that other person (it seriously wasn't just me) in future.
So lose we did – but we all quite enjoyed ourselves none the less. It just felt like good hockey again. POM was universally agreed to be Claire Redwood who repeatedly stormed forward to get the ball down the right hand side. Special mention also for some pretty awesome play from both Georgina Anderson and Isa Wear.
Last game before the Xmas break next weekend.  Let's hope we can repeat our brilliant team performance, without any of those complicating distractions.