A great set of results this weekend, with 10 teams winning!
Ladies 1s vs London Edwardian 2s
The Ladies 1s started quickly and soon showed their dominance with most of the position and a lot of circle entries. Despite creating many chances, the Ladies were unable to convert these into goals.  About 10 mins before half time they won a free hit from the 25. This was taken quickly by Richie who made an intelligent pass to Laura at the top of the circle. Laura trapped the pass expertly and then took a quick shot from the top, which fired straight past the opponents keeper into the bottom right of the goal. London Ed's came back and secured themselves a short corner. Fortunately their lead was maintained by Hazel who made an unbelievable goal line save. This ensured the Ladies 1s went into half time 1-0 but where unlucky not to have scored a few more goals. The second half started strong, as the ladies continued to create more and more opportunities and the second goal came from two great passes by Richie and Ellie to Laura. Laura then used her body to protect the ball and take it round the keeper. However this didn't stop the keeper from wiping out Laura, which lead to a display of brilliance as Laura hit a wonderful reverse hit towards goal whilst mid air. Flo was there to then ensure the ball went in the back of the net to make the score 2-0. The defence played brilliantly throughout, to ensure a second clean sheet was secured. The Ladies 1s continue to improve and this was a great win to take them into 3rd place.
Molly Warner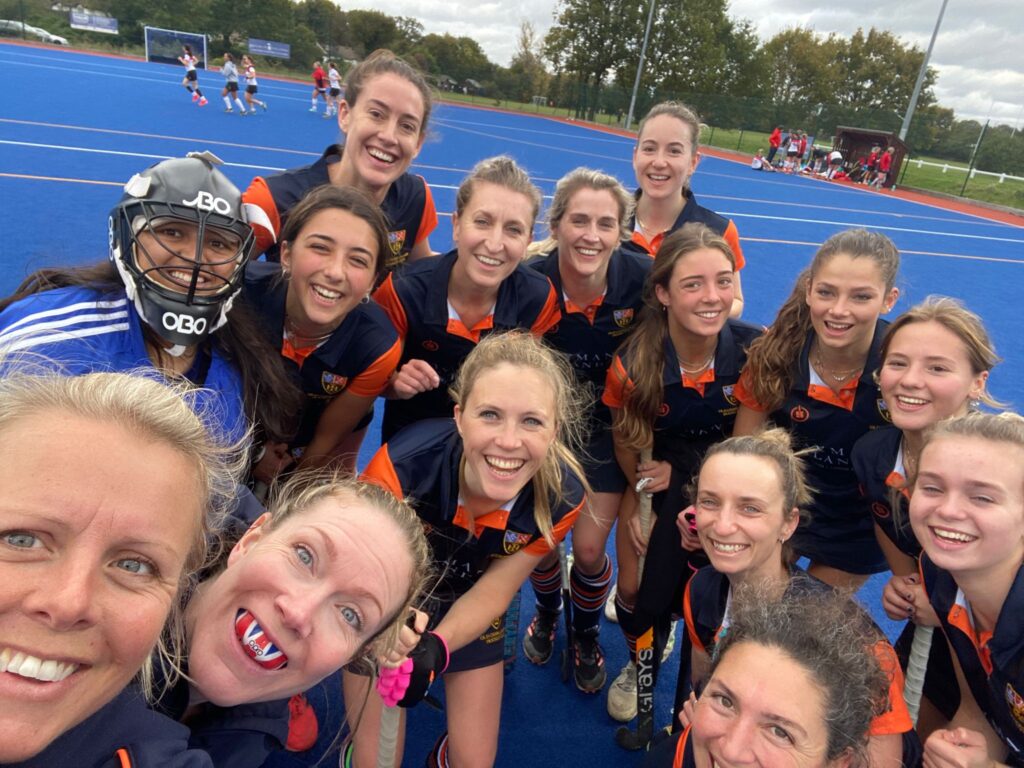 Ladies 4s vs Aces
To my knowledge we have never beaten Aces before and I have to mention that I was expecting to get a battering.  From the content of our pre match pep talk from Kate ("even if we are 3 or 4 goals down keep playing") apparently so did she.  So after the pep talk we took to the pitch with shoulders firmly hunched.
Aces are a well organised and skilful team who distribute the ball well and, in a couple of cases, have had training sessions from England Rugby on how to use elbows and shoulders.  That didn't deter us and within 10 minutes Serena took the ball up to the D, made a lovely cross across to Jenny who tapped it in at the far post.  Whoop whoop 1-0 up after a short period of time.
It was just before or after half time that we had one of our very few short corners which Megan struck, and Jenny again popped it in at the post.  We couldn't believe it and our defence expected (and got) a lot of pressure after that.  Michelle made some excellent saves and there were a couple of not very pretty goal line scrapes, but we managed to keep a clean sheet although we're not entirely sure how.  The opposition did seem to have a lot of short corners which we managed to thwart.
Given previously mentioned elbows in addition to not great behaviour from some of the opposition, our young players, Alice, Erin, Holly, and Megan, were remarkable and ran the legs off themselves.  Megan was picked out for some particularly bad conduct from two of the more mature members of the opposition (mature in years not behaviour) one of whom fouled her such that she was on lying hurt on the ground while the other one took the free hit around Megan's body.  But Megan was not to be deterred and, while rightly a bit upset by the incident, was not to be intimidated – well done Megan.
Jane had played earlier and gave great support and guidance from the side lines.  Lou and Douglas the umpires did a great job in having to deal with some very whingy opposition players, but they remained calm.  Thank you.
Although it was a close call, Erin was the MoM.  All in all, it was a great team effort.
So 2-0, which meant that a few of us didn't come down to earth for quite a while.  It really was a great win against a team who clearly expected to win and showed themselves up to be very poor losers.
We are 4th in the table!!!
Kim Lyle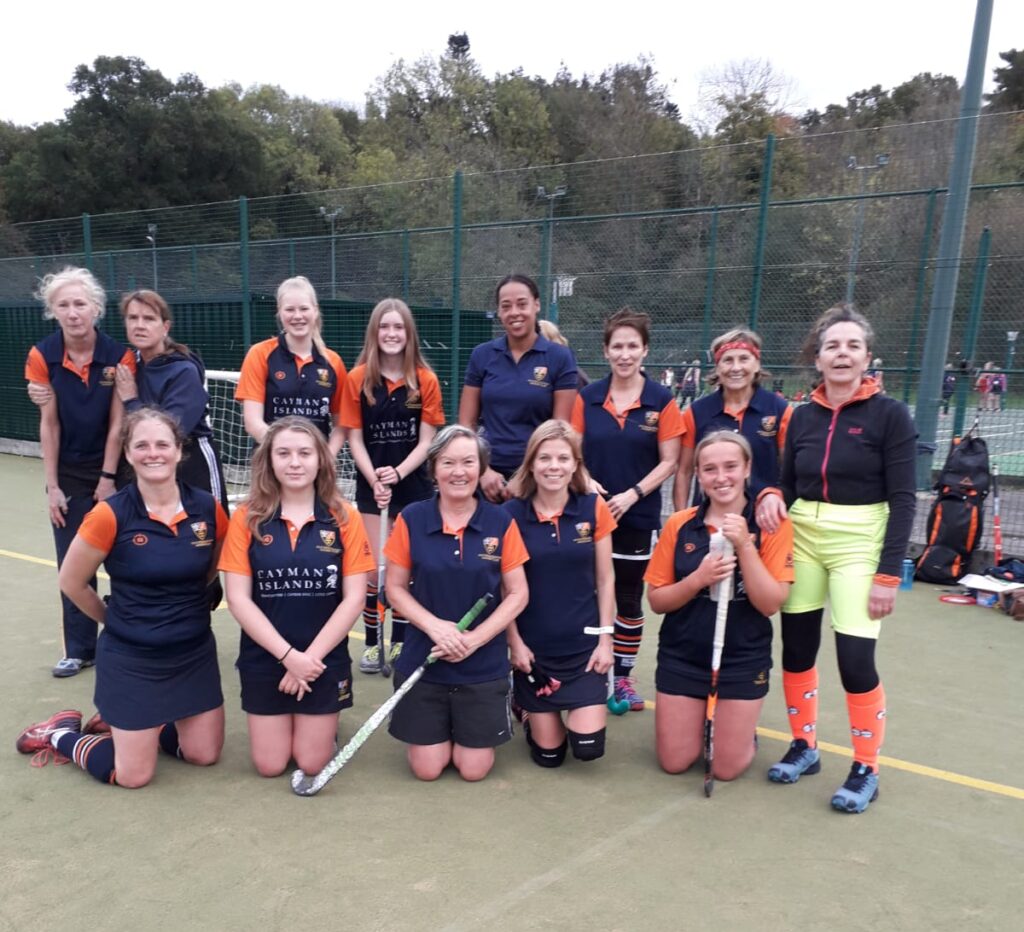 Ladies 6s vs Teddington 8s
After 2 weekends of rest, Ladies 6 were ready to play some hockey. Some more new members joined the team from the U16 Colts who were keen to try out ladies league games.
Teddington had first push back. This didn't phase us. We attacked and made a strong start with a goal within 5 minutes.
We continued to dominate the first half with strong play from the Colts who drove the ball up the pitch and several shots into the D.
Our GK Izzy made some great saves. The ball couldn't quite clear the D and Teddington scored. At half time, the score was 1-1.
In the second half, Teddington attacked hard but we were fighting back. We dominated the last 15 minutes. Just couldn't get another goal to take the 3 points but had to settle with 1 point.
Match teas = 5/10
POM = Connie Clifton
Goal = Eva Turner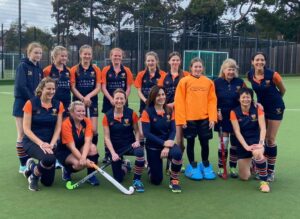 Men's 1s vs Havant 
The lads travelled down the A3 in the smallest bus to face bottom of the table, Havant. A low sun with a chilly breeze swept across the freshly watered pitch for a 2pm pushback, it was a great day for hockey and a great opportunity for the lads to bag some goals and 3 points.
The team line-up was almost back to full strength although Will Marshall was still nursing a niggle and Alexander Batstone was doing a fun run in his local carpark, but we did have Callum Holloway return from injury, giving our backline a regular feel again.
After a positive team chat from head coach, William Marshall, followed by a solid warm up on the pitch with a mix of nerf ball and stick-n-ball, both teams lined up and respectfully observed a minute's silence for Remembrance Sunday.
We started confidently with perhaps too much grit and after 8 minutes, Benedict Roe received a green card for some overambitious marking. After holding out with 10 men for two minutes we were back to 11 with Charlie Lamb coming on for Roe's green card and within 2 minutes of being on the pitch he got himself into a strong scoring position and supported by Matthew Cornwell with a robust charge & carry down the right side, he picked out Lamb at the top of the D with a wonderful pass for him to effortlessly beat their keeper and slot in our first goal at the 12-minute mark.
The traveling OC supporters of Cookiey & Cato were thrilled, absolute scenes.
Havant immediately came back at the OCs with a determined run into our D with an on-target shot on goal that was professionally saved by goalkeeper, club man and generally good bloke, Joshua Doble.
1st quarter finished 1-0 with end-to-end plays from both sides throughout the 2nd quarter, nothing much coming from both, and OCs finished half-time 1-0 up.
The 3rd quarter was a strong start for Havant, winning a moot short corner in the first minute of restart but top bloke, Doble, was in no-doubt and skilfully saved and cleared the threat. However, Matt Simpson was getting ground down on the OC left half and with a low sun interfering with the backline vision, we got caught out and Havant slipped in an equaliser on the 48th minute – taking the game to an edgy 1-1.
OCs fought back and quickly won our first short corner after captain Oliver Davies smashing in the ball into the D and on to a Havant foot. Pakistani International, Muhammed Irfan drag flicked it low, but it was dispatched quickly by Havant.
In the last quarter break, coaches Will Marshall and Dave Matthews got out the hairdryer, it worked, and the OCs went into fifth gear and eventually built up the play in and around their D. Charlie Lamb won a free hit just outside, passed to centre-half, William Philips who took a shot that was deflected by keeper to Benedict Roe who picked out Muhammed Irfan who had plenty of space and time, he clinically banged the ball into Havant's net for the OCs to go 2-1 up – surely this was enough?
No. Havant were not giving up and came back at the OCs, with visions of a Marshall & Matthews dressing down, the lads were not going to let the game slip away and got a little tougher with our marking, which unfortunately lead to conceding another short corner – but super skipper, Oliver Davies, saved it off the line.
A couple of last-minute resolute attacks from Havant ended up with Benedict Roe receiving a yellow card (assertive defending) and Tom Thorne also receiving a yellow (a harsh interpretation of the rules for a strong tackle) – down to 9 in the last minutes of the game, the coaches, bench & supporters watched on through their fingers as we held out and finished the game 2-1 and 3 points.
Man of the match: Charlie Lamb. Goal.
DOD: James Beers. Camera malfunction.
Men's 3s vs Wimbledon 5s 
An 09.30 start proved to be beyond a number of intended participants especially as the game was in fact a 10.00 start. Even with the extra 30 minutes to play with Fletch proved to be totally elusive and even in this age of constant contact and availability to say "sorry chaps…" not a whisper. The same fate befell the Wimbledon keeper who did appear until after 10 minutes had elapsed.
With a few other absentees the team was not known until Friday but the cobbled together 13, well, 12, did the business against a spirited Wimbledon side. No leeway to the start time was given by the umpires and our oppo therefore started with 11 outfield players although were under the impression that one could be a kicking back. Our first short corner was indeed saved by the claimant who then justified his decision by saying "I am the kicking back". On being advised that kicking backs are a thing of the past and with the offence being ignored we stuck home our second short with Kenty slapping home the slip right. A keeper would have saved the shot and we did therefore profit from the missing keeper.
At this point Wimbledon introduced their number 13 who was a very good player and started to dictate the game. On this taking a break we dominated again with some top hockey. Will Copley was also a cut above and our defence was mighty solid. Kiran WT was not called into action in the first half with our lead being doubled when Henry burst into the D and his shot finding the goal courtesy of a deft Eds deflection on the far post. VAR was being used but as all good strikers do, Eds made sure.
Although not adding to our score in the second half we repelled all that came our way including dealing comfortably with Wimbledon's two short corners enabling KWT to keep our first clean sheet of the season.
Thank you to CB for helping us out and risking fatigue ahead of his ballet exam with his timely aerials causing all sorts of problems in the home defence.
Another great game of hockey played in the perfect spirit and umpired well by the oppo.
Bank of …. ( answers on a post card as our former nickname for them is probably now illegal) next week, our sternest test, by far, yet with a few rugby and holidaying absentees but others returning to the fold.
O40s Stormers vs Guildford
The Stormers first home match since the start of the season welcomed Guildford to fortress TD.
The warm up looked sharp and Stormers looked deadly………. in fact there nearly was a death as JJ with a trademark 'over the fence' shot almost killed a dog.
With a new formation 3-4-3 Captain Heslop was under pressure from the start, if this didn't pay off the DOTD was certain!. 44 seconds later with 3 super sharp passes Stormers went 1 up with Gav passing the ball casually into the goal. Champagne moment or should I say Rene Jolly!
The new formation worked well with the ball transferred at pace which made Guildford work hard. Will Naylor showing his class with a darting run made it 2 within 10 minutes.
It was all Stormers. Guildford spent most of the time taking 16 yard hits as the shots were rattling the fence. JJ even taking another shot at a black Labrador however it didn't quite make it over the fence.
A lack of concentration and big feet in the 25 gifted Guildford a P-C which they scrambled over the line. 2-1.
Guildford started the second half brightly and frustrated OCs however once we got Rippers and Cato on the ball Stormers started to play some decent hockey again.
After a few air shots, big feet and a goal (somewhat after the whistle) Stormers played with 10 men for 4 mins.
Ship steady, the Stormers got a third from Will and a fourth from Gav. Which now makes Gav the top scorer for the Stormers this season. Although 2 braces in two weeks smells like jug avoidance to me.
4-1 the final score, should have been double digits. Formation sound, shooting not! …..hence Captain Heslop writing the Match report.
Rumours have it the men's first XI had a scout (Will) trying to poach players from the Stormers!! Can I just make this clear Gav is going nowhere!
MOTM – Ash (for brown nosing after DOTD last week)
Barnstormers vs Sonning
Having been threatened with suspension from the Club, the cancellation of bar credit and removal of all post-match privileges the Barnstormers have now produced our first match report of the season.
Not quite sure what to make of the new pitch-side technology, we decided not to trouble the iPad in the first half. We made some chances, they made some chances but without the passcode for the new scoreboard both teams knew scoring would be futile, so didn't bother.
As news that the Barnstormers had a prime-time slot under the lights spread widely across the streets of Thames Ditton, the crowd doubled in size. In full voice with well-rehearsed chants, vuvuzelas, and songs, the now amassed crowd of 10 vets with beer in hand, and able to see the far side of the pitch thanks to the new lights demanded we swipe right and turn on the iPad. We obliged and Sonning went one up.
With eight minutes to go – I know this because the scoreboard told me – the Barnstormers came good. Someone passed the ball to someone else and, amazingly, Rosco scored. Celebrations went long into the night as we realised we had actually managed to save a game; however, we now have to come to terms with the fact that Rosco has scored his goal this season.
Next week, there is the outside chance of an away fixture at Crawley. Unfortunately, injury, something happening at Twickenham and the fact that the match is away in Crawley may see the Barnies have to wait two weeks to see who will take over the scoring baton from Rosco.
Warriors v NPL2
Last week v Surbiton the Warriors had a host of golden chances that we somehow failed to convert (although a draw was a fair result), this week was different story.
The first challenge was to get the youthful Warriors team out of bed in time for our first morning game of the season and on a local road trip to Teddington to face NPL2s.
On the pitch every touch this week was "goal"den with nearly every shot finding the goal. Not to belittle the efforts but twenty minutes into the game we were holding a comfortable 3 -0 lead and wondering how NPL beat Surbiton earlier in the season.
Charlie McCarthy's two sublime reverse stick shots inside the first 10 minutes followed by a great team goal with a deft Rudi Allsop finish put us in command.
After that it was the Alan Kane show….dominating the midfield and providing two goals and an assist (for a Molin tap in), the last a reverse sweep from Charlie's playbook.
The defence did let one goal in after the break to make it a little more interesting but largely had the game under control despite some interesting umpire decisions.
A good day all round remaining undefeated in the league.
Final score 6-1