Ladies 1s 3 – 1 Richmond 1s
The Ladies 1s' second game of the new year was against Richmond 1s who we had previously drawn against in the last game. This, coupled with it being David's old club meant desire to win was very high. El capitan, and top goal scorer, Laura was sunning it up in Miami so Hazel stepped in as the captain for the day.
The game started steadily with good passes from our side and much opportunity but no conversion. This was in part thanks to many… "great" calls from the umpire. After 20 minutes of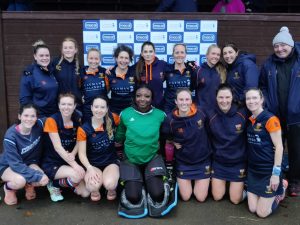 attempting to get the ball into the back of the net, the team became more tenacious and a short corner was secured. Molly stood top D and the ball was injected out, rebounded off the keeper multiple times before Molly flicked it home for the first goal of the match, 1-0. Having one goal under our belts, the play began to pick up pace and within 5 minutes, a second short corner was blown. This time Molly stood left with Richie top D. Ball came out, to Molly, drag flick and we were leading 2-0. At this point our goalie Bolu was having a freezing game, having only needed to touch the ball once. Heads high, the team went for the third goal. Of course, given the past scoring, this was to be found via a short corner. The ball was injected to the top and slipped right for a one-two, before being hurtled to Sam at the far post who sealed the deal and brought us into a safe 3-0 lead.
With the whistle calling half time, we headed for a team talk spirits high. After a few words of wisdoms from David, Tangfastics and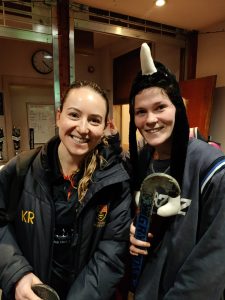 hydration, we knew this would be ours. The second half started a little slower than the first but we had chances. The first near miss highlight was from Richie, who drove from outsideour D to top of their D, defeating many opponents in the process, for it to unfortunately not be converted. The second happened as the whistle blew for the second half to begin: centre-forward Loz spun and took them by surprise passing it to Gabs and then onwards to Sam and into the D. Without a D touch from our players, the ball went off the back line. Within the last 5 minutes, Richmond had a chance, an open play interception allowed the opponents to enter the D and successfully ruin our clean sheet. The game was over, and we'd enjoyed another win, 3-1. Great effort and connections from the team, especially given we were missing a couple of usual players.
Special mention to the U18s who all had a stellar game
DOD: Gabs for managing to forget her shirt, yes somehow that is possible… #vesty (Special mention to Molly who's water bottle and pasta Tupperware (which took up half her hockey bag) probably could have been substitutes for match teas given their size)
MOM: very well earned by Richie
Goals: Molly Hanson (2), Sam Kugler (1)
Men's 3s 4 – 0 London Wayfarers Outlaws
Saturday 14th January saw the midpoint of the season for the OC's Men's 3XI and they travelled from all corners of SW8 to face the London Wayfarers Outlaws in an 'Away' fixture at Battersea Park. A win would see the Gentlemen's XI regain momentum following a turbulent week with Hugo Sheperd as captain and retain their position at thetop of London Div 3 South. The day got off to a somewhat stressful start with Don and Marchant falling foul of the wrong coffee order from the normally reliable 'Rosie Colicci' convenience stall in Battersea park. The squad were assembled a full 15 minutes before the scheduled pushback with mercurial centre half James Croft the last to arrive, citing day care for miniature Dachshunds as 'a real problem in 2023'.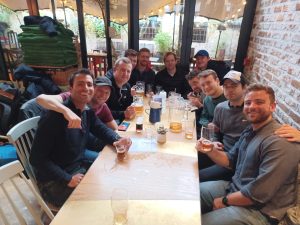 After a gentle warm up both and some fiery words of encouragement from returning Skipper, Max Arthur, the game got off to a scrappy start. OC's had the lions share of possession early on and some probing runs from Callum Kent and Charles Hardy failed to find the early breakthrough. It was by no means one way traffic, Wayfarers played some decent counter attacking Hockey and Ross Kingsnorth made some decisive saves in the OC goal to keep scores even. Copley and Wilson began to find their feet in midfield and eventually the OCs began to gain composure. A clever transfer round the left from Richardson found Hardy on the break, he calmly slotted home to give OCs the advantage.
Arthur, sun kissed and brimming with claret from his Honeymoon in Rhodesia, was starting to control the transfer and on the brink of half time another move round the back yielded success for the OC's. Some quite remarkably poor acceleration from Don only just allowed him to get on the end of a James Croft through ball but the overlap gave the OCs a chance to win a short corner, which was put away by Will Copley to double the lead going into half time.
After a round of Starmix and a glug of water, the second half got underway. The Wayfarers had a chap in midfield who threw a very effective aerial and this seemed to be their tactic as fitness levels waned and the OCs once had to rely on the sharp goal keeping of Kingsnorth to keep the Wayfarers at bay. Paddy Harman was beginning to show his pedigree down the right and a well worked team move saw him link up with Sam Wilson, who scored his first goal for the side since 'that game' in March 2020.
The final quarter become more open with both sides playing end to end hockey, Charlie McCarthy coming tantalisingly close to scoring what would have been a close contender for goal of the season alas just deflecting over the cross bar. New recruit Jethro Thomas continued his fine run of form and with minutes to play, it was his attacking play that allowed James 'air shot' Croft through on goal to make it 4-0 to the OCs.
A shake of hands and a team shower were followed by a round of German lagers and a delicious plate of Nachos in the Lighthouse Pub. OCs go into the second half of the season at the top of Div 3 South with everything to play for.
Man of the Match: Hugo Shepherd
DOD: Alex Don
Ladies 3s 1 – 1 Wimbledon 6
Having told the team to bring both blue and white kit and with everyone arriving on time to the amusement of Rob C "do ladies usually meet so early" "yes, sorry, there is a lot of chatting that needs to be got out of the way." So in our white kit because
Wimbledon play in dark purple we walk out only to find theirladies play in white. So how long does it take to change a shirt and socks, well let me tell you the old players just swap shirts on the side of the pitch so on average about 10 seconds but not so with the juniors, they all (8) wander back to the changing rooms, chat,
change and about 15 mins later wander back to the pitch. Sorry parents but we do need to meet early.
This was always going to be a game that could go either way. We needed to play our game, we have improved so much since the start of the season and that is mostly due to being a team who move the ball early and give the next player receiving the ball time to make the next move. We were the stronger side in the first
half and forced a number of saves from their keeper although when Wimbledon did break they were very much a threat, forcing a couple of saves and defending a few short corners.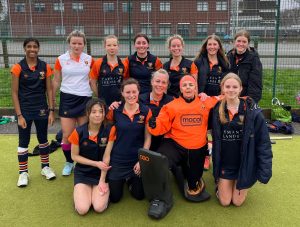 Half time and no score but it was just a matter of time. About 12 minutes in and Wimbledon won a short corner which went to the top, slipped right and unfortunately one of my defenders stepped in front of me just as the ball was struck so went through the both of us. We stuck to our game plan, moving the ball through
the middle and eventually to Jess who struck the ball at the top of the D heading towards Amy who dummied/missed but in doing so drew the keeper and left an open goal for Sophie Y to pop in. With renewed belief we kept up the attack. Some great one touch passing from Kirsten up to our forwards. Great running from Jess
and Connie x 2, Bethan, Sophie Y, really good work from Amy, Jacqs, Sophie DH and of course well defended, Livvy, Bea & Erin and finally Manny and myself being joint POM.
Goals: Sophie Y
POM Manny & Michele
Stormers 6 – 1 Epsom Embers 
Much has been made this week of Goalie taking a week off work to attend a coaching course with Sean Dyche, Tony Pulis and Big Sam. As a result Goalie had recruited Big Craig to go with Big Ash and Big Tongy.
The players successfully negotiated Becher's Brook to arrive on time for a huge game against Epsom.
As the game started Goalie's recruitment looked to be paying off as the Stormers looked solid at the back and mounted some decent attacks.
After 15 mins Cato had seen enough of the forwards failing to score and he took matters into his own hands scoring for the first time in 684 matches.
This gave the Stormers more confidence and the star players started to get going. Maverick (Will M- self titled) and GB  (Rippers -also self titled) getting on the ball and, following some good work by the forwards, CB and Goose (not self titled- balding and not in the sequel) scored two further goals.
Much like Tongy in K Barbers the Stormers started to 'turn on the style' heading into the break 4 nil up.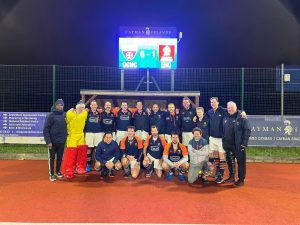 At half time Dave Matthews, sporting a Stone Cold Steve Austin knee brace, was purring.
As is customry the Stormers started poorly with Goose, followed by Gerry, getting green cards.
Unfortunately nobody had told Goalie that the season of good will ended in December and he passed the ball to their striker to score. 4 -1.
Much like GB in a barn conversion in Esher with views of the Green and potential to extend (STPP) the Stormers looked to ' seal the deal'.
Subsequently Cato, following a good ball from Heardy, ventured past the half way line for a second time in 9 seasons to score his brace.
This opened the floodgates as Epsom decided to start the 6 nations early with some pretty average tackles. When they were shorthanded the Stormers scored another through Goose (following good work by Ash) and created a load more chances.
As we know Maverick is a showman and he kept the crowd on the edge of their seat putting numerous chances onto (and into) the bar.
It mattered not as the Stormers closed out a commanding 6- 1 win against a good Epsom side.
The forwards get the credit but it was a cracking defensive performance to restrict Epsom to one goal and one corner.
Top of the pops Cato.
Down in the dumps-  Will N / Goose.
Ladies 4th XI 2-4 Wimbeldon 7 XI
Second week back and a fair amount of rain started off this Saturdays game for the ladies 4s against Wimbledon. After watching the OCs ladies win before us, we were all raring to get on and play.
We had heard that the umpires were being assessed and so knew we would be under strict rules today, and that we were, not many feet went unnoticed.
The first half began and we were looking super strong, making some nice runs on the wing and getting it into the D on many occasions but not quite getting it in. Unfortunately theirs was the first goal 15 minutes in but shortly followed by Lucy's goal making it equal, in a large scrap leaving the keeper on the floor. They then scored 5 minutes before the end of the first half leaving us walking off the pitch at 1-2.
The half time chat with the team was extremely useful with tips on how to beat Wimbledon's strict press, so after many jelly babies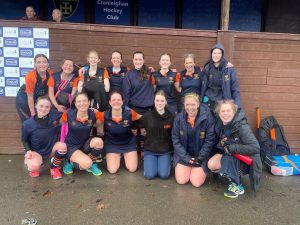 (thank you Paula) the team was ready to get back out onto the pitch – despite the annoying rain.
Second half began and we came out fighting, Ailsa and Bernie making some amazing runs with the ball from 16s, unfortunately we conceded another goal 10 minutes into the second half, and then again after their short corner bulleted straight past Evie who had a fantastic game.
But we didn't let those goals stop us, we wanted ours. After multiple shorts in a row and countless runs, we finally made it 2-4. As the end whistle was blown Bernie tipped it in from a cross from Ailsa. I've never seen a losing team cheer that loudly at the end of the match! We were so glad we got our goal.
So even though the result was not representative of those final 10 minutes of straight tries on the goal, we were left with our own personal victory. So many amazing passes and brilliant 16s taken by Roz managing to bounce over the sticks of Wimbledon. Special mention to Carolina who made so many tackles and to Colleen who played excellently especially since this was her first match with the 4s since her injury (against the same team) just a few months before had taken her off. We missed you and are glad you are back.
The team looked really strong today and it was an unfortunate outcome considering the effort put in from everyone today, well played.
PoM: Ailsa Pack.
Match report: Bella Perry.
Men's 4s 11 – 0 Barnes Beavers
Beavers slain 11 – 0
The second round of games of the league season has at last commenced as the sky sent down biblical amounts of rain. Although I have to be careful how some of this report will be interpreted the weather should have suited wet beavers coming out to play after 5 weeks of no action. Due to the Beavers being in pink we were able to wear our blue home strip.
70 minutes later the RSPCA were seen in the Richmond area looking for Will Leslie who had played like god and destroyed the beavers albeit not single handedly. This development explained Will's disappearing act some 50 minutes into the game.
Not to be outdone Powelly turned up with his two daughters only for them to be snatched in the first half, possibly by social services, due to the threat of their being washed away whilst huddled under two small umbrellas behind a large black dustbin.
The first 10 minutes did not give any clue as to the final outcome of the match. Unsurprisingly Beavers were at home in the wet conditions as we struggled to keep the ball for more than 10 seconds, mainly due to the ball being passed to our left back, me, every time we won the ball, who decided to pass it straight back to the pink Beavers every time.
The game changed after 10 minutes when very much against the run of play we broke out of the right hand of defence and 7 passes later had scored. Super goal just as the rain stopped. The floodgates then opened and by half time we were 6 up scoring the bulk of our chances including 2 drag flicks from Will The God. Not bad from the guy who had never used this skill until October last year when he rifled one into the top left hand corner of the goal. These two went either side of the keeper low down.
The half time team chat centered on our needing to keep a clean sheet and repeat the first half performance which we just about did although during the last 10 minutes we burrowed into the left hand corner with zero outcome. The God scored another drag flick to make it 4 conversions out of 5 in his fledgling drag flick career, one from which he may contemplate retiring (or just leaving the venue at an arbitrary minute of the 70.
Other than Will's hatrick the other scorers were Toby 2, Ceige 2, Powelly, Knappy, Sam D and Jake. We would have scored more but for an inspirational second half performance from their keeper.
This was comfortably our best team performance of the season and not one of the 14 in the squad had a bad game.
We now have 4 jugs in the locker for the hatricks thus far scored and they will no doubt appear at the end of season dinner.
All 3 Surbiton sides in our league won with their 5s whipping the form team, Merton, 5 – 0 with our in 2nd place sandwiched between their 5s and 6s.
Cheam 2s next week.
Ladies 6s 1 – 0 Surbiton Sirens
An early rainy start to our first league match of the year for ladies 6s against Surbiton Sirens on home turf.
To shake off the rainy blues, we did an energetic warm up to music provided by DJ 'Lucy G'. The most apt and lively song selection being Yazz and 'The only way is up'.
With a refreshing warm up under our belt we were raring to go, and started strong, lots of possession, great runs into the D by  Kirsty, Poppy and Evie, lots of great chances on goal putting their defence under continuous pressure.
Mids did lots of running, with Rachel bossing it in CM position. With many chances we still reached half time with a 0-0 outcome.
With coach Darren McKay giving great support on the sidelines, he gave constructive feedback at the half time chat to help focus us.
Within 10 minutes of the half time whistle, our next drive into the D was brilliant and achieved that much sought after goal, with a great position to knock it in on post by Fi MacPherson.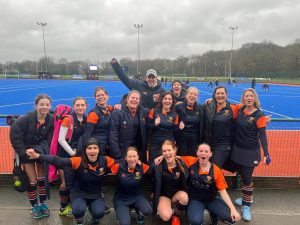 Now we were fired up, GK Izzie continued to make some amazing saves to keep us in poll position with our defence super strong and working brilliantly together to keep Surbiton from equalising.
Our W presses throughout the game were on point and enabled us to put Surbiton under pressure.
With what felt like a long last few minutes of the game, we kept up possession to end the game with a well deserved 1-0 win.
POM goes to Izzie Sewell for some brilliant saves giving us the win! But a truly tremendous team effort by all.
Onwards and upwards Ladies 6s!!