Men's 1st XI 2-0 Oxford University
Having successfully avoided any chance of promotion with a well thought out loss at Brom Becks a few weeks earlier, the OCs were off to Oxford to take on the students; a team full of confidence following a strong first half of the season. What was destined to be an entertaining match was, however, ruined by weather as depressing as Ollie Davies' ball striking at Rye GC the week earlier. Rain fell and temperatures were close to freezing. Nonetheless the OCs started the game strongly with a well organised full press which the students struggled to deal with. The elbows were high and topspin passes in full flow on a bouncy and receptive surface as the OCs started the game strongly. After a few flowing moves down the right hand side the pressure began to tell and the OCs were awarded a short corner, which, true to form, ended without a shot on target. Moments later, however, another was awarded and Matt Murphy's flick could only be parried on to an approaching OC attacker. The goalkeeper had clearly done his research however and picked out the goal shy Ben Wilson who was only able to find a foot despite the gaping goal mouth. A small improvement for Ben nonetheless. Murphy stepped up and slotted the resulting penalty flick calmly into the corner to put the OCs 1 up.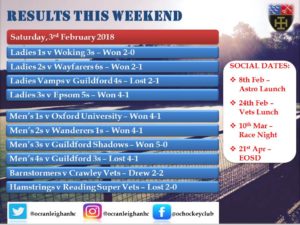 The dominance continued after half time, lead by a midfield masterclass from Alex Cnzerski who finally decided to turn up 37 games since his debut. A well taken deflected goal by Ben Wilson from a Dan Rhodes pass gave the OCs the 2 goal cushion they desired with 15 minutes to go. After doubling the lead the usual carnage ensued with half the team applying the trademark OC full press and the other half opting for half court, but this didn't alter the result. The students lacked ideas against a well organised zonal defence and never really threatened a comeback. The game ended 2-0 and the team were rewarded with a 10/10 match tea courtesy of the Oxford Uni staff (the accolade awarded despite Josh Doble's disgust that he couldn't start his 'seshuani naan' by 'doing' a few 'Michael Beer's').
OCs 2:0 Oxford Uni (MOM – CZ, DOD – Robbo) #duhc
Men's 2nd XI 4-1 Wanderers 1s
Match report to follow.
Men's 3rd XI 5-0 Guildford Shadows
The 3rdXI's global fan base will have read all about our poor performance last week and the squad arrived at Guildford with high hopes of a more consistent display against a young and skillful side. Nick Lewis returned to the squad with renewed entusiasm and took a warm up that had us focused and ready.
Straight from pushback we began to dominate. CB, who had indeed taken his tracksuit off and decided to help his team this week, held the ball well with Grimer in midfield. After 5 minutes our England Team of the Week star Charlie Packham and Chris OD created some space down the right for Eds to win a short, which he fired home to take the lead. Its not always good for us to score early and we did revert briefly to long ball hockey, as Guildford came back into the game. A series of Guildford shorts were kept out by Mikey who was still searching for his first clean sheet of the season. We absorbed the pressure and began to take control, as Heardy switched the ball at pace around the back. As Grimer broke through the middle and passed to give Farqs time in the D a scuffed shot somehow went through the Guildford keeper to double our lead. Shortly before half time we won a short, and Knappy's hours at work focusing on short corner innovation paid off as he finished to take us into half time 3 up.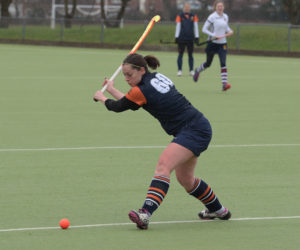 This was a simple half time chat- more of the same, but the next goal was vital. Guildford began to run out of steam and Ports was in acres of space as we continued to switch the ball well. Another Packham run down the right, switched left and Lewis fed Knapp to finish for his second. Straight after, another piercing pass from Lewis found Eds on the top of D to chip the keeper for his second and the game was over. The last quarter saw both sides run out of legs, but Guildford did create some chances. Mikey made a few important saves and was rewarded with his first clean sheet of this campaign. A much better performance than last week as we maintain top spot, but only 2 points clear of 2nd. Lots of hard work ahead as we entertain in form Merton next week at fortress TD.
Men's 4th XI 1-4 Guildford
Tough game Saturday saw us take on a youthful and determined Guildford team. At half-time we were fighting a rear-guard action to cling on at 0-1 with two of their goals disallowed and Seb keeping us in the game. Second half, we threatened at times, but tired and sustained pressure began to tell as our card count mounted and they found ways through. Cracking game but finished 1-4.
Men's Hamstrings 0-2 Reading Supervets
Match report to follow.
Men's Barnstormers 2-2 Crawley Vets
Match report to follow.
Ladies 1st XI 2-0 Woking 3s
Woking may not be as high up the league table as us but they were definitely out to try and take some points from us. The first 20 minutes were about getting to know the umpires and their version of what 5 metres was, as Coach Dan kept pointing out quite loudly. We soon settled and started to move the ball around as instructed, which resulted in Kate Scott collecting the ball half way and with her super skills up the right wing, beating several players into the right side of the D, drawing the keeper who fell on the floor so Katie Richie could smash the ball back of the net. 1-0. A good start.
Most of play was spent in Woking's half, and we managed to win a free hit just outside the D, which Liz Norrington took quickly, whilst Woking were arguing with their umpire. We capitalised on this, and Liz took the ball quickly five metres, then into the D, smashing the ball towards the goal for a straight strike. Woking's keeper wasn't ready. Woking managed to win a short corner just before half time but our defence swiftly despatched this to the side.
We came out strong again in the second half. Amy Mighalls had some great runs down the right of the pitch, we won some more short corners but didn't manage to convert. We were solid at the back with Alice Durrans in the middle, flanked by Emily Stubbs and Ali G, marking their players tightly. And our Mids all worked hard attacking and defending, especially Georgie Watson, who had to run the gauntlet of being right under the nose of their umpires. We managed to get the ball on target a number of times, making Woking's keeper work hard, but we didn't manage to get anymore goals. However, 2-0 is a great score. All in all not a bad performance.
Ladies 2nd XI 2-1 Wayfarers 6s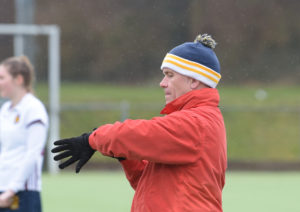 It was a cold​, ​wet ​a​nd very early morning at ​T​hames ​D​itton​,​ as we ​arrived for our rematch against ​L​ondon ​Wayfarers. We​ ​ lost to them last year and so​ knew that it wouldn't be an easy game but we were ready and raring to go!
Despite ​our best efforts, ​we started ​the game ​a little bit quiet and most likely still half asleep​,​ and ​so straight away the oppo seemed to have the upper hand. It was clear that "Ways​"​ played​ well together as a team and had played together a fair few times before. Command​ing​ the game from the middle​, they were​ very strong on the break which p​u​t pressure on our defence​ from the start​. ​​They had some great skills down the right ​hand ​side and ​weren't making it easy​.​ ​​We ​soon ​however regained our composure and got ​back ​into our rhythm​ and started playing our game​. Ellie and Rachel were attacking hard and making some brilliant runs​ into the D. ​Sophie also had some great runs from the defence line. A few short corners went our way and ​we ​seemed to have things back under control. Amy kept the momentum up the right with some amazing drives down the wing to the baseline​​. ​And it was an amazing run down the wing by Amy, which she then cut back inside to Rachel at the top of the D, which resulted in our first goal. ​1-0. Things were looking good! We ​continued to work hard, with Alex ma​king some brilliant tackles and great transfers round the back and ​back ​up the pitch. As well as finding herself attacking in the D. Brilliant performance and w​ell deserved​ player of the match! We then had a slip of concentration and Ways broke free and managed to sneak one past our defence with a great strike on goal. 1-1. The battle was on! We continued to work hard and the last part of the first half, making some ​great passing down the ​wings and really focusing again. ​Half time and it was 1​-​1.​
We knew we had to come out ​in the 2nd half s​tronger and want​ing​ it even more. And we did just that!​ We had a few defensive shorts which we managed to defend well ​and ​a few ​more ​attacking shorts too.​​ Our 2nd goal was ​came from Kara. Josie took ​a quick ​side line ball ​and passed it straight to Kara ​who was ready for a hard strike at the top of ​D. 2-1. Now we just needed to hold it together for the rest of the half.​ ​We continued to attack hard, with a few more shots on goal, including a great strike from Kara which crashed the ​top of the c​rossbar​.​ A near miss​ and much shrieking from the sideline!​ We held it together we;; for the rest of the half to take the win. ​All in all a very enjoyable game against a nice team. Well done girls! Bring on the next one.
Big thank you to Cookie and Martin for umpiring!
Ladies Vamps 1-2 Epsom 3s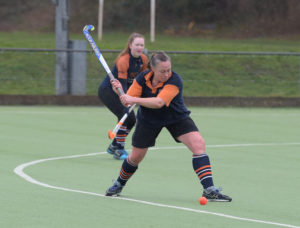 Vamps started well and some nifty play resulted in a goal prior to half time. Epsom equalised in the second half and Vamps continued to attack without success. Nici, our splendid goalie dived ten minutes before the end but had to leave the pitch due to shoulder injury. Sophie de Haast guarded the goal but was also injured when Epsom scored the winning goal. Vamps shouldn't have lost but nevertheless a good game apart from the injuries. Final score 1-2. Goal scorer Sara.
Ladies 3rd XI 4-1 Epsom 5s
Match report to follow.