A round-up of the final matches of the season …
Men's Barnstormers 2-1 Richmond
On what seemed like the hottest Saturday of the year so far, Barnstormers eventually got the better of a strong Richmond team with whom we had two hard fought draws during the regular season and who ultimately finished one place ahead of us in the regular league season. But that was certainly not the way the match started and it was very much the proverbial game of two halves.
The squad assembled late and elected to warm up solely from the heat of the Sun. And it showed, as we were comprehensively outplayed during the first half. Richmond had total control of possession and our basics were lacking as we couldn't retain the ball for any period. How Richmond didn't score can only be put down to Nigel with some inspired keeping and sheer good fortune. So it was scoreless at the break as we counted our blessings as the opposition cursed theirs.
Whatever was said at half-time (inspirational skipper?) did the trick, however, because we were as good in the second half as we were bad in the first. Bringing JJ, Poen, Stu H and Foxy into the attacks, Richmond both tired and became disheartened. Dougie and Heardy suddenly had good passing options in front of them and we built plays from deep with Cato directing affairs from the middle. Surprising the Richmond defence, JJ showed a turn of pace that had hitherto been well hidden to beat several defenders and score a great tomahawk goal to take the lead.
We were now on top and with fresh legs from the bench the game became stretched and we were able to break quickly to cause problems. In defence we had to resist several penalty corners with more good saves from Nigel and Si once again putting his body on the line – this week using his collar bone rather than the somewhat softer part of his anatomy that was employed last week. It was disappointing therefore, when Richmond were able to seize on some loose play and equalise. But in the knowledge this was against the run of play we bounced back strongly with Richie putting JJ into the D to beat a defender and cross on the button Stu Heiden to bag the winner.
At the other end his namesake confirmed his bad-boy reputation, earning another green card – thank goodness the umpire hadn't seen John Seears earlier interpretation of a tackle, before he was banned from our 25. A great second half effort left us exhausted. Even midfield dynamo Cato was out of gas, being turned into a heap on the turf by one Richmond attacker, but still winning the foul! The win puts us into the League cup final on the 13th. Silverware is silverware, it would be nice to have something to show for many great performances and finish on a high.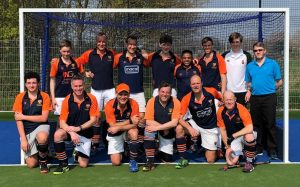 Men's 4th XI 4-1 Barnes Beavers
Always a feisty and hard-fought encounter, the season finale was no exception but our win sees us finish third in the league …
Ladies 3rd XI 0-2 Guildford
One to forget … but …
Camberley and Farnborough Ladies 3s  0-6 Ladies 3rd XI
A cracking end to the season as the Ladies put six past the Will Stephens' coached Camberley and Farnborough for the second time this year, and in so doing ensured an excellent fifth-place finish