While our season is on pause, each Saturday we'll introduce you to one of our Club players. This week, meet an inspiring member of our Ladies 4 XI, Yasmine Weeks.
Name: Yasmine Weeks or 'Aggy' (given to her by our GK)
Team / Position: Ladies 4th XI / Right mid or forward
One word to describe you on the pitch: Scrappy
As a GP during COVID-19, how has life changed for you?
Life has changed dramatically for me during COVID, most dramatically was losing my fit and well dad suddenly to COVID back in April at the height of the first wave.  As a GP, I have gone from treating coughs, colds and minor illnesses, to seeing and treating unwell patients in the community as well as seeing more young people suffering with mental health issues. I spend my week divided between running COVID clinics in Walton, urgent care / A&E at St Peter's hospital and being involved at the vaccination centres.
There is less down time and a lack of sport, especially hockey. I love my team and the high after a hockey match or practice session. I also miss the joy of helping the coaches on a Sunday with the Juniors and I usually learn a new skill from Molly or Charlie when I do. Although the execution of that skill in a match does not always happen!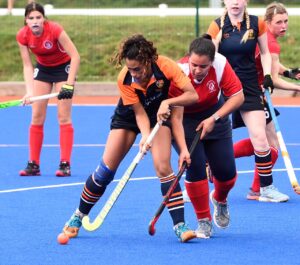 We hear you're offering yoga sessions to our members?
I'm a qualified yoga teacher and have started zoom classes during lockdown for anyone who needs some self care or well-being. I am a huge believer that yoga is for everyone, regardless of age, ability or flexibility. You don't need to be vegan or bendy! The classes are mixed ability and run on Wednesday and Friday at 8pm. Lots of my teammates attend the classes and have said it has helped with their hockey hamstrings, and I think they have enjoyed it! Let me know if you'd like to join in. 
When we get back to the Club, is it all about JJ's fajitas or burgers?
JJ's burgers without fail and a gin and tonic to wash it down with!