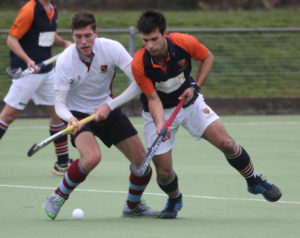 Bouncing back from a lapse last week against Milton Keynes, the 1stXI ensured their unbeaten home record remained untarnished as they comfortably downed Spencer 4-0. (Click here for match photos)
The defence were superb all game and they kept the ball with patience and poise, aided as ever by the dependable Gilo whose 'post-up, redistribute' routine continues to provide so much stability to the team. Only once this season have Spencer failed to score, against league-leaders Old Georgians, so a clean sheet here was no mean feat. Regular stand-in Ross Kingsnorth was magnificent between the sticks and whilst his pre-match claim to being 'one of the top 20 keepers in the country' will divide opinion, his man-of-the-match performance was richly deserved.
Clean sheet aside, the nature of the goals we scored was encouraging. First – after Paddy Harman sent the ball loose with a hallmark flat-stick tackle, Jay Harman passed the ball forward to Stew Laing who deftly slipped it square across the keeper to the waiting Matt Cornwell. What Stew was doing so high we may never know, but he has our gratitude. The second came after a well-formed press left the Spencer defence with little option but to make a risky pass from right to left, and after Jay made the interception, a gut-busting sprint to the back post from Dave Wilson ensured the two-nil lead.
2-0 up at half time and looking to put the game to bed, a period of long and sustained pressure led to a number of chances at goal. Spencer's larcenous keeper 'Pom-Bear' saved their blushes for much of that period and it took an industrious dribble from Gilo and a quickly-taken shot from Wiseman to end the defiance and leave Jay with a simple deflection at the back post. The game was won then and the fourth goal just before the close served only to emphasise our dominance. A perfect aerial from Stew gave Jay a straight-forward one-on-one with the keeper who whilst light of finger, is apparently not so light of feet.
Three goals scored at the back post following well-worked passing will delight the coaches and after witnessing a successful aerial from Stew, the OCs are once again a team that believes anything is possible.
Man of the match was Ross Kingsnorth, Dick of the day was Jay for receiving an early yellow in what was an otherwise good-humoured and fairly-played game.
The other home game of the day saw the 3rd XI host Oxted, the only side to have beaten the 3rd XI this season and a team still harbouring promotion hopes of their own. In the event, however, it proved to be the most one-sided game of the year as we won 17-1, our biggest win of the century to date.
Oxted arrived with 10, courtesy of players being pinched by higher sides, and went behind after 11 seconds; by the eighth minute they were four down and being carved apart almost at will as we played some excellent slick and quick hockey.  From 7-0 after 15 minutes we slightly eased up, partly because David Knapp, who added six to season's tally, left the pitch for half an hour to give his 1st XI pep talk, while Smudger's calf gave up the ghost before the rest of his body had the chance to.
Nine up at the break, we started sluggishly and seconds after reaching double figures we conceded a sloppy goal which failed to wake us up.  In the last 15, with Knapp back and Eds Copelston, who quietly slotted four goals from a combined distance of 10m, deciding a 10% fit Smudger was better than a 50% fit Jock Vickers, we again turned it on and netted five goals.
In the closing stages the opposition, who to their credit pluckily kept going throughout, were somewhat bemused as we retrieved the ball so they could take quick 16s and raced back to restart after every goal.  They were unaware that the record number of goals the OCHC has ever scored in a game is 18 (twice, firstly back in the first season 1928-29) but Knapp and Copleston were. The game ended with us pressing to equal the record. Although we came up short, we need one point from our last four matches to secure promotion and four will give us the title.  Purley Walcountians   await.
The 2nd XI went down 0-3 at Wanderers but the Ladies gained a vital point after a fortnight lay-off with a 1-1 draw at Croydon Whitgiftians. The Barnstormers held Wimbledon Masters to a goalless first half before the wheels came off and they lost 0-6 while Andy Eve had to rely on all his cunning to raise a side to play at Hampstead despite the counter attraction of a Six Nations double header; his efforts were not rewarded as Hamstrings lost 0-2.