A scorching weekend with some late September sunshine. The main highlight was our Men's O40's and O50's both making it to the finals of the England Masters tournaments. Huge well done to them both. Also a special mention to our Ladies 2nd XI who bagged an impressive 8-1 in their second season friendly, possibly their highest score ever??!
Men's O50's 1 – 2 Shrewsbury – England Masters Tier 2
Venimus vidimus, sed nos non vinceret
When my grandchildren sit on my knee in my dotage and ask what is the relevance of Dagenham, the outskirts of Bristol and Nottingham to me in 2019/20 they will probably think that my job was a mystery shopper for Aldi.
Having negotiated the M25, M1 and Nottingham's ring road at different times, either on Friday night or Saturday morning, we met at the Nottingham Hockey Centre with the latest collection of the autumn 2020 Macai sportswear ready to do battle with the Covid palava and Shrewsbury.
Having watched the Beeb's Friday morning news bulletin on the Nottingham nightlife our moral compass, Eastie, managed to pass his first test by ensuring that the 150 or so mile journey took long enough to ensure that there was little time to escape once in the hotel but enough time to enable Nose Newts to object to wearing the new hoodie much to everyone's amusement.
The challenge ahead was far greater than one man's wish to demonstrate anarchy. This was new ground for the OC club, the brainchild of Evo and a campaign directed and orchestrated by Skipper Howie. Thank you guys for coming up with the concept and steering us to the final, something for which we are all exceptionally grateful.
The first 3 minutes of the game did not bode well as we did not touch the ball as we were shown how to play possession hockey until the oppo gave the ball away that was pounced upon by Bazzer whose shot narrowly zipped past the post. The pendulum swung and we dominated the bulk of the rest of the half. Disappointingly we did not convert our chances, one corner strike a mere inch to high, a wrong choice with a one on one, a couple of good saves by their keeper and an inch or two away from a tickle to deflect the ball home. At the other end their initially dominant number 16 had two glorious chances but missed the target and our bespectacled Andrew, a former Milky Bar kid, took one coolly off the line from a short. In between times we lost Bazzer to a pulled hamstring which proved to be a very telling loss.
The second half started with more of the same but we were a bit slow to notice that Shrewsbury were pressing higher and they started to dominate the game and, unlike us, capitalised with 2 goals midway through the half. A deflection from close range following a crash ball and a finish from a loss of possession by us coming forward leaving us short and exposed at the back. 2 down was going to take some work to recover.
Another couple of chances went begging and it did not look as if it was going to be our day. Wrighty had a powerful shot saved, one was taken off the line and their keeper made another two or so good saved. We snatched one back with 3 minutes to go from a short that did not going to plan but Wrighty calmly set up the goal with 3 minutes to go. Shrewsbury were definitely hanging on but denied us another sight at goal and deservedly sneaked the win.
Back in September 2019 we would all have settled for a place in the final and in hindsight the oppo were more streetwise than us breaking down play on numerous occasions to frustrate us when we were moving forward or breaking and this will come to us as we play more cup hockey.
Well done guys and especially to Eastie and Malcolm for giving up their Friday evening and Saturday for us players.
No time to dwell or lick our wounds as the 2020/21 version is likely to start any time soon, we need to go one step further.
Men's O40's 3-3 Blueheart – Lost 3/2 on Shuffles – England Masters Tier 2
The big day that we had been waiting 3 years for had finally arrived. So high was the level of excitement that even packers travelled on the team bus although he did feel sick by the time we got to the OC's gate.
OC's were fired up for this game right from the start and we played some beautiful hockey for the first 20 minutes. Constant pressure eventually led to our first goal with a sublime reverse stick cross by JJ from the byline being deflected in by Gav.  1-0 OC's. Not long after an almost identical goal was scored by packers deflecting in a (less sublime) cross from grimer. With our tails up and brimming with confidence we took it upon ourselves to implode and level up the game. A couple of miscommunications at the back and two misdirected passes to their centre forward in the space of 5 minutes meant we went into the break 2-2.
The second half was hard fought and pretty evenly balanced with a couple of chances at both ends but it always looked like it would be settled in the last ten minutes.  One great opportunity went begging when the bluehearts keeper made two great saves off stu ripley and Gerry and the rebound from grimer hit the post.  Finally though a breakthrough for OC's with some great stick work from JJ going round the keeper and CB slotting in at the far post. ( although there is some footage circulating on- line that the ball was going in). 3-2 OC's.
So here we were in the final 10 minutes of the final with one hand on the cup. We had a couple of chances to settle it but soon found ourselves under immense pressure.  With 5 to go Bluehearts took their keeper off and played with 11 outfield and with what turned out to be the very last touch of the game Bluehearts won a short corner and converted with a great drag flick into the top right hand corner.  3-3 and penalty shuffles.
The rest is history – I think we lost 3-2 on shuffles but they were amusing to watch. Well done to the 5 of you that stuck your hands up to take one.
Another great road trip enjoyed but a shame not to have come back with the silverware. There will be another chance next (this) year and we know this team is capable of going all the way.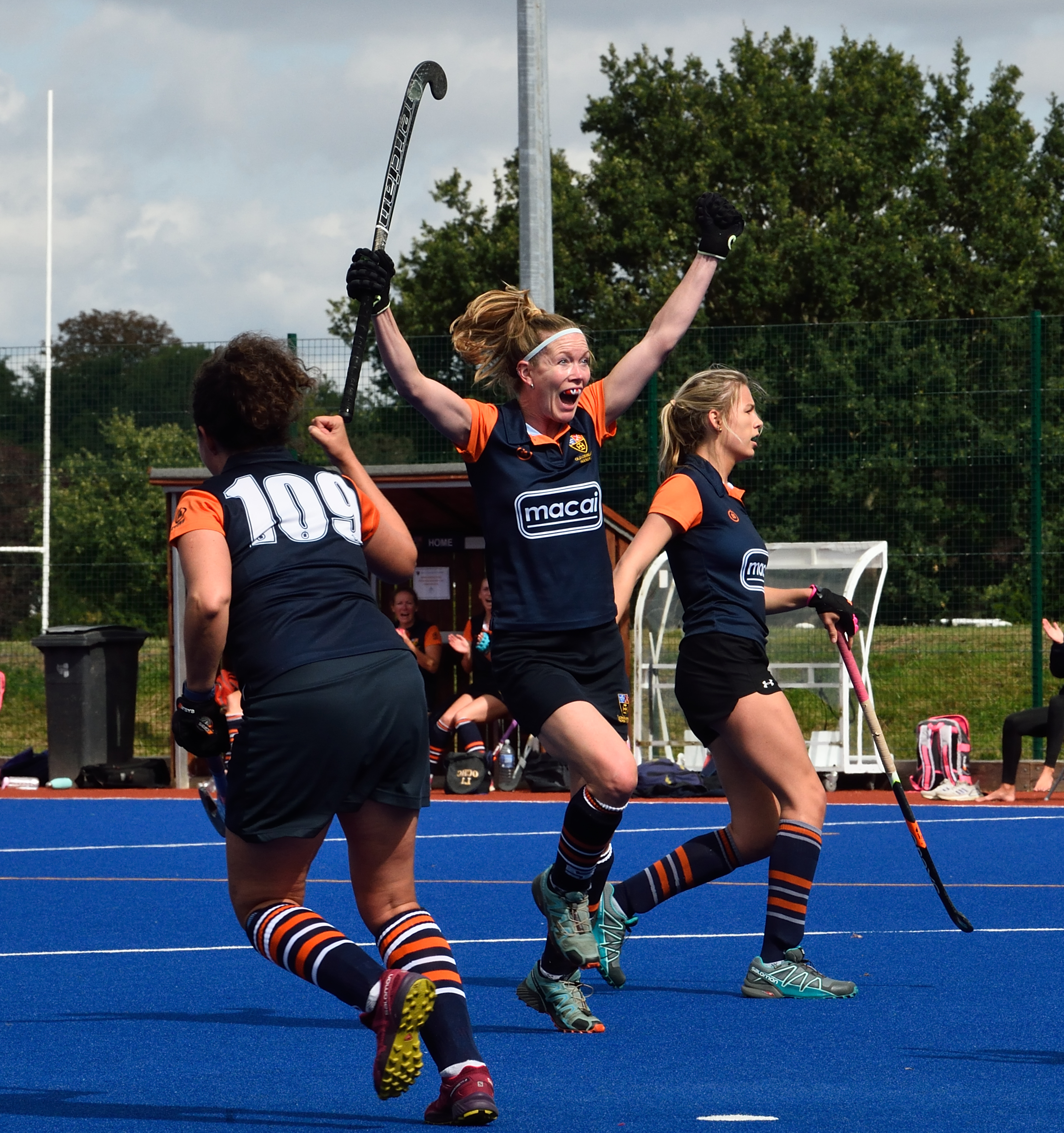 Ladies 2nd XI 8-1 Spencer Saphires
There are three words to describe the away game in Earlsfield this weekend – purpose, intensity and hot. Purpose – the team knew what this match was about. Although a friendly, we were there to play our best hockey and come away with a win. Intensity – there was focus throughout the 70 minutes – our pressure was relentless, and the opposition barely managed to make it into their scoring quarter! And hot – the sun was beating down – it was sweltering.
At half time the score was 5-0. Laura had an absolute stormer, scoring a hat trick. Kitty made the most of a short corner deflection and served up a beautiful lifted push into the left-hand corner. The final goal of the first half was set up by Alina, who executed a great run then passed to Zali who dribbled round a couple of players and smashed it into the goal. 
The second half saw Zali making the most of a short corner. She took a straight strike (this girl can hit) and the ball deflected off an opposition's foot. Shortly after this, Heather was ready on the on the left post and knocked a ball in that she had received from the right-hand side. At one point, Spencer managed to break through and get one goal away. There was excitement on the bench as we were awarded a P flick, but unfortunately Laura was unable to make her goal total 4. Instead, the final goal of the game came from Ali. The ball had lifted and become stuck in the goalie's leg pads. The defence fished it out but couldn't hold on to it. Ali stole the ball back and reversed flicked it past the goalie. 
Ellen, Bella and Josie did some lovely runs up front, putting so a lot of pressure on the defence. The midfield and defence were rock solid; Alina, Ailsa, Ellie, Ele, Liz and Jo controlled the game, distributing balls to create the opportunities. Evie the goalie did not have much to do – but she was as ready as ever. Final score 8-1. Not bad for the second game of the season. 
It was helpful to have Lauren Moores on the side slide – coaching and supporting. And thank you to the side-line supporters – Kate Tanner, Rachel, Alfie the hound, Heather's husband and baby Holly (respect to her mum for getting back to hockey and playing so well).
It really was a team victory – the scorers have been named but these goals were all down to team play. Because at the end of the day, one person can be a crucial ingredient on a team, but one person cannot make a team.
Ladies 3rd XI 2-2 Epsom 4s
If ever there was a game of two halves, this was it! The game started with Epsom taking full advantage, while we struggled to find our feet. Hannah had her work cut out for her as they entered our circle repeatedly. The attacks were never ending and we were all reminded of how unfit we were.
We fought to keep Epsom from scoring but they managed, despite our best efforts, to sneak 2 goals through. This galvanised us into action and some lovely passing resulted in Eilidh finding the goal and putting us back in the game.
The team talk consisted of us reminding each other what a press is and us agreeing, that using the whole pitch, would probably be much more effective than constantly handing the ball up the centre to Epsom. With this new found wisdom the tables turned, and saw us spend the whole second half attacking Epsom in their circle. With many near misses it was Sarah that eventually helped the ball into the net bringing us to a 2 all draw.
If today is a glimpse of what the season holds for us, it's going to be another brilliant season with some fantastic team work and spirit.
Ladies 4th XI 1-1 Epsom 5s
The friendly vs Epsom 5s (with some 4s) started well.  Our new players Livvy, Lana and Sophie blended in well and although Epsom came out strong, we held most of the play but then Epsom, with a scramble in the D scored.  Second half was end to end play and Jo made some good saves.  Persistence from OCs paid off and we equalised.  Final score 1-1.  Jenny scored.